Agricultural giant Deere & Co. (NYSE:DE) is in the middle of a streak of paying out a $0.60 quarterly dividend, or $2.40 on an annualized basis. With a share price around $75, this equates to a current yield of about 3.2%. Given that the company's historical yield, at least in the last decade, has been closer to 2% it would be fair to suggest that today's mark is a reasonable amount higher. Indeed, this holds even when compared to the lowest share price (thus highest yield) in each year.
Here's a look at the highest dividend yield in each year dating back to 1998: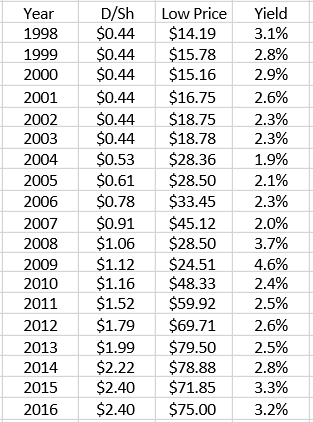 Note that there have been lower bids already in 2016, but I used the closest share price at the time of this writing. Here we can see a few interesting factors come into play. First, the dividend has been increasing throughout the period, but not necessarily in a linear or constant fashion. You had a period of stagnation from 1998 through 2003, before quite reasonable payout growth. The rate of growth slowed during the most recent recession, and then accelerated rapidly thereafter.
Deere & Co. has now paid the same dividend for seven quarters, but that doesn't mean that its annual increase streak is over yet. The $2.40 payment for 2016 is based on the current quarterly payout, but this could be higher if the company were to increase its payout prior to year-end.
Aside from 2015 and 2016, there have been just three other years in which shares of Deere traded with a yield above 3%: 1998, 2008 and 2009. Although history does not dictate the future, it can nonetheless be instructive to see what occurred the last time that this happened.
Had you purchased shares at the bottom - near $25 per share - today you'd be sitting on shares worth three times that, $75, to go along with around $12 in dividend payments. Your total value would have been close to $87 per share, resulting in an annualized compound gain of about 20% during the last seven years. A $10,000 starting investment would now be worth $35,000 and that's prior to thinking about reinvestment. Moreover, your yield-on-cost would now be close to 10%.
Of course you can't expect to invest at the perfect time. So instead of assuming you picked up shares at a rare 4%-plus dividend yield, let's scale it back slightly. We'll use 3.2% instead, as would be comparable to where shares trade today. With a $1.12 annual dividend in 2009 this would have required buying shares at a price of $35, 40% above the low mark, indicating that you need not "catch the bottom" to buy shares at a reasonable valuation.
Had you bought shares at $35 with a 3.2% dividend yield, you still would have went on to collect around $12 or so in dividend payments. Your annualized gain would have been around 14% per year, turning a $10,000 starting investment into $25,000. Your yield-on-cost would now be close to 7%.
So that's the answer to "what happened the last time Deere & Co. traded with a 3.2% yield?" Your returns, both income-wise and overall, would have been quite solid. Had you gone back to 1998, with a yield of "just" 3.1%, your annualized returns would have been about 11% per year, turning a $10,000 starting investment into $66,000.
Of course none of this is to suggest that this will follow through to the future. Yet it does provide some context. Had you purchased shares of Deere & Co. with a 3%+ yield in the past two decades, thus far (on a long-term time horizon) it has worked out quite well.
Naturally, it could be the case that this time is different for any number of reasons. For instance, perhaps you suspect that the business will not grow as fast or that the payout ratio has something to do with it. Let's take a look at that second point. Here's the company's payout ratio dating back to 1998:

Note that the 2016 number is based on estimated earnings. Here we can see an interesting scenario play out. Unlike your typical Johnson & Johnson (NYSE:JNJ) type security, the underlying earnings power of Deere & Co. tends to be rather cyclical. This is most easily observed in the early 2000s when the dividend remained the same, but the payout ratio fluctuated dramatically.
Interestingly, when the payout ratio has been higher that has tended to be a better time to invest. After earnings declined around the turn of the century and during the most recent recession is where you saw a jump in the payout ratio. The share price has tended to fall alongside earnings, resulting in a lower "investment bar." The same thing has happened recently. Earnings are expected to be much lower, resulting in a lower share price as well.
Now none of this is to suggest that the company must improve or that the security will prove to be a worthwhile endeavor. Perhaps you believe that the company has fallen on hard times that will continue indefinitely. In which case you wouldn't be interested in partnering with the business. Yet if you are interested in the company, I think it's important to learn from previous experience.
Deere & Co. has proven to be a cyclical company with booms and busts (although to be sure, the business is still profitable throughout). Should this continue into the future, the earnings of the business has demonstrated a propensity to "bounce back" just as quickly as it fell. It's these lesser times that have historically offered a lower share price and thus higher dividend yield. In turn, when better times come you already have a solid starting income stream to go along with a reasonable valuation. The last couple of times Deere & Co. had a 3%-plus yield it has worked out quite well. It should be interesting to see whether this time follows a similar path.
Disclosure: I am/we are long JNJ.
I wrote this article myself, and it expresses my own opinions. I am not receiving compensation for it (other than from Seeking Alpha). I have no business relationship with any company whose stock is mentioned in this article.