Supervalu's (NYSE:SVU) shares have been hammered by tax-loss selling in December, and then by a significant market correction that has hit almost every stock in the first couple weeks of 2016. Supervalu released earnings on January 13, and it met analyst expectations of 16 cents per share and reported $4.1 billion in revenues which met Factset estimates, but missed another analyst estimate of $4.2 billion in revenues. On the day earnings were released, Supervalu shares were actually up slightly in pre-market trading and went up more when the market opened, but then it appears that shorts attacked the stock and sent it sharply lower. According to Shortsqueeze.com, there are now about 19.5 million shares short and this is about a 44% increase since last month. I believe that shorts have become way too greedy and have gone way too far in beating up Supervalu shares. This level of greed and complacency on the part of the shorts could help fuel a significant rebound in this stock. Let's take a closer look at 7 reasons why it makes sense to buy Supervalu now, before a potentially significant rebound occurs:
Reason #1: Supervalu shares are incredibly cheap now.
Analysts expect Supervalu to earn 73 cents per share in 2016, and nearly 80 cents per share in 2017. That means this stock is trading for just about 6 times earnings, which is well below the industry average. I know the shorts are trying to push the idea that Supervalu does not have the 'cool factor" of a Whole Foods (NASDAQ:WFM) or the growth potential of a Costco (NASDAQ:COST), but this is not new to anyone and the shares were not priced for major growth. Supervalu shares were trading for about $12 in the past 52 weeks and it did not have the organic cool factor back when it traded at that price either. When Supervalu traded for $12, it did not have big growth prospects and it faced challenges in a competitive industry. Again, this big overreaction of a 35% drop in the share price when the company met earnings estimates of 16 cents per share, and only missed a higher revenue estimate by about 2.8%, is just plain silly. Some investors are clearly doing some panic selling or are being forced into selling due to margin calls in the past few days in what could be manipulation and excessive greed coming from the shorts. Supervalu was not a fast growth organic grocer when it traded at $12 and it is not now either, but it clearly is incredibly cheap now at just over $4 per share. Shorts would like to convince you that something earthshaking has come out of the recent earnings report, but that is not the case. Tell me something we did not already know before this earnings report, because we already knew this was not a fast growing retailer. Supervalu remains very profitable and the company is expected to continue reporting profits in the coming years. Let's face it, the grocery business overall is not experiencing significant growth, in fact, it grows about as fast as GDP does, which might be about 2% per year these days.
Reason #2: Supervalu shares are extremely undervalued when compared to other retail stocks:
Whole Foods is trading for about 20 times earnings and that company missed earnings last quarter. Supervalu is trading for about 6 times earnings and it also has spin-off potential with its Save-A-Lot division. Save-A-Lot is going to be spun off in the next 3 to 6 months by Supervalu and that means it could either trade as a separate company or be bought by a private equity firm for its expansion and growth potential. Many other retailers in this industry have PE ratios that are between 15 to 30 times earnings, so that means there is significant multiple expansion upside for Save-A-Lot when the spin-off is completed. This division competes with firms like Costco which enjoys a PE ratio of about 30 times. Some analysts believe the value of the Save-A-Lot division alone could be worth as much or more than the total current market capitalization of Supervalu.
Supervalu is clearly cheap when compared to other grocery retailers, but it is also looking incredibly undervalued when compared to other retail industry stocks. For example, Rite Aid (NYSE:RAD) is not exactly considered to be an industry leader or a fast-growing drug store company and yet it trades for $7.65 per share. That is almost double the current share price for Supervalu and yet analysts expect Rite Aid to earn only 16 cents per share for 2016, and 27 cents per share in 2017. Supervalu just posted a profit of 16 cents for a single quarter, and yet Rite Aid is trading for nearly twice the price and will take all of 2016 to post that same profit. For 2017, Supervalu is expected to earn nearly three times as much in profit as Rite Aid. I bring this example up because it clearly shows how severely undervalued Supervalu is even when compared to another retailer that is not growing fast. I also mention it because Rite Aid missed earnings estimates in September of 2015 and that took the shares down from about $8.75 to just around $6. Short sellers contributed to that big decline also, but as the chart below shows, the stock experienced a major short squeeze rally within just a few weeks which sent the shares back up to $8.75. If Rite Aid can rebound after a much more significant earnings miss (it posted earnings of 2 cents for Q2 of fiscal 2016) and even now it trades for well over $7 per share with earnings estimates at just 16 cents per share for 2016, it seems that Supervalu could also easily trade back towards the $7 level with earnings estimates at 73 cents per share and with spin-off news looming for Save-A-Lot.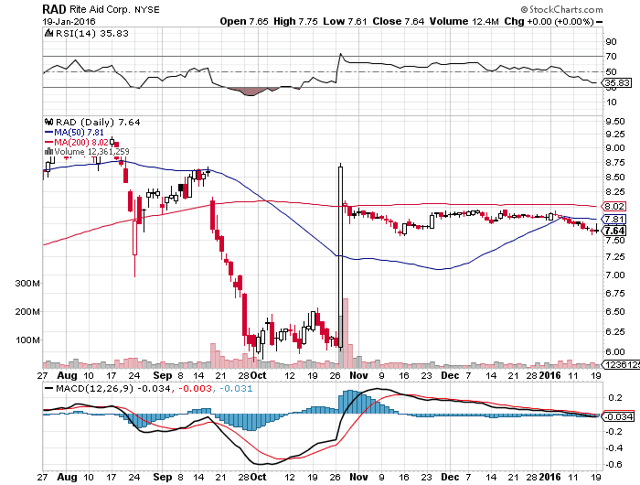 Reason #3: Capitulation-like trading volumes indicate this stock has probably bottomed-out.
As the data provided by Yahoo Finance shows below, the trading volumes were just around 1.5 million shares in the last days of December when the stock traded for about $7 per share. However, trading volumes surged to about ten times as high on both January 13th and 14th which saw volume of more than 15.3 million shares. That roughly 1000% increase in trading volume is the type of surge that often indicates the type of capitulation-like selling pressure that is seen when stocks hit rock-bottom lows.
| Date | Open | High | Low | Close | Volume | Adj Close* |
| --- | --- | --- | --- | --- | --- | --- |
| Jan 15, 2016 | 4.49 | 4.62 | 4.22 | 4.53 | 11,405,600 | 4.53 |
| Jan 14, 2016 | 4.92 | 4.97 | 4.46 | 4.60 | 15,363,100 | 4.60 |
| Jan 13, 2016 | 6.01 | 6.15 | 4.95 | 5.08 | 13,149,200 | 5.08 |
| Jan 12, 2016 | 5.99 | 6.04 | 5.75 | 6.01 | 4,224,600 | 6.01 |
| Jan 11, 2016 | 6.07 | 6.11 | 5.84 | 5.94 | 3,311,300 | 5.94 |
| Jan 8, 2016 | 6.24 | 6.25 | 6.09 | 6.09 | 3,473,900 | 6.09 |
| Jan 7, 2016 | 6.56 | 6.59 | 6.00 | 6.16 | 7,703,900 | 6.16 |
| Jan 6, 2016 | 6.75 | 6.85 | 6.66 | 6.70 | 3,104,500 | 6.70 |
| Jan 5, 2016 | 6.80 | 6.86 | 6.66 | 6.85 | 2,896,200 | 6.85 |
| Jan 4, 2016 | 6.64 | 6.81 | 6.60 | 6.80 | 3,131,900 | 6.80 |
| Dec 31, 2015 | 6.73 | 6.88 | 6.67 | 6.78 | 3,418,700 | 6.78 |
| Dec 30, 2015 | 6.86 | 6.91 | 6.70 | 6.77 | 1,443,900 | 6.77 |
| Dec 29, 2015 | 7.14 | 7.17 | 6.84 | 6.89 | 1,575,100 | 6.89 |
Reason #4: Supervalu shares are extremely oversold and that could indicate a strong rebound is coming next.
As the chart below shows, the recent market correction and the earnings "miss", along with short selling, and probably margin call selling has taken this stock from nearly $7 to just over $4 in just the past several trading days. It appears that machines and shorts have been in control, but from a technical point of view this level of selling now appears well overdone and totally unsustainable. Fundamentally, this also appears to be a massive overreaction as the company met earnings estimates, met the Factset revenue estimates and only missed one set of analyst revenue estimates for a single quarter by about 2.8%. The machines and shorts appear to have contributed to the plunge in this stock but these forces could also help fuel a major rebound. Shorts will look to cover as soon as they are convinced the stock has bottomed and bargain hunters may also come out of hiding soon. This could help fuel machines (computerized trading programs and algorithms) to spark buying programs that could create a powerful rebound. As the chart shows, the "Relative Strength Index" or "RSI" is now just at 16 for Supervalu. Stocks are considered to be oversold when the RSI is at 30 or below, so a reading of 16 indicates extremely oversold conditions. When a stock reaches extremely oversold conditions it often indicates it is due for a potentially strong rebound. I think Supervalu could push back towards the $6 level in the coming days and weeks which would still be significantly below the 50-day moving average of $6.47 and the 200-day moving average of about $8 per share. Longer-term $8 per share seems to be a realistic price target.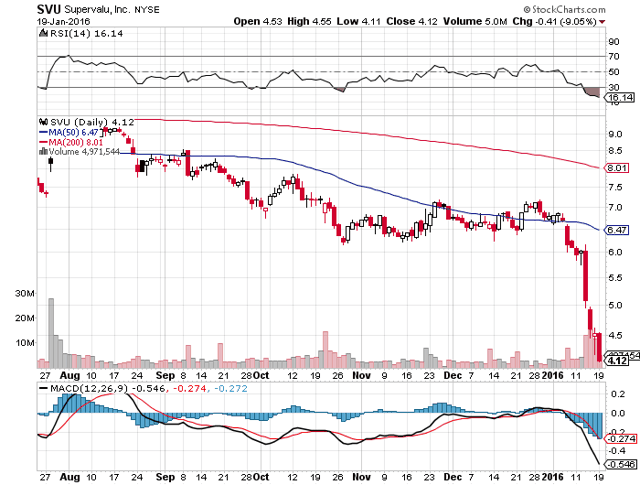 Reason #5: The Market is oversold as well and due for a rally:
As the chart for the S&P 500 Index (NYSEARCA:SPY) shows below, the RSI is just about 30 and that indicates the market is also oversold and due for a rally. After about two weeks of huge losses for the market almost every day this year, the selling pressure is way overdone. Every time we get a couple of fears that hit the market at the same time and cause a pullback, many investors start to call it 2008 all over again. However, that has been wrong and buying dips has worked every time in the past few years, including the major pullback we saw during the August "flash crash" as well as the decline in October. Remember when Europe and Greece were going to cause the end of the world? Well that did not happen and I doubt China growing at a 6.8% GDP growth rate is going to cause doom either. The market could experience a sharp rally soon and that could be the catalyst for beaten-down small cap stocks like Supervalu to rebound as well.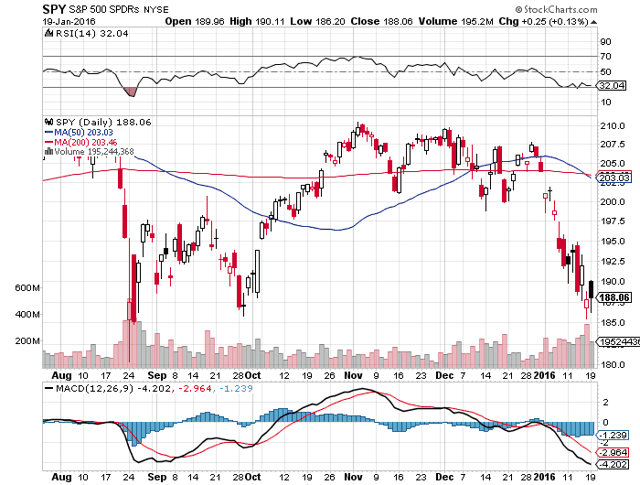 Reason #6: The market won't overlook common sense and many positive factors forever:
Most investors see that there is a significant amount of irrational and even panic selling in the markets when corrections occur. This can push stocks down to levels that make no sense fundamentally, just as it has with Supervalu and many other stocks. The aggressive short selling we have seen in Supervalu coupled with market fears and a lack of buyers has clearly turned this stock into a bargain at just about 6 times earnings. At times like this, it is important for investors to realize that this could be the worst time to panic and sell and that it has paid off handsomely before to take advantage of market stress and uncertainty by buying. This company has many positives going for it which include a cheap valuation, a Save-A-Lot spin-off that looks highly probable, analyst price targets which suggest the stock could double from current levels or more. One quarter is simply not enough to create a trend or be used as a basis to value an entire company and it is worth noting that in the past couple of years Supervalu has beat estimates more times than it has missed. The grocery business is recession resistant and this company has no China or oil exposure which are more reasons why it is time to consider buying this stock before it rebounds towards fair value.
Reason #7: Analyst price targets suggest that investors could be in for major gains with Supervalu:
Analysts have set price targets between $6 to $12 per share for Supervalu. Deutsche Bank (NYSE:DB) has set the lowest price target of $6, which still implies almost 50% upside. Morgan Stanley (NYSE:MS) has set a price target of $8 per share, which would almost be double from current levels. This Morgan Stanley analysis was updated after the recent earnings report (as was the Deutsche Bank analysis and price target) and it is based on a sum-of-the-parts valuation of the company that reflects their "base case" but their bull case valuation is $11 per share. That could be nearly triple the current share price. Just over a week ago, TheStreet.com published an article that suggested Supervalu shares could have significant upside and set a 6 to 12 month price target of $12 per share. The analyst noted that the net debt to EBITDA ratio continues to improve and that Supervalu generated about a 23% to 24% return on investment in each of the past couple of years. In all of these cases, no analyst is predicting doom or suggesting that investors sell the stock for just about $4 per share, but rather that with some patience, investors could be richly rewarded for waiting maybe even just a few more days or weeks for what could be a sharp rebound in these shares. Investors who did panic selling in Rite Aid after that company had a major earnings miss ended up doing a lot of damage to their portfolios as did the shorts who got too greedy and complacent by not covering their positions in a timely manner. I think Supervalu shares can experience the same type of major rebound that Rite Aid saw last quarter, as the markets calm down and as bargain hunters and shorts spark a potential rally. Remember, this company did not post a loss, it is profitable, it is moving forward with the spin-off/sale of Save-A-Lot and it trades for just six times earnings. Buy now, while investors are spooked by this market and selling cheap.
Data is sourced from Yahoo Finance. No guarantees or representations are made. Hawkinvest is not a registered investment advisor and does not provide specific investment advice. The information is for informational purposes only. You should always consult a financial advisor.
Disclosure: I am/we are long SVU.
I wrote this article myself, and it expresses my own opinions. I am not receiving compensation for it (other than from Seeking Alpha). I have no business relationship with any company whose stock is mentioned in this article.