The telecom sector, a traditional defensive sector, fell significantly during the current selloff. The following chart shows that the iShares U.S. Telecommunications ETF (NYSEARCA:IYZ) was down 7.43% compared to a 10.4% decline in the S&P.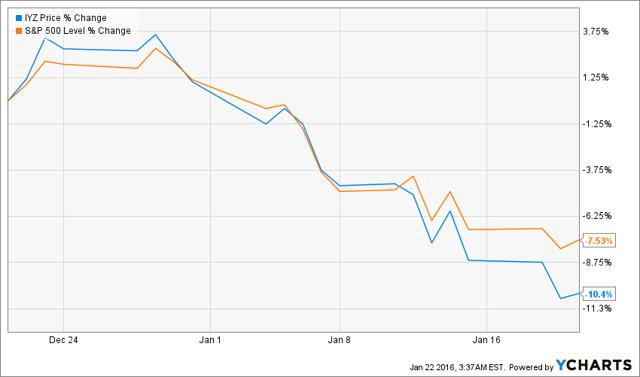 In my search for stable high-dividends at low valuation, I find the telecom sector currently provides many such opportunities.
Among the largest and widely held telecom stocks providing a hefty yield are AT&T (NYSE:T), Verizon (NYSE:VZ), Frontier Telecom (NASDAQ:FTR) and CenturyLink (NYSE:CTL).
About CenturyLink and the US telecom industry
CenturyLink is a global integrated communications company. It is engaged in providing an array of communications services to residential, business, governmental and wholesale customers. After several acquisitions, CenturyLink is now the third-largest phone company in the U.S. providing local phone services to 12 million lines and high-speed Internet access to 6 million customers across 37 states.
With the US telecom industry being mature and capital intensive, growth is driven by technological advances and demand for integrated high bandwidth data transmission. Telecom companies are competing for new market segments, such as mobile communications, digital data transmission and value added services.

Why CenturyLink Shares fell out of favor?
As one of the US largest telecom companies, CenturyLink has suffered with others in the industry from the decline in landline phone use, which led to a slow decline of about 2% per year in its "core revenues" over the past three years.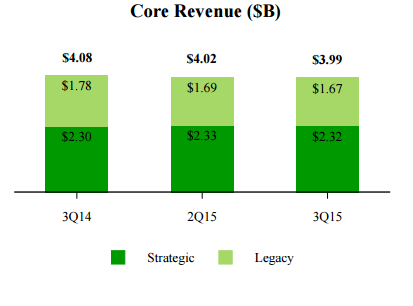 Source: centurylink.com
The company has undertaken efforts to move to fiber-based broadband communications. However its problem has been that it's losing old-line customers faster than it's picking up new fiber-based broadband subscribers. The company started to fall out of favor in early 2013 when it decided to cut its dividend by 25%, and use the proceeds to reduce its long-term debt and initiating a buy-back program. Although the decision to cut dividends was intended to strengthen the company in the long term, many investors who had bought CTL for the high dividends dumped their shares. The dividend cut, which was viewed by many as a costly mistake by the management, resulted in a series of banks and analysts downgrading the company on growth concerns. The company's shares since the dividend cut in 2013 shed over 40% of its value and never fully recovered.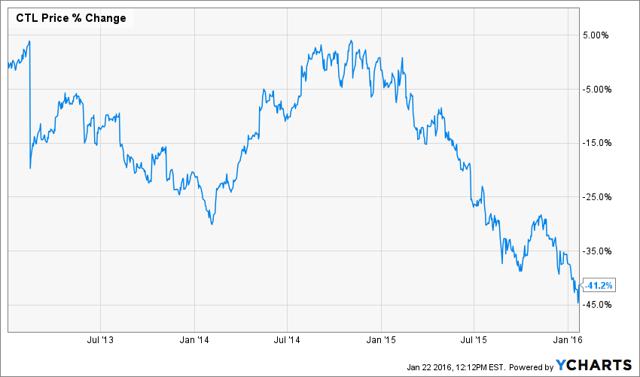 What is the company's management doing to rectify the situation?
CTL's management has been actively working on strengthening the company's revenues, including undertaking strategic growth initiatives:
CTL's management has committed to push the company as the broadband leader in its respective markets.
The company has reverted to solid cost discipline by cutting capital spending in order to increase profits.
Management announced the firm has engaged advisors to evaluate selling non-strategic segments and businesses that have underperformed, such as the colocation portion of its datacenter business. This move is expected to unlock value to the company's shareholders.
CenturyLink's current efforts, together with reduction in its long-term debts undertook in 2013 and 2014, seem to have paid off:
Revenues in the third quarter 2015 started growing again, up by about 1% from third quarter 2014.
Expenses in the third quarter 2015 decreased by 2% from Q3 2014.
Cash flows increased about 1.4% from Q3 2014.
Projected earnings-per-share (NYSEARCA:EPS) growth of 1.8% from Q3 2014.
Company's third quarter 2015 results beat analyst expectations.
Why CenturyLink is the Best High-Yield "Value Play" in the Sector
In order to evaluate how CenturyLink compares with its peers, I used valuation metrics commonly used in obtaining valuation scores:
Forward Price Earnings Ratio.
Earnings Yield.
Book to Market Ratio.
Adjusted Cash Earnings Yield.
1- Forward Price Earnings Ratio: CenturyLink stock is trading at a cheap forward price/earnings (NYSE:PE) Ratio of 9.6 times, and is the lowest among its main competitors. It's worth to note that AT&T and Verizon both also have low forward PE ratios of around 10 times.

2- Earnings Yield: Defined as "earnings per share" from the previous four quarters divided by the share price. CTL has the most attractive "earnings yield" among its peers.

3- Book to Market: CTL also ranks as the most attractive company among its peers when we look at the Book to Market ratio, being book value (historical cost) of a company's equity compared to its market capitalization.

4- Adjusted Cash Earnings Yield
Adjusted Cash Earnings Yield: Defined as cash generated per dollar of investment, and calculated as net income plus depreciation and amortization per share divided by the share price. Using this metric, CTL outperforms by far all its peers, with a ratio of 41%:

Based on the above, CenturyLink beats its peers in each of the four valuation metrics used, making it the most attractive high-dividend "value stock."
Safety of CTL dividends
CenturyLink's current dividend yield of 9.71% translates into $2.2 per share. The payout is well covered by the company's projected earnings per share of $2.42. Furthermore, the company has been careful to keep its debt in check, as it has one of the lowest debt-to-equity ratios amongst its peers, amounting to 1.3 times, making it a safer dividend stock.

With the company's earnings expected to grow moderately in the next few years, the dividend in my opinion is pretty safe, with a good chance to have future increases in the payout.
Conclusion
Although some veteran CTL investors are not going to like my recommendation, as some got burned from the dividend cut in 2013, I suggest taking a fresh look at the stock. The growth prospects for all Telecom stocks is not great, including AT&T and Verizon. At the end of the day, people buy Telecom for the dividends. The valuation of CTL is compelling when compared to those of AT&T and Verizon. Plus, the company has cash flow which is better positioned to support its dividend. CTL has a 5-star rating by many analysts who cover the stock, including Morningstar.
With its stable business model, CTL meets my objective of buying a generous yielding security at an attractive valuation to lock in the high dividend for the long haul, together with long-term capital gains.
CTL is currently rated TOP BUY at "Retire with High Dividends."
"Retire with High Dividends" is a unique high dividend newsletter (6% to 9% overall Yield) with 40% allocated to high-yield traded funds (ETFs, CEFs, and ETNs), and 60% allocation to individual stocks. To learn more, click here.
Disclosure: I am/we are long CTL.
I wrote this article myself, and it expresses my own opinions. I am not receiving compensation for it (other than from Seeking Alpha). I have no business relationship with any company whose stock is mentioned in this article.