Total S.A. (NYSE:TOT) is no exception to the plight of the oil majors. The company is seriously feeling the pressure of falling oil prices. Its CEO, Pouyanné, recently predicted that fiscal 2016's adjusted earnings will decline about 20% from fiscal 2015. He said: "Our profits fall. They will fall a little more than 20% while the oil price falls 50%". In addition, analysts are expecting adjusted profits for 2015 to stand around $9.97 billion, down 22% from the previous year. I believe the company's net earnings will fall at a steeper rate than its adjusted earnings, due to charges related to asset impairments.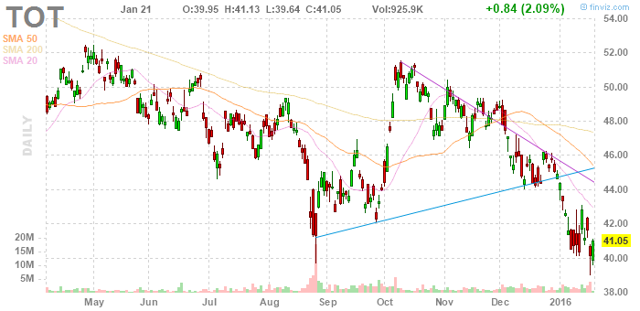 Total's share price has already tumbled significantly since the start of October, 2015. I'm expecting Total's share price to fall even further in the coming days, amid reporting of poor results for the fourth quarter and the fiscal year. In addition, the unprecedented drop in oil prices will continue to erode both its share price and its financial performance over the first half of 2016. Oil prices haven't even paused in their downward trend with the beginning of the New Year.
Oil prices have dipped below $28 per barrel in the recent few trading sessions, which is their lowest level in the last 13 years. Moreover, oil prices are not showing any sign of recovery and none is expected in the coming months, due to bleak fundamentals. Based on the EIA's latest forecast, oil prices are expected to remain at around $38 per barrel, which is quite a drop from its previous forecast of $50.89 a barrel. Oil supplies are expected to remain near 95.93 million barrels a day in 2016, with consumption projected at about 95.19 million bpd.
However, subsequent to the removal of ban from Iran, oil supplies are anticipated to rise further than these expectations. The county's yearly crude production is projected around 3.1 million bpd in this fiscal year, which accounts for 10% of OPEC's overall production. Iran has many oil-rich resources, and has potential to produce an enormous chunk of oil. On the other hand, Saudi Arabia and other Arab countries are still not looking to reduce their market share, so I'm expecting oil prices will remain below the expectations of the EIA.
This is too low a level for oil producers to make any profits. In fact, they will experience even more losses than they suffered over the last two quarters of 2015, when oil averaged around $45 per barrel. Total has offered up no strategy for offsetting the negative impact of these worsening oil prices. The company's CEO already stated that their profits could easily shrink by 20%, despite a 9% growth in production. Total initiated four new projects in the first half of 2015, along with two additional projects in the third quarter. Enhancing one's asset portfolio is always a positive, but increasing volumes to offset pricing pressure is not a helpful strategy in this already oversupplied market.
Even if we forget the steep fall in profits of 2015, the company has no way to reverse its earnings growth. Oil prices have dropped considerably, compared to the last two quarters and prices are not showing any sign of recovery. Nevertheless, the company's downstream businesses will offer a slight boost to the company's earnings, as its margin from downstream businesses is quite strong. In the latest quarter, Total's adjusted net from downstream operations was $1.9B.
In Conclusion
I'm not viewing the dip in Total's share price as a buying opportunity. The company's share price could plunge further, following the extremely low oil prices and the expected poor results from the last fiscal year. In addition, the company's financial performance for the first half of 2016 could erode even further than in these latest quarters. The company's downstream businesses could provide some support, but upstream businesses have always added a major portion to earnings. I'm also raising a question over its dividend growth, as free cash flows are likely to fall as well, echoing the drop in earnings.
Disclosure: I/we have no positions in any stocks mentioned, and no plans to initiate any positions within the next 72 hours.
I wrote this article myself, and it expresses my own opinions. I am not receiving compensation for it (other than from Seeking Alpha). I have no business relationship with any company whose stock is mentioned in this article.