Union Pacific (NYSE:UNP) announced fourth quarter and full-year 2015 results. Union Pacific missed estimates for the top and the bottom line, but the results were not disastrous, I believe. Due to Union Pacific's moat, low valuation and high shareholder returns the company's shares do not look unattractive right now.
Earnings results
Union Pacific grossed revenues of $5.2 billion during the fourth quarter, which means a decrease of 15 percent year on year. This revenue decline reflects lower volumes (minus nine percent year on year), lower fuel surcharges and higher core pricing.
Operating earnings decreased nineteen percent to $1.9 billion, net income dropped 22 percent to $1.1 billion. Earnings per share dropped nineteen percent to $1.31, which is the result of lower net earnings, which was partially offset by a lower share count due to Union Pacific's share repurchases. With a quarterly dividend of $0.55 per share Union Pacific's payout ratio (for the quarter) rose to 42 percent, which is still a rather low number.
Positives and negatives
The first negative point the last quarter has shown is the negative effect shift away from coal has on the company (we also have seen this in previous quarters). Coal volumes dropped 31 percent on a year on year basis during the fourth quarter of 2015, which is the biggest decline of any of the company's cargo types. With natural gas prices being very low right now and the continuation of anti coal sentiment and policies, coal volumes will likely continue to be weak for the foreseeable future. The good point is that comps will be easier for Union Pacific in the next few quarters, and the impact of declining coal volumes will be lower, since coal volumes will decline from a lower basis in the future.
Agricultural products volumes declined 12 percent during the fourth quarter, which is an above average decline as well and thus one of the weaker results from Union Pacific's report. This, however, is not an industry which faces a lot of long term headwinds - unlike coal. Agricultural production keeps increasing and decreasing and is mainly dependent on factors such as the weather (and partially commodity prices). With a growing US population, as well as a growing global population, the long-term trend is on Union Pacific's side though: An increasing population means that more food will be consumed in the long term, which raises the need for agricultural products. Union Pacific is poised to profit from this by shipping an increasing amount of products in the areas where the company operates.
The category which saw the best year on year performance was the automobile segment, where volumes increased by one percent. Union Pacific ships complete cars as well as car parts. Demand in the US for automobiles continues to be strong, and the trend toward bigger cars (a result of the low oil prices which makes it less expensive to drive huge cars with high fuel consumption) will be beneficial for Union Pacific as well: Shipping a Ford F150 takes more place than shipping a Smart, thus increasing car loads.
Another positive for Union Pacific was the fact that the company was able to increase core pricing once again. This shows the company's great moat and superior business model: Even in times when demand for transportation is declining in a number of fields, Union Pacific is able to increase the pricing for its services, thus allowing for revenue performance being better than volume performance (when adjusting for fuel surcharges).
The next positive is Union Pacific's continuous strong cash generation ability: In 2015 Union Pacific produced operating cash flows of $7.3 billion (minus 0.5 percent), despite net income being down eight percent over the same time. Even with unfavourable volume trends and lower earnings the company's strong cash generation is basically unchanged - on a per share basis Union Pacific was even able to increase cash flows. The strong cash flows allow for the next positive, the company's high shareholder returns. During 2015 Union Pacific has bought back common shares for $3.5 billion and paid dividends totaling $2.3 billion. With Union Pacific's market capitalization of $61 billion the company's share repurchase pace means annual share count reductions of six percent, which has a substantial increase on the company's earnings per share in the long run. At $0.55 per quarter Union Pacific's dividend yield of 3.1 percent is compelling as well - a lot higher than the broad market average, and also a lot higher than the company's historic dividend yields.
Valuation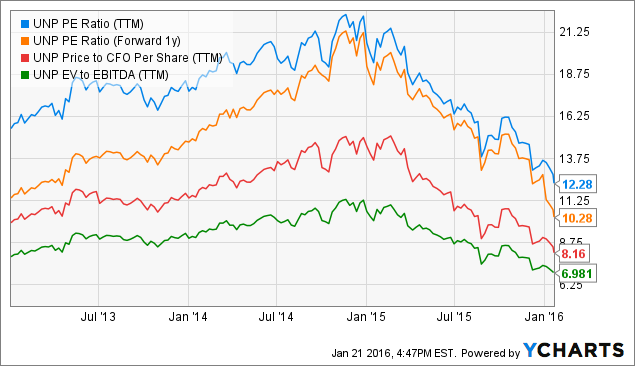 Looking at Union Pacific's valuation we see that the company wasn't this inexpensive over the last three years: The company trades at 12.3 times trailing earnings (versus trading at more than twenty times earnings a year ago), which is cheap relative to the broad market's 19.8 times trailing earnings multiple.
With a forward PE ratio of 10.3 Union Pacific is valued inexpensively relative to the company's future expected performance (also analysts believe that Union Pacific will be able to grow EPS substantially over the next year as can be seen by the difference of the company's trailing and forward earnings ratios).
The company's valuation relative to the cash it generates is low as well with an EV to EBITDA multiple of 7.0 and a price to cash flow ratio of 8.2 Union Pacific cash flow yield is 12.2 percent - Union Pacific can return twelve percent of its price each year (or spend for capital expenditures, which will ultimately lead to higher earnings in the future).
I also used the finbox.io valuation model in order to come to a fair value for Union Pacific's shares: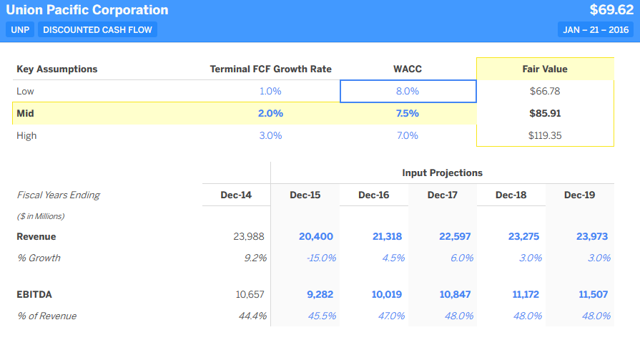 Using three scenarios I got to fair values of $67, $86 and $119, of which the middle one seems the most realistic. This would represent upside of about 20 percent from the current level, using assumptions which are not too optimistic: A long-term FCF growth rate of two percent should be easily achievable for Union Pacific.
Takeaway
Union Pacific is attractively priced right now, according to classic valuation metrics as well as according to my DCF analysis. With a dividend yield of more than three percent and a low payout ratio, as well as a history of strong dividend growth Union Pacific looks like a compelling income investment at the current price. The selloff afte Q4 results, which were not even that bad, provides a good entry point for long-term investors, I believe.
Disclosure: I/we have no positions in any stocks mentioned, but may initiate a long position in UNP over the next 72 hours.
I wrote this article myself, and it expresses my own opinions. I am not receiving compensation for it (other than from Seeking Alpha). I have no business relationship with any company whose stock is mentioned in this article.