Introduction
The cruise line industry has experienced massive returns in the last year thanks to a growing global economy, a strong demand for consumer experiences, and several other tailwinds. Last year the big three cruise lines, including Carnival (NYSE:CCL), Royal Caribbean (NYSE:RCL), and Norwegian Cruise Lines (NASDAQ:NCLH), were all up at least 20% (as compared to the S&P 500, which was flat on the year).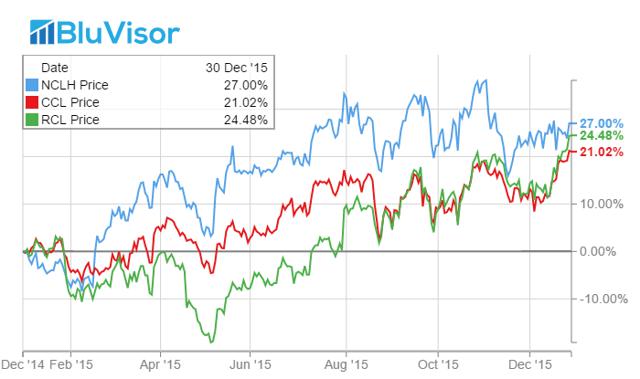 With publications like Barrons predicting 20% growth for the industry in 2016, it's easy to get caught up in the bullishness of the industry, but will these growth factors hold in a global economy that seems to be on the brink of disaster? In an industry that has thrived on low oil prices and lower interest rates, will NCLH hold a fighting chance in a more dangerous economy?
It's difficult to understand exactly how this company would fare in a different environment, but I've tried my best to put NCLH in various hypothetical situations to help readers understand the "what if" aspect of this company from the perspective of an investor looking at NCLH on a long-term horizon. I'm sure I missed a few situations, or misinterpreted the effects of certain changes in the global economy -I'd love if readers brought attention to any items I may have missed in the comments section below.
About
Of the big three cruise lines, NCLH is easily the smallest, holding about 10% of the market compared to CCL's 50% and RCL's 25%. NCLH claims their differentiator to the competition is a level of flexibility and freedom offered to guests that is untouched by its peers, and it has the awards to prove it. Without the personal experience to back up this claim, I won't stand by the assertion, but one thing that is clear is that NCLH is focused on one target demographic in particular, the growing Chinese upper and middle class.
Take this quote for instance from the company's last conference call,
"…Chinese lifestyle experts that we have retained specifically for this purpose to create a purpose-built ship that is from the onset equipped to cater to the unique needs, desire and tastes of the Chinese vacationer."
NCLH is hiring Chinese hospitality experts and catering to the newest upper class in the entire world. NCLH estimates the Chinese vacation market to be about 100 million people strong. I'll go into this in greater depth in the Growth portion of the article, but this could be both a strength and a weakness for NCLH.
NCLH operates in a plethora of cruise lines destinations, including Asia, Alaska, Australia, New Zealand, The Bahamas, Florida, Bermuda, Canada, New England, The Caribbean, Hawaii, Mexico, South America, and the Transatlantic. This lineup is comparable with industry peers.
Growth

NCLH's growth lies in several markets, but the main catalyst lies in the hands of a growing Chinese middle and upper class. However, at present, NCLH currently lacks any operations in China, and will not penetrate the market until 2017. The lack of offerings in China is a negative, but the market is still young, as only about one million Chinese tourists sailed via cruises in 2015 versus the US's twelve million, however within the decade the roles could very well be reversed with China leading the world in cruise-goers.
This growth presents NCLH with a very interesting opportunity to capitalize on an emerging market, as NCLH attempts to enter a market its competitors already operate heavily in. NCLH plans to open up several offices in China attempting to sway potential travel partners in the direction of NCLH's first dedicated ship to be completed in 2017.
NCLH expects China to become the second-largest cruise market in the next five years, and they state the Chinese market could exceed the US market in the next 10 years. Management feels as if they need to capitalize on this opportunity, and jumped in late to the party. However, they claim that competitors have done a poor job executing on the tastes of the Chinese consumer. Hopefully, competitors' offerings have not hurt the potential for the Chinese market. It's hard to tell if NCLH is jumping on the Chinese bandwagon a little late and looking for an excuse to do so or if they have a truly compelling argument to capture a market that is ripe for the taking. I would guess it's a combination of both, as CCL and RCL do not have vessels that were specifically made for the Chinese tourist, they are western-made vessels engineered to attract a western audience.
NCHL's management team hit on this nicely in the conference call, and again, it's difficult to say whether or not it's corporate-speak aimed at fooling analysts, but I think that either way there's some truth to the "fast-follower" idea when attacking markets, as one can learn from competitors' missteps.
As management stated, "we're very bullish that even though we may not have first mover advantage, we have other advantages. We're learning where others perhaps might have made certain mistakes, would wish they had done things differently. We have the benefit of those, of that history. We have the benefit of introducing a brand new ship. We have the benefit of 18 months of runway until our ship gets there. And so we believe that on par, it's the perfect time to enter the Chinese market with this incredible vessel. And everything we hear is no question the right decision. It's literally a no-brainer."
Overall, China offers NCLH a massive opportunity to grow their business, and this is where I think the possible value for NCLH comes in. Predicting the economic outlook of China in 2020 given the current environment is nearly impossible. I'd love to guess how many cruise-goers there will be five years from now and the tastes and preferences that come along with this new group of tourists. Here's what I can tell you directly from NCLH - The company has a $5 EPS target for 2017, largely excluding China as they'll only have half a year to work with and a significantly higher costs for the fleet, adding little to the bottom line.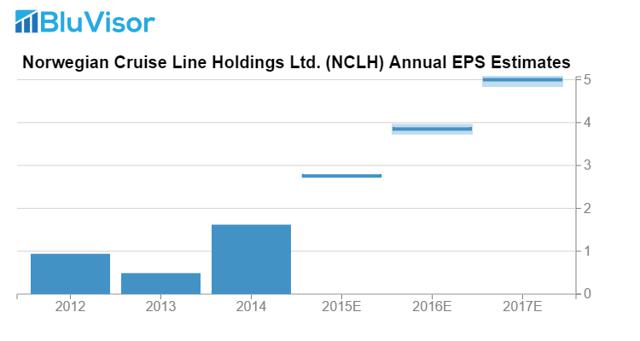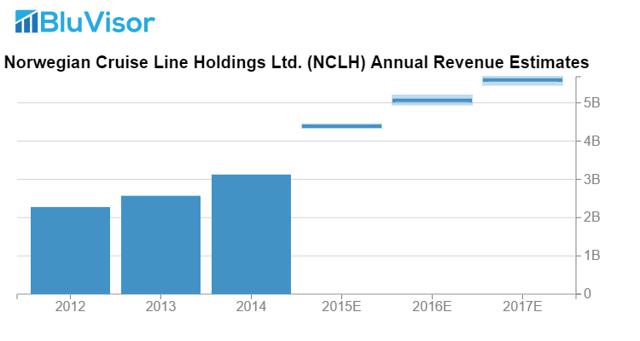 $5 is exactly what analysts are targeting for 2017, however I expect that to change when 2016 guidance is released next quarter.
I think it's safe to assume that the majority of the growth for this company lies not in margin expansion like it has historically, but rather in revenue growth for the next several years, and then margin expansion after the Chinese market creates a more mature NCLH.

The EPS growth of this company has been historically driven by an expanding net margin, but a large portion of that can be attributed to fuel costs coming down considerably since 2012. The company has stated that they expect net cruise costs to stay about flat, with potential for slight efficiency bumps thanks to a newer fleet. I'd say that the majority of the long-term growth this company can achieve, whether its margin growth or revenue growth, lies in China.
This is where I see value for the stock that may not be priced in, while expectations are generally being lowered for the Chinese GDP growth, it's still at 7%, triple that of the US, and better than any market in Europe. If NCLH can truly capture a quality of cruise that has been unseen in the market, as they say they will, and Chinese GDP growth can stay in the mid-to-high single digits I'd say that NCLH has quite a bit of room to run in the out-years, and will greatly exceed expectations going forward.
NCLH will benefit, and has benefited from the competition dipping their feet in the water, but it's difficult to say if the market will be saturated by the time NCLH dives in head first. Ideally NCLH becomes the preferred choice for Chinese consumers, catering to their tastes and desires in a way that CCL and RCL have failed to do.
NCLH won't have the largest share of the Chinese market, but it could capture an important piece of the pie - Chinese consumers willing to pay more for a thoughtful touch here and there.
Risks
The flip side to the Chinese story is a plethora of road bumps the company could potentially hit going forward.
The first potential pitfall is the flip side of what I mentioned in the growth area, first mover advantage. As CCL and RCL jump into the Chinese market at a rate that laps NCLH, it's easy to understand why NCLH could have the disadvantage. Is it really worth an extra 18 months to knock down the perfect ship for the Chinese consumer? CCL and RCL are also jumping on the opportunity to build new ships for Chinese customers, and no doubt will be able to do so at a larger scale than NCLH. CCL is easily the most active in the Chinese market, offering a one-size-fits-all approach to the region that RCL and NCLH have failed to capitalize on. The risk in buying NCLH due to the exposure to China lies in the fact that by 2018 it could be too late to capture the market investors were hoping for (the growth that's already most likely priced into the stock).
NCLH is also extremely susceptible to a general shift in the Chinese economy. As investors are on edge about the potential house of cards the Chinese administration has created around its economic data, this translates to NCLH. For a company whose growth hinges on a strong Chinese economy, what happens if this market doesn't deliver? Less so than competitors, I would expect NCLH to be hit hard, even while considering the company's minimal exposure.
NCLH is fairly leveraged, with a Debt to Equity ratio near all-time highs and a balance sheet that generally isn't pretty. NCLH has more long-term debt than it has historically, and at a time of increasing interest rates I think this is something to be aware of. If they need more cash to finance their growth story, it may be too late to capitalize on low rates and thus limit cash flows for investors. Overall the company's leverage isn't something to sweat about in the near-term, but it could hinder the company's performance in the future.

The last risk is oil. Oil is a no brainer, if it rises, NCLH's costs will too.
| Year | CCL | RCL | NCLH |
| --- | --- | --- | --- |
| 2012 | 15.5% | 11.8% | 12.5% |
| 2013 | 14.3% | 11.6% | 11.8% |
| 2014 | 12.8% | 11.7% | 10.4% |
As you can see, fuel expense as a percent of revenue has gone down for all three of the industry leaders, however what's more staggering is that it now currently sits at about 7%, 3% less than the end of FY 2014. If oil prices rise to historically normal levels, we could see a large chunk of net income dissipate to fuel expense. The company is actively hedging against the risk of high oil prices, but with higher oil prices you can still expect a higher fuel expense, which could easily eat 3-5% off the bottom line if it rises to historical levels.
Valuation
I'm a strong believer that not every multiple is created equal. It would be silly to say that GE and UA should trade at the same TTM P/E, as each operate in a distinct environment and offer various strengths and weaknesses in comparison to each other. For that same reason, I think that CCL, RCL, and NCLH should all trade at different multiples, even while considering they operate in the same industry.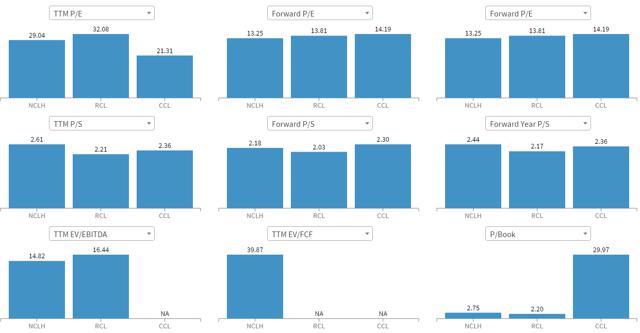 In general, I would say that there isn't much to conclude about the differentiation between the three companies while comparing each one's valuation to another, so below I've put some basic statistics to differentiate the company's operating landscape.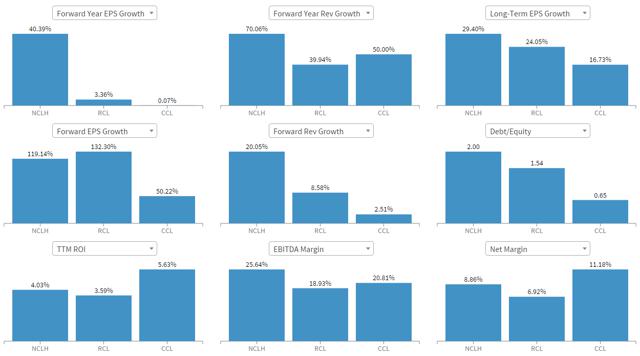 Generally what I can conclude about NCLH, and the industry as a whole, is that we're looking in on a boom-industry with highly expected forward EPS growth. NCLH has more room to run than RCL and CCL due to less exposure, however both CCL and RCL offer immense growth opportunities to investors at a decent price. NCLH has higher expected EPS and revenue growth, and a higher EBITDA margin than competitors, however it falls behind in several key metrics, like return on invested capital and net margin, where CCL has the clear advantage thanks to great scale.
In comparison to NCLH's industry peers, I would argue that NCLH warrants a slightly higher valuation ratio on the basis that NCLH offers a more lucrative long-term growth picture (albeit more risky), comparable margins and efficiency ratios, and a tolerable balance sheet.
As a whole I'm extremely surprised to see the industry trading at such low multiples given the extreme expected growth going forward, but with worrying signs coming from China I think there's a decent amount of risk when looking at the cruise line industry, along with oil prices that could hit NCLH's bottom-line.
On a historical basis NCLH's multiples are up about 20% since 2013, however the growth profile of the company back then was not nearly as robust, and did not include a clear picture of the expansion into China.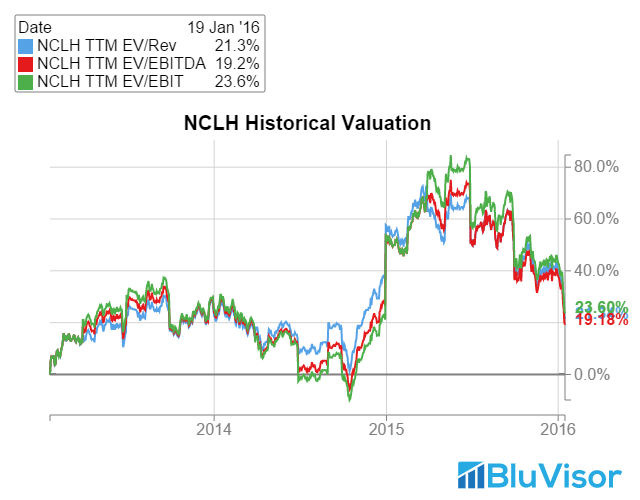 Low oil prices have certainly helped NCLH's case as of late, and higher oil prices could significantly lower multiples for NCLH going forward.
Without a full model to work with I don't think it's fair to offer a price target based on my own estimates, however I think that there is a general range in which NCLH should trade at depending on the results of future operations.
Based on the data presented for the industry and NCLH historically, I would say that given the company hits it's 2017 guidance of $5 in EPS, manages to operate as expected in China into 2018, and maintains comparable margins to CCL and RCL, NCLH should trade at a P/E in the 15-19 range.
Let's say China doesn't deliver, growth targets aren't hit, and oil pricing increase. This would take a large bite out of NCLH's growth catalyst and cut into margins considerably. Based on this information, I think NCLH would trade in the 11-14 P/E range, given the fact that analysts aren't expecting the stock's largest catalyst to be such a dominant factor.
Let's say that China delivers, oil stays below $40/barrel, and the outlook for the Chinese market going forward continues to stay true. Because NCLH managed to capture the taste of the Chinese consumer, this also leads to a higher ROIC and EBITDA margin, contributing to a higher margin. I would argue that NCLH should trade at multiples close to current levels, with a P/E in the 22-26 range.
Given the likelihood of success in China and low oil prices, I think it's safe to assume that not everything will go NCLH's way. From my own personal analysis and a basic understanding of commodities pricing, I would predict that NCLH has decent luck in China, but also that oil prices rise over time. Given this information, I would personally estimate increasing margins in China offset by fuel prices, a more mature company, and thus a lower multiple, somewhere in on the low end of the aforementioned 15-19 range.
Conclusion
NCLH has great opportunity, but with this opportunity comes risk. Many things could go wrong, yet if just enough things go right this could be a phenomenal investment. I think that the decision you make regarding this stock should be made with care. An investor looking to avoid high-risk investments may not want to get involved in this stock, yet risks the opportunity cost of missing out on what could be a company benefiting from the "Perfect Mover Effect", coming into the Chinese market with a product that one-ups the rest. However the pendulum also swings the other direction, higher oil prices, higher interest rates, and a slowing Chinese economy could all hurt the stock's performance, and for some investors that risk just isn't worth taking.
Disclosure: I/we have no positions in any stocks mentioned, and no plans to initiate any positions within the next 72 hours.
I wrote this article myself, and it expresses my own opinions. I am not receiving compensation for it. I have no business relationship with any company whose stock is mentioned in this article.