Fitbit Inc. (NYSE: FIT) is poised to have a very strong year for the remainder of 2016. As a result of the sharp decline in the price of FIT shares from a high of $51.90 last August, the stock has become oversold at its current level in the sub-$20 range. In the first three weeks of January alone we have witnessed FIT trade from over $30 down to below $16. This unjustified selloff is overdone and has created a compelling buying opportunity.
Successful long-term fundamentals eventually win-out over short-term volatility and negative market sentiment. Fitbit's long-term fundamentals are intact and the outlook for continued growth is outstanding for both Fitbit and the overall category of wearables.
The Macro-Trends Driving Triple Digit Growth In Fitbit and Wearables Will Continue Long Term
Global macro-trends driving the success of the booming wearables category are the obesity-sedentary lifestyle epidemic and the sky-rocketing costs of healthcare issues stemming from our unhealthy lifestyle choices.
The following chart is from a study entitled, "How Childhood Obesity Has Swept The World In Less Than A Generation."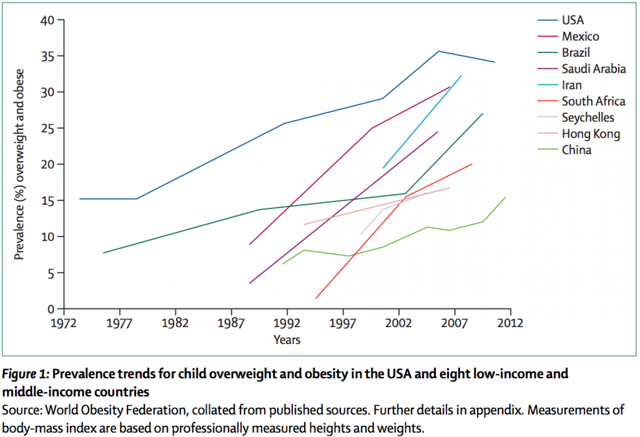 Individuals, healthcare corporations, insurance companies and governments are all struggling for solutions to the financial crisis and fiscal deficits being caused by unsustainable healthcare costs worldwide. Solutions are needed. Much of the U.S. budget's deficit comes from rising healthcare costs as a growing part of this deficit spending.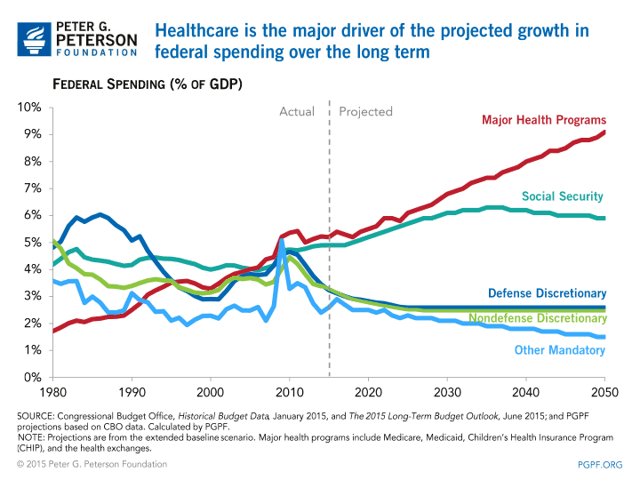 We are now in the early days of wearables and mobile health (mHealth) revolution as pioneering companies like Fitbit are helping to provide solutions to the obesity-sedentary lifestyle epidemics. Preventive healthcare via increased daily activity is the cheapest and best type of healthcare. It stands to reason that individuals, corporations and governments will continue buying into the Fitbit ecosystem at an accelerated pace because increased daily activity means lower healthcare costs and reduced insurance premiums. Saving money is never a fad and reducing costs is always en vogue.
Corporations and governments also have learned that increased daily activity leads to improved morale, higher employee retention, better attendance rates, and increased productivity. These factors result in improved bottom-line profitability on the quarterly earnings report.
We can expect an increase in the recent trend of employers and insurance companies offering incentives for users of the Fitbit ecosystem. Fitbit dominates the corporate-government wellness space as one of the fastest growing segments of Fitbit's rapidly growing revenues. We may soon see these incentives offered to individual consumers as well.
Fitbit is the world's leading fitness tracker and becoming the standard in the mHealth revolution. 2016 may see Fitbit receive government endorsements, subsidies, and purchases of their ecosystem by health departments in nations like Australia, Dubai, and the U.S.
Like it or not, the mHealth revolution is accelerating and pioneering companies like Fitbit will benefit for years to come. And as the mHealth revolution rolls forward we may find wonderful stories like this life saving event becoming common place.
Pending legislation called the PHIT Act will become a "major catalyst for Fitbit" as governments worldwide display a growing willingness to subsidize preventive healthcare as a far cheaper alternative to the financial crisis caused by skyrocketing healthcare costs.
FIT Is Currently Oversold Technically And Fundamentally
The Fitbit IPO was brought to market on 6/15/15 priced at $20. FIT then traded as high as $51.90 on 8/5/15 on the day of the Q2 earnings report. This has been followed by a precipitous decline to the 1/20/16 intra-day low price of $15.52, just over five months after the all-time high.
FIT Daily Chart From IPO To 1/21/16: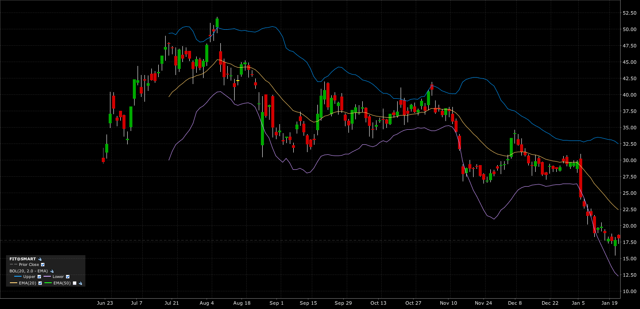 Where Does An Oversold Stock Trade On The Chart Next?
The brief seven-month trading history of FIT has seen a high beta stock exhibit fairly extreme volatility to both the upside and downside. Now the forward-looking questions become: When is the bottom for this correction? And: Where is fair value for FIT on the move back upwards?
The straight answer to the first question is nobody knows where the exact price bottom is for the current correction in FIT. But the price action of 1/20/16 saw a $15.52 intra-day low followed by a $2.27 reversal and close higher for a .13 gain at $17.79. This may indicate that we are close to a bottom for 2016. We can reasonably ascertain that this stock is now oversold technically on a short-term basis using the RSI and stochastic indicators.
Longer-term FIT is fundamentally undervalued based upon the forward PE ratio for 2016 that is now 15, which is on par with the S&P 500. Fitbit is growing revenues at 168% YOY and earnings at 20%, FIT deserves a much higher multiple. The upcoming blockbuster Q4 ER may dramatically raise earnings for 2015 and also raise guidance and growth rates for 2016. This would decrease the current and forward PE significantly making FIT's valuation even more of a compelling buy. Because FIT has been crushing estimates and this sales growth shows no sign of slowing, the consensus estimates for Q4 and 2016 can be considered conservative numbers. Sean Udall, Chief Investment Officer of Quantum Trading Strategies referring to the upcoming Q4 earnings report stated that Fitbit "could annihliate the quarter."
Brad Samson, VP Investor Relations for Fitbit, indicated that the Q4 ER will take place in February. Analysts are in agreement that Fitbit will turn in a stellar Q4 ER based upon holiday sales indicators, such as Fitbit being the #1 downloaded free app on Christmas day as consumers opened gifts. Channel checks among retailers like Kohl's and Best Buy confirmed that fitness trackers were among their top holiday gift items and specifically named Fitbit as a top seller.
Fitbit is still one of the top downloaded apps in January and the Aria scale has seen intermittent delivery delays for online ordering at Best Buy (NYSE:BBY) earlier this month, both indications that strong sales are continuing into Q1.
Fitbit's fundamentals continue to improve rapidly with zero debt and nearly $600 million in cash the Q4 ER should result in a substantial increase in the cash position. While fundamentals are getting stronger and will continue to improve for the foreseeable future, the price of FIT stock traded to an all-time low this week. In my experience when there is a dissonance between a company's long-term fundamentals and the price of its stock, then it is the price of the stock that changes direction to catch up with the excellent fundamentals. In other words, strong fundamentals win out over short-term volatility and negative sentiment. Even serious corrections and bear markets must run their course sooner or later, and then as markets improve a stock will rapidly appreciate to catch up with the underlying strong fundamentals of a company.
Over the years I worked as a stockbroker and then later managed a modest amount of assets in a long/short trading hedge fund that I started during the heady dot.com days of the mid '90s. During that time I was constantly impressed by how volatile dot.com stocks would trade so far above and below what reasonable people would consider fair value based upon traditional measures of valuation. Perhaps not to the extremes of the dot.com stocks, but FIT is certainly a volatile stock that in its short trading history was overbought in August and now has become oversold based upon technical and fundamental measures.
The worldwide macro-trends driving Fitbit's growth are accelerating and will continue for at least the next decade. These undeniable macro-trends will continue to lift Fitbit sales growth for years and the price of FIT shares are on their way to becoming a $40 stock in 2016 as current negative market sentiment is becoming exhausted.
FIT shares are now subject to a temporary negative market sentiment where everything the company does is mercilessly interpreted as a negative. For instance, the release of Fitbit's newest product, Blaze, won 17 (seventeen!) Best In Show Awards at the recent Consumer Electronics Show This is a feat not often accomplished by many companies. Yet the investor marketplace immediately discounted the Blaze down as a negative for the stock in a nearly 40% price decline in FIT. Some of that sell-off has been due to the overall market selling off sharply as well. But much of the sell-off in FIT after the successful CES release of the Blaze fitness watch was overdone.
The selling was exacerbated by the curiously timed announcement of a suspect class-action lawsuit. Consumer Reports tested the Fitbit Charge HR and the Surge and the independent findings from CR show the heart rate monitor to be a "highly accurate" feature.
This lawsuit was announced on the same day as the Fitbit CES press conference that unveiled their new product, Blaze. No reasonable person believes this timing to be a coincidence. And the highly suspect nature of the complaint raises doubts that the lawsuit will even receive certification. Likely, this lawsuit was part of the orchestrated bear raid that has taken place in shares of FIT. The machination of announcing this lawsuit at the start of CES served the purpose of the individuals behind the scheme and there is little motivation for them to further pursue the claims that Fitbit has called meritless. These type of actions are short-term events that clearly benefit short-selling traders, but the long-term fundamentals of FIT will send the stock higher on the chart in 2016.
Next, it is likely that investors will realize that the Blaze is accretive to earnings, improves margins, fills a gap in the Fitbit product line, is well-received by consumers, and may very likely take a percentage of market share away from competitors like Apple (NASDAQ: AAPL). Fitbit's Blaze beats the Apple watch based upon: Price point, battery life, compatibility, product specificity, Fitbit brand acceptance, ecosystem, social networking, and first-mover advantages in the retail marketing and distribution channels worldwide. These factors are all likely to combine to make Blaze just as successful as the previous Fitbit products currently dominating wearables.
Many consumers worldwide, including 3.5 billion people in the new Asian market, would like to own an affordable smart fitness watch such as the Blaze with the key features of a color touch screen, notifications, plays music, tracks fitness and enables on-screen interaction with FitStar workouts. Many consumers will not pay the high cost for the required iPhone prior to having to also pay the additional high cost of the Apple watch. Fitbit's Blaze delivers a 5-day battery life vs the 1-day battery life of the Apple watch. Blaze may likely be well-received by consumers and may take market share from the struggling Apple watch.
The market has traded FIT down from $30 to $17 since the announcement of the Blaze at CES on January 5th just about two weeks ago. At the same time the suspect class action lawsuit was announced. Consumer Reports testing show the Fitbit heart rate monitors to be "highly accurate" devices. The lawsuit is meritless and the Blaze may be an overwhelming success. This has been an unjustified sell off in the price of FIT shares.
Also a factor in the January sell-off of FIT was the CES announcement of a competing product from Under Armour (NYSE: UA). The triple digit growth category of wearables can obviously support a number of successful competitors. A successful product entry by Under Armour could actually help to expand the wearables market, thereby helping all participants in the category.
FIT is now at the bottom of the trading cycle for a high beta, volatile, recent IPO stock. We currently have a sky-high 65% short interest of the total float, an overall market correction/bear market underway, extremely negative sentiment on FIT, and a stock with a largely untold and misunderstood story. As Fitbit continues to deliver stellar earnings beats, launches more new products, announces new corporate and government deals, forms possible partnerships, and completes M&A activity recently indicated by CEO Park, then investors in FIT may be in for a very strong performance in 2016.
Competition In The Wearables Category
It is early days for the triple-digit growth wearables category and the emerging sub-categories.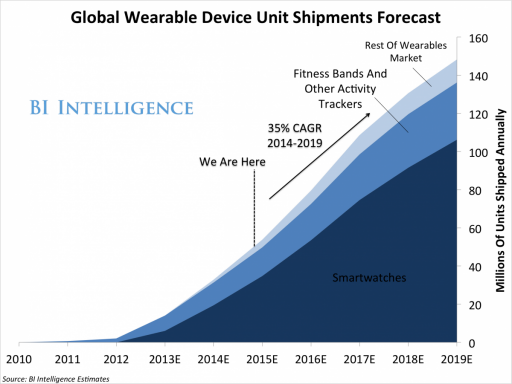 As with all high-growth categories, there will be a number of winning companies who will grow their annual sales at a rapid rate. Fitbit is the overall leader in wearables, and also dominates the sub-category of the rapidly growing corporate-government wellness market.
In the future, there will be numerous winning companies in the fast-growing wearables category. In fact, Fitbit demonstrated that it could actually lose market share from Q3 2014's 33% share down to Q3 2015's 22% share, and still grow sales by a whopping 168% YOY.
Many sub-categories will evolve within the wearables space as this nascent industry develops. Think of how many sub-categories the evolution of the PC or the Internet spawned. There will be a growing number of companies that join Fitbit in succeeding in this new, rapidly growing space.
History shows us that first-mover advantages can last for years and even decades for pioneering companies. Fitbit is the first-mover in wearables worldwide. Here are a few of the category's other competitors:
Apple finds itself in a difficult situation to effectively compete in the wearables category. A consumer must first own the iPhone prior to making a purchase of the Apple watch. This is cost prohibitive for many consumers worldwide. This has limited the sale of the Apple watch to only iPhone customers, about 15% of the cell phone market. Unlike the Apple watch, Fitbit products are compatible with 100% of all platforms thereby providing Fitbit with a huge natural advantage from the start.
It is documented that sales of the Apple Watch crashed over 60% after the much-hyped launch. Now we are receiving indications that holiday sales of the Apple watch were "tepid." As a result of this weak demand for the Apple watch, the release of the product update is reportedly being pushed back from March to September 2016. More bad news for the Apple Watch is more good news for the Fitbit ecosystem of products. And there is a lot of good news for Fitbit.
Reasonable investors have to ask the question: With Apple struggling to maintain growth after recent misses with Music, Watch and TV, declining sales on the iMac and now even the growth of Apple's core business of iPhone sales are stalling, does Apple really want to focus resources on a disappointing watch that does not even move the needle on revenues for the company's quarterly earnings reports? Both the production and marketing budgets for the watch were slashed after the failed launch. It is unclear if Apple will join Fitbit as a future winner in wearables.
Google (NASDAQ:GOOG) (NASDAQ:GOOGL) Glasses notably failed in wearables, enough said. Nike (NYSE:NKE) failed with the Fuelband. Microsoft (NASDAQ:MSFT), Jawbone (private), Misfit (recently acquired by FOSL), Pebble (private), and Garmin (NASDAQ:GRMN) are each struggling to scratch out any significant market share in wearables. Samsung (OTC:SSNLF) has not fared much better. And Xiaomi is at the extreme low-end of the market experiencing some limited success, with the argument to be made that Xiaomi is bringing up future Fitbit customers as consumers desire to graduate to Fitbit's higher quality ecosystem. It is unclear at this time if any of these competitors will be able to improve their product sales and ecosystem enough to join Fitbit as a leader in this rapidly growing, new market.
Variant View On Under Armour As A Viable Fitbit Competitor
While Under Armour has been late to the marketplace, thereby ceding first-mover advantages worldwide to Fitbit, we may see the UA product fare somewhat better than the rest of the competition that has missed the mark. UA seems to "get" the essential point of combining the hardware with a well-designed, networked, user-friendly, online dashboard to create an ecosystem as Fitbit has demonstrated to be a highly successful combination.
In fact, another key point that bears miss in their statements that "anybody can make a competing wristband" is that it is not just the hardware on the wrist that sells the product. What the consumer loves about Fitbit is the hardware/software combination of an ecosystem where a consumer can track results, interact with others via a social network, and interact with their personal fitness activity online in a way that most competitors have missed. Many bears are not consumers of the Fitbit ecosystem but bulls often are loyal Fitbit customers. The Fitbit ecosystem is well-designed with excellent products and a clean online dashboard that is simple and fun to use for consumers wanting to improve their health and fitness.
Because UA boasts a large user base that already interacts online with its products, it will be interesting to see if their wearables product can gain significant traction. UA's activity tracking and biometrics measured are very similar to Fitbit's design so it would not be surprising to learn that UA patterned their product after the industry leader. Time will tell if the new UA product is widely accepted by consumers. There is room for other successful companies to join Fitbit in this rapidly growing category. UA could even help Fitbit expand the wearables market, which would be a positive for all participants.
However, a few questionable choices by UA need to be mentioned: UA chose to bundle three different health products into what they call the Health Box for $400. This is a high price point, people may not want anything more than just the fitness watch, and it may confuse consumers who won't know if they can purchase the band separately. Also, the heart rate monitor is a strap that goes around the chest that will require the application of skin lubrication to avoid irritation of the chest under the monitor. Most consumers don't want to hassle with that mess and complication before and after every workout. Finally, UA is marketing the product to a specific group of hardcore athletes. UA has chosen a much smaller target market, while Fitbit has targeted the much broader mass market of general population seeking to improve general health.
The smart money might continue to side with the demonstrated success of Fitbit in the future of wearables over the existing and newer competitors trying to scratch out a few percentage points of market share against Fitbit's worldwide dominance. But UA may have duplicated the "Fitbit formula" closely enough to also have success. Time will tell.
A last note regarding competition for Fitbit: Bears have staked much of their case on the erroneous assumption that "anyone can make a fitness tracker, there is no moat to competition." This is a false premise as anyone who has ever actually run a business will completely understand the following:
Creating a product is one thing (Google Glasses, Nike Fuel Band, Microsoft Band1 and now Band2 are all in various stages of failure).
Successfully launching a product is another thing (Apple watch sales crashed by over 60% after the much-hyped launch).
But maintaining sales after the hyped launch and then growing sales at a meaningful rate of growth fast enough to impress the market is a completely different achievement that only Fitbit has accomplished in the wearables market to date.
Fitbit's ecosystem clearly does have a defensible moat as demonstrated by the fact that only Fitbit has achieved worldwide acceptance and purchases by consumers, corporations, governments, insurers, military, colleges, and healthcare providers. If a moat around the Fitbit ecosystem did not exist, then all of the other competitors who have created wearables devices would be successful, and we know that they are not nearly as successful as Fitbit. Competitors from large companies like Google, Nike, Apple and Microsoft have each failed or they are struggling to gain any significant market share against Fitbit's leading position. Many competitors in wearables are not receiving significant revenues or ROI and are quietly downplaying their failure or hiding their quarterly sales numbers as Apple has chosen to do in an attempt to mask the flagging sales of the Apple Watch.
While Fitbit's competitors are failing and downsizing (Jawbone recently terminated 15% of their total work force and closed their New York offices), Fitbit is poised to announce an epic Q4 earnings beat that Sean Udall, CIO at Quantum Trading Strategies stated, "could annihilate the quarter." And strong retail channel checks thus far in Q1 indicate another strong quarter in the making. It is likely that Fitbit will raise guidance for Q1 and all of 2016. The future is very bright for Fitbit, and the stock is very oversold. This creates a compelling buying opportunity in FIT for aggressive, risk-oriented investors.
Final Notes And Summation
A few final thoughts:
Software sales are actually the fastest growing segment of Fitbit's business, growing faster than even the explosive corporate-government wellness business. Software sales have higher margins than hardware, and software delivers monthly recurring revenues based upon the subscription model. This growing additional stream of revenue is becoming increasingly significant and will see a huge bump higher in Q1 as a result of the strong holiday sales season.
The Blaze enables users to see color video on the watch screen to interact with FitStar trainers (Fitbit acquired FitStar prior to the IPO). This platform is well-suited for the future interaction of employers, insurers, healthcare providers and consumers who can all sync to the same biometric data via the Fitbit ecosystem. mHealth is here and innovation is happening. Fitbit's next steps are going to be revolutionary.
In 2015 Fitbit executive Marty Reaume was appointed to the board of DICOM Grid, a digital health medical imaging company, where she has a long-standing relationship with the CEO from their past years together at NetSuite. This growing relationship may provide an interesting clue to the direction of Fitbit in the future.
Fitbit is the largest holder of biometric data in the world and is conducting studies based upon this proprietary database that would be of great value to several marketplaces including the insurance and healthcare industries.
Fitbit is building a huge social network of loyal users who enjoy interacting and competing with friends, family, co-workers, other groups, etc., on this network. What are the possibilities for this network going forward?
New corporate-government deals are pending and may already be completed. Many HR departments allocate in the November/December period and while Fitbit announces only very large deals individually, we can expect a cumulative announcement of multiple deals recently signed very soon. Corporate group sales have higher margins than retail sales.
CEO Park and VP of IR Brad Samson have announced that there will be other new product announcements in 2016 beyond the Blaze, which is accepting pre-orders currently and will come to market in March. New products and innovations may include new sensors that would enhance the company's leading edge over competitors and quicken the pace of the upgrade cycle in 2016.
Park has also stated that M&A may occur in 2016.
The staggered Lockup Expiry has already completed the first two of four legs. It would stand to reason that the most eager sellers of Fitbit shares have already completed their sales during the first two legs of expiry during the secondary in November and the mid-December expiry. Shareholders in the final remaining legs of the expiry in February and/or March may choose to hold their shares for the long term, or at least until higher prices prevail after Fitbit has announced a few more stellar quarterly earnings reports as has become the norm for Fitbit.
The Jawbone lawsuit was delayed at the last possible minute on the day that a preliminary issue was to be heard in court. Jawbone elected to avoid the hearing and the case was taken off of the docket. Remember that Fitbit counter-sued Jawbone as well. So these inconsequential legal maneuverings may soon be put to rest and the lawsuits by both companies forgotten. Let's see if any further efforts to prosecute what Fitbit has deemed a meritless lawsuit arise in the future.
The recent class action lawsuit regarding Fitbit's standard arbitration clause and the accuracy of the heart rate monitor was announced on the same day that Fitbit unveiled the Blaze product release at CES. Coincidental timing? No, more likely an orchestrated effort to negatively impact Fitbit's CES release of Blaze. The class action lawsuit that has been filed against Fitbit has not yet been certified and chances are high that it never will be certified. This would close this issue with no further action. The complaints filed in this trivial legal effort are suspect at best, and they are undoubtedly the machinations of the short-selling community at worst. Please see the Consumer Reports video report on their independent test results of the Fitbit Charge HR and Surge heart monitors.
In summation: Global macro-trends are driving the growing momentum in wearables in 2016 and Fitbit is the category's leader and a pioneering company. Expect continued innovation and new products this year to follow the impressive new product announcement of the Blaze that garnered 17 Best In Show awards at CES this January. Pre-sales of the Blaze are likely to be strong. The coming Q4 ER will be a blockbuster earnings beat accompanied by raised guidance for Q1 and all of 2016. New corporate deals are soon to be announced. With these multiple upside catalysts upon us it should be noted that the current 65% short interest of the existing float is a very over-crowded trade that will have to cover into the chain of higher prices on the chart in the days and weeks ahead. Upside catalysts that cause rising stock prices combined with a sky-high short interest is a good recipe for making sharp upside gains by investors.
After being beaten down so sharply, shares of FIT are leaner as they emerge from their brutal post-IPO boot camp. Fitbit is poised for their strongest year ever in this young company's history and the price action of FIT shares are ready to rise in 2016. Good luck to all both long and short.
Disclosure: I am/we are long FIT.
I wrote this article myself, and it expresses my own opinions. I am not receiving compensation for it (other than from Seeking Alpha). I have no business relationship with any company whose stock is mentioned in this article.
Additional disclosure: I have traded shares of FIT both long and short during its brief 7 month trading history. Currently, I am 100% long FIT shares.