As the rig count in the U.S. falls, the amount of oil being produced at home has remained stubbornly high, which has incentivized me to look deeper into data provided by the EIA (Energy Information Administration) in an effort to figure out when we should see oil supplies fall. Already, I've written pieces on the Permian and the Eagle Ford to illustrate that the former should soon peak in terms of output while the latter is in a state of decline that is likely to worsen if prices don't recover soon. In this piece, I'm using the most recent data from the EIA's Drilling Productivity Report to see what the future looks like for the Bakken.
A look at the Bakken
The Bakken is located largely in North Dakota, with a smaller portion of the region located in Montana. As of right now, it is one of the seven regions in the continental U.S. that the EIA provides estimated production data for (they also give some information on the Gulf of Mexico), with the others being the Permian, Eagle Ford, Niobrara, Haynesville, Marcellus, and Utica. The image below is a layout of these seven regions as classified by the EIA.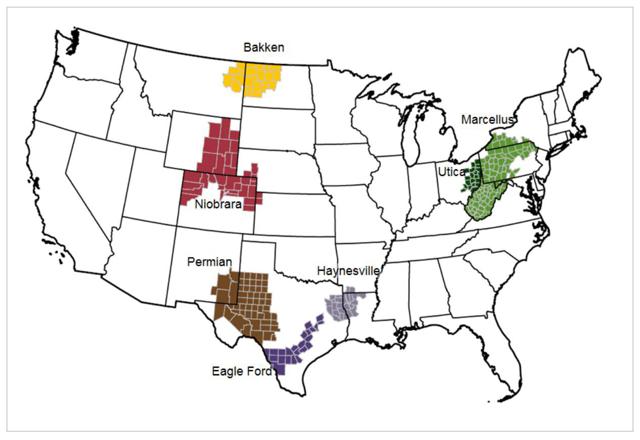 *Source: Image from the EIA's Drilling Productivity Report
Despite seeing output fall, the Bakken is the third-largest (in terms of output) of the seven regions when it comes to oil, with the EIA estimating that crude production in February will average 1.097 million barrels per day. This implies that total output in the region accounts for 22.7% of the output from all seven regions and about 11.9% of all U.S. production. Because of the large drop in oil prices that we've seen over the past year and a half, output in the region fell from an all-time high of 1.26 million barrels per day in December of 2014 to where it has been estimated to be in February, a drop of 164,932 barrels per day.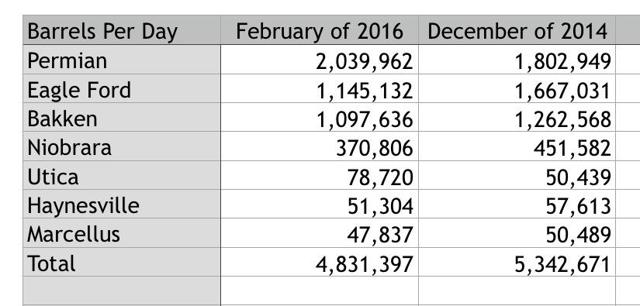 *Source: Created by author; data from the EIA's Drilling Productivity Report
In my analysis of the Bakken, I had to make some assumptions regarding what the future might look like. The first relates to rig productivity. Since December of 2014, rigs in the region have gone from generating 487 barrels per day to 724, a rise of 48.7%. While this has been a tremendous increase in productivity, the trend has been getting worse every month since August of 2015, with the month-over-month increase in efficiency growing smaller. If the EIA is correct in their assessment, the region's rigs will grow productivity by just 0.98% per barrel in January and 0.70% (the lowest improvement since September of 2014) in February. This gives me a sound basis to assume that rig efficiency improvements will probably average 1% or less per month moving forward but, since they've bounced around 2% to 3% for most of the past year, I am using a benchmark of 3% in my analysis.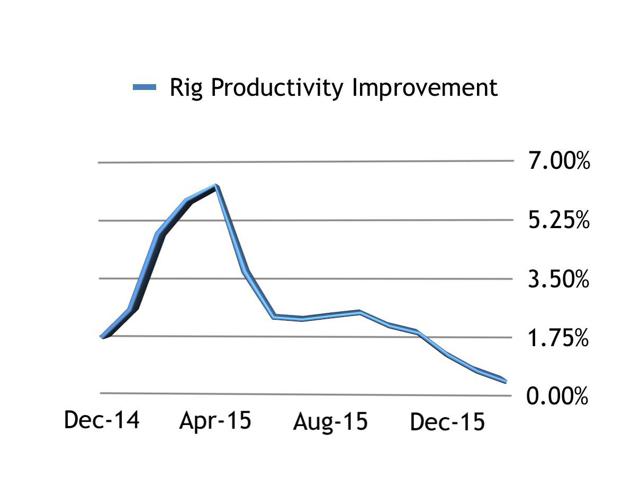 *Source: Created by author; data from the EIA's Drilling Productivity Report
I also had to take into consideration changes in the number of rigs in operation in the region. Since peaking at 194 units in operation in September of 2014 (the highest point seen since October of 2012), the rig count has fallen to just 56 units in December. Seeing as how many of the rigs fell when the decline in oil prices first began, it would be more accurate to base my assumption off of more recent declines. To do this, I looked at the average monthly decline from May through December of last year, which implies that rig counts have fallen, on average, four units per month (December unit count fell by six so low prices could push this number lower). Of course, if the energy market does improve, it's possible that rig counts will rise again but this doesn't appear to be in the cards at this moment.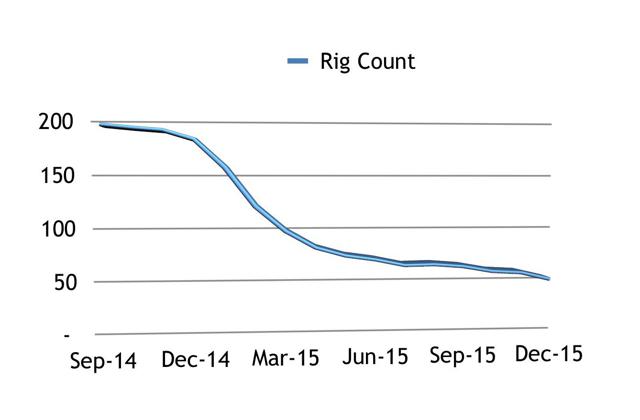 *Source: Created by author; data from the EIA's Drilling Productivity Report
The last indicator I had to look at relates to the region's decline rates. In the graph below, you can see this historical decline rates in the Bakken, ranging from January of 2007 through the estimated numbers for February of this year. What we see is that, like the Permian and the Eagle Ford, the decline rate is higher today than it was in the earlier years and currently stands just shy of 6% (though it has risen every single month since June of last year). For this reason, I will assume rates of 5%, 6% and 7% in my analysis. I believe the 6% rate, while it may end up being low by the end of this year, is the most sensible one to assume given the data and the overall trend.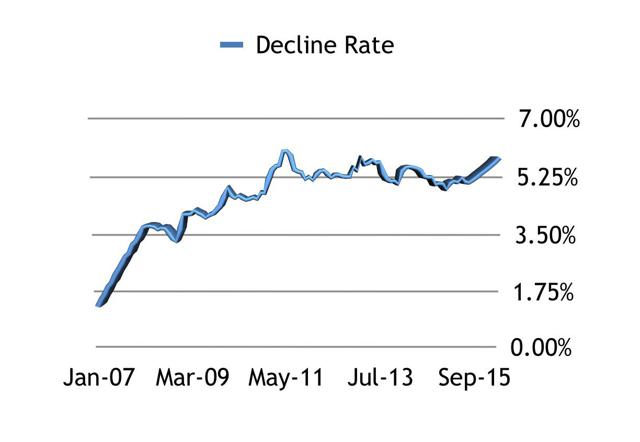 *Source: Created by author; data from the EIA's Drilling Productivity Report
Output should fall quite a bit
There's no denying that the Bakken, with its lower decline rates, will see output decline at a far slower pace than regions like the Eagle Ford, but it does appear likely, nonetheless, that investors should expect the region to report a sizable drop in production in the months to come. Using the assumptions I made, a 5% decline rate for the region will result in output hitting 881,568 barrels by year end, which suggests a drop from December of last year totaling 259,224 barrels per day. If we see a decline rate of 6%, output should be about 804,425 barrels by the end of 2016, implying a full-year decline of 336,367 barrels per day, and a 7% decline rate should result in production totaling just 733,930 barrels per day, a drop of 406,862 barrels daily.

*Source: Created by author; assumptions of data taken from EIA's Drilling Productivity Report
I also decided to look at the moderate decline rate scenario but with productivity rates for rigs of both 1% and 2%. Under the most bearish (and probably least likely) scenario, output in the Bakken could fall to just 710,619 barrels per day, while 791,928 barrels per day will be produced using the 2% rig productivity assumption. It should be mentioned, however, that this relies very much on what happens with the rig count more than anything. If, for instance, the number of rigs falls, on average, by just 2 units per month, output in the region would be a more robust 955,401 barrels per day under the 5% decline rate scenario, 876,505 barrels per day under the 6% scenario, and 804,315 barrels per day under the 7% rate scenario. Unfortunately, I cannot predict the future (please let me know if you can) but I have a hard time believing that the rig count will fall by fewer than four units per month if energy prices remain as low as they are today.
Takeaway
Based on the results of my analysis, it seems highly probable that oil production in the Bakken will fall materially. If my rig count assumptions are correct, we should see production range from 710,619 barrels per day to 881,568 barrels per day by the end of this year. Compared to where production has been over the past couple years, this is bullish for long-term oil investors, especially as other regions show a high probability of oil output decline in the months to come. Of course, if energy prices do move meaningfully higher, this trend could reverse or dampen but that, too, would ultimately serve the interests of long-oriented investors like myself as well.
Disclosure: I/we have no positions in any stocks mentioned, and no plans to initiate any positions within the next 72 hours.
I wrote this article myself, and it expresses my own opinions. I am not receiving compensation for it (other than from Seeking Alpha). I have no business relationship with any company whose stock is mentioned in this article.