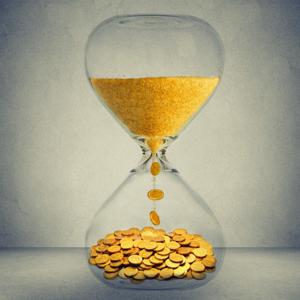 Time flies, I cannot believe that it is already 2016. Where have all the years gone? However, for those of us who trade or invest in markets, time feels like it has ground to a halt in 2016. Market action is wild and over the first three weeks of the year, we have watched as our nest eggs have declined with the market averages. Markets experienced a fair amount of volatility in 2015. The Greek debacle caused markets to move. In late August, the surprise devaluation of the Chinese yuan came as a shock to markets. Terrorist attacks in France and California added to uncertainty. The U.S. Federal Reserve followed through on their promise to hike the short-term Fed Funds rate at their final meeting of the year. On New Year's Eve, we bid a not so fond adieu to 2015: a year in which commodity prices continued to lose value, the dollar strengthened and U.S. equity prices were barely changed. While the NASDAQ gained 5.73% last year, the Dow Jones Industrial Average fell 2.23% and the S&P500 fell 0.73%. Thanks heavens for dividends, which kept most of us whole in 2015.
The New Year started with a bang. In the first two weeks of 2016, the DJIA and S&P 500 fell by 8% and the NASDAQ shed over 10% of its value. During the third week of a month that is starting to feel like a year, equity price volatility increased. Commodity prices continued their fall and the dollar remained stable. China grew by 6.9% in 2015, below the government's 7% target but not a disastrous result that worried some. That rate of growth will likely continue to slip in 2016 adding additional pressure on commodity prices, which have already fallen to levels in the New Year that reflect the bearish, almost deflationary, perception of the markets.
We have seen some wild volatility over a short time in January 2016, when volatility occurs it often results in divergences between the prices of assets.
Oil and natural gas are 98-pound weaklings
In 2015, the worst performing commodity sector was energy. At the beginning of 2016, the follow through has been quite staggering. Generally, the worst performing commodity sector for one period recovers in the next. The energy sector lost a quarter of its value in 2015, and on a percentage basis, it is fast approaching that percentage with 49 weeks left to go until 2017.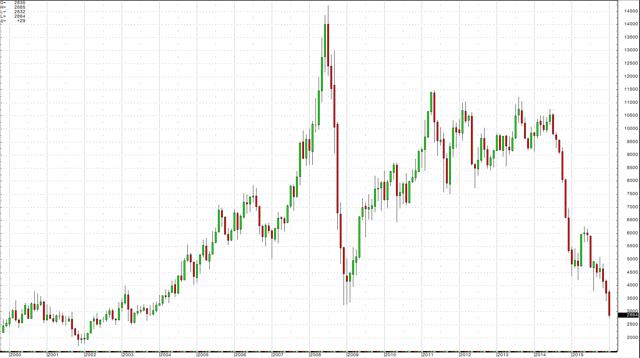 The monthly chart of NYMEX crude oil highlights that the energy commodity was down 30.47% in 2015. Active month crude oil futures that trade on the NYMEX closed the year at $37.04 per barrel. On January 20, 2016, crude fell as low as $27.56, down another 25.6% so far this young year.
The price of natural gas has gone along for the ride lower with oil.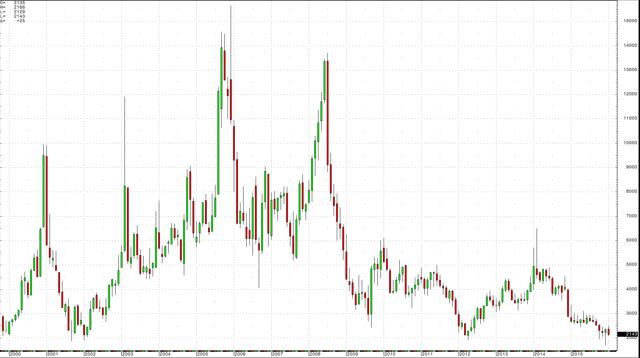 Natural gas finished 2015 at $2.3370 per million Btus. It fell 19.11% in 2015 and as of January 20, 2015, the price had traded to lows of $2.067, down 11.6% so far this year. Natural gas traded to the lowest level since 1999 in December, and crude oil is currently flirting with 2003 lows. To say that the energy sector is weak would be an understatement.
Gold's strength is relative
While virtually all commodity prices have been weak and falling like stones, gold has been falling like a feather. In fact, so far in 2016, the price has actually moved higher. Gold is down significantly from the 2011 highs of just above $1920 per ounce. In 2015, the price of the yellow metal fell 10.46% and finished the year at $1060.20 per ounce. While most commodity prices have moved lower over the first weeks of 2016, the price of gold has bucked that trend.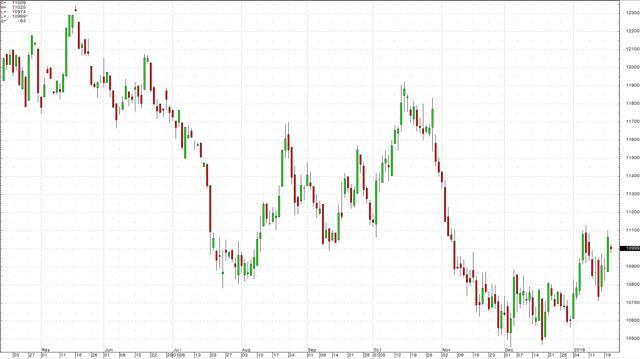 The daily chart of COMEX gold highlights that the price has appreciated by just under 3.8% as of January 20, 2016. Uncertainty across all asset classes has caused a flight to quality, and gold has been the recipient.
The higher gold price over recent weeks has exacerbated the divergence between the yellow metal and other precious metals and commodities in general. The silver-gold ratio, which has traded at an average of around 55:1 over the past 40 years is currently around 77.4:1. Platinum, a precious metal rarer than gold, traditionally trades at a premium to gold. However, it made a series of new all-time lows against gold in early 2016 and is currently at a $280 discount to the yellow metal. Platinum, or "rich man's gold," is no longer that now that it is cheaper. These stark divergences have occurred within the precious metals arena. Gold is also trading at a high value versus other commodity prices on a relative basis. It is expensive against grains, metals, energy and minerals.
The relative value of gold versus other raw materials is a testament to the strength of gold. Last week I wrote a piece for Seeking Alpha, Gold: Strong But Weak; in that article I explained that gold remains strong but the price action over more than four years is anything but that. A volatile market is fertile ground for divergence; in the case of gold, its relative strength could be an opportunity for mean reversion trades in the months and years ahead.
Mean reversion worked in the long run between oil and gas
In another article for Seeking Alpha last week, Mean Reversion In Energy, I wrote about the correction of a long-term divergence between the price of crude oil and natural gas.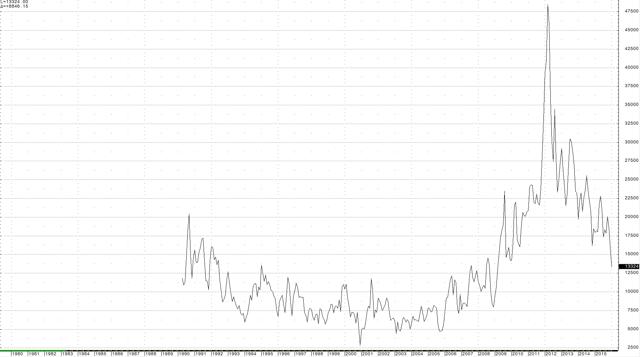 As the monthly chart of the price of crude oil divided by the price of natural gas illustrates, a multi-year divergence has recently corrected given the huge move in the price of oil. I explained that inter-commodity spreads like the crude oil-natural gas ratio may diverge for long periods but as true indicators of value rather than price, they tend to move back to historical norms over time.
The value relationship between gold and oil
The strength in gold has created many similar divergences between the yellow metal and other commodities. In the world of raw material markets, two of the most liquid, active and closely monitored commodities are gold and crude oil. The value relationship between these two staples has moved to the widest divergence in modern history.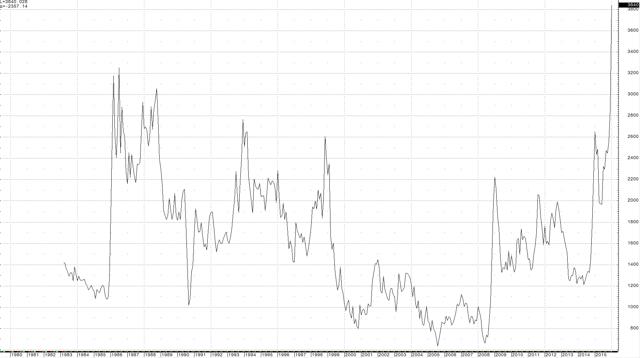 The monthly chart of the price of COMEX gold divided by the price of NYMEX crude oil highlights that the relationship has risen to new highs, a higher level than the previous high that occurred in 1986. In that year, the price of gold was between $300 and $400 per ounce and the price of crude oil was around the $10 per barrel level. Over the past 33 years, the average number of barrels of oil value in an ounce of gold value was between 12 and 22 barrels. Recently this relationship has risen to a point where it now takes over 38 barrels of crude oil to buy a signal ounce of gold. This divergence is important to consider, while the bifurcation between oil and natural gas recently corrected, another has emerged.
The bulls are right, gold is strong - The bulls are wrong, it is still trending lower
Gold bulls are a special breed. Many believe that gold is the only asset that is a store of real value. They have been wrong on price, but dead right on value. The divergence between gold and crude oil as well as with many other commodities is proof of the strength of the precious metal. However, in recent years gold has done nothing but make lower highs and lower lows.
The extension of the divergence between the price of crude oil and the price of gold presents us with a unique opportunity. It is telling us that on a historical basis, either crude oil is too cheap or gold is too expensive. Long crude oil and short gold on a dollar for dollar basis is a way to position for a correction in this value relationship. At a price of $1100 per ounce, one COMEX gold futures contract has a total value of $110,000. At a price of $28 per barrel, one NYMEX crude oil futures contract has a value of $28,000. Therefore, short one gold future against long 3.93 crude oil futures is the proper ratio to express the opinion that the divergence will correct toward the long-term mean at this point.
While there are never any guarantees in markets, a long-term divergence in value presents a special opportunity for those with the stamina to take risks inherent in these types of positions. With the recent extension in the gold-crude oil ratio, the potential for profits on a mean reversion trade is attractive for those looking to capitalize on the relative strength in gold and weakness in oil.
The action in gold has been bearish for quite some time. The massive move in crude oil could provide the impetus that finally pushes gold off the edge of a cliff onto the slippery slope of lower price. If that occurs, the gold-oil spread is likely to move in the direction of the mean for this value proposition. I have prepared a video on my website Commodix.com, which augments this article and provides a more in-depth, detailed analysis on the current state of energy markets to illustrate and highlight the real value implications and opportunities available.
Disclosure: I/we have no positions in any stocks mentioned, and no plans to initiate any positions within the next 72 hours.
I wrote this article myself, and it expresses my own opinions. I am not receiving compensation for it (other than from Seeking Alpha). I have no business relationship with any company whose stock is mentioned in this article.