We initiate coverage on Hollysys Automation Technologies (NASDAQ:HOLI) with an Outperform rating and a 12-month price target of $10.70.
| | |
| --- | --- |
| Key Stats | |
| 52-Week Range: | 4.54/18.15 |
| Market Cap ($mm): | 508 |
| Enterprise Value ($mm): | 488 |
| Average Volume 3-month | 217K |
| Beta: | 2.13 |
| P/E (2013E) | 9x |
| Balance Sheet Data ($mm) | |
| Cash and Short Term Investments: | 75.5 |
| Total Debt: | 48.7 |
| Profitability Analysis | |
| ROE: | 16.8% |
| ROA: | 6.7% |
| Gross margin: | 31.5% |
| Net margin: | 15.3% |
Investment Summary
Well-positioned to capitalize on increasing industrial automation, modernization of high-speed rail and subway system, and ramp up of the nuclear sector
A leader in the industrial automation sector with 10.6% market share and over 2,000 clients
One of five qualified component suppliers for 200-250 km/hr railway segment and one of two suppliers for the 300-350 km/hr segment
Proven track record of supplying signaling and control component for the Beijing subway paves the way for opportunities in other cities
Partnership with Guangdong Nuclear Power Holdings Corp. (GNPC) ensures 50% market share in nuclear automation market
Risks
Deterioration in the Chinese economy and infrastructure development may have a negative impact on sales growth
Discord with GNPC may severely affect Hollysys' entrance into the nuclear power market
Valuation
We value Hollysys at $10.70 per share based on a 10x forward Price/Earnings multiple and estimated EPS of $1.07 per share.
Company Description
Hollysys provides automation and control systems in China. The company's product line includes Distributed Control Systems (DCS), Programmable Logic Controllers (PLC), high-speed railway Train Control Centers (TCC), Automatic Train Protection (ATP), Surveillance Control and Data Acquisition (SCADA) subway system, and automation and control systems for nuclear power plants. The company has sales and service centers in 29 cities across China. The management collectively owns 44.7% of the company.
Business Segments
Hollysys has four major business segments, consisting of industrial automation, high-speed rail, subway, and nuclear power.
The Industrial Automation segment designs and manufactures DCS and PLC. The company has over 2,000 clients and completed 10,000 projects. According to management, Hollysys currently has 10.6% of industrial automation market share in China.
The High-speed Rail segment designs and manufactures railway signal systems of on-board ATP and TCC. Hollysys is one of five qualified suppliers for the 200-250 km/hr segment and one of two suppliers for the 300-350 km/hr segment.
The Subway segment distributes SCADA control systems and subway signaling systems. The company's MACS-SCADA system is utilized by the No.13 line of Beijing Subway system and 10 additional projects are being pursued in Beijing, Tianjin, Wuhan, Shenzhen and Guangzhou.
In the Nuclear Power segment, Hollysys is collaborating with Guangdong Nuclear Power Holdings Corp. (GNPC) by providing nuclear power automation components and services.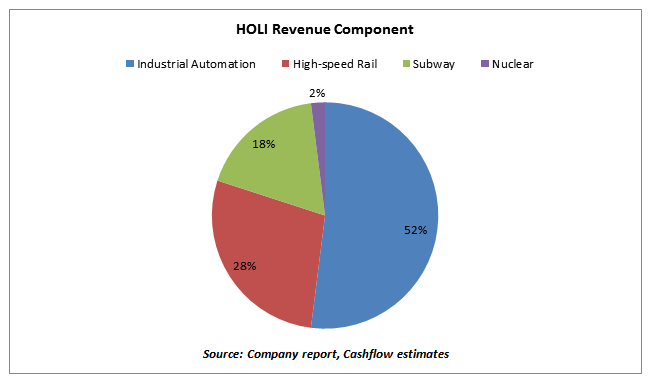 Investment Highlights
Rising Labor Cost will Drive Investment in Industrial Automation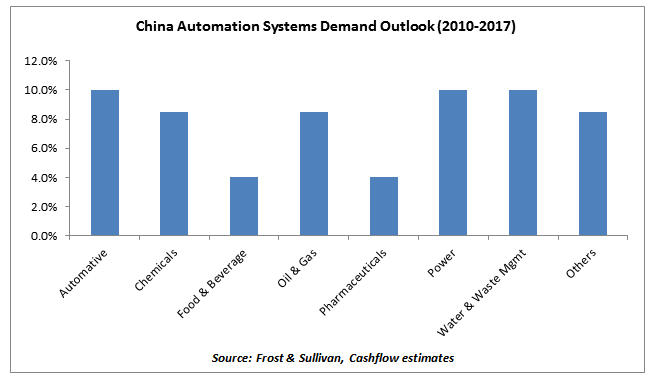 According to Frost and Sullivan, the Chinese control systems market is a $2.2 billion market and is projected to become a $5 billion market by 2014. According to U.S. Census Bureau, the number of Chinese aged 15-29 is likely to decrease after 2011. Meanwhile, labor cost is on the rise. From 1995-2000, wages have risen by on average 9.4% annually and 13% per year over the past five years. Faced with shrinking labor force and rising wages, factories across China are adopting process automation to increase efficiency and lower cost.
Hollysys currently has 10.6% of the market in industrial automation and is a fully integrated hardware and software provider. The company places great emphasis on R&D, from which they have developed and launched several DCS and PLC products. In 2000, Hollysys is the first domestic company to move into PLC market, which was mostly dominated by foreign companies.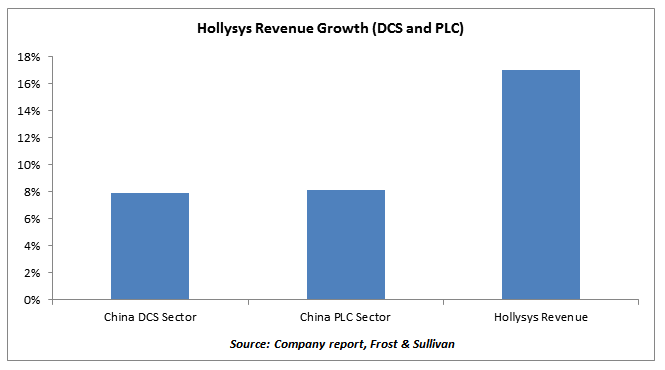 Favorable Government Policies Presents a Nuclear Opportunity
Nuclear power currently accounts for only 2% of China's power generation while fossil coal accounts for approximately 80%. In order to meet the nation's energy demand and environmental goals, the Chinese government aims to generate 15% of the country's energy from non-fossil fuels by 2020 and reduce CO2 emission by 45% from the 2005 base.
China still has a nascent nuclear sector, with only 13 nuclear reactors compared to those of US (104) and France (59), which generate 20% and 76% of the nation's total electricity, respectively. China is currently building more than 25 reactors and the government aims to have 80 GW of nuclear power by 2020, 200 GW by 2030, and 400 GW by 2040. According to Michael Krause, a nuclear systems consultant for Arthur D. Little, China will likely spend over $500 billion to build 245 reactors in the future.
Meanwhile, the Chinese government is also aiming for lower cost by sourcing components from local suppliers to reduce dependence on foreign suppliers. Hollysys is the only certified domestic automation control systems provider to the nuclear industry in China and we believe that the company will be one of the main beneficiaries amid China's nuclear modernization.
Hollysys is partnering with China Guangdong Nuclear Power Company (CGNPC), one of three government-approved nuclear operators in China. CGNPC currently operates 5 nuclear reactors and has been chosen to build 30 of the 64 nuclear reactors that are under construction that have approximately 36 GW, or 50% of planned output. From 2015 onward, CGNPC expects to commission four nuclear reactors per year. The partnership with CGNPC allows Hollysys to have 50% of China's nuclear automation market.
High Speed Rail and Subway Puts Profitability on the Fast Track
China's passenger traffic intensity ranks third in the world, behind Japan and India. With 20% of the world's population but only 5.5% of the world's railway tracks, China's railway network is one of most heavily used in the world. To mitigate the stress that is placed on the rail network, the Chinese government plans to spend $105.2 billion per year on railway construction in the 12th Five-Year plan that spans from 2010 to 2015. The amount is more than 10x that during the 11th Five-Year plan.
We believe that Hollysys will also benefit from the modernization of China's railway network because it is one of two suppliers of high speed rail signaling system for the 300-350 km/hr rail segment and one of five suppliers for the 200-250 km/hr rail segment. Since early 2008, Hollysys has won over $200 million worth of railway contracts.
In addition to modernization of rail networks, modernization of China's subway system is also one of the government's top priorities as it aims to reduce pollution amid rising car ownership, increasing urbanization. By 2015, China is expected to have over 3,000 km of subway track. That figure is likely to reach 8,000 km by 2020 as construction is underway in 26 major cities across China.
Hollysys' Integrated Supervision and Control System, which delivers centralized supervision and real-time information, is expected to be a top selling product as it is already being used by 4 major lines of the Beijing subway system. We expect Hollysys to leverage its strong presence in Beijing to pursue opportunities in other cities in the near future.
International Opportunities
The international markets offer compelling opportunities for Hollysys in both the nuclear reactor and high speed railways business.
Currently there are over 400 nuclear reactors worldwide and close to 200 reactors in the pipeline. China's competitive pricing (40% less) and shorter time frames (46 versus 71 months) are attractive to developing nations as they modernize their nuclear sector. CGNPC hopes to start selling reactors abroad by 2013 and Hollysys will likely benefit as the key supplier of nuclear automation and control system to CGNPC.
There are also potential opportunities in the replacement of aging reactors. According to IAEA, 248 out of 436 reactors have been in operation for over 25 years and have approximately 15 years remaining in their lifespan. Parts replacements and equipment upgrade offer Hollysys an attractive opportunity for the upcoming decade.
Hollysys' rail segment will also likely see international growth. In May, Hollysys acquired Singapore-based CCPL for $43 million. CCPL provides electrification-related services to rail and industrial markets and our initial assessment is that the company is a good fit for Hollysys' international strategy. In addition, China Railway Construction Corp currently has 137 projects in 27 countries, including Nigeria, Saudi Arabia, and Turkey. Once again China's competitive pricing (>20%) will be attractive to developing and developed nations as they seek to modernize or upgrade their rail network. That said, Chinese railway construction companies and parts suppliers will most likely be the beneficiaries of this trend.
Growth Strategy
Hollysys expects to expand its industrial automation segment. The combination of increasing labor costs, environmental degradation, and production complexity has sparked growing demand for industrial automation and management looks to expand its market share to 25-30% from the current 10.6%.
Program Logic Controller (PLC) currently accounts for 10% of Hollysys' industrial automation segment sale, but the management expects PLC to grow significantly faster than DLC segment in the future. Hollysys expects to expand its PLC portfolio to cover a broader range of both high-margin and low-margin application-specific products.
Hollysys currently sub-licenses its subway signaling technology from Japan so it could gain a foothold in the subway equipment market. In the meantime, the company is developing its own proprietary subway signaling products to rely less on foreign suppliers. Management expects to launch a proprietary subway signaling application by 2013/14 after passing all necessary state inspections and approvals.
Valuation
We rate Hollysys Outperform with a price target of $10.70 using a 10x forward Price/Earnings multiple and estimated EPS of 1.07 per share.
Disclosure: I have no positions in any stocks mentioned, and no plans to initiate any positions within the next 72 hours.