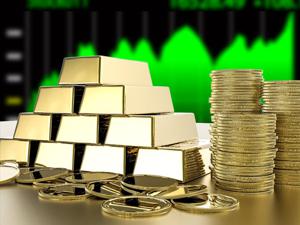 In the latest Commitment of Traders report (NYSE:COT), we saw gold long and short speculators essentially hold their positions steady and not surprisingly, the gold price held steady during the reporting period as well. As for last week's surprisingly extreme positions - we saw more of the same this week as speculative copper shorts increased their positions once again.
We will get a little more into this but before that let us give investors a quick overview into the COT report for those who are not familiar with it.
About the COT Report
The COT report is issued by the CFTC every Friday, to provide market participants a breakdown of each Tuesday's open interest for markets in which 20 or more traders hold positions equal to or above the reporting levels established by the CFTC. In plain English, this is a report that shows what positions major traders are taking in a number of financial and commodity markets.
Though there is never one report or tool that can give you certainty about where prices are headed in the future, the COT report does allow the small investor a way to see what larger traders are doing and to possibly position himself accordingly. For example, if there is a large managed money short interest in gold, that is often an indicator that a rally may be coming because the market is overly pessimistic and saturated with shorts - so you may want to take a long position.
The big disadvantage to the COT report is that it is issued on Friday but only contains Tuesday's data - so there is a three day lag between the report and the actual positioning of traders. This is an eternity by short-term investing standards, and by the time the new report is issued it has already missed a large amount of trading activity.
There are many different ways to read the COT report, and there are many analysts that focus specifically on this report (we are not one of them) so we won't claim to be the exports on it. What we focus on in this report is the "Managed Money" positions and total open interest as it gives us an idea of how much interest there is in the gold market and how the short-term players are positioned.
This Week's Gold COT Report
This week's report shows speculative traders once again cutting their short positions for a third straight week and subsequently taking gold positioning to about an even ratio between longs and shorts.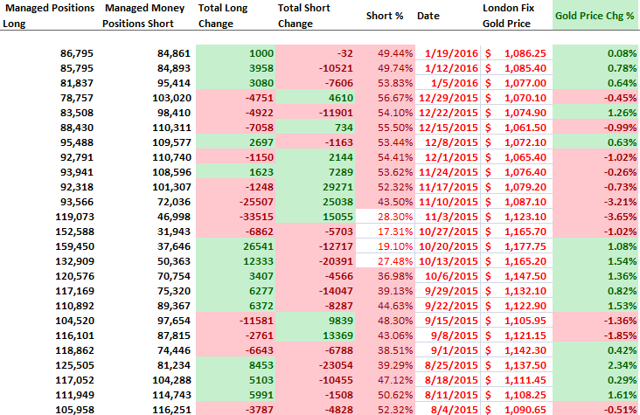 Ordinarily, three straight weeks of longs increasing positions is usually a bearish sign in terms of gold's short term movements. But since longs really haven't increased their positions significantly (only 8,000 contracts over the past three weeks), we still lie at a pretty high long-to-short ratio of 49.44% short - still high historically. While there is never any guarantees, this resembles the gold movements in September through October, where speculative gold longs initially increased their positions for three straight weeks (but not by much) and then there were two more weeks of long increases that were of a much larger variety that pushed the gold price up another $30.
Again, nothing has really changed about our position here as gold remains at a crossroads here as speculative long and short positions are around even and there is little conviction in the market.
The Copper Market Corner?
We pointed out last week that the most surprising part of that report was the large speculative positions in copper. This week saw another increase in speculative shorts in copper:

Source: CFTC
As we stated last week, anybody familiar with the COT report will know we usually see producers and merchants being net short of their commodity, while speculative (represented in this report by "Managed Money" traders) tend to be net long with much bigger fluctuations in their positioning. The reason why we see producers net short the majority of the time is because they are already net long via their production, and thus use the commodity future markets to hedge their production or to lock-in a price.
What we see here is that speculative are EXTREMELY bearish on copper with over 60,000 short contracts outstanding and further adding to their positions as copper crossed below $2.00/lb. On the other hand producers are actually net long - which is also extremely rare.
Interestingly enough, Bloomberg also published an article titled, "Copper's Crowd of Bears Punished by Trader Squeezing the Market" where they essentially said that it looks like there is so many traders short copper, one or two very large traders are trying to corner the market by owning half the copper in London warehouses. With that much metal under control, the trader can help drive up the fees associated with rolling forward a short position, making it tougher for speculators to keep their bearish bets. Not surprisingly the costs to short copper have risen to the highest in three years.
Could we see a copper rally despite the bearish Chinese data? We sure think so.
What Does This Mean For Investors?
Going back to gold, we're still seeing little in the way of conviction as traders maintain both long and short positions. The Fed is scheduled to meet this week and that should be the decisive factor to push gold higher (on a dovish outlook) or possibly push gold down if the Fed is hawkish. Nothing for gold investors to do here but wait, though we think with the stock market malaise the Fed is likely to be very dovish in its outlook.
As for copper, there is a good chance we see a major short covering move as positions are extremely bearish and central banks may start to ease and become much more dovish. Copper companies like Freeport-McMoRan (NYSE:FCX), Nevsun Resources (NYSEMKT:NSU), or Southern Copper (NYSE:SCCO) could benefit if there is any short covering or positive news in the copper market.
As for gold investors, it remains to be seen how speculative traders will react but we expect dovish talk from the Fed this week and thus gold may see some support on a weakfish dollar to push it higher and break the long-short positioning standstill. Thus we continue to believe that building or holding positions here in physical gold and the gold ETFs (SPDR Gold Shares (NYSEARCA:GLD), PHYS, CEF) is the prudent move. Additionally, the miners that have been underperforming gold over the last few months may offer investors considerable leverage to any rise in the gold price. Investors looking for this leverage may want to consider evaluating gold miners such as Goldcorp (NYSE:GG), Agnico-Eagle (NYSE:AEM), Newmont (NYSE:NEM), or even some of the explorers and silver miners such as Tahoe Resources (NYSE:TAHO) (we're not suggesting these companies specifically - only suggesting them for further investor research).
Disclosure: I am/we are long TAHO, SGOL.
I wrote this article myself, and it expresses my own opinions. I am not receiving compensation for it (other than from Seeking Alpha). I have no business relationship with any company whose stock is mentioned in this article.