If there is one thing that I've learned from navigating financial markets for 23 years, it's that markets don't bottom on good news. Markets bottom when the bad news can't get any worse, and we did not meet that metric last week.
Friday's rally was instigated by the same short-term sugar high that levitated stock market indices in the US and Europe throughout all of last year-monetary policy.
In an obvious call to action by tumbling stock prices, European Central Bank President Mario Draghi intimated that he was prepared to act with more stimulus as soon as March, during the ECB's next scheduled meeting. Draghi, who is known to keep a close eye on his quote screen, described the carnage we have seen in global stock markets so far this year as "market gyrations." I suspect that he's far more concerned than he suggests.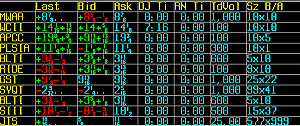 He also stated that it is too early to conclude if these stock market gyrations had worsened the global economic outlook. Yet on the same day we learned that business activity in the Eurozone took a turn for the worse, with Markit's Composite purchasing manager's index falling to an 11-month low. Looks like Draghi needs to get off the slopes in Davos and back into the office in Frankfurt.
Like a dealer looking to keep the junkies hooked on his drugs, Draghi delivered a quick fix that the markets readily accepted, even if it was only the suggestion of more stimulus, alleviating the painful symptoms of withdrawal being felt since the start of the year.
Oil futures soared back above $30/barrel, and stock market futures surged higher, following his statement.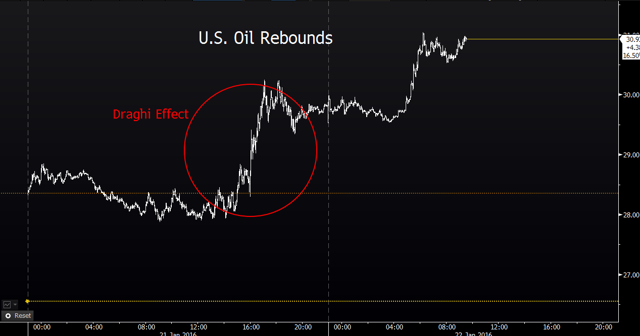 Oil prices were looking for any excuse to rally from a 12-year low after speculators had built what was the largest short position on record last month. Colder weather in the US and Europe was another excuse to cash in on profitable short bets, despite any meaningful improvement in oil market fundamentals.
The S&P 500 index (NYSEARCA:SPY) managed to hold its opening gains, pushing through initial resistance at its 10-day moving average of approximately 1900 and closing at 1906. This opens the door for a move up to its 20-day moving average at 1966. Yet the rally was led by the energy sector, which is the weakest sector in the S&P 500, indicating to me that the rally was due more to short covering and a lack of sellers than resolute buying. We shall see next week.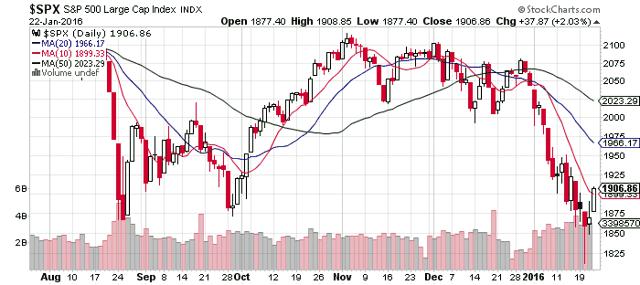 This counter-trend rally was highly anticipated. We were significantly oversold. One of my favorite short-term indicators is the NYSE Hi-Lo Index, which measures the number of new highs made on the NYSE, divided by the number of new highs plus new lows. That number is then calculated as a ten-day moving average and shown as a value between 0% and 100%. You can see below that it fell to 3% yesterday, and it can't fall much further than that. Using this in conjunction with other short-term technical indicators is helpful in determining when we are getting close to a short-term bottom.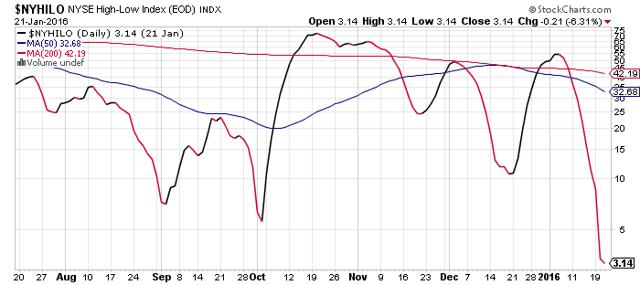 Now we have rallied from Wednesday's intra-day low of 1812 on the S&P 500 index, and there could be more follow-through next week, but I still haven't seen signs that this rally has legs.
Some investors will look at last week's market action as a correction that is complete. In other words, it is a buying opportunity, in which case the time to invest is now. Others see it as a countertrend rally from an oversold condition, as I do, and want to use it as an opportunity to reduce exposure to stocks, hedge or speculate on another decline. That is the line in the sand right now between the bulls and the bears.
I will reiterate that markets typically bottom on very bad news rather than good news. I wouldn't interpret what clearly fueled stock prices on Friday as either. An announcement that we will be getting more stimulus from the ECB, or any other central bank for that matter, simply prolongs the inevitable. What was previously a stimulant is now a pain killer. Many investors are just awakening to the fact that market and economic fundamentals have been worsening, and will continue to deteriorate. It took a 10% plunge in the S&P 500 index over two weeks to spur this awakening. Consider that a month ago most pundits and the financial press were discussing how much the S&P 500 index would rise this year, while today they are fixated on the possibility of recession. Sentiment has swung from buy the dips to sell the rips.
Developments that I need to see before thinking this is anything other than a countertrend rally are as follows: I need to see more significant volume on the up days than I am seeing on the down days. That hasn't happened yet. I need to see a significant rise in volatility, at least to levels we saw during the August decline. We haven't seen that yet either. I also need to see a pattern where weak market openings are followed by strong closes. We have seen just the opposite of that since the beginning of the year. Until these developments start to occur, my game plan remains the same. Use this rally to reduce stock market exposure, hedge existing exposure and/or speculate on a decline below recent lows. I think it also critical to execute this game plan progressively as we approach what are today's overhead resistance levels for the S&P 500. I see these as the 20-day moving average at 1966, followed by where the 20-, 50- and 100-day moving averages cluster at approximately the 2020 level.
Disclosure: I/we have no positions in any stocks mentioned, and no plans to initiate any positions within the next 72 hours.
I wrote this article myself, and it expresses my own opinions. I am not receiving compensation for it (other than from Seeking Alpha). I have no business relationship with any company whose stock is mentioned in this article.