Overview
In this series of articles, I will be taking a look at various industry sectors and selecting what I believe will be outperforming stocks for 2016. For the first article, I reviewed the Airline industry and made my top picks for this year. In this article, I will review the following Household Products stocks:
Step 1
The first step I took to narrow down the list of possible options was to look at the earnings over the past five years of these stocks within the industry sector. I removed any stock that had negative or flat (less than 2%) earnings growth during this time period. These stocks included:
Central Garden & Pet - (0% growth)
HRG Group - (4.70K% decline)
Kimberly-Clark - (62.9% decline)
Procter & Gamble - (33.6% decline)
Step 2
I then took the list of remaining stocks and checked the revenue growth of each over the past two years. I am removing any stocks that had flat revenue growth (less than 2%) or a decline in revenue over the past two years. These stocks include:
Colgate-Palmolive - (6.16% decline)
WD-40 - (0.53% decline)
Step 3
My next move was to examine the trailing PEG ratio of each of the remaining stocks. I removed any stock that had a PEG ratio over 1.5 to focus more specifically on fairly valued/undervalued stocks. These stocks included:
Step 4
The next set of data I reviewed was the Fundamental and Value Scores for each of the ten remaining stocks. These scores are calculated by YCharts and I have found them to be very useful when researching investment options. More details on each of the scores can be found here and here.
| | Fundamental Score | Value Score |
| --- | --- | --- |
| Clorox | 7 | 6 |
| Spectrum Brands | 7 | 4 |
To determine the best stocks for 2016, I'm only taking into consideration stocks that have combined scores of 10 or higher. Each of the two remaining stocks fit this criteria.
Step 5
My next step was to look at the book value of each company and to remove any stock that has seen a decrease in its book value over the past five years. However, none of the remaining stocks saw a decline in book value during this time period.
Step 6
My next step was to look closer at each stock remaining that passed all previous criteria and determine whether or not there were any reasons to eliminate them as great stock candidates for 2016. In doing so, I reviewed the financials of each company, the most recent quarterly report transcripts, and searched for any news items that warranted concern.
Clorox
For its last quarter, the company posted a 3% increase in revenue and an increase in earnings per share from $1.10 to $1.32 compared to the same period last year. The company's gross margin rate improved by 220bps and saw sales growth throughout all of its US businesses. It was the 8% decline in international revenue that weighed down overall revenue.
The company issued FY2016 guidance of flat to 1% revenue growth and earnings per share in the range of $4.68 to $4.83 compared to 2015's value of $4.57 per share.
Clorox remains a solid long term investment option, but I feel that the following items that were outlined in the company's latest earnings call will keep the stock from seeing significant price appreciation in 2016:
With the ongoing strengthening of the U.S. dollar, we're closely monitoring the possibility of worsening exchange rates in the balance of the fiscal year. And finally, in light of the positive momentum in our market shares, we're preparing to address potential heightened competitive activity in the second half of the fiscal year, particularly in key categories, including Bags and Wraps, Litter and Home Care.
Spectrum Brands
For its last quarter, the company posted a 11% increase in revenue and an increase in earnings per share from $0.98 to $1.13 compared to the same period last year. The company was able to see growth both organically and from the help of recent acquisitions.
The company has done a good job of improving margins through leaving unprofitable product categories, implementing cost improvement measures, and leveraging acquisition synergies.
While Spectrum Brands does face some challenges in a few of its business segments (such as Battery and Pet segments), I feel that overall the company is doing enough to ensure significant growth moving forward. I don't see any significant roadblocks that should keep the company from reaching its 2016 goal of achieving a high single digit net sales increase.
Conclusion
Out of this group of stocks, my top pick is Spectrum Brands. I believe that both Spectrum and Clorox remain quality stocks that will reward long term shareholders with significant returns; however, I feel that Spectrum is currently in a better position to see higher price appreciation this year compared to Clorox.
Looking at the chart below, you can see that both Clorox and Spectrum Brands have both performed well over the last five years, outpacing the S&P 500 significantly during this time period.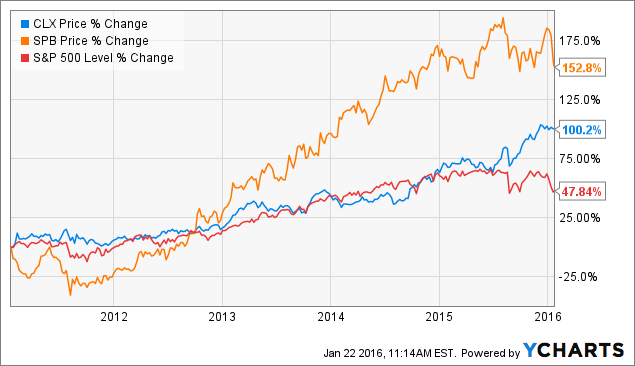 Based on earnings estimates, I believe that this trend will continue in which Spectrum Brands outpaces Clorox in the coming years, including this one.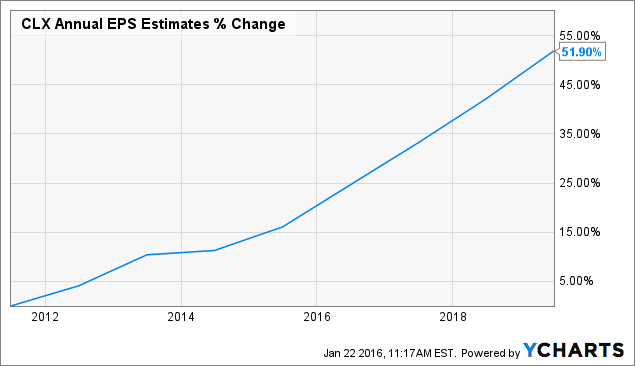 CLX Annual EPS Estimates data by YCharts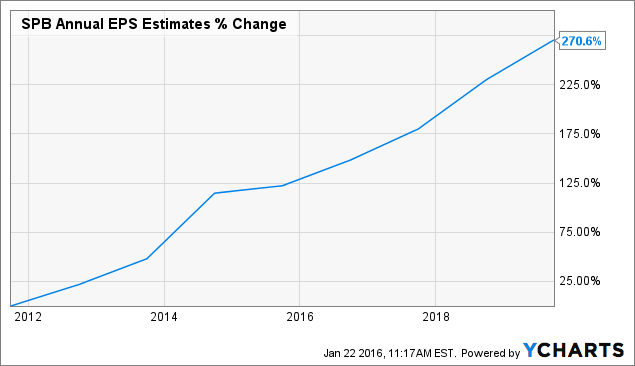 SPB Annual EPS Estimates data by YCharts
While Clorox does currently have a lower PE ratio than Spectrum Brands (25.10x vs 343.20x), when you take into consideration Spectrum's higher growth rate, that valuation appears more favorable. Also, looking at both price to book and price to free cash flow valuations, it is Spectrum that appears to be the far more attractively priced stock.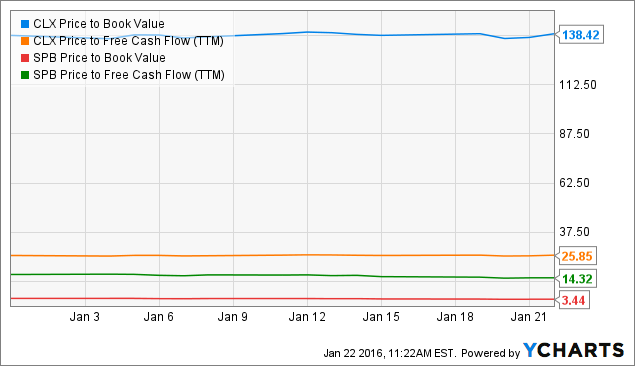 CLX Price to Book Value data by YCharts
While I prefer Clorox more as a long term investment due to its higher dividend yield and better dividend growth, I feel like Spectrum Brands has more potential to see significant price returns this year.
As always, I suggest individual investors perform their own research before making any investment decisions.
Disclosure: I/we have no positions in any stocks mentioned, and no plans to initiate any positions within the next 72 hours.
I wrote this article myself, and it expresses my own opinions. I am not receiving compensation for it (other than from Seeking Alpha). I have no business relationship with any company whose stock is mentioned in this article.