In a recent article on the Dividend Aristocrats, I found that through back-testing the current list of Aristocrats led to finding that their historical outperformance seems to have disappeared. Once lauded as an easy way to outperform benchmarks, those Aristocrats have not meaningfully outperformed the S&P 500 Index (NYSEARCA:SPY) over the past three years. Some chalked this up to the bull market we are in, but since that article's publication, we've experienced the worst opening start to January in the market's history, and NOBL (the Dividend Aristocrat ETF) has not had an inspiring start to 2016, outperforming SPY by just a hair over 1% at time of this writing. This does little to inspire confidence in the strategy.
Many contributors echoed my sentiments and thought that perhaps the Aristocrat trade was becoming too crowded, a premise that I largely agreed with. However, what if we shift to David Fish (an author I highly recommend following here on Seeking Alpha) and his Dividend Contenders list?
These companies have raised dividends for between 10 and 24 consecutive years, a staging ground before hopefully moving to his Dividend Champions list (analogous to the Dividend Aristocrats). While there are differences between these two lists, performance for the Champions has historically run similar to the Dividend Aristocrats.
Contenders are less followed by mainstream investors, and there are more diverse options to choose from within its ranks. In this article, we'll explore what would happen if we took the basket of Dividend Contenders from January 2013 and tracked their performance through today. Are the results more favorable than the Dividend Aristocrats? How many companies dropped off the list? And most importantly of all, were total returns better for these companies?
The January 2013 Dividend Contenders
The list is, frankly, quite long; there were 189 Dividend Contenders at the end of January 2013. I've thinned this list slightly by excluding 15 OTC securities, which by their nature generally don't belong on in most investor's portfolios.
This list leaves us with 174 total companies. How did their dividends stand up over this relatively short time period? 21, or about 12%, of these companies were dropped off the Contenders list by the end of 2015. Luckily, however, four of these were simply due to acquisitions (Met-Pro, Kinder Morgan Energy Partners, UNS Energy, and Teche Holdings), and not due to a cut or freeze of their dividends. Three more acquisitions are pending. Overall, the list fared marginally better than index averages when it came to dividend cuts.

Of note to income-oriented readers, by comparison to both the Dividend Aristocrats and the S&P 500 itself the Contenders list is populated by several higher-yielding securities, particularly MLPs and REITs. These are relatively new asset models as MLPs and REITs originated in the 1980s, so most of these equities haven't yet had the time to mature into 25+ year Champions/Aristocrats yet. As a result, the average yield of the Contenders is a touch over 3.5%, compared to 2.79% for the Aristocrats. This stronger yield profile is in spite of relative recent dividend growth rates being nearly identical. From a strictly income perspective, this basket of stocks appears more favorable.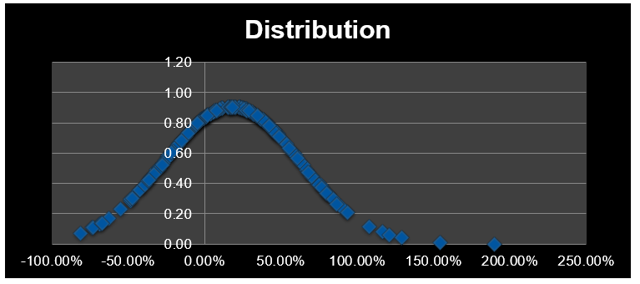 As far as capital returns go, however, the bell curve of the Contenders leaves much to be desired. It is more flattened than the Aristocrats, meaning performance has varied much more widely and that stock selection is even more important here. Almost one third of Contenders have suffered negative share price returns over the past three years, which is double that of the Aristocrats. Excluding the returns of just the top 34 Contenders (or roughly 20%) would have driven the average return of the rest of the Contenders to just 7.8%, a more than 50% drop in performance. Like in most index analysis, not owning the top-performing stocks often severely impacts average returns, but in this case it was even more severe.
What Drove Contender Underperformance?
When we look at stocks, we can broadly classify them as value stocks, or growth stocks. Most of the Contenders list is decidedly value-oriented; these are names with storied histories that provide consistent cash flows, but are often businesses that are more mature in nature.
A strong market phenomenon of the past few years is investor interest in growth over value. At the tail end of most bull markets, like what we are experiencing now, investors tend to shift their money away from growth to value. This has not happened, and small caps in particular have been affected. The Vanguard Small Cap Value ETF (NYSEARCA:VBR), for instance, was up just 14.7% at the time of this publication, compared to a nearly 25% return for the S&P 500 over the same period. As long as value is out of favor, dividend-focused equities like those on the Contenders and Challengers list will face significant headwinds when compared to broader indexes that contain growth-oriented stocks like the S&P 500.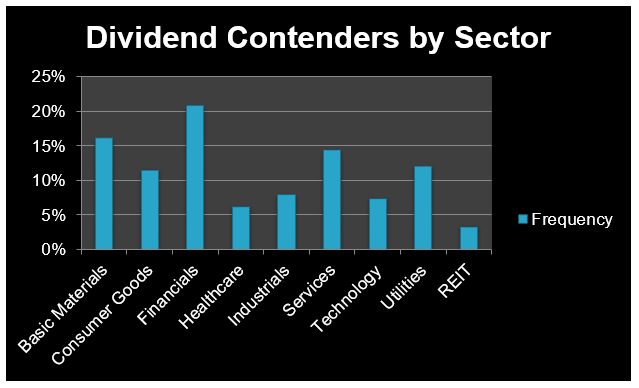 Further compounding issues, part of the underperformance can also most likely be pinned on the business lines these Contenders operate in. The Contenders list is populated by many pipeline MLPs and other companies deeply exposed to the oil & gas industry, nearly all of which have been negatively impacted by the commodity downturn. The entire sector has been dragged down, no matter the underlying company quality. Combined, the average share price performance of Contenders in the Basic Materials segment was a dismal -29.63% over the past three years. Ouch.
The Contenders are also significantly overweight Financials, but this was a boon to overall performance luckily. The average share price performance of Financials components of the list was 31.04%, second only to Healthcare (40.55% average return).
Conclusion
I was honestly a bit surprised and disappointed in the performance of these names recently. I expected some underperformance due to value and dividend stocks falling out of favor, but the disparity was much wider than expected.
Recent performance of the underlying equities of the Contenders list has been very wide, making stock selection very important when choosing to invest here. Unlike larger, more established dividend-payers, these investments aren't buy-and-forget like Johnson and Johnson (NYSE:JNJ). For investors without the time to do proper due diligence and upkeep, there is unfortunately no ETF that allows investors access to all these components.
Contenders List:
Syngenta AG (NYSE:SYT), Monsanto Company (NYSE:MON), Praxair Inc. (NYSE:PX), Albemarle Corp. (NYSE:ALB), Oil-Dri Corp. of America (NYSE:ODC), Airgas Inc. (ARG), Royal Gold Inc.(NASDAQ:RGLD), BHP Billiton Ltd. (NYSE:BHP), BHP Billiton plc (NYSE:BBL), Alliance Resource Partners LP (NASDAQ:ARLP), NuStar Energy LP (NYSE:NS), Kinder Morgan Energy Partners (NYSE:KMP), Plains All American Pipeline LP (NYSE:PAA), Sunoco Logistics Partners LP(NYSE:SXL), Genesis Energy LP (NYSE:GEL), TC Pipelines LP (NYSE:TCP), Buckeye Partners LP (NYSE:BPL), Magellan Midstream Partners LP (NYSE:MMP), Enterprise Products Partners LP(NYSE:EPD), Canadian Natural Resources Ltd. (NYSE:CNQ), Imperial Oil Ltd. (NYSEMKT:IMO), Murphy Oil Corp. (NYSE:MUR), ConocoPhillips (NYSE:COP), Enbridge Inc. (NYSE:ENB), EOG Resources Inc. (NYSE:EOG), CARBO Ceramics (NYSE:CRR), Williams Companies (NYSE:WMB), Occidental Petroleum (NYSE:OXY), Bunge Limited (NYSE:BG), Andersons Inc. (NASDAQ:ANDE), Ecolab Inc. (NYSE:ECL), Church & Dwight (NYSE:CHD), Nestle S.A. (OTCPK:NSRGY), Flowers Foods (NYSE:FLO), J.M. Smucker Co. (NYSE:SJM), International Flavors & Fragrances (NYSE:IFF), AptarGroup Inc. (NYSE:ATR), Nu Skin Enterprises Inc. (NYSE:NUS), Polaris Industries (NYSE:PII), Nike Inc. (NYSE:NKE), TJX Companies Inc. (NYSE:TJX), Ross Stores Inc. (NASDAQ:ROST), CVS Caremark(NYSE:CVS), Best Buy Corp. (NYSE:BBY), Casey's General Stores Inc. (NASDAQ:CASY), Tiffany & Company (NYSE:TIF), Aaron's Inc. (NYSE:AAN), Vector Group Ltd. (NYSE:VGR), Teche Holding Co. (NYSEMKT:TSH), Hingham Institution for Savings (NASDAQ:HIFS), Cullen/Frost Bankers(NYSE:CFR), Prosperity Bancshares (NYSE:PB), UMB Financial Corp. (NASDAQ:UMBF), Westamerica Bancorp (NASDAQ:WABC), Norwood Financial (NASDAQ:NWFL), National Bankshares (NASDAQ:NKSH), Republic Bancorp KY (NASDAQ:RBCAA), First Financial Corp.(NASDAQ:THFF), Eagle Bancorp Montana Inc. (NASDAQ:EBMT), Southside Bancshares (NASDAQ:SBSI), People's United Financial (NASDAQ:PBCT), Arrow Financial Corp. (NASDAQ:AROW), Enterprise Bancorp Inc. (NASDAQ:EBTC), Community Bank System (NYSE:CBU), BancFirst Corp. OK (NASDAQ:BANF), Bar Harbor Bankshares(NYSEMKT:BHB), Auburn National Bancorp (NASDAQ:AUBN), Landmark Bancorp Inc. (NASDAQ:LARK), First of Long Island Corp. (NASDAQ:FLIC), Bank of the Ozarks Inc. (NASDAQ:OZRK), HCC Insurance Holdings (NYSE:HCC-OLD), Donegal Group Inc. B (NASDAQ:DGICB), Donegal Group Inc. A (NASDAQ:DGICA), Brown & Brown Inc. (NYSE:BRO), W.R. Berkley Corp. (NYSE:WRB), Infinity Property & Casualty (NASDAQ:IPCC), ACE Limited (NYSE:ACE), Erie Indemnity Company (NASDAQ:ERIE), RenaissanceRe Holdings (NYSE:RNR), Axis Capital Holdings Ltd. (NYSE:AXS), PartnerRe Limited (NYSE:PRE), StanCorp Financial Group (NYSE:SFG), Westwood Holdings Group Inc. (NYSE:WHG), SEI Investments Company (NASDAQ:SEIC), Novartis AG (NYSE:NVS), Novo Nordisk A/S (NYSE:NVO), Teva Pharmaceutical Industries(NYSE:TEVA), Cardinal Health Inc. (NYSE:CAH), Perrigo Company (NASDAQ:PRGO), Stryker Corp. (NYSE:SYK), Span-America Medical Systems (NASDAQ:SPAN), Owens & Minor Inc. (NYSE:OMI), Mesa Laboratories Inc. (NASDAQ:MLAB), Atrion Corp. (NASDAQ:ATRI), West Pharmaceutical Services (NYSE:WST), Lindsay Corp. (NYSE:LNN), United Technologies (NYSE:UTX), General Dynamics (NYSE:GD), Lockheed Martin (NYSE:LMT), Met-Pro Corp. (NYSE:MPR), Caterpillar Inc. (NYSE:CAT), Franklin Electric Co. (NASDAQ:FELE), Badger Meter Inc. (NYSE:BMI), Roper Industries Inc. (NYSE:ROP), A.O. Smith Corp. (NYSE:AOS), Valmont Industries (NYSE:VMI), MSC Industrial Direct Co. Inc. (NYSE:MSM), Lincoln Electric Holdings (NASDAQ:LECO), Graco Inc. (NYSE:GGG), Tanger Factory Outlet Centers (NYSE:SKT), National Retail Properties (NYSE:NNN), Realty Income Corp. (NYSE:O), Urstadt Biddle Properties (NYSE:UBA), National Health Investors(NYSE:NHI), Omega Healthcare Investors (NYSE:OHI), Matthews International (NASDAQ:MATW), McGrath Rentcorp (NASDAQ:MGRC), Ritchie Brothers Auctioneers Inc. (NYSE:RBA), Cass Information Systems Inc. (NASDAQ:CASS), Healthcare Services Group Inc.(NASDAQ:HCSG), Rollins Inc.(NYSE:ROL), Jack Henry & Associates (NASDAQ:JKHY), Thomson Reuters Corp.(NYSE:TRI), John Wiley & Sons Inc.(JW-A), Meredith Corp. (NYSE:MDP), Canadian National Railway (NYSE:CNI), Norfolk Southern (NYSE:NSC), Essex Property Trust (NYSE:ESS), W.P. Carey Inc. (NYSE:WPC), Cracker Barrel Old Country (NASDAQ:CBRL), Shaw Communications Inc. (NYSE:SJR), NTT DoCoMo Inc. (NYSE:DCM), Nippon Telegraph & Telephone (NYSE:NTT), Atlantic Tele Network Inc. (NASDAQ:ATNI), C.H. Robinson Worldwide (NASDAQ:CHRW), Expeditors International (NASDAQ:EXPD), JB Hunt Transport Services Inc. (NASDAQ:JBHT), FedEx Corp. (NYSE:FDX), Republic Services Inc. (NYSE:RSG), Waste Management (NYSE:WM), Factset Research System Inc. (NYSE:FDS), MOCON Inc. (NASDAQ:MOCO), National Instruments Corp. (NASDAQ:NATI), International Business Machines (NYSE:IBM), Maxim Integrated Products (NASDAQ:MXIM), Linear Technology Corp. (NASDAQ:LLTC), Analog Devices Inc. (NASDAQ:ADI), Xilinx Inc.(NASDAQ:XLNX), Microchip Technology Inc. (NASDAQ:MCHP), Microsoft Corp. (NASDAQ:MSFT), Communications Systems Inc. (NASDAQ:JCS), Qualcomm Inc. (NASDAQ:QCOM), Harris Corp. (NYSE:HRS), Wisconsin Energy (NYSE:WEC), Southern Company (NYSE:SO), PPL Corp. (NYSE:PPL), Edison International (NYSE:EIX), UNS Energy Corp. (NYSE:UNS), Northeast Utilities (NU), Dominion Resources (NYSE:D), SCANA Corp.(NYSE:SCG), Alliant Energy Corp. (NYSE:LNT), NextEra Energy(NYSE:NEE),
Avista Corp. (NYSE:AVA), ONEOK Inc. (NYSE:OKE), MDU Resources (NYSE:MDU), South Jersey Industries (NYSE:SJI), RGC Resources Inc. (NASDAQ:RGCO), Laclede Group Inc. (LG), AGL Resources (NYSE:GAS), New Jersey Resources (NYSE:NJR), Artesian Resources (NASDAQ:ARTNA), Aqua America Inc.(NYSE:WTR), York Water Company (NASDAQ:YORW).
Disclosure: I/we have no positions in any stocks mentioned, and no plans to initiate any positions within the next 72 hours.
I wrote this article myself, and it expresses my own opinions. I am not receiving compensation for it (other than from Seeking Alpha). I have no business relationship with any company whose stock is mentioned in this article.
Editor's Note: This article discusses one or more securities that do not trade on a major U.S. exchange. Please be aware of the risks associated with these stocks.