The BOC and ECB delivered no action but their words stabilized Markets
Central banks continue to dominate the FX market and prime examples of that were the interventions of the Bank of Canada (BoC) and the European Central Bank (ECB) this week. Both held rates at historic lows and let the person in charge deliver bold comments during the press conference. BoC Governor Stephen Poloz made the monetary policy call to hold and shifted the attention of the market to the March budget to be released by the Liberal government. ECB President Mario Draghi delivered a dose of dovish comments that have once again signalled further easing in March. Both central banks have punted eventual actions further down the line as macro economic conditions deteriorated rapidly in the beginning of the year.
The Fed Meeting will become the highlight of the week. The U.S. Federal Reserve delivered the much-awaited first rate hike to start a tightening monetary policy cycle and with weak economic indicators and a struggling stork market after the Chinese turmoil at the start of the year the projection of 4 rate hikes in 2016 looks farfetched. The CME FedWatch tool points to a 89.3 percent chance the Fed will keep the rate on hold at 0.50 percent. The Federal Open Market Committee (FOMC) will release its statement on Wednesday, January 27 at 2:00 pm EST. There is no press conference scheduled with the eyes on the market to be focused on any changes on the language of the statement.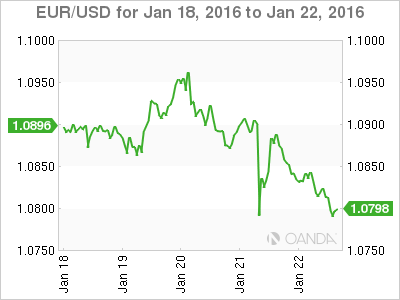 U.S. Federal Reserve to Use Statement No Actions in January
The USD gained versus majors (GBP, EUR, CHF, JPY) but was softer when compared to commodity currencies (CAD, AUD and NZD). Given the volatile market conditions at the start of the year that saw a return of safe haven flows in particular to the JPY and Gold the verbal interventions of major central banks has helped calm investor sentiment and has put risk back on the trading agenda. The USD continues to enjoy the backing of the major economy with the best growth outlook although the pace of growth will dictate the number of interest rate hikes delivered by the central bank.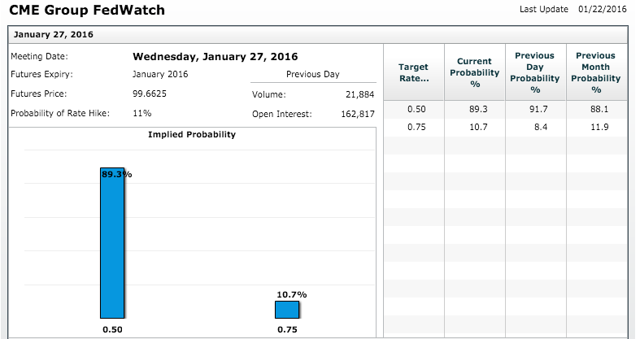 2016 is a Presidential election year in the United States. A process that started with multiple candidate debates is starting to ramp up with the coming of the first primaries in February and that will culminate with the major election on November 8. For the final phase of the election cycle the Fed is more likely to sit in the sidelines to avoid influencing one political platform over the other. This is one of the factors that from the beginning questioned the Fed's ability to deliver 4 rate hikes, even with a steady recovery in place. Given the tepid start of the year there are forecasts that call for 2 rate hikes and even those are subject to a downgrade given the state of the global economy.
FX events to watch this week:
Monday, January 25
4:00am EUR German Ifo Business Climate
Tuesday, January 26
5:45am GBP BOE Gov Carney Speaks
10:00am USD CB Consumer Confidence
7:30pm AUD CPI q/q
Wednesday, January 27
10:30am USD Crude Oil Inventories
2:00pm USD FOMC Statement
2:00pm USD Federal Funds Rate
3:00pm NZD Official Cash Rate
3:00pm NZD RBNZ Rate Statement
4:45pm NZD Trade Balance
Thursday, January 28
4:30am GBP Prelim GDP q/q
8:30am USD Core Durable Goods Orders m/m
8:30am USD Unemployment Claims
Tentative JPY Monetary Policy Statement
Friday, January 29
12:00am JPY BOJ Outlook Report
Tentative JPY BOJ Press Conference
8:30am CAD GDP m/m
8:30am USD Advance GDP q/q
*All times EST
For a complete list of scheduled events in the forex market visit the MarketPulse Economic Calendar