Summary
Before we start, we want to wish all our friends on the East Coast well and hope all of you will be safe as you go about your daily lives there. The conditions you guys are experiencing are certainly difficult at this time.
The start of the week continued to give hair raising volatility to investors and traders alike, though the rebound in crude oil starting from Wednesday certainly helped to relieve selling pressure. The saviors this time round were Draghi, who has now committed to potentially more QE in March as we speculated last week and the cold front which gave a boost to oil prices. We are unable to reasonably assess how long or severe this cold front will be so we will avoid going there. However, we do think that there is a good chance now that the ECB will add additional stimulus in their March 10 meeting, which should be a boost to risk assets globally. Our view, is that the governing council would not have allowed Draghi to make the statement he gave during the Press Conference unless the discussion for a new stimulus package is already in the works. The December meeting was somewhat of a disaster for them, and risking their credibility a second time round would not be something they want. With Eurozone inflation non-existent and Germany now potentially also on the verge of deflation with their latest PPI numbers, it would be foolish not to add more stimulus soon. The question now to us is, how much will they add and when they will add it.
Next week, brings the FOMC meeting with no surprises expected there at this time. However, we would not be surprised if the Fed talked about market volatility at their meeting, though no changes to their forecasts are expected. We will be watching the Initial jobless claims next week which seems to have slowed in terms of decreases as of late. If the number comes in above 280k next week, there is a good chance in our opinion that Non-Farm Payrolls will miss expectations in February, which could bring another risk off rout. As for now, we think a neutral to slightly dovish Fed will be good for risk, with the S&P500 (NYSEARCA:SPY) likely to reach 1960 over the next week or two given the inverse head and shoulders pattern developing on the hourly chart with a 1910 neckline. Following this pattern suggests that Monday and Tuesday should being risk off sentiment back with risk sentiment recovering later into the week.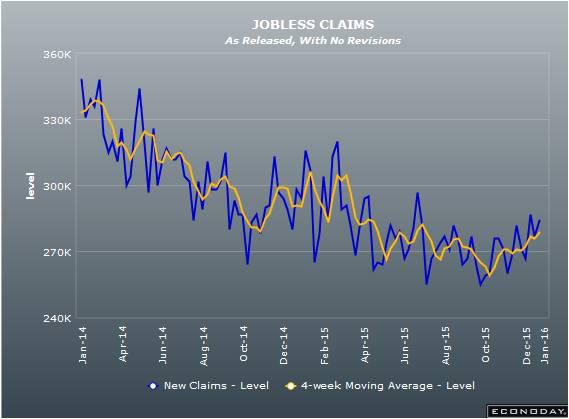 Source: Bloomberg.com
Key economic data and events for the coming week for the pairs we cover:
Sunday, 24 Jan. 2016
2350 GMT - Japanese Trade Balance Numbers (Dec.)
Monday, 25 Jan. 2016:
0900 GMT - German Business Expectations & Current Assessment (Jan.)
0900 GMT - German IFO Climate Index (Jan.)
Tuesday, 26 Jan. 2016:
1355 GMT - US Redbook
1400 GMT - House Price Index (Nov.)
1400 GMT - US Case-Shiller Home Price Index (Nov.)
1445 GMT - US Services PMI
1500 GMT - US CB Consumer Confidence (Jan.)
1500 GMT - US Richmond Manufacturing and Services Numbers (Jan.)
Wednesday, 27 Jan. 2016:
0030 GMT - Australian CPI numbers (Q4)
0030 GMT - Australian NAB Business Confidence & Survey numbers (Dec.)
0700 GMT - Gfk German Consumer Climate (Feb.)
1500 GMT - US New Homes Sales (Dec.)
1530 GMT - US EIA Energy inventory numbers
1900 GMT - FOMC meeting decision
2350 GMT - Japanese Retail Sales (Dec.)
2350 GMT - Foreign Buying of Japanese Bonds
2350 GMT - Foreign Buying of Japanese Stocks
Thursday, 28 Jan. 2016:
0030 GMT - Australian Import and Export Price Index (Q4)
0700 GMT - German Import Price Index (Dec.)
1000 GMT - Eurozone Business & Consumer Survey (Jan.)
1000 GMT - Eurozone Consumer Confidence (Jan.)
1000 GMT - Eurozone Services Sentiment (Jan.)
1000 GMT - Eurozone Industrial Sentiment (Jan.)
1300 GMT - German Inflation numbers (Jan.)
1330 GMT - US Initial Jobless Claims & Continuing Claims
1330 GMT - US Durable Goods Orders
1500 GMT - US Pending Home Sales Index (Dec.)
2330 GMT - Japanese Household Spending (Dec.)
2330 GMT- Japanese inflation numbers (Dec.)
2330 GMT - Japanese Unemployment Rate (Dec.)
2350 GMT - Japanese Industrial Production (Dec.)
Friday, 29 Jan. 2016:
0030 GMT - Australian PPI (Q4)
0500 GMT - Japanese Construction Orders (Dec.)
0500 GMT - Japanese Housing Starts (Dec.)
0700 GMT - German Retails Sales (Dec.)
1000 GMT - Eurozone CPI (Jan.)
1330 GMT - US Employment wage data (Q4)
1330 GMT - US GDP (Q4)
1330 GMT - US Goods Trade Balance
1330 GMT - US Real Consumer Spending (Q4)
1330 GMT - Canadian GPD (Nov.)
1445 GMT - US Chicago PMI (Jan.)
1455 GMT - US U-Mich Consumer Sentiment Numbers (Jan.)
Trading and Technical Strategy for the week ahead:
EUR/USD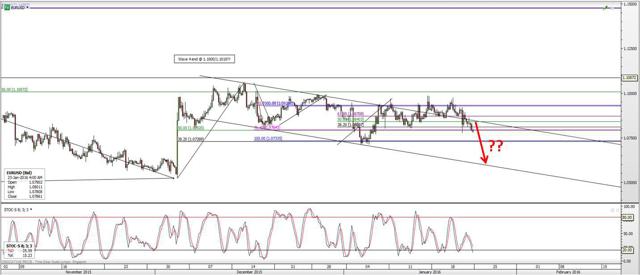 To say that we are relieved to see the EUR come back down to the 1.0800 figure is an understatement at this time as our downside expectations played out following the much anticipated QE talk as Eurozone inflation data continued to show downside risks. The rebound in the S&P500 also helped in the downside expectations playing out.
The coming week should bring the establishment of a new range in the EUR between 1.0750 and 1.0900, where the EUR should trade for a while. However, we would not rule out a move for the EUR to the 1.0630 level. As such, any trades that are taken up should be looked at from the short side given the overhang of more easing by the ECB on the EUR.
In the larger picture, the rebound and structure of the move from the 1.07s to the 1.09s continues to look like a complex variation of scenario 2 may be playing out in the EUR instead of the primary scenario 1 expectation. Key level for the EUR to stay under remains at the 1.1090/1.1100 level to avoid our bullish scenario 3 possibility. For now though, we will take the view that scenario 1 is playing out.
Medium- to long-term trading strategy (1-6 months):
With the Fed in a rate hike cycle, we still think the next one to three months should see our primary scenario (Scenario 1) playing out with the pair making one final down move to the 1.0250-1.0300 level. However, we do want to give a fair warning that other than a complex scenario 2 playing out, the scenario 1 move to the downside is likely an ending diagonal pattern of some sort meaning trade will be choppy and overlapping, making it difficult to trade.
Those who established short positions at key levels like 1.0970 which we mentioned last week should continue to hold their shorts for now only squaring out if the 1.0630 level is seen in case scenario 2 is playing instead. For those who did not manage to establish short positions for slightly longer out, can consider the 1.0895 level to go short with any spikes above 1.0900 to the 1.0940 level seen as an opportunity to establish medium term short positions.
Short-term trading strategy (Intraday, 1-3 days):
Our short term strategy, would see traders playing the new expected short term range of 1.0750 to 1.0900 with a bias to sell closer to 1.0900 with the shorts covered around the 1.0840, 1.0810 & 1.0750 levels before awaiting for a rebound to sell again. More aggressive traders could look for the 1.0870 level to sell to play the downside expectations if they choose not to wait for the 1.0900 level.
USD/JPY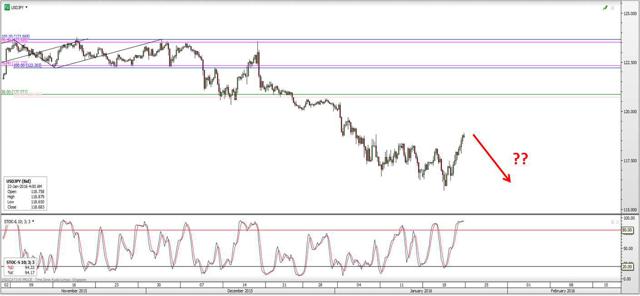 The USDJPY managed to rebound after being oversold for the week, though the rebound occurred just ahead of the 115.80 level with the S&P500 rebound and Kuroda's comments that the BOJ could add to stimulus being the catalysts the pair needed for the rebound.
Having said this, our bias continues to be to the downside for the pair into next week as the current rebound for the pair into the 118s looks unsustainable to us with downside pressures likely to resume on the pair into next week.
Medium- to long-term trading strategy (1-6 months):
Despite Kuroda's comments, we still hold the view that the BOJ is reluctant to increase the size of its QQE program for the foreseeable future. As such, we think upside for the USDJPY is limited for now even with the Fed tightening. Risks of the S&P 500 falling further will also continue to be a major risk factor for longs in the pair. The most recent COT FX futures report also suggests that market participants continue to increase their long JPY positions given the break of some key technical support levels in the USDJPY, viewing this rebound as a selling opportunity vs. a turnaround. Despite a clear downside bias, we prefer to wait on the sidelines before taking a longer term position given the risks of sudden policy announcement by the BOJ which would ruin any short position taken. Our bearish scenario could see the pair move to the 114 level and lower if the downside scenario plays out where it would be a little more interesting to consider a long position in the pair.
Short-term trading strategy (Intraday, 1-3 days):
Short term traders who managed to buy in the low 116s last week ahead of our original 115.80 target should have been happy this week with the rebound playing out as expected though before reaching our original stipulated target. This week though we would look to fade this current rally at current levels looking for the low 117s to exit. Any short trades should be stopped out above 119.25.
AUD/USD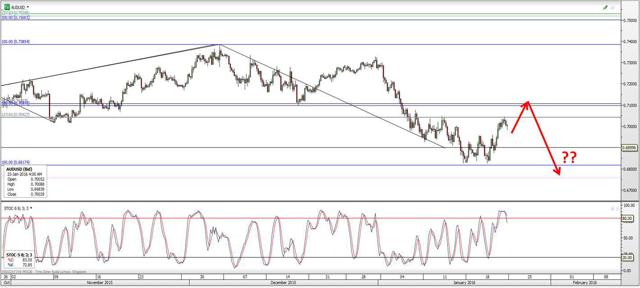 The AUD rebounded as expected last week reaching a high of 0.7046 during the Friday session. We expect that this rally will be capped at the 0.7100 figure and resume it's downside bias to the 0.66-0.68 level as we laid out in our strategy piece here.
Medium- to long-term trading strategy (1-6 months):
The medium and long term bias remains to the downside for this pair. However, current oversold conditions on the long-term time frames would make us nervous sellers at current levels for long-term short positions. Given that the bearish momentum has invalidated the potential larger bounce scenario to 0.7380, we think any rallies to 0.7100 should be considered now as selling opportunities for a break of the 0.6800 level. More aggressive traders can consider selling at 0.7040 level. Stops would be placed at the 0.7200 level or higher.
Short-term trading strategy (Intraday, 1-3 days):
Short term traders can consider playing a 0.6900 to 0.7100 range with a bias to the sell side from the 0.7050/0.7100 levels, taking profit just ahead of the 0.6900 figure, using rebounds back 0.7000 to sell again. Any long positions at this time would be risky given the technical bearish momentum in the pair.
USD/CAD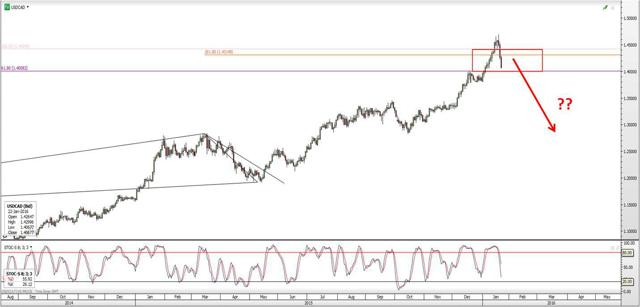 The USDCAD managed to begin the expected move down after a pick up in oil prices and decent Canadian data numbers helped the Loonie regain it's footing. The pair will now need to take out the 1.4000 level in order to confirm an interim top. We think next week should bring more downside for the pair with any upside move likely capped below the 1.4690 high we had last week.
Medium- to long-term trading strategy (1-6 months):
With a bounce in oil occurring and the USDCAD finally coming off, it is tempting to start shorting the USDCAD at this time. Aggressive traders can look for levels closer to 1.4200 to start selling the pair, though we would personally wait for either the 1.4300 level to sell or a break of the 1.4000 level with the objective of selling on any pullback. Our stop loss would be placed at 1.4450 for any short position with the 1.30 plus levels expected to be seen in the coming weeks or months.
Short-term trading strategy (Intraday, 1-3 days):
Admittedly, our short term trading strategy for the pair last week may not have ended well, considering it was being played from the short side from 1.4500 and the pair moving close 1.4700. This week though, short term traders can look to either sell at 1.4300 to buy at 1.4100 playing this range until a break out occurs in one direction.
WTI OIL (USO)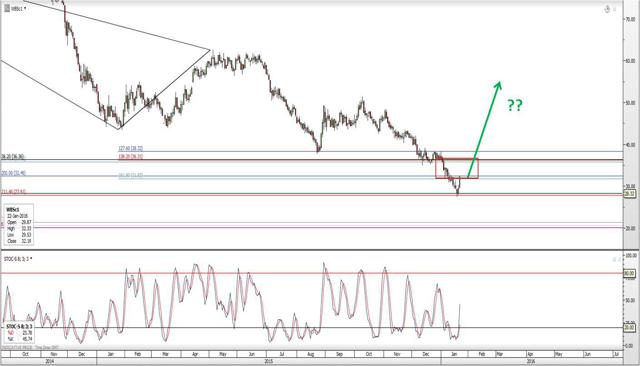 *Note on our price chart:
Before we dive into the WTI technical analysis, we have decided to use the WTI continuous futures price as a chart instead of the original spot price posted in our article. This price will match the nearest dated WTI Crude futures contract which will switch automatically once the contract settles moving on to track the next nearest dated futures contract. We will also be only analyzing the technical aspect of the WTI price, given the fundamental aspect of WTI oil is well covered by many subject matter experts in the energy commodities section. At this time, the nearest dated futures contract being tracked by the above price chart is the March 2016 contract.
WTI Oil temporarily broke through our $28.30 key support zone before recovering back to the bottom of our target zone at the end of the week. So the big question now of course is 'Are we out of the woods yet?' From a pure technical standpoint, the unfortunate answer we have to give is no at this point in time. The $38.30 level will be key for WTI to overcome and invalidate the bearish momentum. Having said that, the cold front that has hit the East Coast of the United States will certainly give support to oil in the next few trading sessions seeing how severe this cold front is at the time of this writing. As a guide, overcoming $38.30 should see oil change momentum to the upside, whilst a failure to get past the $36.30-$38.30 zone could lead to another sell down which has the potential to go as low as the $20 support zone (Purple lines). Our primary expectations are that oil will overcome $38.30 on this bounce.
Medium- to long-term trading strategy (1-6 months):
Despite WTI Oil slightly exceeding our bottoming zone target, long term technical indicators are in oversold territory, which should fuel the next bullish bounce in the not so distant future. However, given that the bounce timing is less certain until a catalyst triggers it, we prefer to use oil ETFs like USO or longer dated WTI futures to go long crude at these levels. Whilst the USO and other oil ETFs are far from perfect, it will suffice for us given the hassle of rolling over WTI futures contracts. For now, we would use any retracement closer to the $30 mark to establish long positions with a stop if oil breaks $28.30 again.
Short-term trading strategy (Intraday, 1-3 days):
Our short term strategy is pretty much the same as our long term one with a long bias for oil with positions taken closer to the $30 mark with exits looked for around the $32 to $36 mark, ahead of the $38.30 critical resistance.
Thank you for your time, and we hope that you have enjoyed this weekly strategy piece. We look forward to your constructive feedback. To sign up for more frequent trading updates, please visit us at our site.
RISK DISCLOSURE:
HIGH RISK WARNING: Foreign exchange, Futures and ETF trading, carries a high level of risk that may not be suitable for all investors. Leverage creates additional risk and loss exposure. Before you decide to trade any instrument, carefully consider your investment objectives, experience level, and risk tolerance. You could lose some or all of your initial investment; do not invest money that you cannot afford to lose. Educate yourself on the risks associated with trading, and seek advice from an independent financial or tax advisor if you have any questions.
ADVISORY WARNING: THEMARKETJOURNAL provides references and links to selected blogs and other sources of economic and market information as an educational or informational service to its clients and prospects and does not endorse the opinions or recommendations of the blogs or other sources of information. Clients and prospects are advised to carefully consider the opinions and analysis offered in the blogs or other information sources in the context of the client or prospect's individual analysis and decision making. None of the blogs or other sources of information is to be considered as constituting a track record. Past performance is no guarantee of future results and THEMARKETJOURNAL specifically advises clients and prospects to carefully review all claims and representations made by advisors, bloggers, money managers and system vendors before investing any funds or opening an account with any brokerages or dealers. Any news, opinions, research, data, or other information contained within this article and our website is provided as general market commentary and does not constitute investment or trading advice.
THEMARKETJOURNAL expressly disclaims any liability for any lost principal or profits without limitation which may arise directly or indirectly from the use of or reliance on such information. As with all such advisory services, past results are never a guarantee of future results.
Disclosure: I/we have no positions in any stocks mentioned, and no plans to initiate any positions within the next 72 hours.
I wrote this article myself, and it expresses my own opinions. I am not receiving compensation for it (other than from Seeking Alpha). I have no business relationship with any company whose stock is mentioned in this article.