L-3 Communications Holdings (NYSE:LLL)
Share Price: $ 70
Intrinsic Value: $ 83
Buy Below: $ 72
Business description and background:
L-3 Communications Holdings, Inc. , through its subsidiary, L-3 Communications Corporation, provides command, control, communications, intelligence, surveillance, and reconnaissance (C3ISR) systems; aircraft modernization and maintenance; and government services in the United States and internationally. Its C3ISR segment offers fleet management sustainment and support. The company's Government Services segment provides communication software support, information technology services, and various engineering development services and integration support. Its Aircraft Modernization and Maintenance segment offers modernization and refurbishments, upgrades and sustainment, maintenance, and logistics support services, as well as turnkey aviation life cycle management services for military and various government and commercial customers. The company's Electronic Systems segment provides components, products, subsystems, systems, and related services across various business areas. L-3 Communications Holdings, Inc. was founded in 1997 and is based in New York, New York. (Source: Yahoo)
Thesis
L-3 Communications , with $15.5 billion in estimated 2011 revenues, is an historically acquisitive maker of military and homeland security electronics, and conducts business through four operating segments. LLLl's primary end-markets consist of the U.S. DoD (76% of 2010 revenue), international customers (13%), other U.S. government agencies (7%), and domestic commercial customers (4%). Sales to the DoD were distributed among the armed services as follows: Army 25% of sales, U.S. Air Force 25%, Navy and Marines 16%, and all other defense customers 10%.
Demand for LLL's military weapons systems is driven primarily by growth in the U.S. defense budget. Based on U.S. Department of Defense statistics, from fiscal 2000 (Oct.) through fiscal 2010, the procurement and R&D budgets within the U.S. defense budget grew at 9.0% and 7.6% compound annual growth rates (CAGRs), respectively. However, Standard & Poor's expects growth in the U.S. defense budget to flatten out or decline going forward, due to pressure resulting from high U.S. budget deficits.
In July 2010, L-3 announced that it would spin off its systems engineering and technical assistance (SETA) and training and operational support businesses, both from its Government Services segment, to shareholders. The transaction is expected to be completed in the first half of 2012, subject to approvals. The new company, named Engility, is expected by L-3 to have pro forma sales of about $2.0 billion and operating income of about $179 million in 2011. L-3 plans to retain its cyber, intelligence, and security solutions businesses within Government Services.
LLL has historically been a company that has grown through acquisitions. In discussing the M&A environment, management disclosed that it was "close on a couple of acquisitions in the several hundred million dollar neighborhood." Any acquisitions made by the company are expected to be in products that are closely aligned with the company's existing core capabilities or offer an opportunity to leverage its core capabilities to enter a commercial market. With the Engility spin, it is clear that LLL is closely evaluating its portfolio with an eye on shifting its mix toward more attractive businesses. We believe that both price and timing will be the keys to success. Private market multiples generally remain above public market multiples, and management will have to make a strong case that revenue synergies or some other factor makes these acquisitions compelling in order to satisfy investors. Additionally, it is unclear how steep the downward slope of the defense budget will be in the coming years, and while stepping up early could look smart if it is a gentle and short trip downhill, there is risk that opportunities could look more attractive a year or two down the road.
Although we think L-3's mix of defense electronics and specialized military products and government services is well matched with military priorities, we believe a completed pullout of U.S. troops from Iraq and the beginning of a troop draw down in Afghanistan, along with projected declines in the U.S. defense budget going forward, will prevent the shares from outperforming. We see L-3's ISR business holding up well, but we expect continued pressure in the services areas of the business, due to tight government budgets.
From 2000 through 2010, L-3 recorded the following compound annual growth rates: 23% for sales, 28% for income from continuing operations, and 21% for EPS. Return on invested capital (operating profits after tax as a percentage of long-term debt plus equity; ROIC) was 10.3% in 2010 and 10.1% in 2009, versus the S&P 500 Aerospace & Defense sub-industry averages of 15.7% and 14.6%, respectively. We believe L-3's low ROIC versus peers reflects high investments in working capital and fixed assets needed to generate strong growth through acquisitions. Free cash flow (cash flow from operating activities less capital expenditures) as a percentage of sales was 8.2% in 2010, and 7.8% in 2009, versus sub-industry averages of 6.7% and 7.5%, respectively.
Management & Stewardship
Michael T.Strianese is the Chairman, President and CEO of LLL. Having stayed with the company for more than 15 years, Michael was CFO at Lockheed Martin. Mr. Strianese is a current member of the Council on Foreign Relations and the Aerospace Industries Association's Board of Governors where he serves on its Executive Committee. Curtis Brunson, Executive Vice President of Corporate Strategy and Development. Mr. Brunson became an Executive Vice President in February 2009, and is responsible for leading the execution of L-3's business strategy. At Unisys for over 20 years, he held several management positions of increasing responsibility. When Loral acquired Unisys Communication Systems in Salt Lake City, he was General Manager. That division became part of L-3 during its formation in 1997. John C. McNellis, is the Senior Vice President and President of Integrated Systems Group. Mr. McNellis became Senior Vice President and President of L-3 Integrated Systems Group in November 2008. Ralph G. D'Ambrosio, is the senior Vice President and CFO at LLL. Mr. D'Ambrosio became Chief Financial Officer in January 2007 and a Senior Vice President in April 2010. With over 15 years of work experience with LLL, he has held senior managerial positions at C&L. The directors and senior executives within the firm together hold around 1.6% of the outstanding shares.
Valuation
We have used the DCF valuation using conservative estimates to arrive at the fair value of LLL at $83, which represents a 20% premium to current trading price.
Key Ratios
The key ratios for LLL are as follows: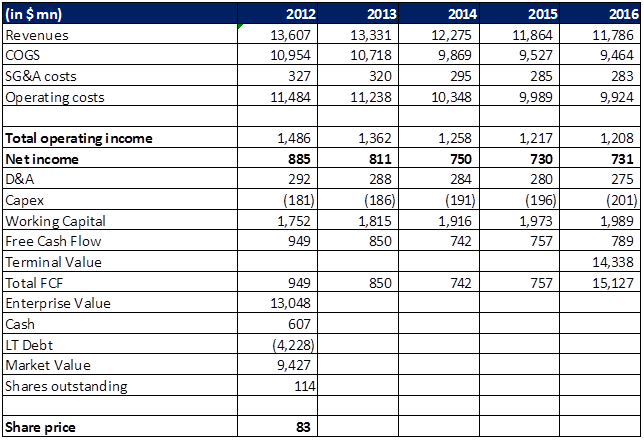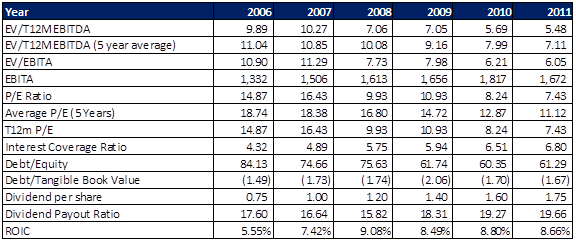 Disclosure: I am long LLL.
Disclaimer: This discussion is for informational purposes and should not be taken as a recommendation to purchase any individual securities. Information within this discussion and investment determination of the author may change due to changes in investment strategy when warranted by changing market conditions, or if a security's underlying fundamentals or valuation measures change. There is no guarantee that, should market conditions repeat, this security will perform in the same way in the future. There is no guarantee that the opinions expressed herein will be valid beyond the date of this presentation. There can be no assurance that the author will continue to hold this position in companies described herein, and may change any of his position at any time. We use or best efforts to obtain good data in our models, however it can't be guaranteed that our inputs and data are correct. This is not a recommendation for readers to purchase shares in the above security without consulting your financial professional to discuss your own risk tolerance and objectives.