Schlumberger Ltd (NYSE:SLB) posted a huge decline in its revenue and earnings for fiscal 2015. As expected, North America was the worst location for the company's sales and earnings figures. North American revenue dipped by 39%, relative to the previous year. This decrease was brought about by steep reductions in customer spending of 40%, which was the greatest downturn since 1986. In addition, the company's margins are hurting; its US land rig count declined by 68% to less than 700 rigs, with no signs of pricing recovery in the short to medium term.
As a result, the North American margin dipped to 10.2%, a decline of 874 basis points due to the pricing weakness on land and decreased pressure pumping activity. SLB's pre-tax operating earnings shrank by 67%, relative to the previous year. Neither are the company's international operations showing a different picture. Its revenue from international markets declined 21%, while its pre-tax operating income fell by 22%. On a consolidated basis, the company experienced a 27% fall in revenue, but its net income dropped more than 50%, down to only $2.07B.
This is a very sad story presenting frightening figures to any company and its shareholders. However, the most significant aspect of SLB's results are its fourth quarter numbers, which showed massive deterioration. The company generated a huge loss of $1B in the final quarter of fiscal 2015, despite cost-cutting and other defensive measures.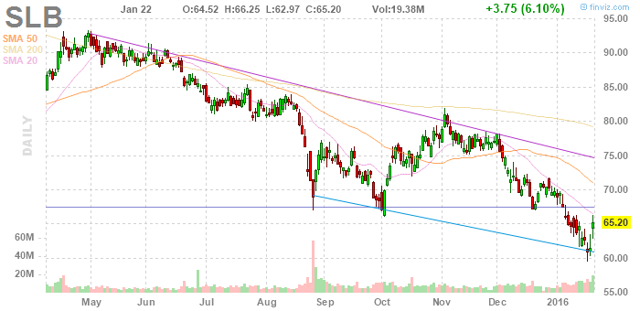 The company not only had a poor year in terms of its financial numbers, but SLB's share price also plunged significantly. The company's stock is now trading near to the lower end of the last 52-weeks. In a previous article I suggested that investors should sell this stock, back when it was trading at around $80 per share. However, we are now facing the question, what next?
I do not believe the company has the potential to generate a surge in its share price over the coming few months. Its business model is entirely dependent on activities in the oil and gas industry. In fiscal 2015, investments in the energy sector declined by almost 40% and Citigroup is now predicting an additional drop of 20% in spending by E&P companies. I believe investment could go down further than expected, as most of the oil majors and E&P companies have posted big losses in Q3 of 2015 and are heading to post even bigger losses for the final quarter. This situation will further reduce their ability to invest in future projects.
Even if we overlook fiscal 2015, the dawn of fiscal 2016 is bringing with it more pain for oil producers. Oil prices have dipped significantly since the start of the year and are now standing below $32 per barrel, which is the lowest price in the past several years. North American producers require oil prices of around $60 per barrel to make any profit at all and to remain cash flow neutral. The future fundamentals for oil prices are bleak, especially since the major oil producers are not looking to cut their production at all, despite continued falling prices.
Based on the EIA's latest forecast, oil prices are expected to remain at around $38 per barrel, which is a level that not many companies are content with. Oil production is expected to remain near 95.93 million barrels a day in 2016, with consumption projected at about 95.19 million bpd. Subsequent to the removal of the Iranian ban, oil supplies are anticipated to rise further than these predictions. The county's yearly crude production is projected at around 3.1 million bpd in this fiscal year, which accounts for 10% of OPEC's overall production. Iran has many oil-rich resources, with the potential to produce an enormous chunk of oil.
In Conclusion
Schlumberger's cash flows are still strong and the company is not operating in a capital-intensive industry such as exploration and production. It has sustained its dividends and is looking to buy back $10B worth of outstanding shares in the coming quarters. This is a good strategy, one that will provide support to its share price. Despite this, I do not believe that SLB is presenting a buying opportunity. The company is expected to post even worse financial results for the first quarter of this year, as its CEO indicated in a recent press release. In addition, oil prices are not showing any sign of stabilization and business activities are likely to decrease further due to the prevailing prices. Thus, I suggest investors wait longer before buying this stock.
Disclosure: I/we have no positions in any stocks mentioned, and no plans to initiate any positions within the next 72 hours.
I wrote this article myself, and it expresses my own opinions. I am not receiving compensation for it (other than from Seeking Alpha). I have no business relationship with any company whose stock is mentioned in this article.