If you subscribe to Dow Theory, Union Pacific (NYSE:UNP) is painting a pretty grim picture of the U.S. economy. Having significantly underperformed the S&P in 2015 after peaking in late January, everything about this company is heading in the wrong direction. The stock price is down. Revenue is down. Operating income is down and the operating ratio up. Volumes are down, margins down, net income down, revenue per car down, gross ton-miles down, revenue per ton-mile down. ROIC slipped to 14.3% from 16.2%.
The long and short of it is lower volumes and lower margins have combined to really hurt Union Pacific in the fourth quarter. You have to reach pretty far to grasp at anything positive from this report. Lower diesel costs, increased train speed and shorter terminal dwell times do little to console UNP's investors when faced with a sea of negative numbers.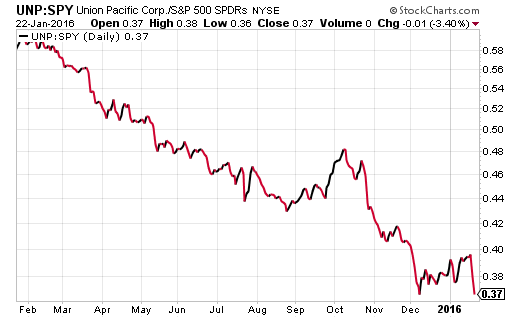 But what can UNP really tell us about the U.S. economy? Given the relative size of the service sector compared to goods production, transport companies' stock prices and financial performance is a weak indicator of overall economic health. However, examining Union Pacific's results does provide insight into certain segments of the U.S. economy.
Let's start with the elephant in the room: crude oil. The fracking and shale oil boom had a tremendous positive effect on freight rail in the U.S. and it appears we're now on the other side of that mountain, or perhaps falling off a cliff. Crude oil shipments fell 42% in 2015 and the effects are propagating through other parts of the business. Mineral volume fell 42%, with a 52% decline in frac sand carloads noted as the primary cause. Lower rig counts and less drilling activity were cited as causes for a 27% slide in metal shipments as well. Looking ahead to 2016, mineral and metal shipments are expected to continue being hindered by the oil market, and according to management, "low crude oil prices and unfavorable spreads will continue to present significant headwinds for crude by rail shipments."
Elsewhere in the energy space, coal volumes fell 22%, with low natural gas prices and mild weather taking the blame from UNP management. Domestic demand was cited as weak and exports decreased in 2015. It's true these one-off events will cause a decline in coal volumes, but really there's a larger story to be told as well. The percent of electricity generated by coal shrank from 37% to 34% in 2015. With aging coal plants being taken offline and replaced by natural gas for both environmental and economic reasons, it's hard to see coal shipments ever climbing back to previous levels. Moreover, UNP's management has stated that high coal inventory levels and low natural gas prices will continue to hurt coal shipments in 2016.
Chemical shipments, while still declining, were stronger than much of the rest of the business. Carloads fell just 2% for 2015, buoyed by LPG volumes. This compares to a 9% decline in carloads across the entire business. Management says the strength in LPG should continue to bolster chemical shipments in 2016.
Auto shipments were the only major category to rise, with both finished autos and auto parts up 8%. However, lower revenue per car led to a mere 1% gain in auto freight revenue. Helped by low interest rates and gasoline prices, strength in autos is expected to continue in 2016, although concern was expressed over whether the record motor vehicles sales numbers can continue to grow. In addition, a strengthening housing market and increased construction demand give reason to expect increased lumber shipments in 2016. The consumer appears to be buying houses and autos, according to Union Pacific, largely fueled by good consumer confidence and cheap financing.
Agricultural product volumes shrank 3% for the full year. More specifically, grain shipments fell 12%. High global grain production and a strong dollar combined to diminish grain exports by 23%. In turn, there was a build in grain inventories which, in conjunction with a strong dollar, is likely to hinder grain shipments into 2016. Grain export headwinds are expected to adversely impact fertilizer shipments in 2016 as well.
International intermodal volume fell 12%, reflecting a decline in imports and exports in 2015 and the slowdown in China was cited as the primary cause of a 6% contraction in petroleum products shipments.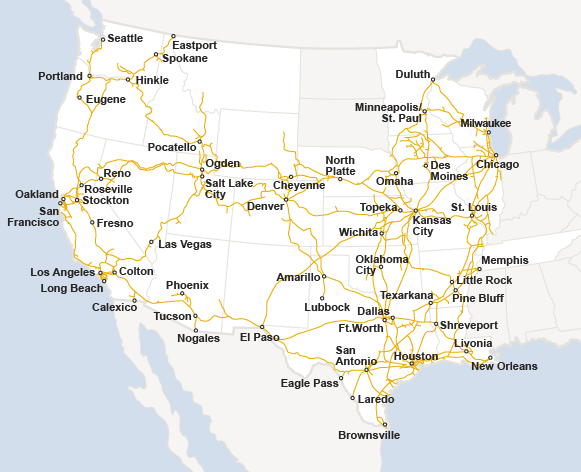 Union Pacific's latest earnings release and conference call again reaffirms themes we've seen in the economic data. Energy markets are being hobbled as the effects of lower prices spread through the industry and production adjusts. The weakness in energy is having secondary effects in related and supporting industries, including Union Pacific itself. Other areas of American industry appear to be suffering as well, but the U.S. consumer remains a bright spot - hopefully bright enough to offset weakness in other areas. As for Union Pacific, all investors can do is collect their dividends, hope that current prices undervalue the company, and presume good performance through the next cycle after this rough patch.
Disclosure: I/we have no positions in any stocks mentioned, and no plans to initiate any positions within the next 72 hours.
I wrote this article myself, and it expresses my own opinions. I am not receiving compensation for it (other than from Seeking Alpha). I have no business relationship with any company whose stock is mentioned in this article.