The central assumption of monetary policy is sufficient demand for loans is needed for policy objectives to be accomplished. When the zero lower interest rate bound is reached and credit growth is insufficient, this assumption is violated. The Fed then engages in QE, front loading the markets, creating a wealth effect. Now the economy must catch up to the stock market.
I will give the Fed credit for its swift policy response to counter a balance sheet recession and household deleveraging. The Fed successfully averted another Great Depression. But I think it held its zero interest rate policy for too long and QE will ultimately prove inflationary. Households in the United States have deleveraged over time while the Fed's wealth effect policies rebuilt balance sheets. I believe the U.S. economy is set for a major boom, releveraging and significant expansion of credit.
I would attribute the current market environment to weak hands folding on concerns over the Chinese economy (NYSEARCA:FXI), falling oil/commodity prices and the Fed raising rates. The Chinese are going through an economic rebalancing. They must transfer their private sector credit growth to the Chinese household and consumer spending rather than investment. Chinese household debt to income ratios are extremely low compared to the United States, so it would make sense for this rebalancing to be successful. The decline in oil (NYSEARCA:USO) can be explained through currency movements and the lifting of the Iranian sanctions in addition to an OPEC strategy that will ultimately lead to higher prices. As low oil prices stimulate demand growth and global oil investment falls, supply and demand will rebalance. Oil has sound fundamentals long term.
The U.S. dollar index (NYSEARCA:UUP) is set to resume its rally as the divergence in monetary policies materializes. The ECB recently communicated an intent to ease policy further in March, while the Fed will continue with its tightening cycle. This potentially upward movement in the dollar could continue to weigh on oil.
In the near term I'm bearish on gold (NYSEARCA:GLD) (NYSEARCA:GDX) because of dollar strength, muted inflation and divergence in monetary policies. Longer term I am optimistic on gold because I think inflation will overshoot, and the U.S. dollar will depreciate substantially as inflation is a key factor in currency depreciation. The key driver to go long gold is when it begins trading up inflation data. When gold begins trading higher on increased inflation it will be a sustainable trend. The recent safe haven demand rally will prove to be short lived.
I wouldn't bet on the Fed reversing course. We have in the United States numerous economic indicators at or near all time highs, including retail sales, stock prices (NYSEARCA:SPY), auto sales, industrial production, household net worth, and total credit to the private sector - all while the Fed is holding a near zero interest rate policy. Home prices have rebounded modestly. Core inflation has steadily increased. I believe the Fed is still being extremely accommodative. The focus should be on the Federal Reserve's balance sheet. I think the chance of slipping into a recession in the near term is extremely minimal.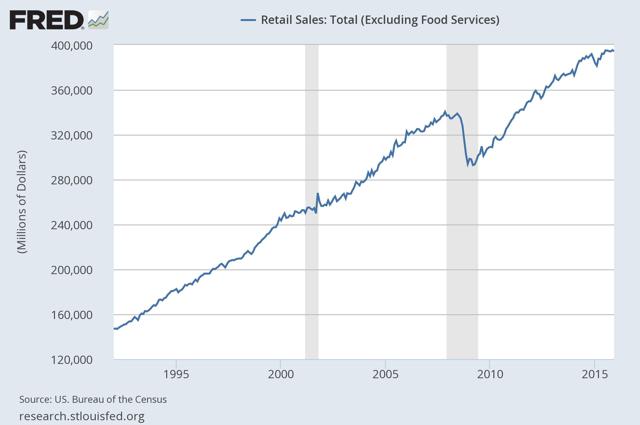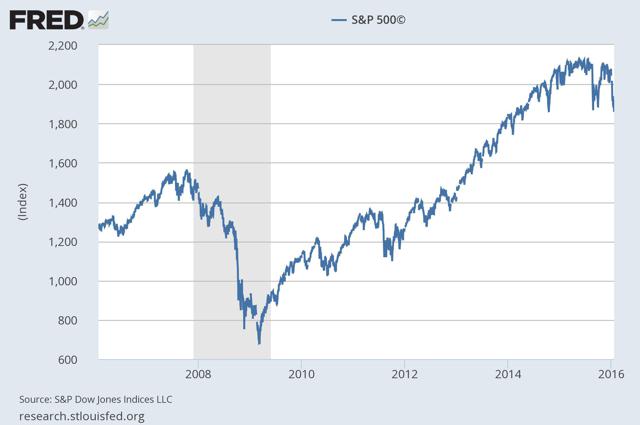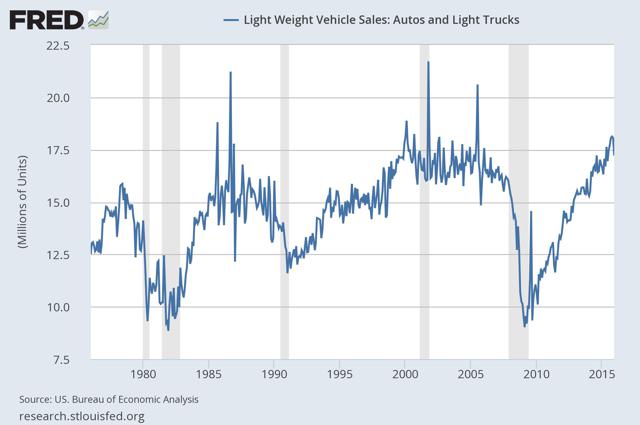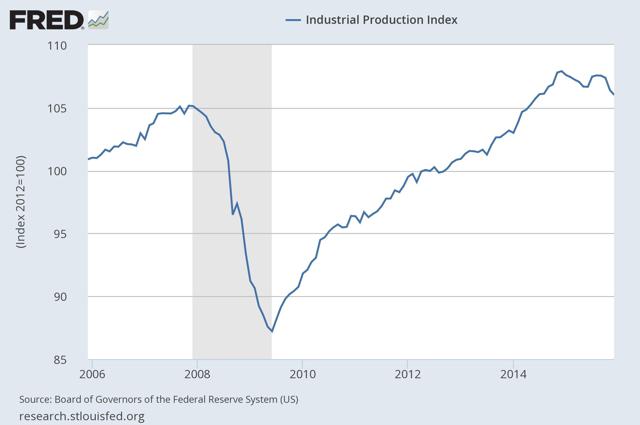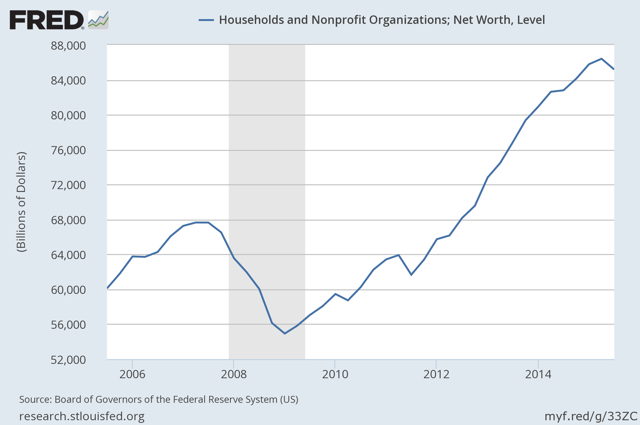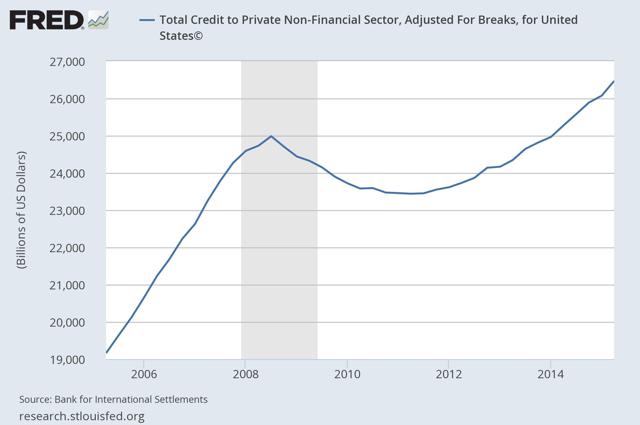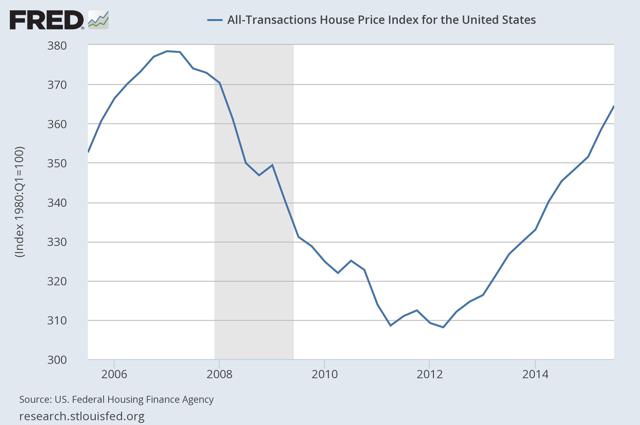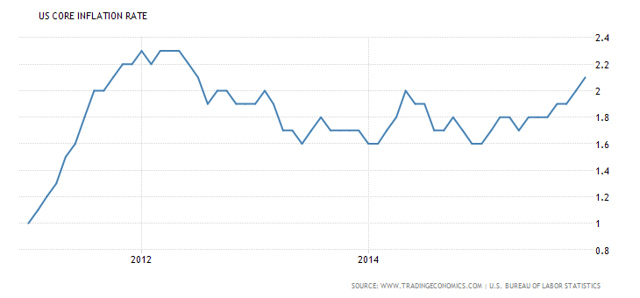 One of the most important economic indicators is debt-to-income ratios because as I said previously our economy is driven through credit growth. Households in the United States have deleveraged as shown by the following charts.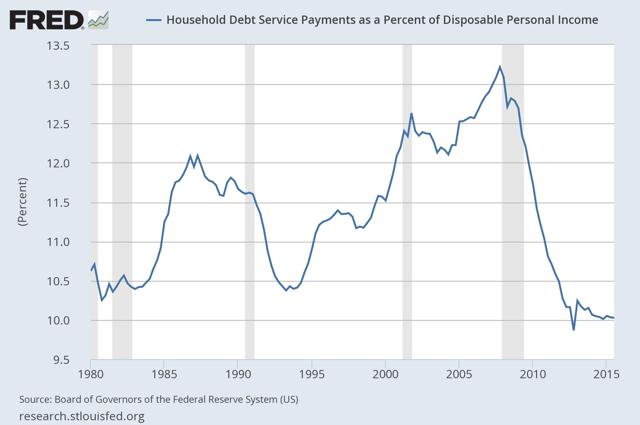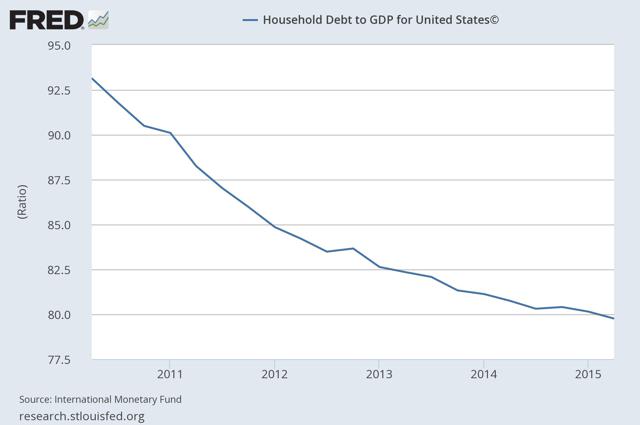 There are limitless reserves in the banking system as a result of quantitative easing risking a nearly unconstrained expansion of credit once releveraging begins.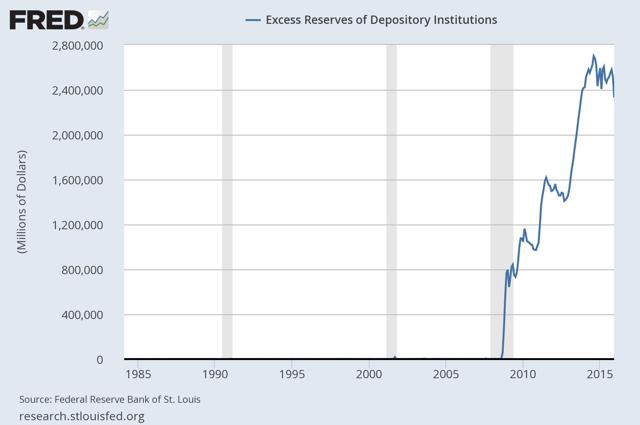 There are also a lot of people drawing parallels between the United States' current economic scenario and Japan's 20+ years of deflation and economic stagnation. The difference is the all important credit growth. Total credit to the private sector in Japan has refused to rise, while in the United States it regained its upward momentum. This signals that the trajectory of the United States economy is positive.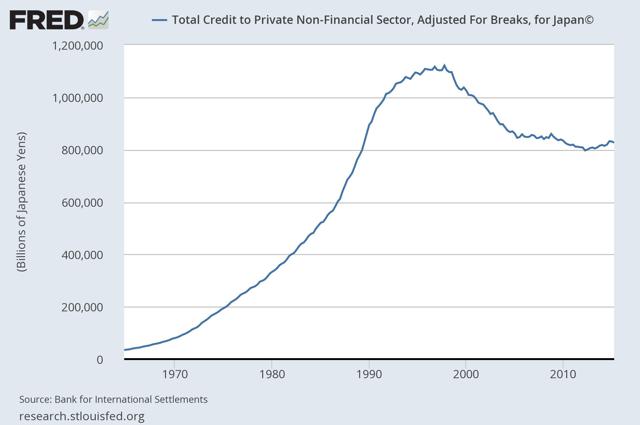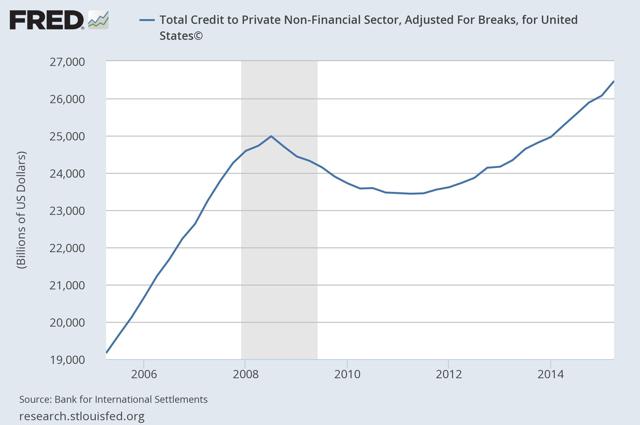 I believe and it's one of my most core beliefs that inflation will overshoot the 2% target rate. After this ultra-accommodative and pro-inflationary policy, why would it stop at 2%? If this holds true, and we're on an inflationary path, it would obviously include an improving U.S. economy. Excessive inflation and a rebound in commodities will happen before the next major bear market. The Fed will then have to tighten aggressively through contraction of its balance sheet, potentially sending the economy into a recession. This is all long term though. In the near term, I think the majority of the economic concerns are overdone. I also believe the United States' bond (NYSEARCA:TMV) (NYSEARCA:TLT) market is in a fairly major bubble. If the excessive inflation and aggressive tightening scenario materializes, U.S. government bonds will enter a bear market.
Disclosure: I am/we are short GDX, TLT.
I wrote this article myself, and it expresses my own opinions. I am not receiving compensation for it (other than from Seeking Alpha). I have no business relationship with any company whose stock is mentioned in this article.