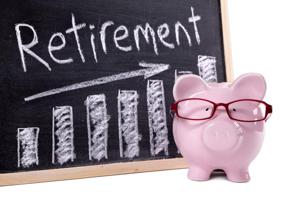 We've been having a lively conversation about retirement and preparing for it here on Seeking Alpha. It seems to be top of mind for a lot of Americans these days. Perhaps it's because Baby Boomers are reaching age 65 at a rate of 10,000 per day, according to the Transamerica Center for Retirement Studies. And yes, examining Boomers' retirement readiness is important, because it's just around the corner for many. Actually, it's a timely topic for all of us, no matter what age or stage of life we're in.
Executive Vice President of Fidelity Investments John Sweeney took to the airwaves last week with that very message. Fidelity Investments conducts a Retirement Savings Assessment study every two years, and Sweeney divulged some of the results and offered advice about how Americans can better prepare for retirement.
The good news is that Fidelity found that retirement readiness is improving in American households. In fact, the 2015 survey revealed that 45 percent of people are likely to be able to afford essential living expenses in retirement - things like housing, healthcare and food - compared to 38% in 2013. These improved results are due to three key factors, according to Sweeney:
People are saving more for retirement.

They're extending the time they're willing to work - to age 65, or even 67.

And they're changing their asset allocation, investing more appropriately for their age.
While these findings are certainly encouraging, they still mean that more than half of American households - 55 percent - are potentially at risk of not being able to cover their essential living costs in retirement.
Seeking Alpha Users Are More Prepared
Fortunately, it seems those who've been participating in our discussion on Seeking Alpha are pretty well-prepared for retirement - they appear to be a bright spot, despite Fidelity's findings.
In fact, our own survey of the Dividends, Income & Retirement community, which I asked you to participate in here, revealed some encouraging results. Here's a snapshot of the overall findings: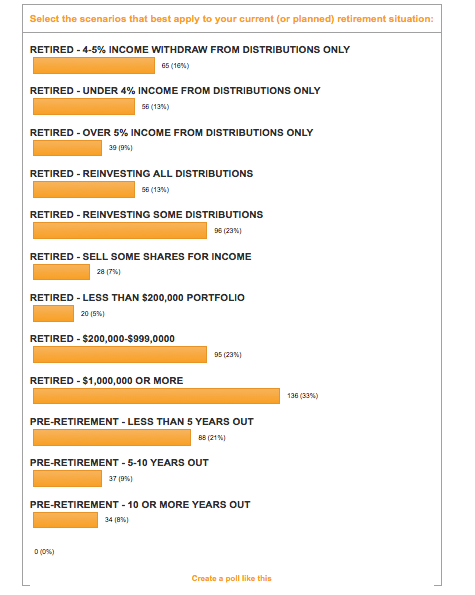 So what does this mean? Here's how some of the key results shook out:
Just over 250 of you participated in the survey, of which more than half were not yet retired.

The majority of those responding:

Have portfolios of $1,000,000 or more (33%)

Withdraw 4%-5% of your portfolio value each year from distributions only

Just 7% of you sell some shares on top of distributions for income.
These results seem to illustrate that our community has a good handle on retirement preparedness, whether it's several years away, or you're already enjoying your golden years. It probably goes without saying that this group knows what they're doing when it comes to investing and creating a steady stream of dividend income - otherwise you probably wouldn't be here sharing your strategies and exchanging ideas.
And from the comments on the last issue of the Digest, most of you seemed to favor a library of key articles by your favorite authors, as well as "how to" articles. As I mentioned in that piece, I can't make any promises, as these aren't decisions I can make on my own, but your excellent ideas are absolutely worth exploring, and I value your input.
Speaking of which, a HUGE thank you to Bob Wells, both for coming up with the original survey idea and helping me translate the results. And humongous, heartfelt gratitude to all of you for participating in the survey and weighing in on what you'd like to see in a dedicated retirement strategy and research library here on Seeking Alpha. More to come… stay tuned.
Now it's your turn to weigh in. What sorts of "how-to" articles would you like to see on Seeking Alpha going forward? What did you think of the survey results? Were they about what you expected, or were there some surprises? What do you think of Fidelity's survey results and the fact that the average American household is likely to fall short of covering their living expenses in retirement?
And now, on to the week's Dividends & Income news and analysis:
Staying Calm In The Midst Of Bear Market Volatility by Dividend Sleuth
What Should Your Expectations Be If You're Looking To Invest In Ford? by Robert Jacobson
Coffee And Cigarettes, Starting The New Year Off Right With Starbucks And Altria by Patrick Gunn
2016 Market Meltdown - Panic Time? by David Van Knapp
Scrap The 4% Retirement Rule, Buy Dividend Stocks With 4% Yields Instead by Bob Ciura
Selling Dividend Growth Stocks: Reluctantly Ending 'Forever' Marriages by Mike Nadel
Kinder Morgan: What's The Worst That Could Happen? by Cloister Research
Main Street Capital's Dividend Sustainability And Projection Analysis (Pre Q4 2015 Earnings) by Scott Kennedy
14 Years Of Dripping Into GE - An Update by Dividend Diva
Compelling Bear Market Potential From High Yield MLPs by Tim Plaehn
Why Is The mREIT Industry Getting Annihilated? by Colorado Wealth Management Fund
How Can You Avoid Value Traps In This Market? by Chuck Carnevale
Disclosure: I/we have no positions in any stocks mentioned, and no plans to initiate any positions within the next 72 hours.
I wrote this article myself, and it expresses my own opinions. I am not receiving compensation for it. I have no business relationship with any company whose stock is mentioned in this article.