What's the most important success factor in the private equity industry? Is it above-market investment returns? A skilled and connected research team? Industry contacts for identifying buyout opportunities and potential distressed investments?
All of these factors are important, and it's hard to imagine a private equity firm being successful without healthy returns, a skilled research desk, and strong business relationships. But the real defining line between successful private equity groups and the mediocre firms is access to investment capital.
Without a material amount of assets under management (AUM), it doesn't matter how good the firm is at generating positive returns, or how connected their investment team is. Assets Under Management is the lifeblood of private equity success, enabling the firm to charge management fees and to earn incentive allocations when investments pay off.
When it comes to growing AUM, there is one private equity group that has separated itself from the competition. This week, the Wall Street Journal reported that since becoming a publicly traded company in 2007, The Blackstone Group (NYSE:BX) has increased assets under management by nearly four times. When the company last reported earnings, Blackstone had $334 billion under management.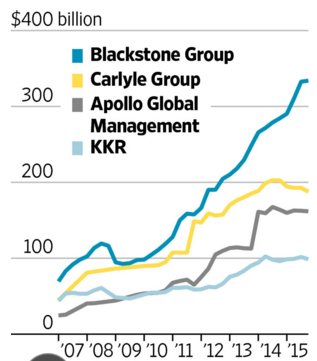 (source: WSJ)
Publicly traded competitors Carlyle Group (NASDAQ:CG), Apollo Global Management (NYSE:APO) and KKR & Co. (NYSE:KKR) have also grown AUM over the last eight years, but while these firms have seen AUM growth stall over the last 18 months, Blackstone has continued to grow its business and collect more capital from institutional investors.
AUM Growth Equals Fee Income -- Eventually
There is an important relationship between Blackstone's growing AUM, and the fees that the company earns. But that relationship may not be as direct as many investors believe.
For Blackstone to earn fees on the capital it has raised, Blackstone must first invest that capital into one of the company's many private opportunities. When Blackstone released its last quarterly report, only about 72% of the company's AUM was actually earning fees.

(source: BX Presentation)
The majority of the difference between Blackstone's total AUM and the company's fee-earning AUM is capital that Blackstone has raised from investors but has not yet had a chance to invest in new opportunities. At the end of the last quarter, Blackstone reported $85 billion in total "dry powder". This represents capital that is available, but has not yet been invested.
This $85 billion represents a huge opportunity for Blackstone because once that capital begins earning fees, it will dramatically increase the base of revenue that Blackstone is generating.
Take a look at the two charts from Blackstone's Q3 presentation below. Notice that not only does the company have $85.1 billion in capital waiting to be invested, but there is also $23.4 billion in capital that has been invested but has not yet begun earning fees. Combined, these two categories represent $108.5 billion in potential new fee-earning assets.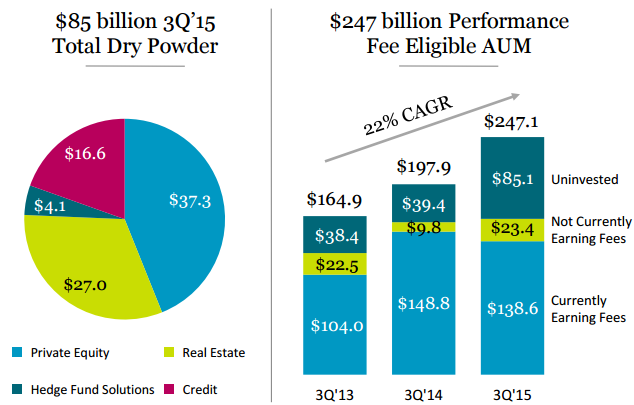 (source: BX Presentation)
Now if only Blackstone could find some good investment opportunities to put this capital to work...
Market Disruption Gives Blackstone Opportunity To Invest
The year 2016 got off to a terrible start with the U.S. stock market trading sharply lower. Corporate bonds also took it on the chin, especially low-rated high-yield bonds. The continued slide in oil prices raised significant concerns that U.S. energy companies will default on debt, especially issues that are coming due over the next few quarters (hence the slide in junk bonds in the chart below).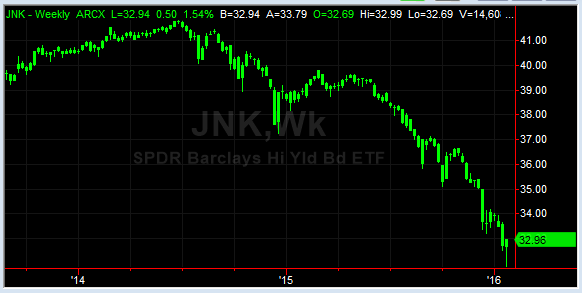 (source: TradeStation)
So far, it appears that investors are focusing on the potential for Blackstone to miss out on performance fees as the private equity firm will likely have to wait for a rebound before selling positions and triggering these performance fees.
But what the market seems to be forgetting is that Blackstone ended the third quarter with more than $85 billion in capital that can be put to work and begin generating management fees. From this perspective, a downturn in the market is just what the doctor ordered in that it allows Blackstone to start using its war chest of capital to invest in new opportunities.
In the first week of January, Blackstone announced a new partnership with Rivington Securities, LLC aimed at providing credit to distressed upstream energy companies. Rivington's Rick Makin noted that this deal will likely result in $1 billion in new investments, just a drop in the bucket for Blackstone's $85 billion war chest.
I expect Blackstone to continue to invest its dry powder into new opportunities as the year progresses. And that means the company should be able to boost both its Fee Paying AUM, and the management fees that the company generates.
Investors may have to wait a few quarters for performance fees to kick in, but the long-term profit opportunity is very good considering Blackstone's current opportunities to invest with lower market prices.
Will Blackstone Report Another Increase in Dry Powder?
Blackstone is scheduled to report fourth quarter earnings on January 28 before the market opens. The company will host a conference call at 11:00 AM EST on that same day to discuss the report.
It will be interesting to see whether Blackstone's level of dry powder increased during the fourth quarter or not. There are basically two opposing forces to consider here.
First, Blackstone has a history of aggressively growing its assets under management. Given the weak stock market during the fourth quarter of 2015, institutional investors had an incentive to move more capital away from public markets and into Blackstone's investment funds.
Many endowments and pension funds actually have a commitment to allocate more capital to Blackstone. For example, the Canada Pension Plan reported a $720 million commitment to Blackstone Capital Partners VII of which none of the capital had been allocated midway through 2015. This, on top of an additional $165 million committed to Blackstone's previous fund, Blackstone Capital Partners VI.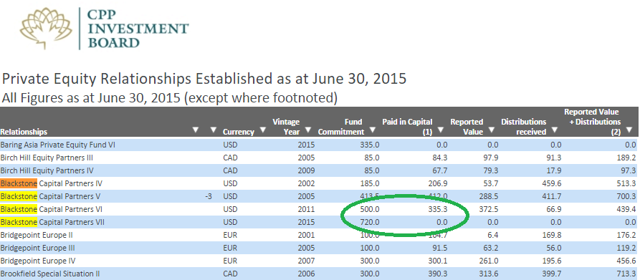 (source: Canada Pension Plan website)
The opposing force is that Blackstone likely found some excellent investment opportunities in which to invest capital during the fourth quarter.
So when Blackstone releases the fourth quarter presentation, I'll be looking specifically at whether new assets boosted the dry powder figure, or whether new investments sent this dry powder figure lower. I'll also be very interested to hear any commentary about new investment opportunities Blackstone has been able to capitalize on during the first month of this new quarter.
Shares of BX have traded lower over the last few months as investors fear lower performance fees over the next few quarters. While this assumption may prove to be correct, it is a very short-sighted view of this Private Equity company's business.
Long-term Blackstone's proven ability to raise more capital than its peers, and the company's position of having dry powder to invest in distressed opportunities should give Blackstone years of lucrative investment profits (and performance fees) ahead.
Disclosure: I am/we are long BX.
I wrote this article myself, and it expresses my own opinions. I am not receiving compensation for it (other than from Seeking Alpha). I have no business relationship with any company whose stock is mentioned in this article.
Additional disclosure: I own a BX covered call position in the Growth Stock Income Generator model portfolio.