Shares of General Electric (NYSE:GE) traded slightly lower on Friday, despite the 210 point rebound for the Dow. The weakness came after the company reported adjusted earnings of 52 cents per share which beat analyst expectations. Despite the earnings beat, investors appeared to be focused on weakness in the company's oil and gas business.
Wall Street's cool reaction to GE's earnings beat is somewhat puzzling. Did investors really expect GE's oil and gas division to be strong considering the carnage in energy markets over the last 18 months?
Today, I'd like to examine GE's earnings announcement, factoring in both the positive and negative issues, and determine whether the stock represents a worthwhile income investment at the current price.
Bad News: Weak Oil & Gas, Restructuring Costs, Weak Economy
The low lights for GE during the fourth quarter included an 8% decline in health care profits, a 10% decline in profits from the company's power & turbine business, and a 16% decline in GE's oil and gas unit. In its coverage of GE's earnings report, the Wall Street Journal noted that GE announced it would double its cost cutting target for the oil and gas business, leading to 2016 expense reductions of $800 million.
GE also announced that the company will be spending $3.4 billion on restructuring initiatives this year which is twice the charge investors were told to expect a month ago. Restructuring costs associated with increasing efficiency at production plants and consolidating factories and service centers are expected to make GE more profitable in the long run. But this year investors will have to put up with significant costs associated with the transactions.
A third area of concern for investors was the cautionary tone that CEO Jeff Immelt took when discussing the macroeconomic environment. Below is Immelt's opening statement from GE's fourth quarter conference call transcript.
"For the last few years I've talked about a slow growth and volatile economy. This is still my view."
While it should not be surprising to investors that GE saw profit declines in its energy business, that the company is taking charges as it restructures for better efficiencies, or that the company's CEO is still cautious in today's volatile global economy, investors still appeared to be focused on these issues following the company's earnings announcement.
However, despite the subdued reaction to GE's Q4 report, there were actually some very positive developments included in the release.
Good News: Finance Divestitures, Order Backlog, Profit Margins
To begin, GE's transition away from its GE Capital business continues to move along ahead of schedule. Of the planned $200 billion in divestitures, GE has now signed agreements to sell $157 billion of it's finance assets.
As GE successfully transitions out of the finance business, investors should be willing to pay a higher premium to own the stock. This is because GE's core industrial business is more predictable and carries less risk of loss compared to volatile GE Capital returns.
A second bright spot in GE's quarterly report is the company's backlog of orders. Thanks to both organic growth and the company's completed acquisition of Alstom SA, GE's backlog of orders increased by 18% over last year to $315 billion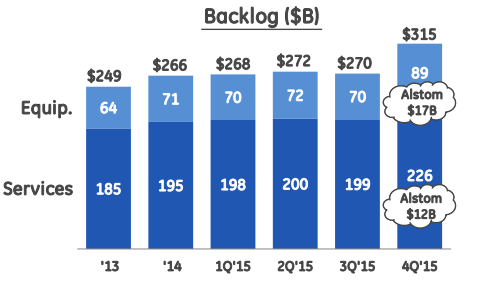 (source: GE Presentation)
GE noted that demand has been particularly strong for the company's jet engines as well as for renewable energy installations.
A third point of strength for GE was the company's profit margin expansion. During the fourth quarter, GE saw its industrial operating margin increase by 50 basis points and gross profit margin increase by 110 basis points. According to the company's presentation, apart from the Alstom acquisition, GE's operating profit margin would have hit 18.3%, good for an 80 basis point expansion.
Clearly, despite what Immelt calls a slow growth and volatile economy, GE is executing well and making the best of a challenging environment.
With a Strong Cash Balance, GE Is A Valuable Investment
GE completed the fourth quarter with a cash and equivalents of $102.5 billion. Analysts expect the company to spend roughly $18 billion on share repurchases this year, leaving GE with $84.5 billion left. Of course this doesn't include positive cash flows from operations over the next 12 months.
A recent WSJ article noted that GE could use some of this capital for acquisitions to bolster the company's oil and gas business. Considering the distressed prices for energy assets in today's market, GE could certainly find attractive deals, and the company's other profitable divisions could insulate GE from any further declines in the energy patch.
I've already made the case that GE should use a material portion of its available cash to boost the company's dividend. If GE were to dramatically increase its quarterly dividend from the current $0.23 payout to $0.40 per share, the company would still have plenty of cash available to invest in expansion. But thanks to a higher payout, stock could conceivably advance to $40 while still having a yield of 4%.
Looking at a more traditional valuation metric, GE's forward PE currently sits near 18.7.

(source: YCharts)
While this is above the company's historic valuation over the last 5 years, the metric is still below the peak of 24.3 investors paid at the end of 2015. There are two primary reasons shares of GE could soon move back to a valuation closer to its recent peak.
First, GE's lucrative dividend yield should attract income investors and the company's potential to increase its dividend should add to that attraction. At GE's current price near $28.25, the company's 23-cent quarterly dividend represents a 3.3% yield. With the Fed unlikely to continue its rate hikes, stocks with generous and reliable dividend payments will likely command more of a premium in 2016.
Second, now that GE is ahead of schedule divesting its finance assets, the company's core industrial business is more stable. Investors should be willing to pay a premium for companies that are able to generate steady returns without the risk of significant losses. And with much less exposure to financing risks, GE is entering the turbulent 2016 environment in a much stronger financial place.
One final benefit that could help boost GE's valuation in 2016 is the potential for a major currency shift. Over the last few years, the strong dollar has been a headwind for international companies based in the U.S.. A strong dollar makes U.S. products and services more expensive for foreign customers, and when GE converts revenues and profits from overseas back to U.S. dollars for reporting purposes, a strong dollar drags the value lower.
If the Fed abandons its stated policy of gradually increasing rates during 2016 (and the latest Fed Minutes point to a lower probability of further rate hikes), the dollar's advance could end. This would eliminate a major headwind for GE and potentially help to boost reported as well as future expected profits.
While GE's fourth quarter report did not initially sit well with investors, the company is still in good shape. I expect GE's industrial profits to continue to grow thanks to the company's expanding margins and the recent increase in orders. GE's valuation should also expand and the company's dividend should attract income investors. Shares of GE are a buy.
Disclosure: I/we have no positions in any stocks mentioned, and no plans to initiate any positions within the next 72 hours.
I wrote this article myself, and it expresses my own opinions. I am not receiving compensation for it (other than from Seeking Alpha). I have no business relationship with any company whose stock is mentioned in this article.