The market recovered a small percentage of its losses this year on Friday, and among the biggest movers were stocks that had been beaten down in recent weeks. Looking ahead, some of these big movers will end up being great long-term investments from their low prices. However, some of these stocks have fallen for a legitimate reason, other than panic selling, and are showcasing a deadcat bounce prior to additional losses.
Let's look at seven such stocks and determine which are good long-term buys right now and which are going even lower.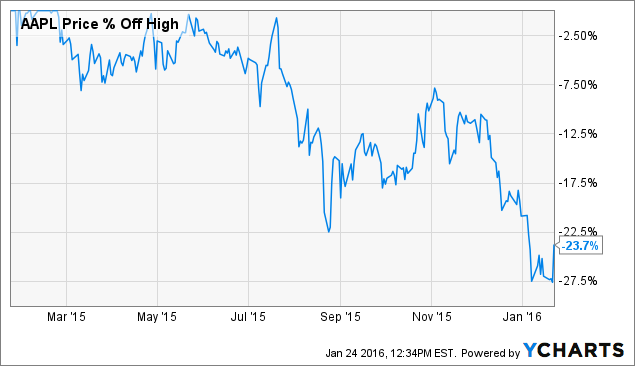 Apple (NASDAQ:AAPL) +5.32%
Over $150 billion has been eliminated from Apple's market capitalization from its peak last year. That's equivalent to Walt Disney (NYSE:DIS), thereby making Apple stock the biggest market cap loser. The problem is that Apple has done nothing to deserve such big losses.
Thus, AAPL stock's 5.3% gain on Friday very well could be a bounce from its bottom. After all, AAPL trades at just 6.8x this fiscal year's expected earnings minus cash, and is expected to grow its EPS nearly 10% next year.
Granted, the one knock against AAPL stock right now is that revenue is expected to decelerate significantly this year, growing just 1.3% to $236.77 billion. I think that's very conservative, with sales in China still growing at a double digit clip and Apple poised to thrive in India over the next few years.
Regardless, even if analysts are right, and Apple grows just 1.3% this year, the good news is that AAPL stock is priced as a company that lacks any growth whatsoever. When you incorporate a 2% dividend yield and the world's largest share repurchase plan, Apple's stock is certainly a great buy right now.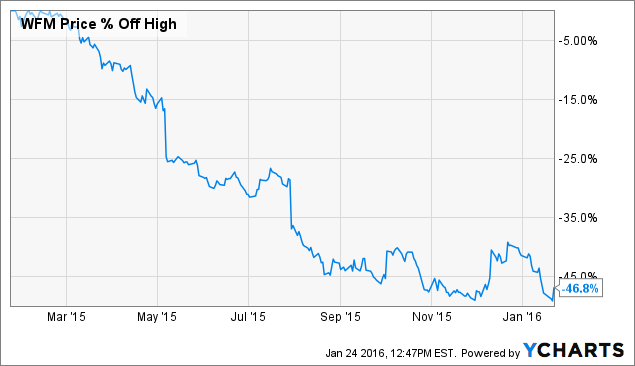 Whole Foods Market (NASDAQ:WFM) +4.57%
Whole Foods Market went from a grocery retailer with blazing growth to mediocre in the blink of an eye. The company is a pure play on natural and organic foods, which was great three years ago. However, Kroger (NYSE:KR) has penetrated that market, Walmart (NYSE:WMT) has too, and it has cut into Whole Foods Market's outlook. That kind of explains the performance of its stock as well,
Whole Foods Market is expected to grow 4.2% this year and WFM stock is trading at nearly 20x this year's expected EPS. Meanwhile, Kroger is about 7x larger than Whole Foods Market by revenue, and is expected to grow faster at 5.7% over the next year. Also, KR stock trades at 16.5 times this year's EPS. Thus, Kroger is larger, growing faster, and is cheaper, so why buy WFM stock? This logic suggests that WFM's 4.57% gain was a dead cat bounce.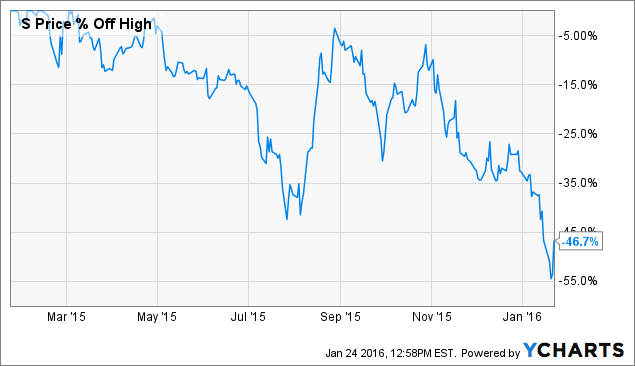 Sprint Corp (NYSE:S) +14.34%
It has been a rough year for Sprint stock, so last Friday was a bright light in an otherwise horrible decade. The problem is that bright light won't shine long.
I explained last year when S stock was near $5 that it would soon fall to $2.50, and even then, Sprint would be too expensive. This is a company that has too much debt, a lack of direction, and is burning billions of dollars by the quarter.
I have covered Sprint extensively over the last five years, from it being my value of the year in 2012 to calling for its bankruptcy in recent memory. Yes, it has the backing of Softbank, but Softbank has done all it can do, acquiring additional shares and creating two separate financing vehicles to try and manage Sprint's cash burn.
However, fact is that Sprint still lagged its other three nationwide carrier competitors in net additions, despite essentially paying consumers to switch to Sprint. As a result, the company does not seem to have any real answers in a tough wireless environment, making its demise a question of when, not if.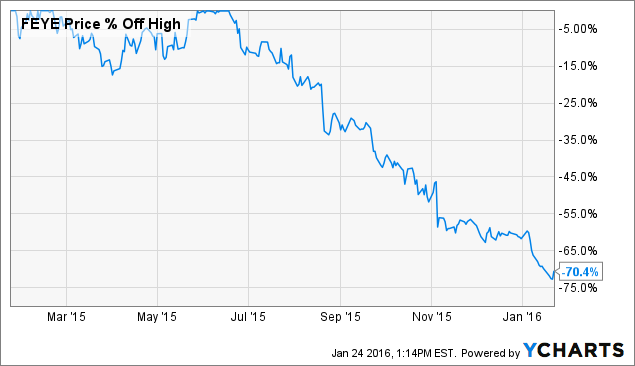 FireEye Inc (NASDAQ:FEYE) +8.38%
It is tough to imagine that FireEye, one of the market's favorite stocks following its 2013 IPO, has fallen so abruptly, down 70% from its 52-week high.
With FireEye expected to grow revenue 30% this year, and recently saying that it can grow billings organically at a 20% clip, the company is still thriving. While it may not be growing at the 50% level that many wish, its 3.1 multiple to this year's expected revenue is very attractive given its growth.
In comparison, Palo Alto Networks (NYSE:PANW), which is growing slightly faster, trades at a 10 times multiple to this year's expected sales. That's a big disconnect to FireEye, and is why FEYE stock could very well present a good buying opportunity right now.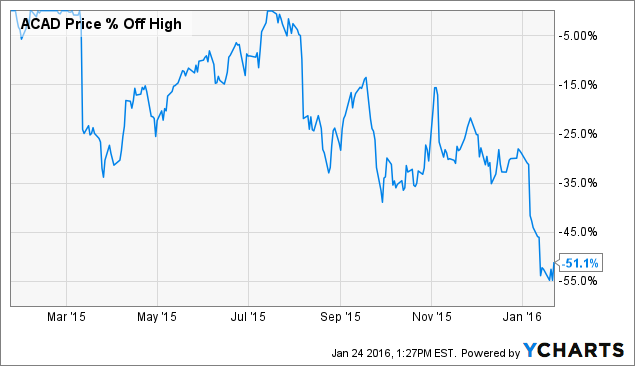 ACADIA Pharmaceuticals (NASDAQ:ACAD) +8.21%
Most of the losses in ACAD occurred this year, down 31% in 2016, and the majority of these losses are the fault of ACADIA. The company chose to announce a $300 million public offering before the FDA approval of Nuplazid and as the biotech industry was in free fall.
However, as I explained in a recent article, management was wise to go ahead and get an inevitable offering out of the way. With its drug Nuplazid already having Priority Review by the FDA and a Breakthrough Therapy designation, it is as much of a sure FDA approval as any drug can possibly be.
With the potential to create billions of dollars in annual revenue, and ACADIA now having a market cap of just $2.7 billion ahead of its FDA approval, there's no question that this is a buying opportunity.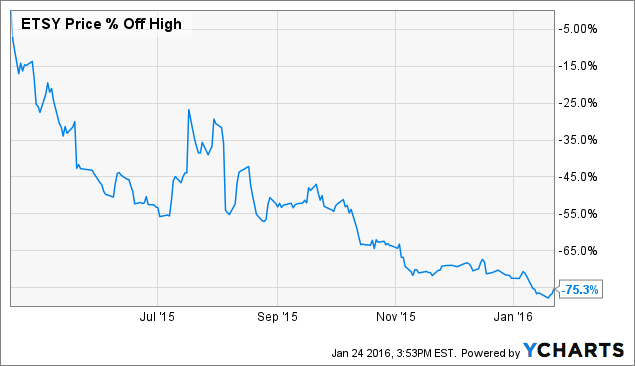 Etsy Inc (NASDAQ:ETSY) +6.15%
Etsy stock has been one of the worst performing of the 2015 IPO bunch. The reason is not necessarily Etsy's fault, as it is a rather innovating company that was founded on a unique e-commerce principle of selling unique goods and products by sellers to consumers.
Etsy's problem has been timing. Shortly after its IPO Amazon.com (NASDAQ:AMZN) unveiled its Handmade store, and Pinterest launched buyable pins. So while Etsy is expected to grow 27.8% this coming year and is trading at just 2.1 times forward sales, the fact that investors tend to look far ahead when investing in a company does not bode well for ETSY stock.
Fact is that Etsy must prove that it can survive and thrive in spite of Pinteret and Amazon's direct competition, and that is something Etsy will have to prove over time.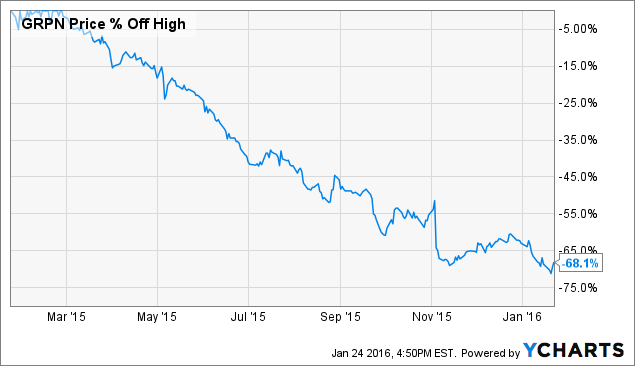 Groupon (NASDAQ:GRPN) +4.33%
GRPN stock has pretty much fallen from the time of its 2011 IPO, with periods of large gains far and few between. The company has struggled to transition from a high margin, dwindling couponing business built around vouchers to a low margin e-commerce focus.
After falling 68% from its 52-week high, and with the company still being quite profitable, GRPN stock has reached a point of investment opportunity. Specifically, Groupon's revenue is expected to decline 2.8% this year, so it is not an especially exciting company. However, it has nearly $1 billion in cash & equivalents, thereby valuing the company at just $700 million minus cash.
When you incorporate $200 million in free cash flow, GRPN stock trades at just 3.5 times FCF minus cash. That is very cheap, even for a company that lacks growth. With Groupon under new leadership and having big plans to streamline international operations, improve its product assortment, and acquire new customers, investors would be wise to consider buying the cheap stock with a strong likelihood it has already reached its bottom.
Disclosure: I am/we are long AAPL, ACAD.
I wrote this article myself, and it expresses my own opinions. I am not receiving compensation for it (other than from Seeking Alpha). I have no business relationship with any company whose stock is mentioned in this article.