The V20 portfolio is an actively managed portfolio that seeks to achieve an annualized return of 20% over the long term. If you are a long-term investor, then this portfolio may be for you. You can read more about how the portfolio works and the associated risks here. Always do your own research before making an investment. Read last week's update here!
Current Allocation
*Only available to Premium Subscribers
Planned Transactions
*Only available to Premium Subscribers
-------------
The market jumped towards the end of the week. After suffering steep losses, the S&P 500 climbed back to end the week with a gain of 1.4%. The V20 Portfolio also appreciated, rising by 4.4%.
Portfolio Update
As volatility picks up, I made some sizable changes to the V20 Portfolio over the past couple of weeks. Since the beginning of 2016, more than a third of the capital has been shifted. However, the V20 Portfolio did not exit existing holdings or initiate any new positions this week.
Today I'll talk about one of the less discussed stocks in the V20 Portfolio.
Intelsat (NYSE: I)
I've been doing an injustice to Intelsat by suggesting that Conn's was the cheapest stock in the V20 Portfolio. Intelsat is currently trading at a P/E of less 2x and has a massive backlog (~$10 billion) that quadruples the annual revenue. Furthermore, EBITDA margin has been running at an absurd rate of 77%. Not only is it cheap from a quantitative perspective, its business is also highly durable. There are a limited amount of satellite slots available in the world and Intelsat holds some very valuable space real estate. A high margin business with a sustainable competitive advantage. What can go wrong? The problem is leverage.
The company had $15 billion of debt at the end of the third quarter. There are two problems with leverage. For one, it magnifies losses when things cool down. This won't be a problem for Intelsat due to its backlog. The second problem is more applicable: liquidity. When you hold bonds, you usually rely on the capital market to refinance when they mature. Given what has transpired in the junk bond market, there is significant uncertainty regarding the demand for the bonds when they mature. Of course, if bonds can't be repaid, the company may have to issue additional equity, diluting shareholder value; or worse, as the equity may get wiped out in a restructuring.
To summarize, the problem with Intelsat is not that its business is in any danger, but the concern regarding liquidity. Assuming that the credit market is rational, I believe that this junk bond "crisis" (largely caused by the collapse of the energy industry, i.e. nothing to do with Intelsat) should blow over.
Looking Forward
The recent rally does suggest that investors have become more bullish. Although how the market moves has nothing to do with the value of the V20 Portfolio's holdings, a more bullish sentiment will nevertheless be beneficial for all investors who are long, including us. In any case, market volatility has returned, and I expect the V20 Portfolio to be more volatile in the coming months as bulls and bears battle it out in a war that does not particularly interest us.
Performance Since Inception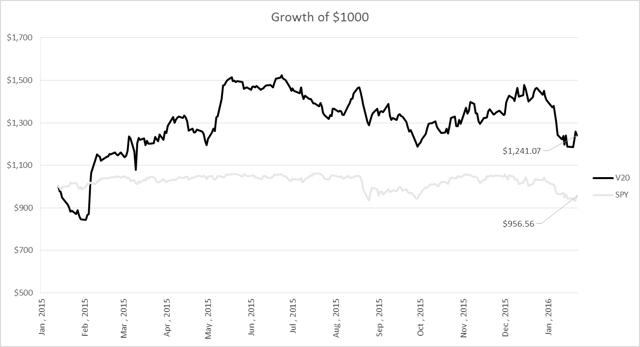 Disclosure: I am/we are long I.
I wrote this article myself, and it expresses my own opinions. I am not receiving compensation for it. I have no business relationship with any company whose stock is mentioned in this article.