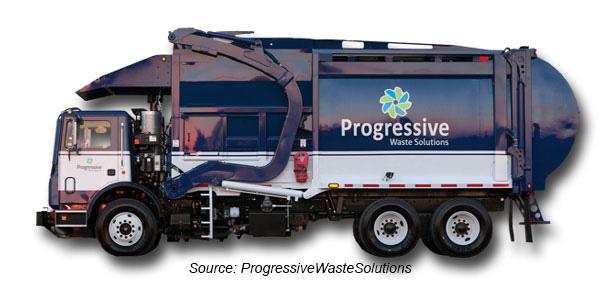 We wrote about the potential in Canada's Progressive Waste Solutions (NYSE:BIN) last year. Since then the shares are up approximately 4%, outperforming the S&P by about 300 bps. On January 19, Waste Connections (NYSE:NYSE:WCN) announced that they were "merging" with Progressive in an all-stock deal. The NewCo will be significantly larger but will also result in the company moving their headquarters to Canada- where Progressive is headquartered- in order to capture a lower tax rate.
The merger will reduce the premium of WCN to the peer group while enhancing the overall value of the new company. While the shares rose by 10% 'consuming' some of this value creation, we think there is still significant meat on the bone for investors to go long BIN or WCN at these levels. At the current prices and conversion ratio, shares of BIN at worth $27.04 plus, what we think is a 25%+ discount of value for the WCN shares.
Merger Dynamics Highly Favorable
The two companies have been in talks for a number of years about the mechanics of such a transaction. The lower share price in the second half of 2015 likely provided the catalyst for the deal as shares fell to the low $20s. Upon completion, Waste Connections will own about 70% of the combined company with a targeted closing date in the second quarter of this year. The deal is structured as a reverse merger in which Progressive becomes the technical acquirer in order to be able to move the headquarters north of the border.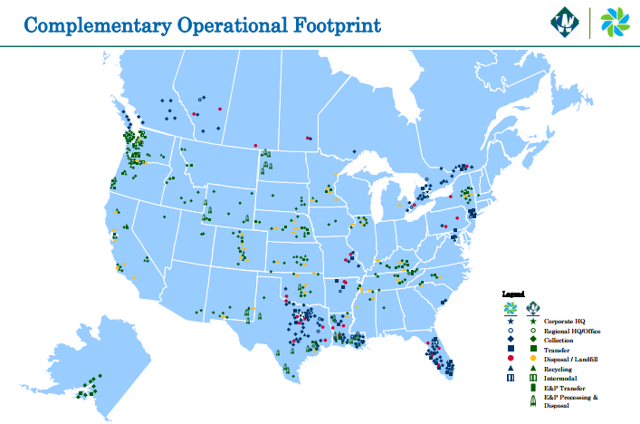 (Source: Investor Presentation)
The new tax regime will lower Waste Connections' cash tax rate from approximately 40% to approximately 27%. The combined company will generate roughly $4.1 billion in annual revenue and $1.25-$1.3 billion in EBITDA with $625 million in free cash flow in year 1 of combined operations. WCN Management estimated $50 million in SG&A savings and additional potential synergies of $20-$25 million for regulatory and safety related savings.
While some would simply view this as a corporate tax inversion, we think there is a significant amount of strategic fit and complementary opportunities that will derive significant value outside of the tax savings. For one, WCN is buying BIN at a discount valuation using the sell-off in the back half of last year as an opportunity. We wrote in our prior write-up that BIN was likely to be one of the main targets of acquirers mainly due to the programs the new management team had put in place. A strategic review was completed just a few weeks ago and the result of which was aimed at increasing shareholder value through a sale. Secondly, they have complimentary footprints and room for backfill in those geographic areas.
Based on the details provided by WCN, they are likely acquiring BIN for approximately 7.9x EV/EBITDA prior to any benefit from synergies with the pro forma multiple at 9.5x, a decline of nearly 2 points. We think the Street may not be fully appreciating the potential for upside to Management's synergy estimates. It likely does not account for any field-level efficiencies achievable under WCN. Those synergies at WCN are far above that of BIN which creates significant potential to close that gap and create additional savings.
We think there is additional upside to the NewCo operations mainly in the safety and maintenance side of the business. There is also opportunity likely in their landfill operations which are sub-par at BIN and an area we focused on previously that management was attempting to improve. Additionally, we also see potential in their ability to refinance debt at more favorable rates, improving the balance sheet flexibility and possible return of capital model. Lastly, there is the potential for simple working capital improvements and more efficient capex spend going forward, improving free cash flow.
Asset Sales Could Be Upside Driver
The additional upside driver to the company's synergy estimates are likely to come from asset sales at BIN. While the strategic fit is appreciable, we think there are significant assets that do not align with WCN, which are likely to be sold with the capital possibly returned to shareholders. WCN management noted that this could amount to 10% to 15% of BIN revenues, or 5% to 7.5% of the combined company. We also think that WCN is likely to simply expunge revenue at BIN that results in negative EBIT which could also help to drive overall profitability.
Much of this revenue generation is likely US-based accounting for up to one-third of their US revenue generation. WCN's focus on secondary markets is likely the rationale for this but also due to simple economics and the low probability of turning around these under-performing operations. Given that these operations were likely a use of cash rather than a source, we think these divestitures will add additional upside to free cash flow allowing for further potential returns to shareholders, deleveraging or investment into growth opportunities.
NewCo Capital Allocation
We think the free cash flow generation and growth potential is being discounted by the market. The company is highly focused on improving free cash flow through operational improvements, top line growth, and strong margins. The firm typically pays out approximately 20% of their free cash flow generation as dividends while free cash flow should grow by 12% to 14% over the next several years, implying strong dividend growth. With the ~$150 million in likely asset sales over the next year in addition to the 20% accretion in year one to free cash flow per share, we think the credit profile is likely to see improvement over the next six to nine months providing additional lift to the shares.
The combined entity will have pro forma debt to adjusted EBITDA of approximately 3.0x. We think there is a deleveraging aspect to the valuation given the strong free cash flow generation. Credit ratings are currently just into investment grade and we do think there is some uncertainty by investors as to whether this transaction will result in a credit downgrade given the increase in leverage. We believe WCN management will quickly delever through the use of the massive free cash flow to lower leverage to the 2.5x to 2.75x levels by the end of the current year.
Valuation
Free cash flow and deleveraging should help drive the valuation of WCN shares much higher over the next year. The $625 million in free cash flow slated for year one by management is likely low and we think could hit at least $700 million by the end of year two. At $700 million in free cash flow, and a share count of 174 million, the company will be generating just over $4 in free cash flow, compared to $3.25 last year. Using the same multiple as prior to the announcement of 18x, the shares would be worth $72.41 for upside of ~29%.
We think EBITDA estimates of $1.25-$1.3 billion will be low, given the operational improvements possible to the combined company as well as the asset sales that will likely rid them of negative EBITDA business. We think by the end of year two, adjusted EBITDA will hit $1.4 billion which at the current premium multiple for WCN would equate to a ~$76 price target on the share price.
| | |
| --- | --- |
| 2017 | Base |
| EBITDA | 1390 |
| Multiple | 12 |
| EV | 16680 |
| Net Debt | 3475 |
| Equity | 13205 |
| Shares | 174.0 |
| Value | $ 75.89 |
| Upside | 34% |
There are clearly some risks to the deal going through and the potential for asset sales not materializing. But we think these risks are extremely low and providing the current upside potential. Given the inflection in free cash flow expected of 20% in year one (and the likely understatement of those estimates), and the shares up just 7.4%, we see a strong opportunity despite the risks. Additionally, the acquisition diversifies WCN away from their Texas concentration which is suffering from the oil patch decline further de-risking the shares. On the back of that diversification, we think the multiple on FCF should increase providing an additional upside catalyst.
Conclusion
Shares of Waste Connections and Progressive Waste Solutions have both responded very favorably to the announced merger between the two firms. We think the deal is likely to be much more favorable than management is leading on given their synergies are essentially only from SG&A back-office adjustments and not from any operational improvements. The free cash flow story is highly visible which should increase generation to approximately $700 million by the end of 2017. This will likely be used for another strong increase in the dividend payment but also in deleveraging the balance sheet which would likely drive valuation higher. We think the shares are worth in the mid-$70s based on the same multiple as prior to the announcement despite diversification of revenue decreasing overall firm-risk.