As a reminder, I am currently doing a series of articles analyzing large-cap ETFs -- an effort to winnow the funds that look to have promise from those that look to fall short. The articles in the series are intended to be stand-alone, so readers can skip over ones that are of less interest to them.
As I dig through the pile of ETFs (there are now more than 160), two things are becoming clear:
I am not sure going to make it through 160 ETFs (there were only 128 when I started, two months ago!), but hopefully, the second item will help out:
I am beginning to get a grasp on some data that looks promising in terms of giving investors some tools to consider the substance of an ETF.
At present, I seem to be focusing on groups of funds issued by the same firm. I started with the Guggenheim set of funds,1 then reviewed the WisdomTree large caps.2 Some really interesting funds, however, are to be found in the larger companies such as BlackRock, Invesco, State Street and Vanguard3-- firms that have issued large numbers of large-cap funds.
To do the firms and their funds justice, I will have to split each company's offerings into a couple of articles. Thus, I start coverage of State Street's SPDRs by focusing on the six funds based on the S&P 500 in this article:
Of these, SPYB, SPYD and SPYX were issued in 2015. SPYB was issued in February, and some actual performance data is available, but the other two funds were issued in October and November, and are too recent to have accrued much data.4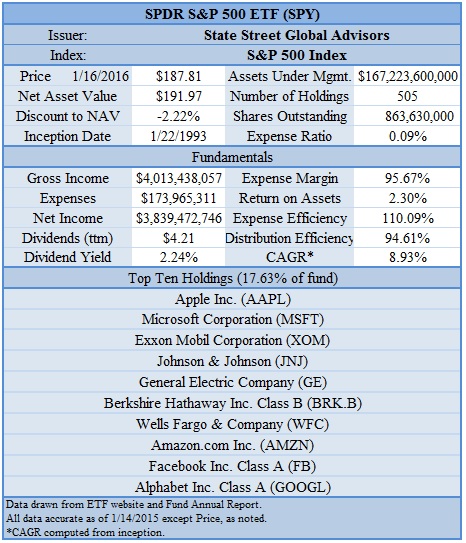 This is, of course, the granddaddy of ETFs -- founded in 1993, SPY is the oldest ETF and is the largest fund as well, with more than $167 billion in assets. The fund is based on the S&P 500, and typically stays close to, and often somewhat above, its index.
SPY has a long history of providing its investors with fine returns on their investment; since its inception it has achieved a compound annual growth rate of 8.53%.5 And while the fund boasts a very modest expense ratio of 0.09%, its actual expenses as reported in its last annual report were less than that, resulting in an expense efficiency of 110.09%.6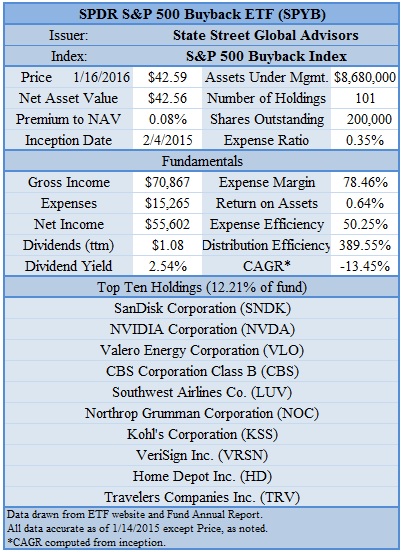 SPYB may have had the misfortune of being issued just prior to market conditions that have characterized trading since late summer 2015. With its inception date being in February, it is just less than one year old, and since prices of most equities are down, SPYB is left with a CAGR in the negative numbers.
On the plus side, it has managed to pay out almost four times as much in distributions as would be expected on the basis of its net income.7 In the case of SPYB, the "extra" monies likely result from capital gains.
The fund's index tracks the 100 companies having the largest buyback ratio for the past 12 months. Substantial buybacks lead to diminished shares outstanding, with the resulting price of those shares (presumably) increasing. The index is rebalanced quarterly, and the holdings are weighted equally.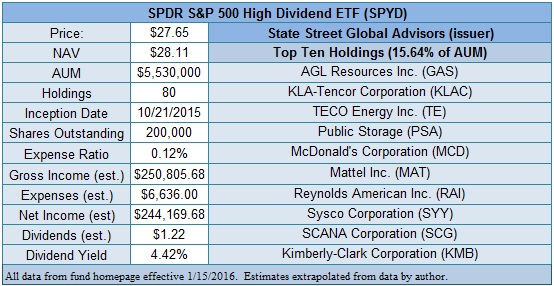 This is a new entry into the SPDR stables, and it seems to have the potential to be a very nice holding… especially if you are looking for a fairly low-risk way of getting high yield. The fund is based on the S&P 500 High Dividend Index, which tracks the 80 companies in the S&P 500 offering the highest yield.
The yield identified in the table above is based on my own calculations which are, in turn, based on the actual dividends paid by the holdings over the past 12 months. In the case of the index, yield is based on the most recent dividend paid that is annualized, then divided by the securities' price at rebalancing.8 My calculation is usually lower than the actual distributions made.
I am tempted (strongly) to analyze this fund closer in my next "new ETF" article.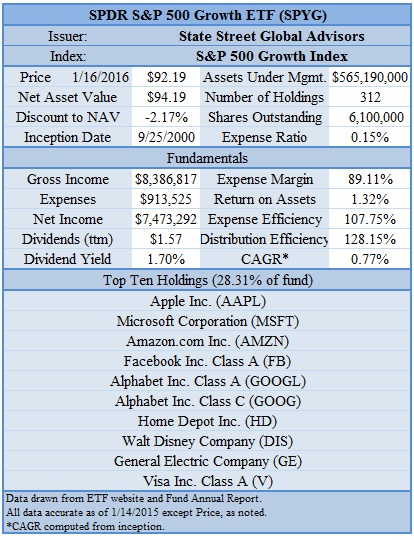 SPYG is another fund based on the S&P 500, in this case tracking the S&P 500 Growth Index. "Growth" is measured by three factors: sales growth, earnings change to price, and momentum.
The fund does have a low yield, but it is an efficient fund, both in terms of keeping expenses down and paying out dividends.
One of the stranger numbers in the table above is the CAGR, which is computed since inception. The figure shown reflects growth adjusted to account for dividends. If we take only share value into account, the fund has actually lost value since inception, dropping to $91.85 (as of close 21 January 2016) from $96.38 (2 October 2000) -- a change of just more than -5%.
The bottom line for SPYG is far from abysmal, as we will see below.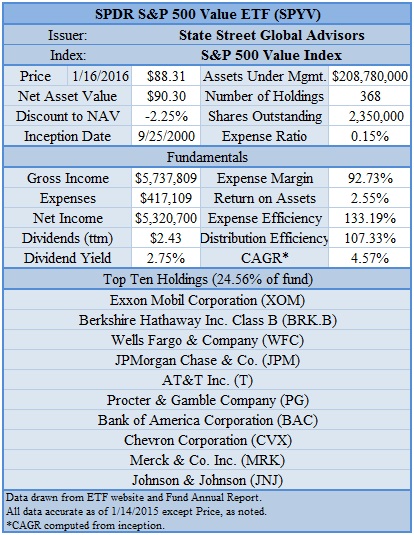 SPYV, like SPYG, has a more-than-15-year history. It is based on the S&P 500 Value Index, which selects from the 500 companies in the S&P index those that exhibit strong value characteristics as measured by: book value to price, earnings to price, and sales to price.
The fund performs well; its expense efficiency rating of 133.19% indicates that expenses are lower than expected, while its distribution efficiency shows that the fund is securing more income than that received through dividends.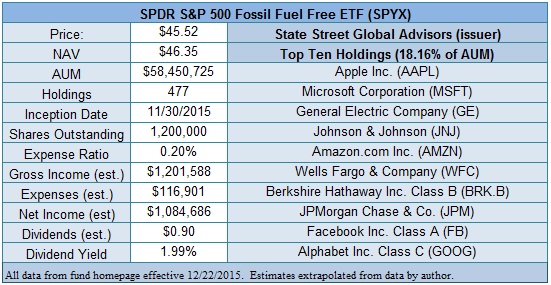 I discussed SPYX in some detail recently;9 as I discuss there, I think the fund is not quite the environmentally conscientious ETF it might be made out to be. However, there may be a perspective from which this fund might seem appealing.
By limiting itself to companies that do not own proven reserves of fossil fuels, SPYX may be somewhat insulated from the crisis that is hitting the oil and gas industry, and the limitations that may soon hamstring the coal industry. It may thus seem like a strategic approach to investing in the S&P -- taking fullest advantage of the index's earning power while avoiding that segment that is presently at greatest risk.
Prospects
Since I discuss SPYX in detail elsewhere, and since neither it nor SPYD have extensive performance records, I will not discuss them here. I also refrain from discussing SPYB because while it does have a year's worth of performance to show, I think it too soon -- and the current conditions too uncertain -- to be able to say much about it.
The following chart shows the performance of the six S&P 500 SPDRs since their inceptions:
The three newest funds, of course, have had the misfortune of being issued at a time when the market has become unsettled; their performance now should not be considered a shortcoming in the funds themselves.
SPY has performed exceedingly well over the past 22+ years -- particularly since the bottom of the recession (until, at least, last year). SPYV experienced a 2-for-1 stock split in 2005; adjusting its starting price accordingly, and the fund has grown by 32.37% (the dotted red line marks the adjusted price activity, starting at $64.09). SPYG, however, seems to have taken a hit during the tech-bubble crash, and is only now starting to recover; it's performance is still on the downside, at -4.70%.
Perhaps a more accurate measure of the performance of the three oldest funds can be seen here: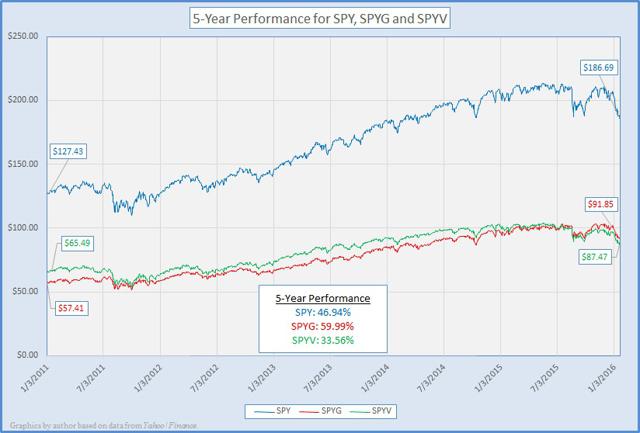 In the chart above we get a more recent (and hopefully more accurate) picture of SPYG's potential. Over the past five years, the growth fund has outperformed both SPY and the value-based fund, growing just shy of 60%.
The recent "growth spurt" put on by SPYG, and the turnaround it represents over its earlier performance, is best illustrated by the following graph: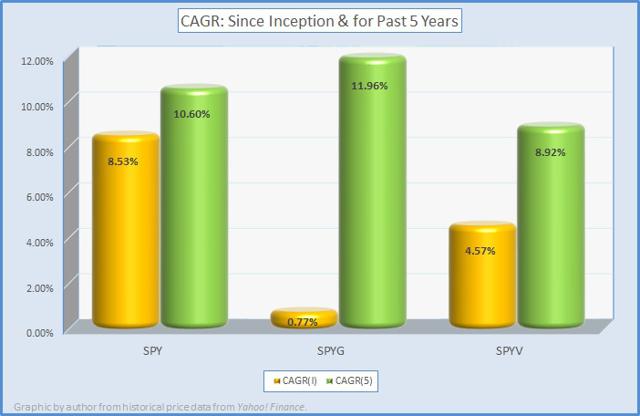 As it was illustrated with the CAGRs for the WisdomTree funds, ETFs' performance over the past five years seem to be significantly better than overall since inception.10 In large part, I should imagine a lot of the difference has to do with the extended bull market following the last recession.
However, the difference between SPYG's CAGR since inception and since January 2011 is enormous, and I don't think it can be solely attributed to the bull market.11 The turnaround in performance would more likely be a result of the indices involved -- both with the S&P 500 being reconstituted more effectively,12 and with the growth index having a better field from which to select.
Assessment
By all measures I am using, SPY comes out on top, but not by much. SPYV is a very close second, and SPYG is not too far behind.
SPY holds the edge when it comes to expenses -- its ER is the lowest of the group, and the actual expenses paid as reflected in the latest annual report were lower than the ER would indicate. Its expense margin is very good. Across the board, where SPY does not lead the pack, it is second -- except in yield.
SPYV holds the edge when it comes to earnings from dividends. Its yield is the best of the three senior funds, although SPYB is far better in terms of distribution efficiency. It may be that the focus on buybacks has the effect of amplifying capital gains, but whatever the cause of its higher distributions, it will be interesting to see how the buyback fund performs over the next few years.
A big question mark hovers around SPYG. The growth fund is unremarkable in terms of both expenses and distribution, but there is the matter of its recent phenomenal growth (which is, after all, what one would expect from a growth fund). After playing with the numbers, including going over numbers from the previous two articles, I think I have hit on something.
A fund's CAGR is something of a double-edged sword. It gives us a "smooth" picture of growth, which helps us see an investment's long-range value, but it does so at the expense of masking over tough times. A major "tough time" was the last recession, which gets glossed over when one looks at the CAGRs for these funds (particularly SPY and SPYV).
I am starting to notice some patterns, and it involves how the funds behaved during the recession. From that perspective, SPYG lost less than SPY and SPYV -- relative to the S&P 500 -- and recovered from the recession quicker -- ditto.
Since these funds are all based -- ultimately -- on the S&P, one might expect that they would have responded comparably to the S&P -- and SPY and SPYV did. But not SPYG. Since all of the funds draw from the same pool of companies, the explanation would have to be the criteria used to select the specific companies that comprise each fund's portfolio.
I will have more to say of this after I have had the chance to examine more ETFs, but on the basis of what I have seen so far, SPYG has a lot to offer in terms of "toughness."
As for the three newer funds, SPYB looks promising, but I think it will take a while to see just how much of that promise it actually keeps. SPYX may have a place in a portfolio that finds itself heavy on fossil fuels, and it should be able to avoid much of the current woes inflicting gas and oil.
SPYD is intriguing. I am inclined to want to take a closer look at this fund in an upcoming article. This might make for a very nice holding for a retirement portfolio.
Disclaimers
This article is for informational use only; it is not intended as a recommendation or inducement to purchase or sell any financial instrument issued by or pertaining to any company or fund mentioned or described herein.
All data contained herein is accurate to the best of my ability to ascertain, and is drawn from the companies' websites and SEC filings to the extent possible. All tables, charts and graphs are produced by me using data acquired from the aforementioned sources or from other verifiable sources as noted.
All opinions contained herein are only opinions and are mine, unless noted otherwise. The opinions of others that may be included are identified as such and do not necessarily reflect my own views.
Before investing, readers are reminded that they are responsible for performing their own due diligence. They are also reminded that any investment involves the assumption of some level of risk. It is possible that invested monies can be lost in part or in whole.
Please invest carefully!
--------------------
1 "Changes Coming for the Guggenheim Large-Cap ETFs."
2 "WisdomTree LargeCap Funds: Indices Set Them Apart."
3 Which issue iShares, PowerShares, SPDR and - of course - Vanguard ETFs, respectively.
4 Indeed, SPYX was the subject of one of my "new ETF" articles, "2 New ETFs Dodge the Energy Sector."
5 This figure includes dividend payments.
6 Expense efficiency is a datum I have begun to use to measure the extent to which a fund's expenses are being minimized. It is achieved by dividing the "expected expenses" (determined by multiplying the fund's assets by it expense ratio) by the actual expenses reported in the A.R. An expense efficiency rating over 100% would indicate that the actual expenses paid were less than what the expense ratio anticipates.
7 This datum is reflected in the "distribution efficiency" number, which is determined by dividing the actual distributions paid (per share) by the quotient of the division of net income by shares outstanding. When actual distributions are over the net income per share, the extra funds being distributed likely come from interest paid to the fund on loans it has made, as well as capital gains realized.
8 That is, the index is based on projected yields, while I prefer to rely on actual dividends for the trailing twelve months [ttm]. The difference in this case is minimal, as SSgA projects a yield of 4.63% - 21bps more than my estimate.
9 See note 4 above.
10 See note 2 above. CAGR figures are based on total returns.
11 After all, SPYG is a subset of SPY and holds 60% of the companies in SPY.
12 While the S&P is reconstituted as needed, years in which large numbers of companies are replaced are few. However, from 2011 to date, the S&P has averaged approximately 19 changes per year - about 26 in 2015. Changes in market capitalization accounts for a large number, but also the recent trend in mergers and acquisitions has had a pronounced effect.
Disclosure: I/we have no positions in any stocks mentioned, and no plans to initiate any positions within the next 72 hours.
I wrote this article myself, and it expresses my own opinions. I am not receiving compensation for it (other than from Seeking Alpha). I have no business relationship with any company whose stock is mentioned in this article.