MLPs have now traded either up or down by more than 4% in 7 straight trading days. The last two of those days were positive, sending MLPs up 18.9% from Wednesday's intra-day low. The late surge helped the sector achieve its first positive week of the year.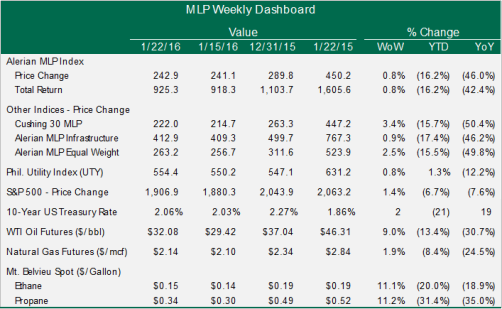 Friday's +8.4% move was the 6th best day ever for the MLP sector. When combined with oil closing the week on the good side of $30/bbl, being down 16.2% YTD doesn't feel so bad heading into the first week of earnings season. A combination of Draghi comments, oil's spike, distribution announcement relief and Kinder earnings relief sparked the MLP buying/covering Thursday and Friday.
The MLP rally can continue into next week if oil can hold $30 and EPD results meet expectations, but I wouldn't expect another +8.4% day unless preceded by a few extreme negative days like we saw this week.
Heavy Accumulation
It snowed a lot this weekend. When it snows a lot, my wife worries about trees falling down onto the house, about having a generator, and of course about how many days we'll be trapped inside the house with the kids. I worry about my trampoline. I worry it might fill up with snow and get stretched out so far that when the snow does melt, the trampoline will sag and won't work like it did before.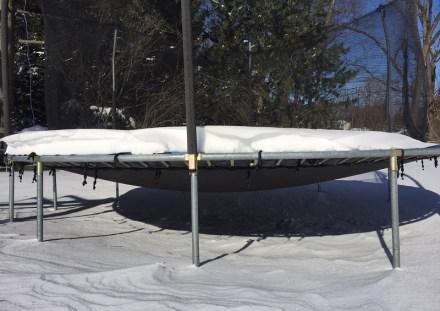 Few things are as physically challenging post-blizzard as clearing snow from a trampoline (especially with the net trapping all the snow in). But when it does get cleared, the sag tightens and elasticity is restored.
Even if this wasn't the ultimate bottom for MLPs, and even if MLPs resume their decline next week because not much has changed fundamentally, it is comforting to know that MLPs still have the ability to snap back nearly 20% in 2.5 days and that the sector's springs aren't totally broken.
Volatility Update
The daily price action for MLPs so far in 2016 is like nothing we've seen before. The vast majority of days (10 of 14) this year have seen the index move 4%+ in either direction. Such extreme moves in either direction are not conducive to attracting fresh investors to the sector.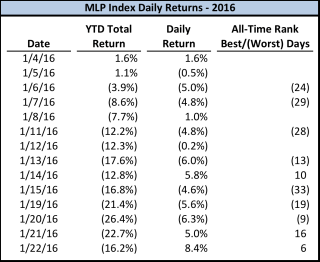 Winners & Losers
Not really much to point to for trends among the winners & losers this week. CCLP cut its distribution, dropping it to the bottom of the sector for the week. Two wholesale gasoline distributors CAPL and SUN made the bottom 5, which may or may not have been the result of sharply higher oil prices and a read through to wholesale margins.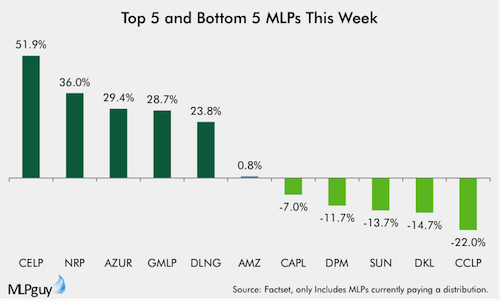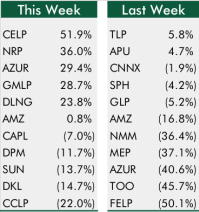 TLP and NGL are leading the way for the year, as it seems like the sale of TLP's GP is turning out to be a win-win for both MLPs. Others in the top 5 include propane distributors SPH and APU, which are primarily owned by retail investors and tend to sidestep sector-wide volatility.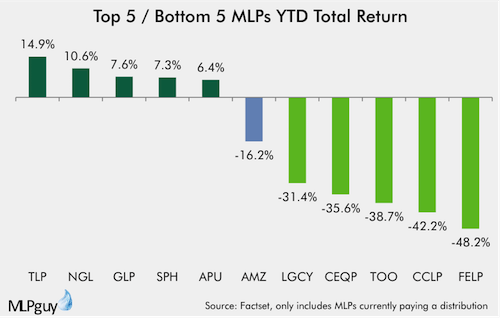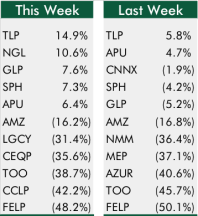 General Partner Holdings Companies
WMB led all GPs this week, with a return more than double that of ETE, narrowing the spread on their proposed merger. Besides WMB's press release last Friday affirming the transaction, neither party has commented publicly on their businesses or on the transaction in 2016. TRGP rebounded 20%, trading better following its flat dividend announcement.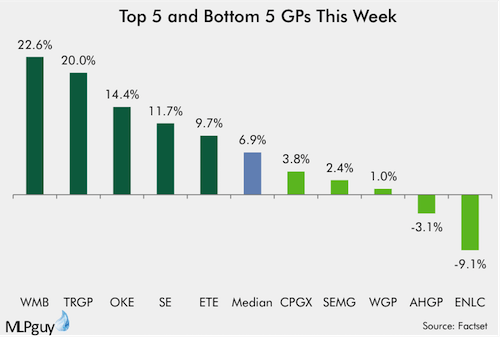 ENLC was the outlier this week, down 9.1% after announcing no change to last quarter's distribution. Both ENLC and TRGP operate gathering & processing assets and announced no change to dividends, but clearly market expectations were different for each company.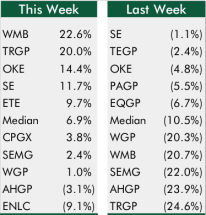 News of the (MLP) World
No equity, no new project announcements this week. One miniscule acquisition, one midstream corporate earnings call from KMI and a long list of distribution announcements. More distribution announcements will materialize next week, including probably the Energy Transfer complex, which last year announced distributions on Monday, January 26th.
Growth Projects / M&A
Sprague Resources (NYSE:SRLP) announced acquisition of natural gas marketing and electricity brokerage business from Santa Buckley Energy, Inc. for $17.5mm in cash (press release)
Distributions
EQM +5.2%
EQGP +17.3%
SHLX +7.3%
DM +6.7%
PSXP +7.0%
GPP +0.6%
TLLP +4.0%
WES +3.2%
WGP +6.0%
TLP +0.8%
RMP +1.6%
Flat: NGLS, CLMT, CPLP, BKEP, SMLP, MMLP, DLNG, ENLK, ELNC, OKS, OKE, TCP, NAP, ENBL
Cut: CCLP -24.9%,
Suspended: LGCY