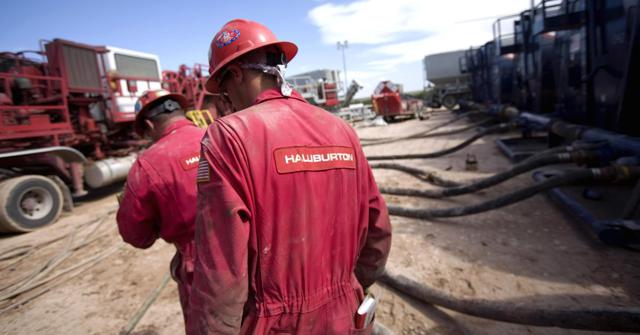 Source: Forbes
Halliburton (NYSE:HAL) reports Q4 earnings before the market opens on Monday. Analysts expect revenue of $5.11 billion and EPS of $0.24. The revenue expectation implies a decline of 8.5% in comparison to the $5.58 billion reported in Q3. The following are key items investors should focus on during the quarter:
Diminution In North America Operations
Since Q1 2015 North America has been a thorn in the side of oil services firms with exposure to land drilling. The decline in the rig count has hurt spending on oilfield services and equipment.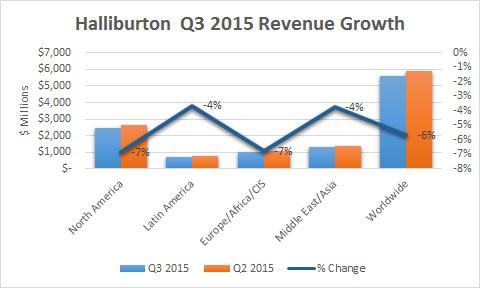 Source: Shock Exchange
While Halliburton's revenue from North America fell 25% sequentially in both Q1 and Q2, it was only off 7% last quarter. This gave the impression that the double-digit declines had subsided.
However, if Schlumberger's (NYSE:SLB) Q4 earnings report is a proxy, double-digit declines may have returned. Schlumberger's revenue from North America was off 14% sequentially as "E&P budgets were exhausted." A double-digit decline in North America could have an outsized impact on Halliburton has it receives about 45% of its revenue from the region. Look for North America to weigh this quarter.
Extended Activity Weakness
There may not be any relief in sight, at least for the first half of 2016. Schlumberger sees "extended activity weakness":
"In anticipation of an extended activity weakness in the first half of 2016, we implemented another significant adjustment to our cost and resource base during the fourth quarter. This included a further workforce reduction of 10,000 employees, as well as greater streamlining of our overhead, infrastructure and asset base.
That implies that declines in oil & gas industry E&P and Halliburton's revenue has further to fall. Longs have held out hope that the company's merger with Baker Hughes (NYSE:BHI) will be approved by regulatory bodies. In my opinion, it would be more prudent to invest in HAL based solely on the company's merits. HAL is off over 20% over the past year and will likely fall further if management gives a sober outlook on oil & gas E&P. Given Schlumberger's poor outlook I would expect Halliburton's management to echo that sentiment.
EBITDA Margins
The company's normalized EBITDA margin declined from 19% in Q2 to 16% in Q3 as Halliburton lost the benefits of scale. Schlumberger announced 10,000 lay offs in reaction to the industry downturn. Rumors suggest Halliburton has plans to lay off 20,000 already. Based upon Schlumberger's Q4 report Halliburton may need more head count reductions in order to maintain its EBITDA margins. In my opinion, the risks are twofold. First of all, it would not dispel rumors that the company's proposed merger with Baker Hughes is simply designed to cut costs; the regulators may look askance on more head count reductions. Secondly, if the company cuts into too much muscle it may be difficult to benefit from a potential rebound in oil prices and E&P.
Conclusion
A dismal outlook will likely send HAL lower post-earnings. Avoid the stock.
Disclosure: I/we have no positions in any stocks mentioned, and no plans to initiate any positions within the next 72 hours.
I wrote this article myself, and it expresses my own opinions. I am not receiving compensation for it (other than from Seeking Alpha). I have no business relationship with any company whose stock is mentioned in this article.