General Electric (NYSE:GE), one of my favorite stocks in 2015, continues to be a screaming "Hold". While the Company continues to make positive movements across its core businesses, including the divestiture of Synchrony (NYSE:SYF) shares, the sale of GE Capital and the re-sale of Appliances, the Company's valuation is just too expensive to justify new money.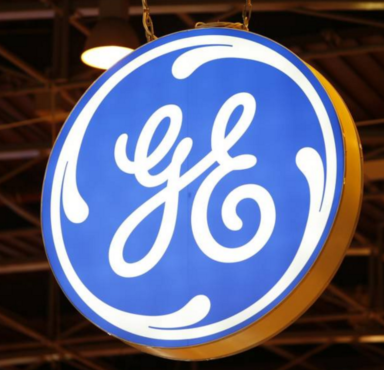 Source: Wall Street Journal
In the fourth quarter, announced last week, GE beat consensus estimates by the "expected" three cents (third quarter in a row beating by $0.03). Despite the beat, GE fell by 1.2% on a day the Dow Jones Industrial Average increased by 1.3%; a 2.5% underperformance.
While investors were turned off by the steep declines in oil and gas (equipment orders down 52%) and weakness decline in China, I was more focused on the overall strong performance in current quarter (backlog up and industrial margins up by 80 basis points). In short, GE is a diversified (product and geography) industrial company which will always have strong and weak segments and improving and declining geographical markets. A sum of the parts analysis of GE is myopic; GE can only be looked at as a whole.
GE chairman, Jeff Immelt did a nice job of summing up the state of GE by saying, "We believe in the strength of our business model and that there is enough growth out there to deliver in 2016."
I have been a fan of GE's re-industrialization, and think the Company has done a fine job in recent quarters:
Growing backlog
Executing core strategy (re-industrialization)
Cutting costs (increasing margin)
Increasing EPS (in apples-to-apples operations)
Completing M&A (Alstom, GE Capital, Appliance, etc.)
Spinning Out SYF
Developing future technologies (Brilliant Factory/Predix initiatives)
However, while GE management has done a fine job, my opinion is the stock has run ahead of itself and the market. Following the news on October 5 that Nelson Peltz's Trian had become a major investor, GE ran from the $25's to the $31's (up 16%). On a relative basis, from the date of the announcement through the end of the year, GE outperformed its peers and the S&P 500 by about 10%.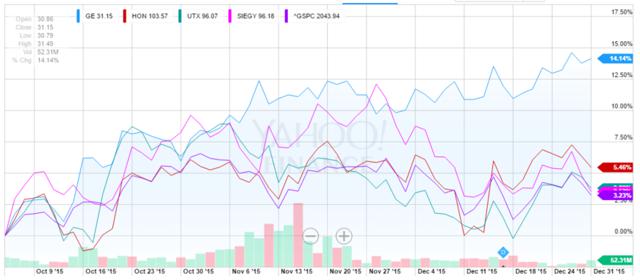 Source: Yahoo!
In the last month GE has dropped to the $28's. However, the change (in the last month) is roughly in line with the S&P 500 (GE down 8.8%, S&P 500 down 7.7%).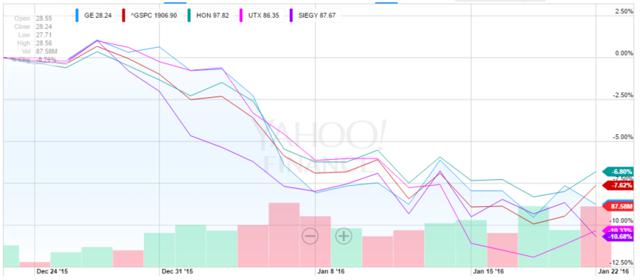 Source: Yahoo!
Which brings us to the present. Earnings estimates have settled in at around $1.50-$1.52 for 2016 and reflect an optimistic outcome to the world situation, energy and Alstom synergies for 2017, with estimates in the $1.75-$1.85 range. The 2016 estimate values GE at around 18.7x forward and the 2017 estimate reflects about 15.7x the 24 month forward with five year EPS growth projected at 6.6%. As the below chart illustrates, GE is trading at the high end of recent forward multiples.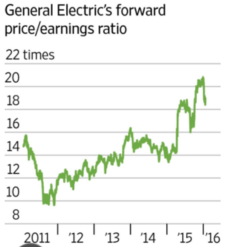 Source: Wall Street Journal and Factset
By comparison, Honeywell (NYSE:HON) trades for 14.9x 2016 (9.3% projected five year EPS growth), United Technologies (NYSE:UTX) trades for a similar 14.8x (10.5% five year growth) and German Siemens (OTCPK:SIEGY) trades for 12.1x (10.8% five year growth).
Assuming GE is a superior company, with strong businesses and to-be-realized Alstom synergies, is it really worth a 25% premium to its US peers? As much as I admire GE, I have to say 'No'.
If you would like to read more articles about GE, or other stocks I follow, please consider "following" me.
Disclosure: I am/we are long SIEGY.
I wrote this article myself, and it expresses my own opinions. I am not receiving compensation for it (other than from Seeking Alpha). I have no business relationship with any company whose stock is mentioned in this article.