For much of the country, last week was a short workweek but it definitely was not short enough for those who work on Wall Street. While China and oil prices continue to lead U.S. equities on a wild goose chase, there ought to be some degree of reprieve thanks to the latest economic reports. The housing market is showing a slight pulse going into 2016, while the employment situation in the U.S. is looking more dismal.
NAHB Housing Market Index
At long last we received a small glance into what the future will hold for the housing sector in 2016, and it really not what we were expecting. Ultimately the U.S. housing sector has been showing some signs of life here and there yet it has yet to be a major catalyst for economic growth. The National Association of Home Builders and Wells Fargo published their data for the broader U.S. housing market index, HMI, and noted that most homebuilders remain optimistic judging by the step backwards from December. He headline composite index contracted by 1 point to a reading of 60 in January, yet it should be noted that this is still comfortably above the breakeven level of 50. There is some concern in the traffic component, however, as it reflects weak participation among first-time home buyers, falling to a reading of 44 for the second straight 2-point drop. On the other hand, the present sales component has popped to a reading of 67, which provides some optimism as it points to strength in new home sales, which have been struggling for momentum. As you can see in the chart below, future sales (or for the next six months) have dropped consistently but still remains quite strong at a reading of 63. Given concerns in the broader market and economy at large, on top of an impending interest rate boost, this component ought to keep its downward trend for some time. On a regional basis, the West is the frontrunner with a massive reading of 73, followed by the South at 60, the Midwest and 58 and the Northeast, the smallest, at 47. Overall, I don't there is much cause for concern regarding the housing market this early in the year.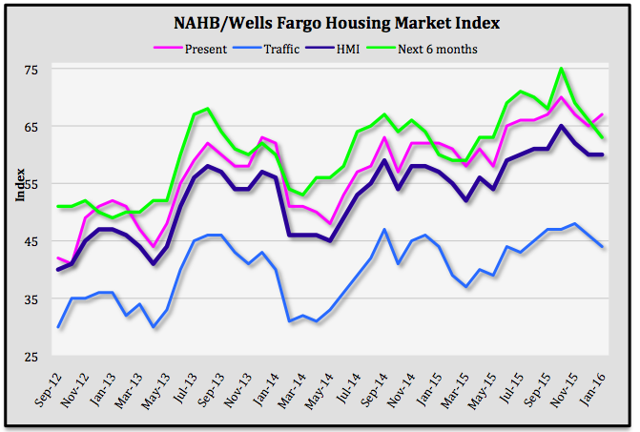 Consumer Price Index
Energy prices this month will ultimately mean a major pullback in inflationary pressures in the beginning of 2016. In the meantime, the Bureau of Labor Statistics noted that December consumer prices experienced only minor pressure. The headline CPI index declined by 0.1%, while the core rate edged about 10 basis points higher. On a year-over-year basis, both rates are inching higher though, with the headline reading up 0.7% (up 20 basis points from November) and the core reading at 2.1% (up 10 basis points from November).
The Federal Reserve will justify their rate increase due to the fact that core inflation is currently above their 2.0% target. Still, the core CPI is nowhere near its optimal level, as the PCE core reading has not been showing much sign of life, trading below the 1.5% level. The weakness culprit is naturally the energy sector, which pulled prices down by 2.4% in December for a year-over-year decline of 12.6%. Gasoline prices alone are down by 19.7% year-over-year. Food prices also declined for the second consecutive month, down 0.2% for the month and up 0.8% for the year. Housing and medical care prices both showed gains for the month with gains of 2.1% and 2.6% for the year, respectively. It's interesting to note that falling energy and commodity prices coupled with weakness in demand, is a major policy risk for the Federal Reserve and this ought to be a major talking point for the meeting later this month. Some members have expressed doubts that inflation will move to their intended target, and the December CPI report only intensifies these concerns.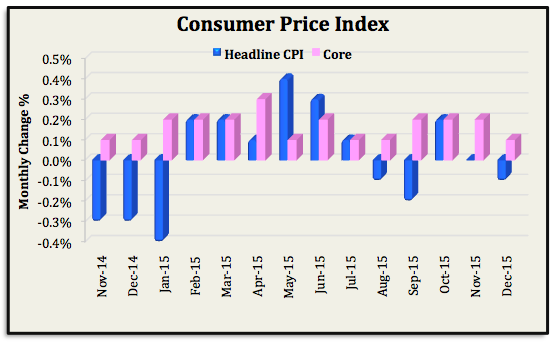 Housing Starts & Permits
Momentum has slowed down for housing starts and permits in the last month according to the Census Bureau. Housing starts came in at an annualized rate of 1.149 million for a 2.5% decline over November. At the same time, permits came in at an annualized rate of 1.232 million for a 3.9% decline over the prior month. It should be noted that both of these readings in November surged by more than 10.0%, so it is not too unrealistic to expect a pullback for the month. On an annual basis, total starts are up by a healthy 6.4% and permits are exceptionally strong at 14.4%. Starts for both single-family and multi-family homes declined by for the month, yet both are up annually by 6.1% and 7.0%, respectively. Among permits, it is worth noting a strong downdraft for multi-family homes, 11.4% lower in December but this follows a few months of strong gains. Permits among single-family homes increased by 1.8% for the month, which is very encouraging among the first-time buyer market. Housing completions and construction was in part very strong in the month of December due to warmer-than-normal weather across much of the country, but do not expect that this trend will keep going into January. Despite the slight contraction in December, the data shows increasing optimism for the housing market going into 2016.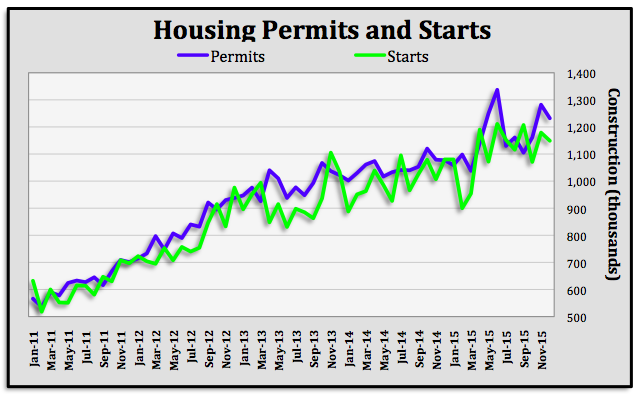 Weekly Jobless Claims
The employment situation getting pretty dire in the U.S. going into the New Year, and this is evidenced by the recent jobless claims report from the Department of Labor. For the week ended January 16, initial jobless claims rose by a sizable 10,000 to a much higher-than-expected 293,000 claims for the highest level since July 2015. Consensus was looking for 275,000 with a high-end estimate of 285,000. On a month-over-month basis, this is very discouraging and is indicative of a big drop for the January jobs report. Continuing jobless claims, which lag by one week, are not showing any slowing in the jobs market just yet. For the week ended January 9, continuing claims fell by 56,000 to bring the 4-week average to 2.228 million. Ultimately, there are no special factors influencing this data, though volatility is not unusual to see in the employment market for the start of the year. The chart below shows the changes in initial jobless claims compared to the national unemployment rate.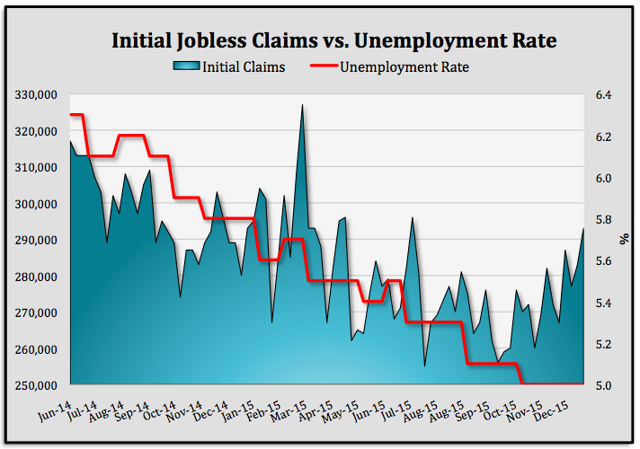 Philadelphia Fed Index
The jobs situation is looking more ominous especially in the Philadelphia Fed District. The factory sector is still slowing down, however the rate of contraction is apparently flattening for a change. For the month of January, the general business conditions index came in at -3.5, which is slightly better than the consensus expectation for a reading of -4.0, and surprisingly is the best reading since August 2015. New orders and shipments posted the best readings since September 2015 at -1.4 and 9.6, respectively. While these readings sound like good news, just keep in mind that these were the best readings in the whole report. Most readings were steeply in the negative column, with employment, unfilled orders, and inventory levels the weakest of all. The six-month outlook is very disappointing, down by 5 points in the month to a reading of 19.1, which is the weakest level since 2012. The drop in inventories is particularly interesting, because it is clear that business de-stocking is intentional, and it is a defensive move to cope with troubling business conditions ahead. Price data was also negative, held down by weak global demand and energy markets, but the silver lining here is just that the downward momentum of the major components have finally decelerated after multiple months of steep declines.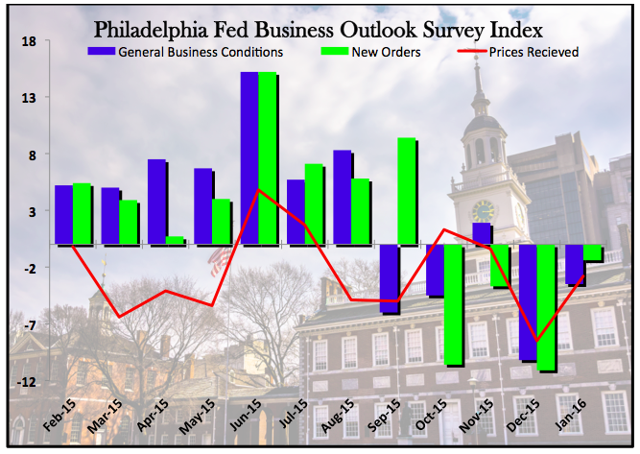 Disclosure: I/we have no positions in any stocks mentioned, and no plans to initiate any positions within the next 72 hours.
I wrote this article myself, and it expresses my own opinions. I am not receiving compensation for it (other than from Seeking Alpha). I have no business relationship with any company whose stock is mentioned in this article.