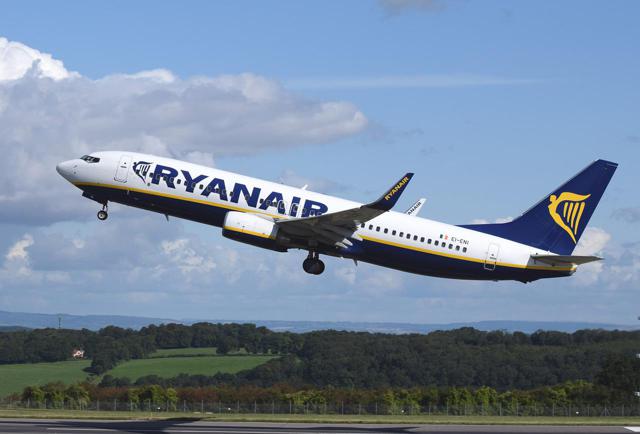 Ryanair (NASDAQ:RYAAY) is not your average airline. Despite market sell-offs the bullish stock is well above its 12-month support line. The company's stock appreciated more than 34% on a year-to-year basis. But what makes Ryanair so successful?
During the last couple of years, the airline was well known for its extremely competitive ticket prices, but also for its "rough" passenger experience. Flying with Ryanair felt a bit like flying in a supermarket. The cabin crew would offer you lottery tickets, the emergency protocols would stick right in front your head surrounded by the bright yellow plastic detached on the seat back and the cabin crew would shout "Don't block the aisle and sit down, please!" to passengers who were a bit tardy.
However, the airline decided to change its image. Already in 2014 and 2015 it focused not only on provincial airports but also on larger airports such as Berlin Schönefeld, Bucharest and Milan. This year the airline will focus on business travel partnering with Amadeus, a booking platform. Such a partnership with a travel agent platform will be the first in 10 years, as BBT reported. It allows business travelers to book their flights conveniently via their travel agent or via the travel service of their credit card. This is a completely new stance to travel agents considering Michael O'Leary's past attitude communicated through various quotes that I won't include in this article.
According to BBT, the business tickets will feature everything a business traveler needs: Premium seats, no re-booking fees for airline tickets, priority check in, a free checked bag and even access to Ryanair's newly established fast track in many airport security areas. Of course the price for such a ticket won't be low-cost, but premium. It is a well known secret that it is mainly the business sector that boosts an airline's PRASM (passenger revenue per available seat mile).
This positive outlook meets a very competitive unit cost. Although Wizz Air recently claimed that the unit costs of its Irish low-cost rival are likely to climb, Ryanair rejects that. According to Neil Sorahan, its CFO, the unit costs are as low as €29 - a very competitive rate. And if we believe Sorahan, the costs are even expected to further decline in 2016 due to cheap financing arrangements - even when the currently low oil price stops falling. In fact the airline is said to have €976 million net cash, as DailyMail reported, and thus is able to pay in cash for all aircraft that are to be ordered 2017.
This and an impressive quick ratio of 1.71 (based on the last business year) allows the airline not only to improve the passenger experience, but working conditions as well. The airline recently announced a raise in wages and allowances and the implementation of new rosters. Although the airline refused to give specific details of this measure, RTE News stated that the new rosters would allow 15 more days off on a yearly basis per employee. It also stated that high-grade staff will receive an addition of €350, while lower-grade staff will receive an addition of €250. This measure will definitely make Ryanair more attractive for job seekers which will be very useful in the near future since the airline is still expanding its network.
Quite recently on January 14th, the airline announced it will open a new base in Timisoara, Romania. This base will feature a single aircraft that is scheduled to service five international routes and one national route to Bucharest. Although the company will have to compete against Eastern European low cost carrier Wizz Air on routes like Milan and against national carrier Tarom on its route to Bucharest, it estimates to transport 575,000 passengers as anna aero reported.
And there is another great business opportunity ahead for the Irish low cost company. Norwegian Air, Europe's only long-haul low cost carrier is looking for a low cost feeder to its long haul flights. As investors know, Ryanair is also looking to feed long haul airline service, yet refuses to compensate for delays. As Irish Times reported, that wouldn't be a problem for Norwegian since its CEO "Mr Kjos said that as it tended to be long-haul flights that suffered major delays, then it was clear who would be liable". A possible Ryanair-Norwegian partnership would definitely be a clever move since it would both generate synergies and traffic.
All in all, the company looks very successful in its current state not only because of its competitive financial health but also because of reforms that many other airlines normally only undertake when they are under pressure. Even with a slightly appreciating oil price, the company should continue to soar into sunny skies.
Disclosure: I/we have no positions in any stocks mentioned, and no plans to initiate any positions within the next 72 hours.
I wrote this article myself, and it expresses my own opinions. I am not receiving compensation for it (other than from Seeking Alpha). I have no business relationship with any company whose stock is mentioned in this article.