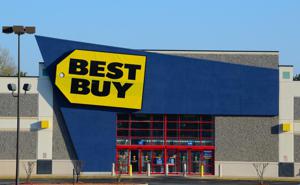 Two weeks ago I penned a piece on electronics retailer Best Buy (NYSE:BBY) entitled "Best Buy: Watch Out For Any Overreaction To Holiday Sales" in which I contended that the company would make for an interesting "BUY" if Mr. Market overreacted to its holiday sales report. The reason I said that was because Best Buy's stock happened to sell off on two occasions in the past two years for the exact same reason.
While there has been a reason for each sell-off in the past two years, lower holiday period revenues and a weaker margin and earnings forecast, the decline in Best Buy's stock price was excessive in both instances. Hence, I argued, the release of Best Buy's holiday results could potentially trigger yet another sell-off if the company missed Wall Street expectations.
That was quite right. On January 14, 2016, Best Buy made its holiday sales update, and results indeed missed expectations.
For the 9-week holiday period ending January 2, 2016 Best Buy reported domestic segment enterprise revenues of $10.05 billion, which was slightly lower than a year ago when the electronics retailer raked in $10.13 billion. Total enterprise revenues declined 3.6% from $11.37 billion last year to $10.96 billion this year.
Best Buy's domestic comparable store sales slumped 1.2% versus a gain of 3.4% in the year ago holiday period.
Further, Best Buy guided for "a revenue decline of near 1.5% versus our previous expectation of near flat due to softer consumer demand in mobile phones and greater-than-expected declines in the NPD-reported categories", but also said it expects a better adjusted operating income margin than previously expected. Best Buy now forecasts its operating income rate to contract 10-15 bps as compared to 20-35 bps in its earlier guidance.
Lower-than-expected holiday sales, a comp decline, and a weak revenue outlook then triggered the expected sell-off. On the day Best Buy released its holiday sales update, the stock slumped ~10%.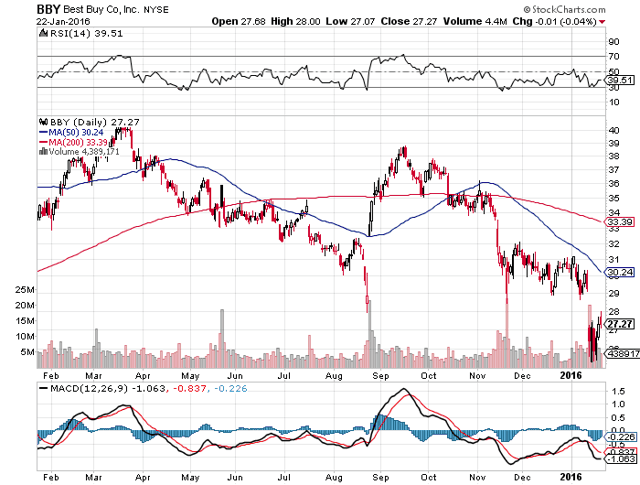 Source: StockCharts.com
But Best Buy's holiday update was not all that bad. Domestic segment revenues remained almost stable while the company increased its operating margin outlook for the fourth quarter. Further, Best Buy continues to drop serious money on stock buybacks. In the nine week period ending January 2, 2016, Best Buy bought 6.6 million shares for a total consideration of $203 million.
Attractive capital returns
Year-to-date, Best Buy has bought back $588 million in stock.
In March of 2015 Best Buy said it would buy back $1 billion of stock over the next three years. Since the company has already exhausted more than half of its authorization, there is a good chance that the company will increase its buyback authorization once it has bought back the full $1 billion. I expect this to happen in 2016.
Further, Best Buy pays a quarterly dividend of $0.23/share for a 3.37% dividend yield. Best Buy is a nice income play, and the company will probably hike its dividend in 2016, too.
Your Takeaway
Chances are that investors are overreacting to Best Buy's holiday sales update, just like they did in the previous two years. Investors are very sensitive when it comes to comp data and sales forecasts, which is why Best Buy's stock took another beating on the day the company made its sales update. That said, though, Best Buy's margin outlook has improved and the company buys back shares aggressively in the open market. The dip in Best Buy's share price may be a good entry point for (income) investors at this point.
Disclosure: I am/we are long BBY.
I wrote this article myself, and it expresses my own opinions. I am not receiving compensation for it (other than from Seeking Alpha). I have no business relationship with any company whose stock is mentioned in this article.