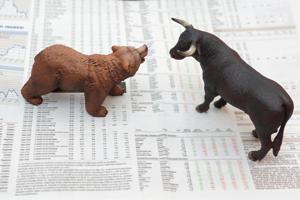 The best way to track the ups and downs in the stock market is to learn how to read price charts. Chartists have done so for centuries. Some would argue that a milestone in charting began in the year 1202 when a mathematician named Leonardo Fibonacci developed a sequence of numbers where the price of a commodity would stall at retracement levels of the ups and downs of that commodity.
For the stock market one of the early tools to judge whether or not the stock market was in a bull market or at bear market was called Dow Theory. The guideline is that transports will lead industrials higher or lower, and when one leads the other to new closing highs or lows, there's a buy signal or a sell signal. Last Wednesday ended in a "Dow Theory Sell Signal" when the Dow Jones Industrial Average set a new 52-week closing low, which followed the Dow Jones Transportation Average which set its new 53-week closing low on December 11, 2015.
When measuring a stock market decline, a correction is confirmed following a decline between 10% and 20%. A bear market is confirmed following a decline of 20% or more. The last bear market for the U.S. stock market was in 2008. For example, the Dow Industrials set an all-time high of 14,198 in October 2007. The decline from this high to the low of 6,470 was a painful 54.4%.
There are several warnings that investors should be concerned about in the stock market for 2016:
The number one reason is the volatility of China's Shanghai Composite. This global benchmark index represents the world's second largest economy. The Shanghai set its all-time high of 6,124 in October 2007 and when this bubble popped, the index plunged 72.8% to a low of 1,665 set in October 2008. The first wave of its bull market that followed stalled at its 38.2% Fibonacci Retracement of 3,364.65 in mid-2009. This level would not be seen again until the 2015 stock market bubble began to inflate in March 2015. The 2015 China bubble peaked at 5,178 on June 12, when a quick reversal began. The popping of this bubble bottomed at 2,850 set two days after August 24, 2015, which was called Black Monday in China. The decline was 45%. See chart below: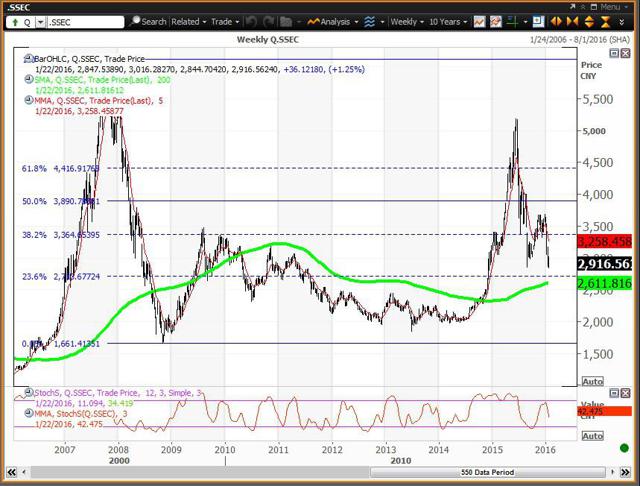 Every major equity average around the world followed China lower:
In the U.S. Dow Transports and the Russell 2000 are in bear market territory.
In India, the Nifty 50 is in correction territory after reaching bear market territory.
In Japan, the Nikkei 225 is still feeling the adverse effects of the stock market crash that followed its all-time high of 38,957 set in December 1989. This average has been below its 50% Fibonacci Retracement of this crash since February 1992. For this cycle the average is in correction territory after being in bear market territory at this week's low. See Chart Below.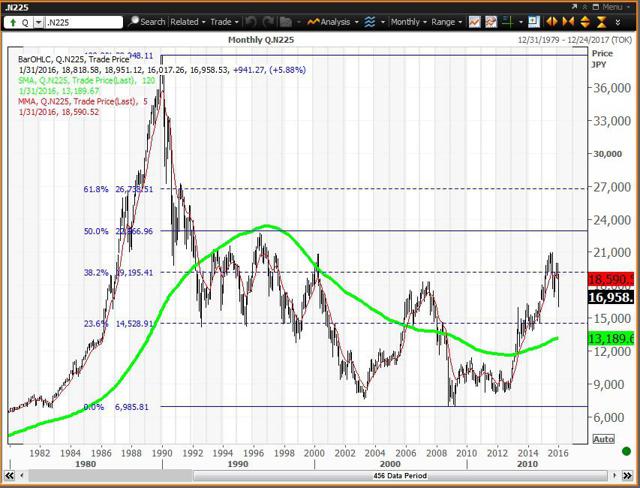 Chart Courtesy of MetaStock Xenith
In Germany, the Deutsche Boerse DAX is in bear market territory, despite continued pledges of money printing by the ECB.
There are structural economic worries in place. Economic growth in China in 2015 was the lowest in 25 years. Are they turning Japanese?
Disclosure: I/we have no positions in any stocks mentioned, and no plans to initiate any positions within the next 72 hours.
I wrote this article myself, and it expresses my own opinions. I am not receiving compensation for it (other than from Seeking Alpha). I have no business relationship with any company whose stock is mentioned in this article.