American farmers have been spoiled over the past decade. Having what seemed like relentless demand from China for soybeans, and ethanol plants for corn, the U.S. farmer experienced a simultaneous increase in crop prices and land values to record levels. These newfound profits made their way to equipment suppliers like Deere (NYSE:DE), fertilizer providers like Potash (NYSE:POT), and seed suppliers like Monsanto (NYSE:MON). However, 2015 seems to finally be the turning point for farmers being flush with cash and assets in the U.S. As you can see below, farm incomes hit 13 year lows in 2015, and with record inventories of corn, soybeans, and wheat, the income outlook for 2016 will most likely be at or below current levels.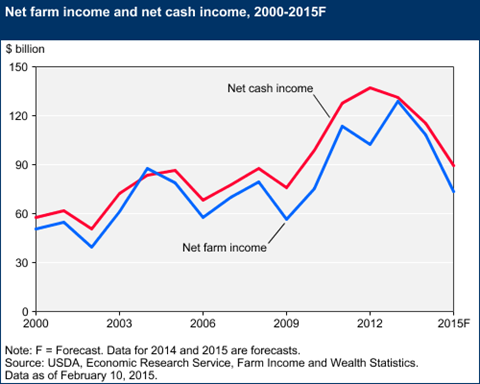 With net incomes at 13 year lows, farmers will make far fewer big ticket purchases, particularly in the equipment area of their operation. Seed and fertilizer still have to be bought annually, but equipment purchases can be pushed off for years if necessary, especially given the amount of new farm equipment that has been purchased in the past decade. For this reason, I see decreased farm incomes first impacting any ag equipment providers, particularly Deere.
Another reason for the ending of the farm boom has to do directly with the amount of corn going into ethanol production, and how efficiently it is being converted over into ethanol. Looking at the chart below tells the whole story.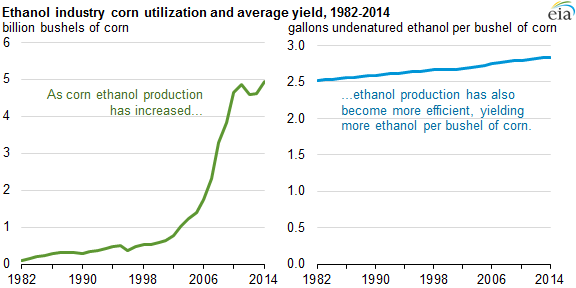 In the last 10 years, an additional 4 billion bushels of corn went into making ethanol! However, as you can see, since 2013 corn demand from ethanol has flat-lined for two reasons. Partially to blame is the increased efficiency of ethanol plants. U.S. ethanol plants are getting about 20% more ethanol from a bushel of corn than they did 30 years ago. However, the biggest reason for the flat-line in corn usage in ethanol comes from the renewable fuel standard mandate and 10% ethanol "blend wall" restriction in gasoline. Until E15 (i.e., 15% ethanol) becomes accepted in the U.S., the ethanol industry will not expand any further, and in turn corn usage will remain around 5 billion bushels per year for the industry.
The only saving grace U.S. farmers have seen with the steep income declines is land values have held up relatively well to this point in time. See the chart below: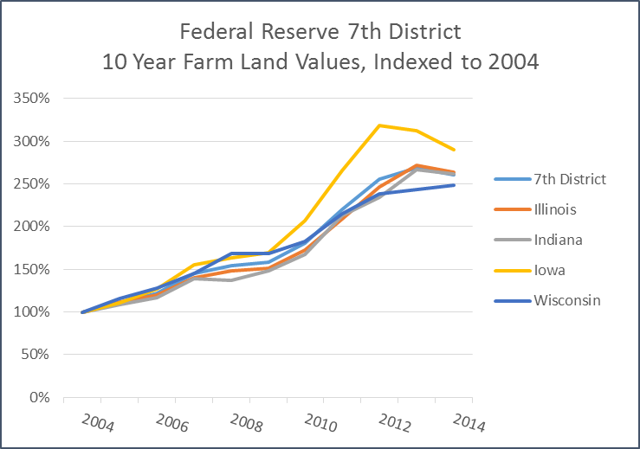 You can see that farmland values have remained at or near all-time highs, giving farmers significant amounts of assets to leverage against. However, with a Fed tightening cycle beginning coupled with reduced farm incomes, these land values could decrease rapidly, causing a liquidity crisis for farmers (identical to what happened when homeowners saw their home values depreciate rapidly in 2007-08). To compound the potential for reduced land values, the Fed tightening cycle will only perpetuate the problem of making U.S. grain exports expensive on the world market. That will keep U.S. grain markets ample with supply and low in price.
Without question, the U.S. farm boom/expansion period is over. The next question is will the farm economy consolidate for several years, or will it experience a liquidity crunch. Regardless of which it is, equipment, fertilizer, and seed providers will suffer. Of the three, fertilizer and seed providers at least have some pricing power given the fact farms must purchase both each year. However, equipment purchases are completely voluntary, and therefore companies in this sector may particularly suffer. For these reasons, I suggest you stay away from all ag sector companies, and be particularly weary of ag equipment providers.