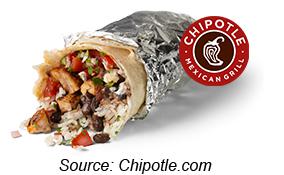 Chipotle Mexican Grill (NYSE:CMG) is living a nightmare. They are under attack. It is an unknown assailant and it can cripple them. What is the threat? It is six E. Coli outbreaks that as of today neither the CDC (Center for Disease Control) nor the company have been able to identify to source of. So what can they do? CMG has already closed all their stores for thorough cleanings, and they are also taking the unprecedented step of closing their stores February 8, 2016 during business hours on a nationwide basis for a company wide meeting to discuss recently implemented food safety procedures. They are also giving away free food to try to lure lost customers back to the stores. But is that enough? Prior to the food borne illness outbreaks CMG was viewed as a must eat destination, Their food was viewed as fresh, healthy and in great demand.
This has truly become a fiasco that Chipotle still finds itself trying to defeat, months later. All one needs to do is read this article which is an interview with a Chipotle employee. As mentioned above, the Company is holding a nationwide meeting on February 8th to discuss recently implemented food safety procedures.. Really? The company is waiting weeks (bordering on months) to discuss this on a nationwide platform? How is that supposed to comfort their customers? That meeting needed to be held IMMEDIATELY after the outbreak and prior to the affected stores re opening. The company needs to remember that neither themselves nor the CDC ever identified the source of the E. Coli outbreaks. In a recent Fortune article, Chipotle Spokesperson Chris Arnold stated that "Chipotle has finished an assessment of its food safety program and is implementing changes as a result." Furthermore, he stated that "With all of these programs in place, we are confident that we can achieve a level of food safety risk that is near zero." Realistically, the only way that CMG as a company can be so confident is if the find the cause of previous outbreaks. Absent finding the cause they are merely "hoping" that they have made the right decisions. So what is left to "discuss"? And why wait months to discuss it on a nationwide front with the employees?
In an article from the Food Safety News we extracted the following quote: "Nothing has been ruled out as a root cause," said FDA's health communications specialist David Steigman. "We continue discussions with Chipotle officials. They are sharing with us how they plan to address food safety in their restaurants." While Chipotle is acting as they should, and doing what they can, they are lacking in giving both customers and investors more detailed updates. Other questions abound. Has Chipotle met with their current suppliers of food area sanitizers? What were THEIR suggestions? Are any products or companies being replaced? or added? So many questions still need to be answered. All of these are questions that can and should have been addressed in corporate communication updates to their shareholders and customers. Keeping them in the loop is what will keep the good faith rolling and will ultimately bring them back. Chipotle has already acknowledged a 15% drop in customer sales.
Chipotle is also being attacked with a myriad of lawsuits and criminal investigations related to the multiple outbreaks it has experienced. The dollar cost of these has yet to be determined, but the lack of confidence in finding Chipotle as a safe establishment to eat will undoubtedly far outstrip these in absolute dollar terms.
Chipotle's competitors are also taking advantage of the situation. Freshii recently announced that they would have a half off promotion while Chipotle holds their February 8th meeting: "In a world full of generic promotions, we wanted to do something fun and timely to relieve some of the anxiety around what's a pretty serious topic," said Matthew Corrin, Freshii's founder. Talk about seizing an opportunity!
So what can Chipotle do to get the trust of their customers back? We also learned from the Food Safety News article that: CEO"Ells and the other executives will do interviews with news media with two main talking points - "we believe this is over" and "we have implemented changes" - the founder told attendees at the annual ICR Conference on Jan. 13." Once again, that is what CMG is expected to do, But that is where they stop. I submit that they should take on a new nationwide initiative to replace all current cleaning products and exceed required government guidelines regarding food preparation cleanliness. The company can hire experts in the field of food borne illnesses and safety to share the stage with them as they address past findings and submit a plan for the future. Reestablishing trust is paramount. I also suggest that they even consider taking extreme measures such as a new advertising campaign aimed at heightening awareness of food borne illnesses. Yes this may be unheard of, but Chipotle management needs to be more pro active. I am fully aware that this type of strategy would be questioned by many. And it is not without risks, but CMG would have the opportunity to be viewed as a company that not only cares about their core business but also the health and well being of their customers - even when they are not eating at their restaurants. It is no longer enough for Chipotle to meet these guidelines. Hiring a few experts in the field of food borne illnesses to discuss how to best ensure that all is being done to prevent future outbreaks is a start- both from a PR standpoint and for practical purposes. Exhibiting a willingness to address the problem is nice, but showing that CMG is leaving no stone unturned is what will really win back customers and investors. They need to exceed/be the BEST in the country in order to win back the trust of the fast food restaurant public.
Conclusion
I hope that CMG can overcome this and once again be a top notch restaurant chain that people are comfortable and safe going to. Unfortunately, the battle to regain those customers has seen a few missteps and there in no guarantee that CMG will be able to regain its glory old the old days. I sure hope they do, but only time will tell. For now I see no compelling reason the initiate new long positions in CMG.
Disclosure: I/we have no positions in any stocks mentioned, and no plans to initiate any positions within the next 72 hours.
I wrote this article myself, and it expresses my own opinions. I am not receiving compensation for it (other than from Seeking Alpha). I have no business relationship with any company whose stock is mentioned in this article.