Green week! While it has been a brutal start to the year for most investors and especially those in biotech, it was great to see biotech close the week in the green with the iShares NASDAQ Biotechnology ETF (NASDAQ:IBB) gaining 1.35% and the SPDR Biotech ETF (NYSEARCA:XBI) gaining 0.38%.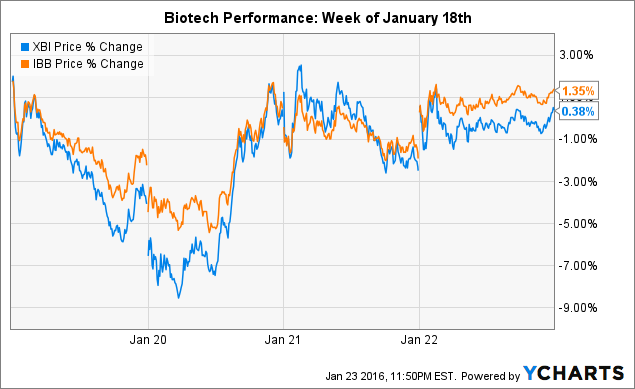 XBI Price data by YCharts
While this progress was constructive, especially given how the biotech indices were down more than 5% for the week midday on Wednesday, the indexes still have significant year-to-date losses to make up, with the IBB down 14.9% and the XBI down a nasty 21.4%.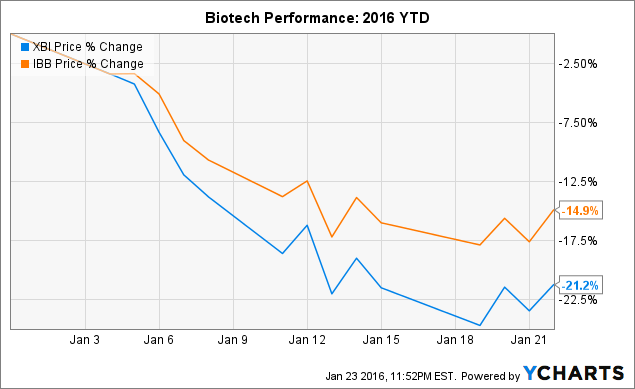 XBI data by YCharts
With this significant carnage and with small caps especially beaten down, I figured this would be a great time to review the names currently in what is still an exclusive club - biotech stocks trading on the NASDAQ with less than a $10 million market cap.
According to the screening tool on my Schwab account, this exclusive club currently consists of the following eight names:

So why look at these names you might ask? Let me highlight the following points to give you a few reasons:
1. A NASDAQ Listing Has Value: In my piece titled Why I Purchased Stock In Celsus Therapeutics (CLTX) from last year, I went into a detailed discussion about the significant costs involved in the IPO process including but not limited to costs related to the external auditor, legal team, printer, registration/filing, underwriter discount, and any miscellaneous expenses. Access to the NASDAQ via a reverse merger provides a cheaper, quicker way to access the public markets, which helps provide value to the NASDAQ listings and makes stocks with microscopic valuations on the NASDAQ prime targets for a back door to public markets.
2. Significant Cash/Assets: These beaten-down biotech names trading on the NASDAQ often trade at very depressed valuations, with the majority of the list I provided above trading below their last reported book value.
3. Overly Negative Sentiment: These biotech names on the NASDAQ trading under $10 million valuations have experienced tough times and have all seen significant declines. Sentiment often is close to rock bottom as institutions are exiting in droves and investors are taking tax losses. Investors selling indiscriminately due to broken theses or desire to take tax losses often can cause mispricing as new theses for these names may develop due to these microscopic valuations.
4. Market Ignorance To Upside Scenarios: Names on this list have often experienced a huge drop due to negative news about a lead pipeline candidate and then continue to experience further decline due to the forms of selling mentioned in point 3. This nonstop selling can create a potential entry point for the value investor to buy into depressed assets. Part of the job of the value investor is to evaluate the depressed names to determine what upside scenarios are now possible from current depressed levels. Often, these upside scenarios are based off of some sort of value-creating strategic alternative whether that be a reverse merger or an asset buy, though some names may also experience upside from a pipeline asset the market had previously ignored when the stock was at significantly higher valuations. While waiting for these upside scenarios to be announced can be extremely frustrating as the stock will likely be dead money until they happen, being a stockholder during the news and being involved with the name before everyone else can be a rewarding and profitable experience.
Discussion On The Current List

Cellectar Biosciences (NASDAQ:CLRB) - Cellectar is not a name I had spent much time on to date. A main driver of recent downside appears to be due to selling by AWM Investment Company, whose 2,177,227 shares/warrant position as of Q3 end would suggest 29% ownership. While it had directly held 1,111,227 shares of common stock as of Q3 end per its 13-F filing, its recent 13G filing shows that it no longer directly owns any common stock and only owns warrants. A major currently outstanding issue is cash. While the company did raise $3.3 million gross ($2.9 million net) at the beginning of October, it noted in its November 12, 2015, press release on its third-quarter results that its cash reserves would only be sufficient to fund planned operations into Q2 2016.
The company's pipeline does look interesting.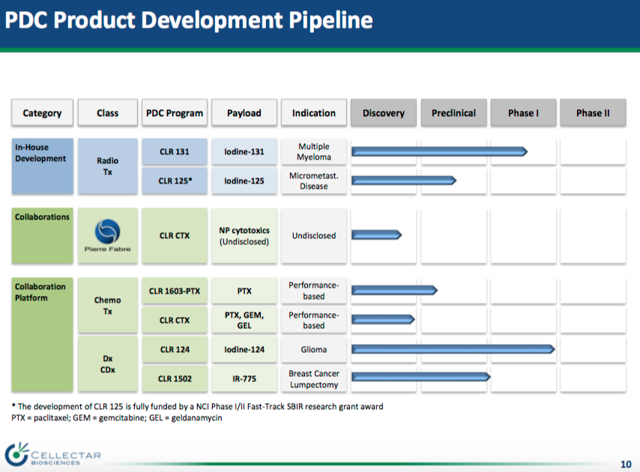 Source: Current Investor Slide Deck
The company has been making some progress on the business development front with an October 1, 2015, announcement that it received a $2.3 million Small Business Innovation Research grant from the NCI to fund development of Cellectar's PDC platform for target delivery of I-125 and a December 16, 2015, announcement of an oncology research collaboration with major French pharmaceutical company Pierre Fabre to evaluate Cellectar's PDC delivery platform with a selection of Pierre Fabre's proprietary cytotoxics.
Upcoming milestones are as follows: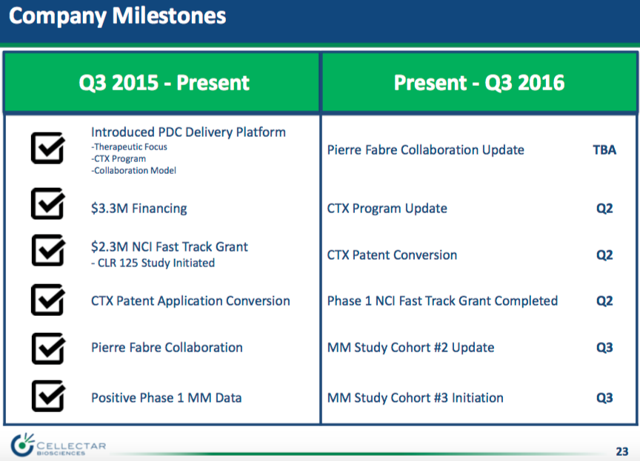 Source: Current Investor Slide Deck
While I think the company's technology is interesting (that's something I may look to discuss in more detail in a future piece) and I do think a number of the upcoming catalysts in Q2 could bring upside to shareholders, I think it's prudent for investors to wait on the sidelines for the upcoming round of dilution within the next few months. I'll certainly be happy to revisit the name after this issue is resolved.
Nanosphere (NASDAQ:NSPH) - Nanosphere is a name I've long advised avoiding for the following two main reasons:
Cash Burn: NSPH burns way too much cash for a company with a tiny market cap. In Q3 2015, net cash from operating activities was negative by more than $20 million, which is multiples larger than the company's total value. That's just not sustainable.
Capital Structure: The company has continued to navigate its out-of-control cash burn with a plethora of complex capital raises including raises with warrants, convertible preferred stock, and a substantial debt facility all occurring in 2015.
Quite simply, the two bullet points above illustrate a scenario where those that are long common equity are extremely likely to lose money over most time periods. While one (including myself) would think that the stock could be a buy at some point as its Verigene System for pathogen and marker detection is interesting, the company's slow (yet certainly steady) progress with revenue growth is not sufficient to soon reach a sustainable business model that doesn't require constant dilution, which is why this is a name I will continue to avoid for the foreseeable future.
Lpath (NASDAQ:LPTN) - Lpath is a name that has frustrated me significantly as I felt it should have moved straight to a strategic action search after the failure of iSONEP in wet age-related macular degeneration. After numerous failures, I found it very questionable that management chose to use remaining funds on an extremely early-stage asset in Lpathomab that had, at the time, not even entered the clinic. I had been steadfast in my belief that the name was one to avoid due to management's unwillingness to seriously consider a value-creating strategic alternative. I also think it's important for holders to acknowledge that management has been very willing to continue to dilute even at these depressed levels via an ATM, selling over 11.6 million new shares in Q3 2015 and another approximately 1.3 million between October 1, 2015 and November 11, 2015.

Source: November 11, 2015, 10-Q
While I certainly acknowledge that any Lpathomab update could lead to temporary upside (the fifth and final cohort was projected to be dosed in December), I would expect any pop to be sold off pretty quickly, thanks to the ATM coupled with the realization that the company has nowhere near enough money to make substantial clinical progress with extremely early-stage assets. I personally am happy continuing to avoid the name.
Signal Genetics (NASDAQ:SGNL) - Signal Genetics is a name I long advised avoiding due to its substantial issues with customer concentration. Its major customer, the University of Arkansas for Medical Sciences ("UAMS"), accounted for 64% of revenue for the first nine months of 2015, and the company had been flat out stating that it expected decreasing revenue from this customer due to a decrease in funds available at UAMS. Over the past few weeks though, I've begun to slowly warm up to the name given a market cap of only $6.3 million. As per the below slide, volume trends for the company's MyPRS microassay-based gene expression profiling assay that assists in the management of multiple myeloma and related diseases have been improving relatively well in regards to customer mix.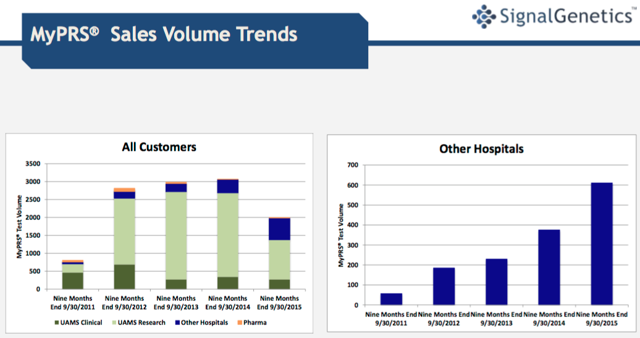 Source: Current Investor Slide Deck
In Q3, UAMS research programs revenue (the category of Signal's revenue that is being adversely affected by UAMS funding constraints) was only $75,000 (down from $944,000 in Q3 2014), which makes me believe that the customer concentration issue is improving and the UAMS research negative revenue trends should be fully priced in.
Before making a statement that I believe the name is undervalued, I need to get a better understanding of cost of revenue. In the most recently reported quarter, revenue was $501,000 and cost of revenue was $577,000. What? Yes, you read that right. Cost of revenue was 115% of revenue. How can you cover $2 million in quarterly G&A, almost $1 million in quarterly selling and marketing expenses, and a few hundred thousand in R&D when cost of revenue is more than revenue? You can't. Presumably, there is an explanation for this. Unfortunately, the color provided in the 10-Q on cost of revenue was not clear on what exactly were one-time expenses within cost of revenue and what weren't. To invest in the company, I would very much prefer to be confident that the company can generate a delta between net revenue and cost of revenue large enough to cover G&A, selling and marketing expenses, and R&D. Until I figure this out, I will watch the company with interest, but do not view the company as a clear buy.
Venaxis (NASDAQ:APPY) - Venaxis is a name I recently discussed in detail in my Top Value Biotech Picks For 2016; I recommend reviewing that for a more detailed analysis. My current opinion of the valuation of Venaxis is that a market cap of approximately $7.3 million is absolutely ridiculous. In addition to the cash on its last quarterly report, the company expects $1.7 million in net cash from the sale of its headquarters back in October. Based on the data and calculations I presented in my previous analysis, I believe the company currently trades at less than 0.5x shareholder equity. Given the company's silence on business operations for the past seven months, I continue to believe the company could surprise the market with a significant strategic action shortly. What will it be? Given the company's silence, who knows, but it certainly could be a reverse merger. Stay tuned.
TetraLogic Pharmaceuticals (NASDAQ:OTC:TLOG): TetraLogic Pharmaceuticals saw its stock drop approximately 76% on January 7, 2016, when the company announced that birinapant showed no clinical benefit in a phase 2 trial in first-line higher-risk patients suffering from MDS. The company announced on January 22, 2016, that it was reducing its staff from 29 to 10, amounting in an estimated $2.2 million of restructuring charges in the first quarter of 2016. On the positive side of things, the company's phase 2 clinical trial of its topical HDAC inhibitor called SHAPE will provide final results in mid-2016. Regardless, in its latest 10-Q before the news, the company had projected it only had enough cash through Q1 2016. Additionally, the company had $43.75 million of 8% convertible notes with a carrying value of approximately $28.81 million. With TLOG just initiating its strategic action search and no major catalyst this quarter, I will check back in on this name for closer review in Q2.
Eleven Biotherapeutics (NASDAQ:EBIO): Eleven Biotherapeutics saw its stock tank 77.8% on January 15, 2016 with the news that the phase 3 trial of EBI-005 in allergic conjunctivitis missing its primary endpoint. The company announced in the same press release that it plans move its most advanced candidate, EBI-031, from pre-clinical stage to the clinic with an IND in first half of 2016 with the aim of treating diabetic macular edema and uveitis. The company noted that it believes it has cash reserves to fund operations into Q4 2016. With Eleven Biotherapeutics taking the same path as Lpath in regards to rushing a preclinical asset through an IND filing and into a P1 trial, I would expect Eleven to see its stock price perform similarly, slowly declining to new lows. I will continue to track the name, but I have no desire to get involved at this time.
GenVec, Inc. (NASDAQ:GNVC): GenVec saw its stock decline 58.4% on January 11, 2016, with the news that Novartis (NYSE:NVS) had paused the enrollment of the CGF166 clinical trial based on the recommendation of the trial's data safety monitoring board. Institutional holder Ecor1 Capital clearly did not like the news as it proceeded to dump almost 2 million shares over the next few days, amounting to over 10% of the total share count. The company provided a clinical update on January 20, but did not have an update on the CGF166 clinical trial. It noted that it had cash reserves to fund operations through Q2 2017. Investors that believe they have a clear understanding of what issues are arising with the CGF166 trial that believe the market concerns are overblown could certainly consider going long at the current depressed levels. I personally don't have any concrete understanding of what is going on, so I will watch from the sidelines. Should the CGF166 trial be permanently halted, I would certainly be willing to consider a long position in the name at a further depressed level given that the company does a have a very low cash burn.
Conclusion
The NASDAQ biotechs with less than $10 million market cap can present opportunities with enormous upside. Often though, pickings can be slim as these stocks are at these depressed valuations due to suspect outlooks. My current favorite off the list is Venaxis as I think any of a number of announcements could send the stock soaring substantially higher from current levels. As always, make sure to do thorough due diligence and tread carefully when investing in these types of microcaps.
Disclosure: I am/we are long APPY.
I wrote this article myself, and it expresses my own opinions. I am not receiving compensation for it (other than from Seeking Alpha). I have no business relationship with any company whose stock is mentioned in this article.
Editor's Note: This article covers one or more stocks trading at less than $1 per share and/or with less than a $100 million market cap. Please be aware of the risks associated with these stocks.