Last week, the collaboration deal was sealed between Galapagos NV (NASDAQ:GLPG) and Gilead Sciences (NASDAQ:GILD) - bringing filgotinib, Galapagos' flagship rheumatoid arthritis drug, into the Gilead stable.
The deal
Gilead agreed to pay $300 million in the form of an upfront license fee as well as $425 million for just under 15% ownership of Galapagos. In addition, Galapagos is eligible for payments of up to $1.35 billion in milestones, with tiered royalties starting at 20 percent and a profit split in co-promotion territories if filgotinib is approved.
On the face of it, this is a very expensive deal and a bit of a gamble, however, if it comes off - the potential for Gilead is massive. The Galapagos portfolio includes another two Phase 2, four Phase 1, five pre-clinical, and 20 discovery studies in cystic fibrosis, inflammation, fibrosis, osteoarthritis and other indications.
The final point around the deal is that it fits perfectly into the Gilead pipeline alongside GS-5745 and GS-4997.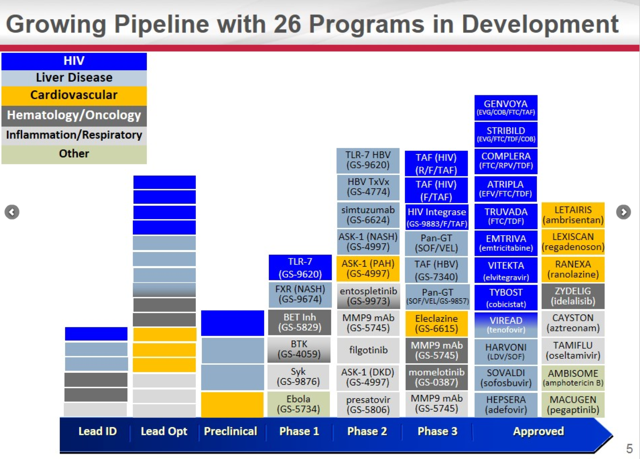 (Source: Gilead healthcare presentation)
The potential
According to GBI Research, the market is estimated to grow at a CAGR of 4.1% from $14.3 billion today to just over $19 billion in 2020. While it is a crowded market, filgotinib has demonstrated both effectiveness as well as a willingness to play well with other drugs. This is in contrast to the current raft of biologics treatments that are known to have poor drug interactions.
If this holds true through phase 3 and the product comes to market with relatively few side effects, it may take a rather large chunk of this growing ~$15 billion market relatively quickly. If that's the case, it's easy to see the investment thesis that the Gilead management team have been working to in lining up this $2 billion play.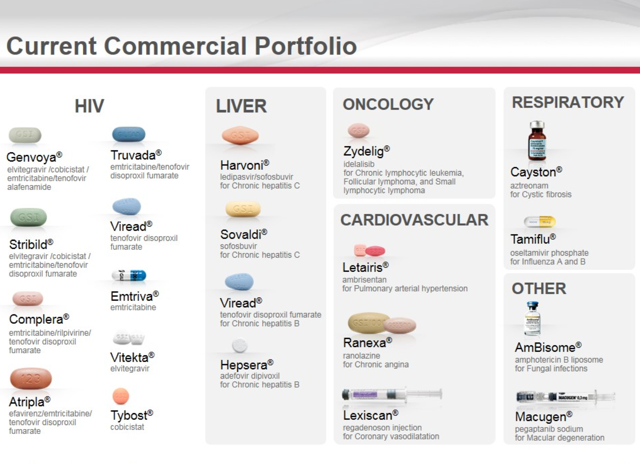 (Source: Gilead healthcare presentation)
When you look at the current portfolio of twenty approved, selling drugs. the ten phase 3 opportunities, the ten phase 2 opportunities and the myriad of issues these all address - Gilead is moving quickly to increase reach and cash in on the amazing ride it's had to $20 billion operating income over the past 3 years.
Application of cash pile
When you see a business doing this well and generating so much cash, most investors get a bit antsy about how the cash gets used. Seeing this deal really helps settle the nerves as it's clear the team has an eye on the future. We particularly like Gilead's approach to date and are very impressed with the management team and their balanced approach to generating value. We see a clear three prong strategy to cash outside of normal value creating through operations / R&D - as follows:
Outright acquisition of research and manufacturing facilities
Invest in promising opportunities through partnerships / collaboration with extremely sharp terms that are beneficial to Gilead in the long term
A newly introduced dividend policy and an increased buyback program to return cash directly to shareholders
This three prong approach is very well structured at present. We see the team committing to ~ $3 billion in dividend payments, $3 - $5 billion in external projects and they have already committed to $15 - $20 billion in share buybacks.
Outlook
Given the extremely low ~9x P/E and the ~8x P/FCF, this business is trading on the cheap. Given their pipeline and their own forward view from the healthcare presentation and their results, the management team are forecasting growth. The average analyst have the company rated as 'buy' and is forecasting growth.
Here at STRIDE, we are forecasting relatively low growth of 4-5% over the next year while this exciting pipeline of projects such as filgotinib make it to market. From there we expect to see a lot more growth, however, even with our low growth forecast we have a price target of $134.

(Source: stride.ws)
Disclosure: I am/we are long GILD.
I wrote this article myself, and it expresses my own opinions. I am not receiving compensation for it (other than from Seeking Alpha). I have no business relationship with any company whose stock is mentioned in this article.