In my previous article, I promised to provide more information about hedges in the current environment. I've already published the hedging article, so let's focus today on the valuation of stocks, and their relative valuation compared to the Treasuries. With a roughly 10% stock selloff from the peak and with the ten-year Treasury yield (NYSEARCA:IEF) dipping below the 2% mark last week, it is a fitting time to examine the general valuation of U.S. stocks, represented for now just by the narrower Dow Jones Industrial Average index (NYSEARCA:DIA), to determine whether they are attractively priced based on an absolute valuation as well as versus the Treasuries.
Not an average DJIA valuation
To determine the index valuation, I am adding all raw financial figures as if the entire index was one company. For example, in order to find the total price-to-sales ratio of the index, I add all individual market caps and divide by the sum of all companies' revenues added together. This is essentially a market-cap weighted valuation.
This method of course hides individual company risks and limitations. So this total index valuation doesn't mean one should invest in all the constituents without looking at the individual company risks and future prospects.
Valuation tables
I am presenting a valuation table with the first column showing values for the entire index and the second columns showing just the 27 constituents ex the banking sector because "normal" ranges for many valuation figures are very different for banks, and the results would be distorted. Therefore, JPMorgan (NYSE:JPM), Goldman Sachs (NYSE:GS) and American Express (NYSE:AXP) are excluded from the calculations in the second column. I decided to keep the insurer Travelers (NYSE:TRV) in the index as it does not have bank-like characteristics that could distort the data too much.
Valuation metrics of the DJIA index (with and without the banks)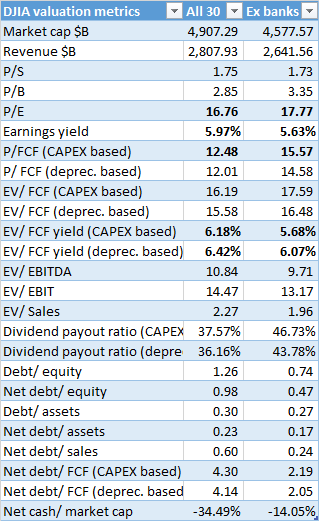 Source: Author's calculations based on data from Morningstar, Finviz and Quandl. Data as of Jan 21, 2016 after market close.
Note: CAPEX-based free cash flow means operating cash flow minus true CAPEX costs for the trailing four quarters (1 year). Depreciation based free cash flow means operating cash flow minus true depreciation and amortization for the trailing four quarters (1 year). The goal of depreciation based FCF is to determine the theoretical zero-capital growth level of cash flow needs at which the company would exactly renew its capital depreciation with new CAPEX spending.
What is the current P/E?
Using the classical trailing twelve month P/E valuation metric, the index is trading at 16.76 times trailing earnings and 17.77 times trailing earnings for Dow excluding the three banking stocks. So the earnings yield is roughly 6% for the index and 5.5% excluding the banking stocks.
The P/FCF metric for the index currently stands at 12.48 using CAPEX FCF and 12.01 using real depreciation figures. When the banking stocks are excluded, the P/FCF figures jump significantly higher to a roughly 15.5 times using CAPEX FCF and 14.5 times when depreciation FCF is used.
These future expected returns of course assume no P/E multiples change and no market sentiment fluctuations. Any expansion or shrinkage of the P/E multiples required by the market would positively/negatively impact the actual returns in the short and intermediate term.
What is the expected return of the DJIA based on free cash flow?
As can be seen in the table, the total index is valued for a roughly 6% to 6.5% future annualized total expected return in the long run based on my favorite metric of the inverse value of the current Enterprise value to trailing twelve month free cash flow (EV/FCF). The EV/FCF stands at 16.19 times for CAPEX based FCF and 15.58 times for depreciation based FCF.
Excluding the three banking stocks, the expected return is roughly between 5.5% and 6% as the EV/capex based FCF stands at 17.59 times and EV/ depreciation based FCF is 16.48.
DJIA companies investing in growth
We can also see that the companies as a group are investing slightly more in CAPEX than the current depreciation and amortization is. Generally, this means that they are investing into at least some future growth, so you can add several percentage points to the expected return due to the likely future FCF growth. For some investors, a 6% return plus some growth upside may not be much. However, I believe it is a decent yield given most of the Dow Jones stocks have low volatility, higher certainty of future earnings and are reasonably stable.
The overall DJIA debt is at a very low level and is easily manageable
The overall net debt amounts to roughly 34.5% of the market cap. However, this masks the comparatively large debt leverage of the banks. Excluding the banks, the net debt plummets to mere 14% of the market cap. Given the high credit ratings of most DJIA companies and the current low interest rates, one would argue that the debt leverage should actually be higher. Net debt is just 23% of total assets and total debt stands at 30% of total assets. Excluding the banks, net debt represents just 17% of assets and total debt is 27% of assets.
The ability to generate sufficient free cash flow to service the debt is very strong. It would take just over four years to repay the entire debt form free cash flow if dividends were not paid out. When factoring in the dividend payouts, the repayment would jump to roughly 5.6 years. However, a more interesting picture emerges when we take out the three banking stocks. Now the debt repayment time falls to just over two years. If dividends are included, the repayment time is still below three years.
The dividend payout ratio is healthy and provides room for future dividend increases
As a group, the index has a healthy dividend payout ratio of 37.5% based on true FCF generated in the trailing twelve months. Excluding the banks, the payout ratio jumps to roughly 47.5%, which is still reasonable and provides plenty of future dividend growth, on average of course.
Detailed individual numbers for all index constituents
Below I present the valuation metric details for each of the Dow Jones 30 constituents for investors who want to see the metrics of individual stocks. The stocks are sorted by the highest FCF yield based on trailing twelve-month depreciation.

Source: Author's calculations based on data from Morningstar, Finviz and Quandl. Data as of Jan 21, 2016 after market close.
Which stocks are the cheapest based on their FCF yields?
JPMorgan is the FCF yield champion, yielding 13%. Closely following is Apple (NASDAQ:AAPL) with a 12% yield and Boeing (NYSE:BA), yielding more than 11%. American Express closes the list of yields over 10%, with a just over 10% yield. IBM (NYSE:IBM) finished just below 10%, followed by Travelers with an 8.5% yield. Cisco (NASDAQ:CSCO) and Wal-Mart (NYSE:WMT) yield above 7% and Intel (NASDAQ:INTC), Microsoft (NASDAQ:MSFT), Verizon (NYSE:VZ) and Caterpillar (NYSE:CAT) made it to the list of stocks yielding above 6% on a depreciation FCF basis.
So are DJIA stocks cheap or expensive?
Well, the answer depends on your required rate of return, risk profile, and future growth among other factors. If 5.5% to 6.5% is a satisfactory FCF yield for you, then the DJIA stocks as a basket are the right investment as part of a balanced portfolio. With the ten-year Treasuries yielding just around 2% and longer-term Treasuries not offering a much better yield, I believe DJIA stocks offer a reasonable investment as part of the portfolio mix following the recent selloff. If you require a higher FCF return closer to 10% p.a., you will need to choose just several of the DJIA stocks which, however, carry higher risk of not managing to sustain their future revenue and profits.
Each of these stocks has company-specific issues. For example JPMorgan (perceived banking stock risk), Apple (cyclical, heavily dependent on one product, the iPhone, with perhaps peak margins and longer consumer refresh cycles ahead), Boeing (cutting production of cargo 747s due to weaker demand, American Express (losing some customers and losing former moat) and IBM (shrinking sales, amidst a turnaround, strong dollar, etc.).
Risks
The cheap, high yielding stocks could simply keep falling and get much cheaper. If there are no buyers, the price has only one way to go. The FCF valuation I used is calculated using real cash earnings, not just some accounting GAAP figures, let alone the companies' adjusted figures. So in this sense, the valuation is conservative and stricter than a simple P/E based valuation.
However, the limitation is that this is a backward looking valuation using trailing 12 month numbers. There is no consideration for the future outlook. So if the general or company-specific outlook deteriorates, the valuations will suffer. Also, we may be at peak margins in the late bull cycle and tax rates may be at historically low levels as well. Additionally, if the market decides to demand higher rates of return for whatever reasons (higher recession risk, higher U.S. dollar, higher alternative investment yields), the P/E multiples may shrink, which would cause a market slump.
Comparison with the S&P 500 and its historical figures
Compared to the broader S&P 500 index (NYSEARCA:SPY), DJIA trades at a valuation very similar to the S&P 500, though a bit higher (~10% incl. the banks, ~20% excl. the banks). Relative to the historical numbers, the current P/E is a bit above average. So one could conclude that DJIA stocks are overvalued by at least 10%. However, I believe the current regime of very low interest rates, low Treasury returns and low inflation have to be taken into consideration. When these factors are considered, DJIA stocks are not overvalued.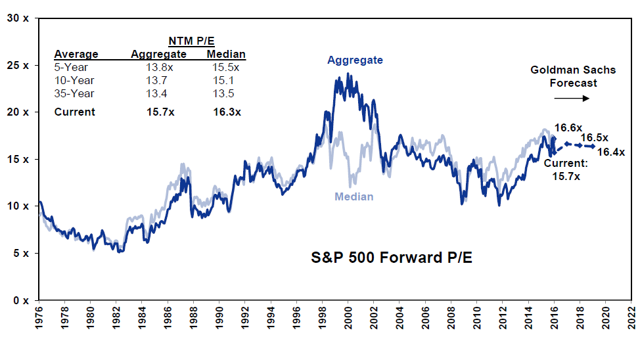 Source: Goldman Sachs
In conclusion, I believe investors with at least a 5-year time horizon should look at individual high quality Dow stocks and be able to find that there are some reasonably priced value stocks and also some interesting growth stocks. The overall DJIA index trades at a decent 5.5% to 6.5% FCF yield with a relatively low volatility. So, very slowly averaging in on any further market weakness and reinvesting the dividends is a sound long-term strategy.
Disclosure: I am/we are long IBM.
I wrote this article myself, and it expresses my own opinions. I am not receiving compensation for it (other than from Seeking Alpha). I have no business relationship with any company whose stock is mentioned in this article.