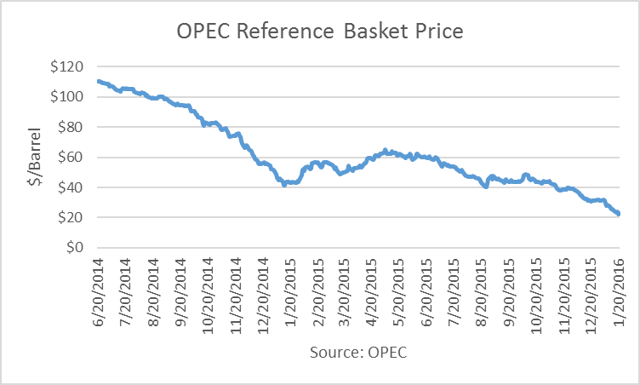 The Reference Basket Price of the Organization of the Petroleum Exporting Countries (OPEC) dropped to $22.89 (1/21/2016). But on Friday, crude oil futures spiked 9.21%, possibly due to the impending winter storm hitting the East Coast over the weekend.
Crude prices are subject to wicked short-covering rallies. Under the Managed Money heading in the Commodity Futures Trading Commission (CFTC) weekly Commitments of Traders report as of the January 19 settlement date, there were 66 hedge funds with large short positions last week, an increase of six compared with the prior week.
My readers may be shocked to see this article since I have been (and remain) bearish on oil prices, but I will change my outlook as conditions warrant. There are several catalysts which I think could produce a price rebound, as outlined below:
Emergency OPEC Meeting. Unlikely, but the strongest potential catalyst for an oil price recovery would be an emergency OPEC meeting. A coordinated production cut of one-two million barrels per day (mmbd) would have a large impact on prices in 2016, perhaps $20 per barrel to the low $50s, maybe higher.
Nigeria's oil minister, speaking on a panel at the World Economic Forum in the Swiss resort of Davos, said OPEC needs to meet soon. Saudi Arabia, represented by the chairman of its national oil company, reiterated that the kingdom won't reverse course unless non-OPEC nations play their part in production cuts.
But the meeting would have to produce real results. If there's no emergency OPEC meeting, Azerbaijan's President Ilham Aliyev joked he would actually be relieved. "Unfortunately, after every OPEC meeting, the price of oil goes down," he said.
Lower-Than-Expected Iranian Exports. The market is expecting Iran to step up its oil exports by 500,000 b/d over the months just ahead. Should such exports not materialize, there would be a "relief rally." The extent of the rally would depend on how far oil prices have fallen in the interim and how much Iranian exports fail to meet expectations.
European Stimulus. The European Central Bank's president, Mario Draghi, signaled on Thursday that it could step up its stimulus program as early as March. Additional economic stimulus would be intended to raise demand for all sorts of goods, including energy. But the problem is, "conditions have worsened" since the Governing Council met in December. That is not a strong, bullish statement lending great confidence.
The Dollar. A drop in the value of the dollar would theoretically be supportive of oil prices since it makes them less expensive in other currencies. However, because demand elasticity is so low in the short term, the impact would likely small in terms of correcting the oversupply.
There are several other arguments for catalysts made by others about which I do not concur:
Gasoline. In Andrew J. Hall's January 6th Letter to Investors of his Astenbeck Capital Management hedge fund, Mr. Hall's primary catalyst is gasoline, which "should be supportive of the whole oil complex." He says gas inventories are "already below year ago levels" and gasoline demand is strong in part because "a warm snow-free winter can add as much as 300,000 bpd of gasoline demand in the U.S. North East." He didn't know about this past weekend when he predicted that, which prohibited driving.
The latest three EIA petroleum status reports, gasoline stocks have risen by 24 million barrels (mmb) to 245 mmb, 5 mmb higher than a year ago.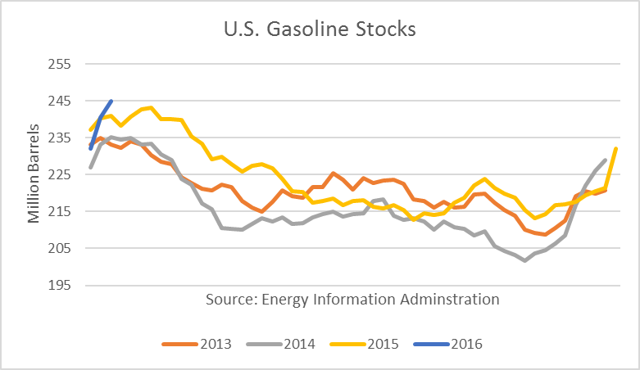 Primary gas demand has also sunk, with the 4-week average trailing the year-ago period by 2.8%. The gasoline market has become a catalyst to driving oil prices lower.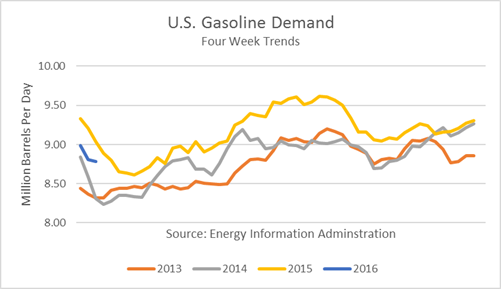 Impacts of Refinery Turnarounds. Mr. Hall's other catalysts appear to be normal seasonal trends, tempered by current fundamentals. They relate to the seasonal refinery maintenance or "turnaround" period. When refiners perform maintenance, as they do every spring and fall, they reduce their demand for crude and decrease their output of products. All else being equal, this results in crude stock builds and product stock declines.
Mr. Hall says that the drop in crude demand "is probably already priced into the market." On the other hand, he says "product inventories will meanwhile be falling." Apparently, this other direct effect of refinery turnarounds would not be priced into the market. Product inventories have gained 25 mmb over the past three weeks.
However, the EIA already predicts a "meaningful" draw in petroleum product stocks of 40 million barrels from end-December 2015 through March 2016. Last year, the draw was 33 million barrels over the same months. So such a draw is likely "baked" into prices.
Mr. Hall goes on to say that crude inventory builds should be much lower this turnaround season since domestic production will be declining, whereas last spring it was still rising. Such a statement seems to fail as a catalyst for two reasons: that his view probably priced into the market, and refiners may increase crude imports due to the opportunity to buy oil at "bargain basement" prices.
Lower U.S. Oil Production. The view that U.S. oil output will decline in the first half of 2016 is widely believed, therefore discounted. The Energy Information Administration (EIA), the IEA and OPEC have all been publishing such forecasts.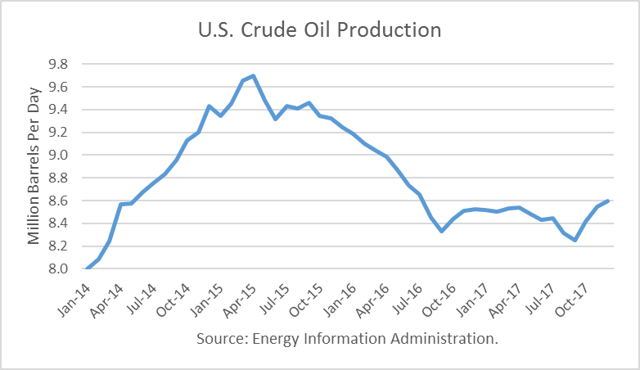 The conclusion that lower U.S. output will result in a lower stock build rests on the assumption that refiners will not increase imports. Given the "moderate" oversupply acknowledged by Mr. Hall, he does not allow for that possibility. And yet, net crude imports have been rising as of late.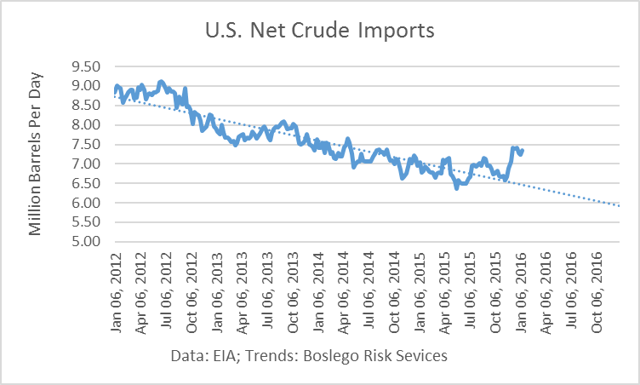 Term Structure. Some market observers say that if forward prices are higher than current prices, it means prices are going to rise. Others say that such a contango means that the market is weak and is bearish. I do not think either conclusion is valid or provides a greater probability of futures prices rising or falling. My reason is that everyone sees the forward curve and it is discounted in prices.
Conclusions
Oil prices are likely to be the most volatile of perhaps any year as the market tries to find an equilibrium under a set of new oil shale economics. While the pressure to go lower has been relentless, the spike on Friday demonstrated what is ahead. But prices need a real catalyst to move and stay higher.
The most promising - though unlikely at this time - catalyst is an emergency OPEC meeting that results in a credible reduction in supply. Second on the list is lower-than-expected Iranian oil exports. The other potential catalysts provide little, if any, support.
Disclosure: I/we have no positions in any stocks mentioned, and no plans to initiate any positions within the next 72 hours.
I wrote this article myself, and it expresses my own opinions. I am not receiving compensation for it (other than from Seeking Alpha). I have no business relationship with any company whose stock is mentioned in this article.