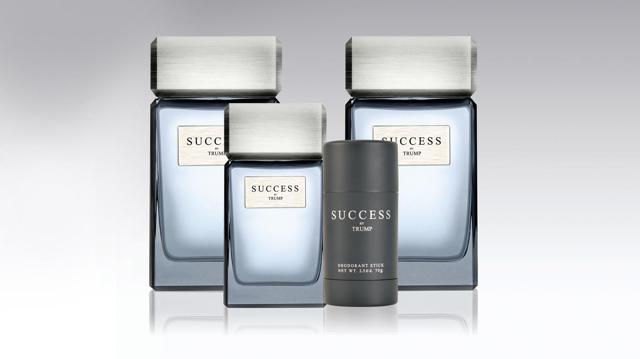 Perfumania (NASDAQ:PERF) is "America's Largest Fragrance Retailer." They help you smell as virile as James Bond and as fancy as Jessica Simpson (who, if their description is apt, smells faintly of patchouli).
They are a small company ($43M market cap) and they are not profitable (-1.5% profit margin).
On top of that, there's quite a bit of debt that isn't disappearing, the assets on the book are mostly inventory, and - well - nobody seems to like celebrity fragrances that much anymore.
Got it? Ok, enough with the fundamentals.
On Friday, the price of PERF rose a whopping 35.96%. For context, here's what that looks like on a finviz chart: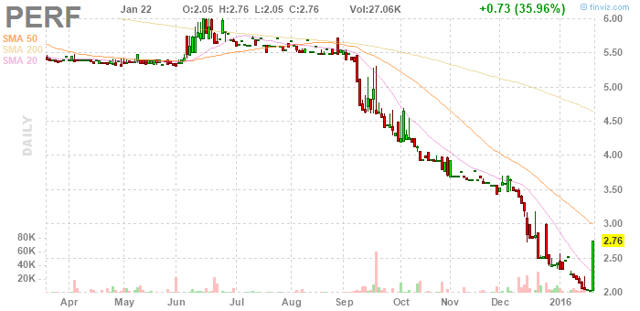 Must be some crazy good news, right? Maybe a suggestive 8-K filing, an acquisition bid, or a corny new fragrance from The Donald!
Actually, there was no news at all, and it was a very slow trading day up until 3:59pm.
At 3:59:00...
A measly 4,000 shares had crossed the tape, all of them after 2:00pm and before 3:00pm. In total, just three transactions had taken place with a high price of $2.20.
PERF, you may have noticed, is not a very liquid stock.
At 3:59:59...
The daily volume suddenly read 27,064, and the price shot up to $2.76. The price for the day closed up nearly 36%, owing to what appeared to be a single transaction!
But it wasn't a single transaction.
It was two separate transactions - one on the exchange and one in a dark pool. We know this because FINRA's TRFs told us so. Thank you, market regulators.
The fun part is that the TRFs also told us that 20,660 of those 27,064 shares were sold short in the dark pool. Here's what that looks like on a sqzme.co chart. Red is dark pool shorting: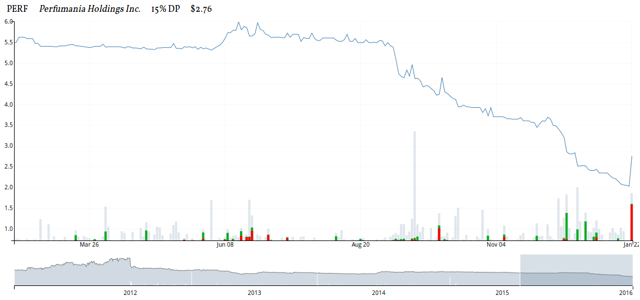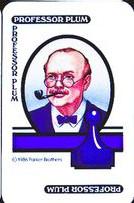 Since we know that a block of ~20k shares could have only been transacted at the end of the day, we also know that that short sale must have occurred at the closing price of $2.76.
So, to sum up what we know so far, it was 20,660 shares shorted, on Friday, in the dark pool. And I'm betting Professor Plum did it.
Yeah, let's call him Professor Plum.
But how did he do it?
It makes sense that you would want to short a stock 35.96% higher than its price, right? It's sort of like making a free 35.96% gain (unless things go wrong, of course, which we'll touch on later).
Apparently, Professor Plum thought this very thing, and was able to pull it off by using dark pools to manipulate the market.
Good? Get a coffee before we continue.
If you search FINRA's dark pool reporting data for trades in PERF, you'll notice that the majority occur on UBS's dark pool, the UBS ATF.
So let's assume that that's where this trade took place, too (if not, it makes little difference, the rules are all similar). For reference, look at UBS's Form ATS for a sampling of those "rules."
Here's what they did:
1. Search for liquidity in dark pools by pinging (getting "Invites") for large, invisible orders sitting on the dark order book.
2. Try to size up the order (is it a buy, sell, is it large, is it flexible, does it have limitations or restrictions like a minimum size to trade or Limit Up/Limit Down price bands ["LULD bands"])?
(As an aside, the third trade of the day [2:50pm] was a mere 350 shares traded in the dark pool - Professor Plum making sure that the big block of shares was an unrestricted "buy" order.)
3. When he knows the order is still there, it's a buy order, and it appears to be filling at the midpoint between the bid and ask prices on the exchange, it's time to manipulate the exchange price to access that dark pool liquidity at a ridiculous price. Easy enough in such an illiquid stock!
4. To avoid backlash, this all needs to be done in the last few seconds of the day. So in the last few seconds, he buys up a few hundred shares on the exchange, driving the price up to $2.76, then submits his order for a huge short sale against the poor sucker in the dark pool... whose 20k share buy order unwittingly gets filled at $2.76.
Professor Plum now has 20,660 shares short in PERF at an artificially high price, and he's pretty sure he's going to make a 36% gain, probably within a few hours or days.
That's dirty.
But we thought that this would make a nice (tongue-in-cheek - sort of) short recommendation. And we might even trade it ourselves (we did find a borrow...).
Risks?
Of course there are risks to making this trade. Maybe PERF, by coincidence, actually releases a new Donald Trump scent tomorrow. Maybe this manipulator keeps driving the price up and up. Or maybe momentum traders start buying at the open on Monday and it's months before the price settles (we've seen this happen before).
Add to that the (a.) illiquidity of the stock and the (b.) likely difficulty of catching a high bid to short against on Monday morning and you have yourself perhaps a 20% gain on $500, if you're lucky.
But you don't have to short it to have fun!
While you're brewing your coffee on Monday morning, check out PERF and watch in wonder as our gloriously twisted capital markets enrich the bold and immoral.
And if you're worried about being a victim yourself, check out our platform at sqzme.co and stay on top of dark pool activity.
More questions? Read this or drop us a line at info@sqzme.co.
Matt
Disclosure: I/we have no positions in any stocks mentioned, but may initiate a short position in PERF over the next 72 hours.
I wrote this article myself, and it expresses my own opinions. I am not receiving compensation for it (other than from Seeking Alpha). I have no business relationship with any company whose stock is mentioned in this article.
Editor's Note: This article covers one or more stocks trading at less than $1 per share and/or with less than a $100 million market cap. Please be aware of the risks associated with these stocks.