Genworth Financial, Inc., (NYSE:GNW) is an insurance company based in Richmond, Virginia, providing insurance products to consumers in the United States, Canada, and Australia. The company focuses operations on two segments: Mortgage Insurance and Life Insurance.
In the U.S., the company is one of the last major players in the Long-Term Care (NYSE:LTC) field. LTC insurance has a storied history of capital destruction, but we'll get to more on that later. The division that includes LTC is referred to as Life Insurance in the company's reports, and it also includes some traditional life insurance products such as term life insurance, annuities, etc., as well as some hybrids that combine two or even all three of the products. The following table (taken from the company's 10-K) illustrates the performance of the Life Insurance segment (including LTC) over the past several years.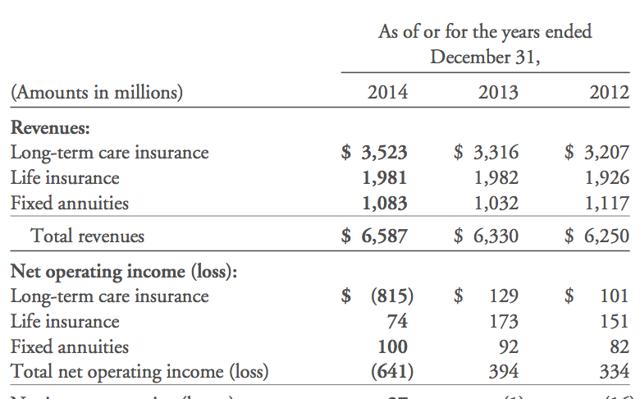 Genworth also has subsidiaries providing mortgage insurance products in Canada and Australia, though the company owns just over half of each after two IPOs. It also provides mortgage insurance in the U.S. The following table (taken from the company's 10-K) illustrates the performance of the Mortgage Insurance segment over the past several years.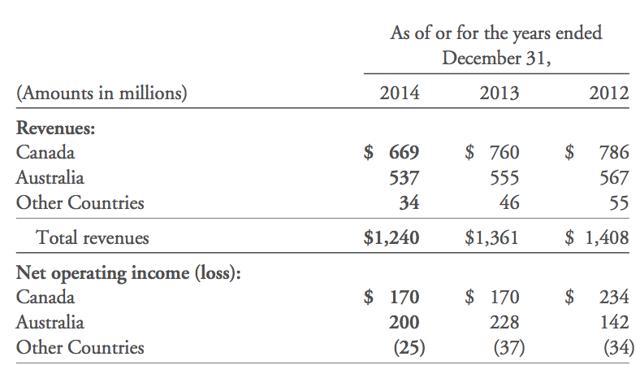 Note: the company will be releasing 2015 figures in February.
Long-Term Care Division
Historically, LTC has been a terrible burden for any insurance company that had the misfortune of issuing policies in it. Beginning circa 1970, insurance companies starting providing policies with uncapped benefits for life without fully understanding the risk profiles of applicants and without foreseeing the meteoric rise in healthcare costs that have defined the past two decades. The result was a capital destruction process that can put many corporate failures to shame. From the dozens of companies that began issuing policies in the '70s as a way to boost earnings, very few remain. Genworth is one of those, limping along to the continued chagrin of its shareholders.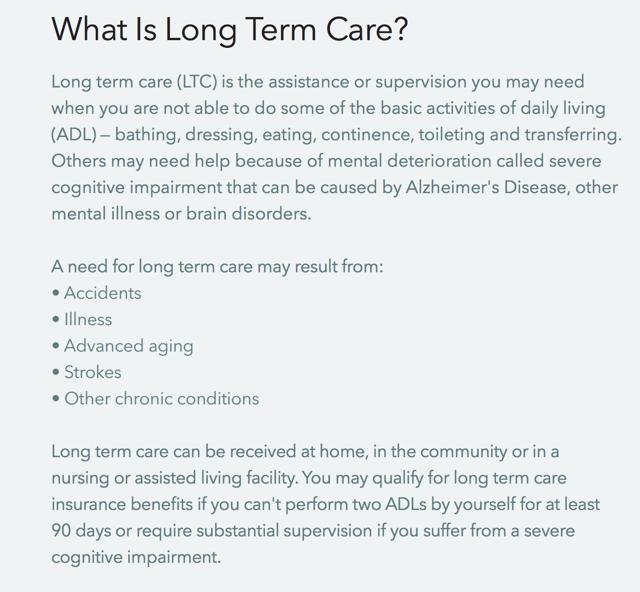 Source: Genworth Advertising Brochure
Newly-issued policies don't bear the risk of legacy products, which is why when reading company statements and releases it is important to recognize the difference between reviews of legacy and purchased LTC blocks and those issued since 2013. Beginning in that year, the company started using gender-informed quotes and requiring applicants to submit to blood tests. It also capped benefits and eliminated many of the perks that had made LTC insurance such a bargain for consumers for decades. In 2014, the company renewed its struggle with maneuvers that saw its share price collapse.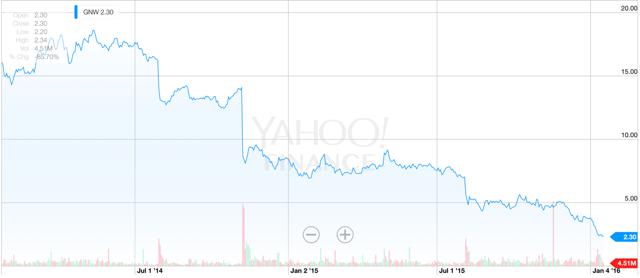 Source: Yahoo! Finance
In Q3 2014, the company took a $531 million charge to increase reserves to its LTC division as an actuarial review determined that the policy premiums were insufficient to cover the expected payouts over the life of the insured. Two months later, in the middle of Q4, the company completed a further review of legacy and purchased LTC blocks and determined an additional $729 million charge for reserve strengthening was required. These increases were to prepare for increased costs associated with claims, including a longer-than-expected average stay in assisted or managed care facilities as well as higher-than-expected costs associated with providing that care. Future increases in costs should be covered by the reserve hikes.
Two results are important to note in the wake of these actions:
The company's insurance subsidiaries and the holding company were downgraded by all of the major ratings agencies;
A compelling case for premium increases was framed through the potentially division-ending financial realities of LTC risk underweighting.
Credit Ratings
In February of 2015, after Q4 results were announced, Moodys and Fitch downgraded the company severely, with Moody's A3 rating dropping to a Baa1. AM Best dropped its rating from an A to an A-. This has a much more significant impact than merely raising borrowing costs for the company. Straight from the 2014 Annual Report:
"Recent adverse rating agency actions have resulted in a loss of business and adversely affected our results of operations, financial condition and business and future adverse rating actions could have a further and more significant adverse impact on us."
When a consumer purchases a policy with extensive duration, such as a LTC or life insurance policy that be in effect for decades, they are in effect providing a loan to the company through their premiums. The company is incurring a liability for the future benefits that will likely be owed to the individual. Because many life insurance products are commoditized and excessively regulated, there is little the company can do to distinguish the product itself.
Instead, life insurance companies focus on their relative financial strength - that is, the likelihood that the company will actually have the cash to pay the benefits owed to the insured. This is why Warren Buffett puts such an emphasis on his multi-billion-dollar cash buffer at Berkshire Hathaway. While Genworth has never been a beacon of financial strength like BRK, the company's downgrades last year and its continued struggle with LTC has put the company at a competitive disadvantage to its peers and superiors in the industry.
Premium Increases
There are two ways the company is remediating reserves in LTC. The traditional way of correcting errors in reserves has been to increase reserves to match the better-weighted risk profile of the insured. Genworth has done that over the past two decades, including the $1.2 billion in reserve allocation last year. But that only addresses one side of the equation. In an effort to coax a better risk profile through the other half of the policy payout equation, the company began seeking approval for premium increases. The process for such approvals is arcane, with each state regulating in different ways and each state's market requiring different choreography from the company.
Nevertheless, in 2014, the company secured $200 million in annual premium increases from state regulators. Management has indicated an expectation for a further $70-130 million increase through 2017, an amount I think is reasonable and likely to move higher if any deterioration in the underlying risk models for LTC reserves materializes, for a net annual premium increase of $275-330 million on LTC policies, for a net present value of $5 billion, as calculated by the company. While an increase in revenues of $300 million per year would make some watching the stock's downward tilt scratch their head, it is important to realize that these premium increases don't take full effect until 2017.
The company also ceased LTC sales in Massachusetts and New Hampshire after state regulators refused the company's price increase requests, illustrating the company's willingness to forego market share and revenue in the interest of margins.
For those states that have approved rate increases, policyholders in those states have 60 days to determine what route they will take: accept the increase and maintain coverage, accept a lower increase and lower coverage, or cancel the plan altogether. Most states have rules in place that require the company to honor coverage in the amount of premiums paid so far on any plans that are canceled. The likelihood of consumers canceling their policies, however, is low, given that the underlying cause of LTC problems for Genworth is that the LTC insurance was a phenomenal value to consumers when sold decades ago and it continues to represent a significant asset to aging, middle-class retirees who are still better off keeping the insurance and paying the increase. From the New York Times:
■ If I get a big increase, should I cancel my policy and shop for a new one?

It's very unlikely, if you've had your policy for more than a year or two, that you will be able to buy a newly issued policy at a better rate, Mr. Slome said. It will most likely be harder to qualify for a new policy anyway, because you're older than when you purchased your original policy, and underwriting standards have become much tougher.
If, however, these policyholders do cancel their policies, Genworth shareholders will benefit tremendously from the increase run-off rate of legacy policies. These policies almost universally represent a net liability to the company and so shedding the future potential claims against the policy and capping the exposure at premiums already paid gives a great deal of predictability to the impact of that policy on the Life Insurance segment's future performance.
On a non-financial note, as a part-owner of a company, shareholders should seek candid management teams who are able to speak frankly and honestly about the condition of the business. Such shareholders can attribute value - vis-à-vis peace of mind - to the frank and transparent nature in which Genworth reviewed its LTC commitments. A quadrennial review in 2012 was not as comprehensive as the new management team wanted upon taking office in 2014, so they ordered another review knowing full well it would wreak havoc on the stock price but protect the long-term interests of the company. More importantly, they communicated important pieces of information in a timely and transparent manner to the markets. This does not diminish the significant business risks posed by the block review, which I anticipate to require further supplementary funding in the future and will probably be announced on the Q4-15 earnings call in February, but it does allow us to trust the comments of management about the division moving forward.
Mortgage Insurance
While the vast majority of corporate revenues are through the life insurance segment, mortgage insurance is a significant line of business for Genworth. It touts itself as the largest provider of mortgage insurance products in the world, excluding the United States. Even in the U.S. it has a significant presence.
The company operates three main mortgage insurance businesses: Genworth Mortgage Insurance Australia (GMA), Genworth Mortgage Insurance Canada, referred to herein as GMC (MIC), and Genworth Mortgage Insurance United States (GMI). GMA is a 52% ownership stake in a publicly traded company on the ASX. GMC is a 57% ownership stake in a publicly traded company on the TSX. It sold GME, its European line of business, in 2015.
International Mortgage Insurance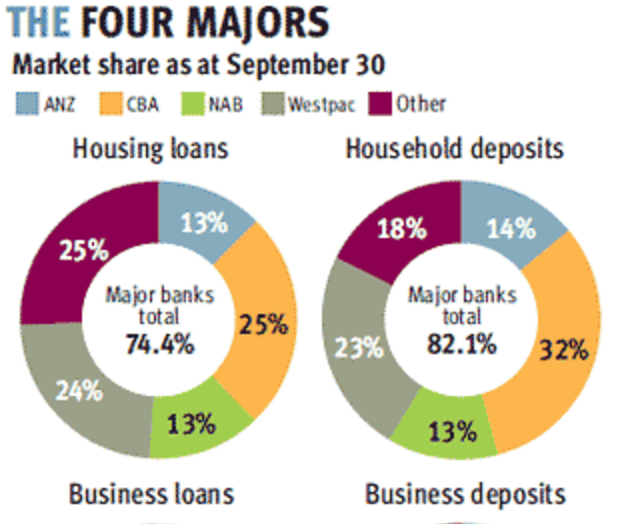 Source: News.com.au
For those unfamiliar with the financial landscape in Australia, the Big 4 banks (Westpac, ANZ, Commonwealth, and NAB) have an oligopolistic control over banking services in the country. In 2013, according to ABS Housing Finance 5609.0, 93.7% of Australian home loans were lent by the Big 4. That naturally extends to mortgage origination and more than 32% of the new insurance written in 2014 was from one customer.
Last year, one of its other major customers (representing 10% of new insurance written) notified Genworth (now GMA) that it would cease conducting mortgage insurance business with GMA effective May of 2016. The reason given was the ratings downgrade that occurred after the second LTC reserve enhancements, indicating that an increase in the parent company's credit rating will allow the company to re-enter business lines with that Australian customer.
Until that upgrade occurs, however, this is a legitimate risk because there aren't many other originators to work with in Australia, although regional banks (particularly in Queensland) have demonstrated a focus on growth and HSBC continues to operate with a significant retail footprint in the country. HSBC, the largest independent bank by assets in the world, is in particular a likely candidate for expansion of GMA's business due to Genworth's previous work in mortgage insurance in the United Kingdom, where HSBC is headquartered, and in Canada, where the global bank has a significant presence. I expect Genworth to leverage its global operations with HSBC to grow policies insured in both regions, even net of this year's customer loss.
Even if leveraging its global footprint with HSBC or its market dominance with regional players works, prudent investors will still consider the company's extant obligations under currently-written policies. To avoid a long and complicated description of the underlying asset portfolio, I'll sum up in three words why investors needn't worry: this isn't 2008. Australian banks are good stewards of deposits thanks to a strict regulatory framework and beginning last year all four of the Big 4 raised their lending requirements for mortgages, with Westpac leading the charge with a mandatory cap at 80% LTV. Stricter underwriting standards with lower acceptable LTV ratios means the banks (and Genworth) are bearing less risk. Additionally, GNW writes the overwhelming majority of its policies to credit-worthy, prime borrowers, significantly decreasing sub-prime risk.
In Canada, the government implemented new rules meant to ensure financial stability, including a cap on LTV of 80%, minimum credit scores (currently 600), and maximum loan values (currently CAD$1 million). All of these also help GMC because they limit down-side risk by adjusting the risk portfolio away from luxury properties, sub-prime borrowers, and highly-developed urban areas. At today's exchange rates, CAD$1 million translates to roughly USD$700,000. By implementing these rules, GMC (and therefore Genworth as a whole) qualifies for a 90% guarantee of the original insured principal amount from the Canadian government to the original lender. This guarantee protects the lender against counterparty risk vis-à-vis Genworth's credit. So a credit rating downgrade of GNW doesn't carry much of an impact in Canada.
Additionally, as long as the market decline continues at a slow or moderate pace in either Australia or Canada, the amortization of the mortgage amount will compensate Genworth against the declining value of the property. For example, a home today worth $100,000 with a mortgage against it of $95,000 might be worth $98,000 a year from now (for a decrease from expected property value of 7%) but the outstanding mortgage will have dropped to $93,500 for a two-year aged loan. For loans that are 15 or 20 years old, the amortization will amount to more than $7,000 per year, protecting against significant declines in property values.
In other words, the risk to the company is that the bottom falls out of the markets in both countries in a nasty way. A 35% drop in home values would devastate the company because borrowers would simply stop paying their bills. While it is a possibility, I consider it to be remote in the face of raised lending requirements, the profile of property ownership (which is to say, primarily off-shore investors), and, particularly in Canada, the cyclical relationship with the United States. I am not predicting growth, but I do anticipate a slow or moderate (if bumpy) decline in home values throughout the GMA and GMC markets in the short term. In the long run, I believe the highly developed and diversified economies of both countries will allow an eventual stabilization of property values, probably beginning in mid-2017, followed by a material decrease in the risk profile and a jumping board for growth in those markets.
As it stands, the market is inconsistently pricing both GMA and GMC, leading to significant valuation opportunities for the GNW parent. GNW shareholders have a combined interest in GMA and GMC worth $2.84 per share, yet the current price of GNW is under $2.30. A realization of that difference (through a break-up or even a resolution of LTC reserve problems) would provide in and of itself a 24% return from the GNW price at the time of writing, and that is assuming that the underlying GNW is completely worthless.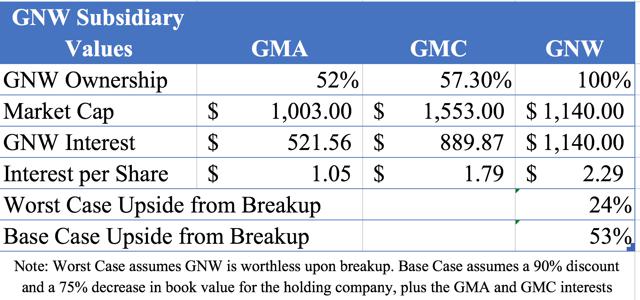 U.S. Mortgage Insurance
In the U.S., the company provides flow insurance products to consumers with loan-to-value (LTV) ratios greater than 80%. Fannie Mae and Freddie Mac provide insurance to most loans under the 80% LTV, so there is limited room for product expansion. Additionally, GMI focuses on prime-rated consumers and 97% of their underwritten mortgage loans are to borrowers with FICO scores above 620.
Unlike in LTC, GMI is able to raise or decrease easily and its customers - the mortgage originators - continue to require flow insurance on high LTV mortgage loans due to capital requirements imposed both in the U.S. and by international financial regulators. By purchasing a flow insurance product for a nominal percentage of the mortgage amount, the originator is able to free up considerable capital on its balance sheet that it can redeploy.
Since the Great Recession and the corresponding housing collapse, and in response to the changing financial landscape resulting from Dodd-Frank, the mortgage insurance industry is in the midst of significant competitive change. Currently, seven firms write mortgage insurance products in the U.S., excluding government-sponsored enterprises such as Fannie Mae or the Federal Housing Finance Administration. Some of these seven firms are new entrants who took market share from firms that exited the business.
Mortgage Insurance Performance
Domestically, GMI is performing well and represents a growth vehicle for the holding company. GNW is focused on increasing the mortgage insurance business in the U.S. in terms of policies written and profitability and I believe we will begin to see more concrete evidence of their progress in that effort in the earnings call on February 5th.
GMA and GMC, however, represent a more difficult environment for the holding company. The Canadian housing market is poised for trouble this year as a commodity-fueled boom is seen as likely to lead to a commodity-fueled bust. Over the last twelve months, GNW's stake in GMC has dropped in value by 23%, and I anticipate further drops as the market realizes the significant overvaluations in Canadian real estate. It is important, however, to separate the risks: while the value of the homes will decrease, I am not expecting a sudden crash that encourages non-payment.
In both Canada and Australia, the company collects the entirety of its premium for the duration of the mortgage insurance at inception. These funds are then reserved in the subsidiary, invested to earn additional return, and amortized as premiums over the timeframe of the policy. Claims against a policy are paid out of this reserve. This is called "single premium" insurance and it represents a significant upside for both GMC and GMA because it does not expose the company to risks that a particular insured will cease payment. In a market where housing prices are falling due to lower commodity prices and energy-industry employees are struggling to make ends meet, they can't cancel the mortgage insurance even after they've fallen to a relatively low LTV because they've already paid their premiums for the life of the product.
Debt Reduction
GNW's strategy is three-fold: reduce debt, address LTC, and grow profitable business lines. LTC was addressed earlier and mortgage insurance is a very profitable business line (particularly GMI), so the last tenet of GNW's strategy to consider is deleveraging.
Debt Repayment Schedule

Source: Morningstar.com
While this may look a bit scary, there are a few notes: the company repurchased its 2016 bonds earlier this week and it maintains a 1.5x interest coverage with an additional $350 million cash buffer. In other words, although the company is levered, the debt is far from out of control and the company is able to make slow and steady progress on repayment. There are nevertheless $600 million in 6.515% bonds due May 22, 2018. The company in the past has targeted a reduction in its long-term debts by $1-2 billion, although in October the CEO indicated that the company is also considering a refinancing of the 2018 maturity, although he maintained that even if it is refinanced a debt reduction of $1-2 billion is still a firm goal. Personally, I would support that action because it would remove higher-interest debt from the balance sheet while shuffling the lower-interest debt to further in the future.
The firm's debt is being reduced primarily through sales of the company's assets, particularly low-margin, non-core businesses such as the targeted blocks of term life insurance policies. The company can also liquidate its interests in GMA and GMC, with total value to GNW over $1.4 billion, even under today's depressed market conditions. I expect long-term value from GNW ownership stakes to hold around $2-2.5 billion in liquidated value.
What It All Means for Investors
With its ownership interests in its subsidiaries worth more than $2 billion (and currently priced in the market at $1.4 billion)and its premium increases representing a net present value of $5 billion, the company has a $7 billion capital buffer for extraordinary LTC actions. This, combined with an additional $1-1.5 billion in addition loans available to the company, mean that reserve changes would have to total $8-8.5 billion in order to negatively affect shareholders in the event of a liquidation. Obviously, shareholders can be negatively impacted by even a small increase in the reserves due to share price deterioration, delayed implementation of a dividend, or other shareholder return metrics. Furthermore, a sale of GMA and GMC interests could deprive GNW shareholders of some intrinsic value if the holding company was forced to sell during a depressed market. Since the LTC reserve review began in 2012, there have been only $1.4 billion in reserve increases so I see the likelihood of a five-fold increase in reserve requirements highly unlikely.
The market has a different take, pitting the company with a 92% discount to its book value. With book value currently at a little over $13.5 billion and the market cap sitting at $1.2 billion, that means the market is pricing in an LTC revision of $12.3 billion, a ten-fold increase and a sum that would put to shame even the most catastrophic revisions at the peak of the LTC firestorm several years ago. It is important to remember that LTC insurance is a long-lived product that dies with the insured. As insured parties who signed up under the poor-margin rates of the '80s and '90s are removed from the policy books, the margins of the LTC division will increase due to a shift to non-legacy, higher-margin contemporary policies. Those policies are fed by blood tests and demographic data to inform the reserve ratios necessary for solvent payout of eventual claims.
Put another, less humane, way: the people who held policies that posed serious claims risks to GNW are meeting their end of life and more profitable policies are being purchased at higher prices by policyholders who will likely enjoy a less robust cost:benefit advantage over the company. I'm not an actuary and predicting the rate of death among an opaque group of insured persons is difficult, but using 2009 age-specific mortality rate data from the CDC, I can estimate the following through the GNW legacy LTC blocks announced in the 2014 reserve review: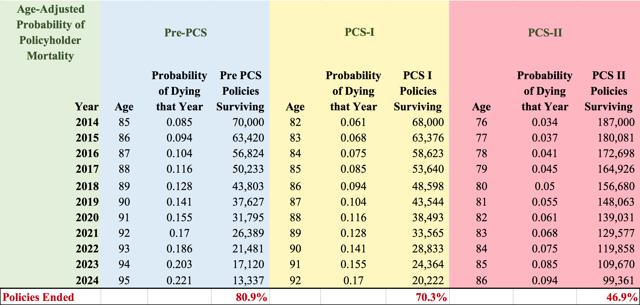 Source: Author-calculated using data from the Centers for Disease Control and the Genworth LTC Claim Review Presentation
Since the announcement in 2014, we can expect an approximately 10% reduction in the oldest policies and an approximately 5% reduction in the PCS-II policies that were sold between 2001-2012. The policy roll-off gains momentum over time, meaning that ten years from now legacy LTC policies should have decreased by more than half. That 50% reduction in the troublesome policies is the foundation, in supplement to the LTC premium increases taking place next year, for my estimation that further catastrophic reserve enhancements will not be required after 2017.
It's not just intuition that breeds my skepticism for a $12 billion LTC charge. The CEO in his Q3-15 remarks indicated that the reserve estimates that were fixed in Q4-14 were holding relatively true, meaning that any revisions to reserves would at this point be tweaking the assumptions of the model, not drastically rewriting it as before. Thus, I believe the greatest likely LTC charge will be in the range of $650-$750 million for Q4-15, and that is assuming the worst about the division. Those reserve charges would be paid back by two years of the already-approved premium increases given to the company or by the liquidation of its interests in either GMA or GMC.
There is risk to book value being hurt by the LTC problems, but I do not estimate it at 92%. Assuming a $750 million charge for Q4-15 and an additional $500 million in catch-up reserve adjustments in Q1-16 through Q4-16, for a cumulative $2.75 billion adjustment (which in my opinion would completely resolve the reserve adjustments, since rate increases would take effect in Q1-17 for an amount of $100-150 million per quarter and obviate the need for further reserve enhancements). I believe this $2.75 billion impairment to be a conservative estimate, but it would destroy 20% of book value.
Using Book Value
Because LTC is inherently risky, I do not believe that GNW deserves to trade at the price/book ratio other insurers enjoy. Instead. I think a 60-70% discount to book value is much more in-line with the long-term risk profile of the company. That being said, valuing a company based on its book value is the value investor's modus operandi, but when such steep discounts to book value are discussed, the discount is not enough to secularly warrant valuation. For example, someone may have purchased the company at an 70% discount to book value on January 1 of 2015. That person would have paid $8.60 for the share that now trades handily below $2.50 after the discount expanded a further twenty percentage points and book value dropped by 10%. Generally, discounts to book value expand when one or both of the following criteria occur: the company destroys book value or investors perceive risk in the underlying value of the equity ownership in the company. Unfortunately for Genworth, over the past two years, both criteria were met.
Yet this is exactly what makes now an opportune time to take advantage of the discount to book value, which is an admittedly cheap and easy metric. In January of 2015, the company had just announced a huge review of its LTC reserves, a mid-review increase of more than half a billion dollars, and a huge earnings miss among active concern expressed by management about the feasibility of then-extant LTC reserves. Fast forward a year and we now have a company whose LTC review of legacy policies is complete (with a small review ongoing for contemporary policies), has avoided any reserve enhancements for several quarters, and whose management is expressing confidence in the strengthened risk models.
Investors who purchased GNW in January of 2015 were buying into a growth story amidst a maelstrom of terrible news; much less, they were purchasing the shares in the company at roughly fair value (70% discount to book). That left all of the downside for the terrible things that could (and many of which did) happen in Q1-15 while leaving little room for share price appreciation.
Purchasing GNW in January of 2016, investors are buying into a deep value company whose share price can grow even amidst book value destruction and a continued deep discount to book value. Today, investors can purchase three times as much book value per dollar as they could in 2014, vastly decreasing their downside risk but enhancing the opportunity for upside. Furthermore, the haze surrounding future book value is clearing, with the LTC review already finished and the results slated to be announced with earnings in the first week of February. Furthermore, in the year that passed, a significant portion of book value destruction after reserve adjustments has already been made, meaning the risk is addressed and off the books of the company. The company is now a year closer to enacting the full weight of its $220-370 million in premium increases, decreasing the discount investors need apply to the likelihood of those premiums actualizing. And lastly, up to 10% of the riskiest legacy LTC policies have already been rolled off thanks to mortality factors in the policyholders. That means at a minimum, risk to the company has decreased by 10% since last January while the company's risk barometer (discount to book value) has increased by 30% (or 20 percentage points), to a total discount to book value of 90%.
What it All Means for Investors

That being the case, my conservative price target for GNW is $2.73, which represents a 49% upside even if the company destroys half of its book value in a year (which would certainly be notable) and continues to trade at a steep 75% discount to book value.
My base case estimates book value losses of $2.75 billion over the next year and a discount to book value of 60%. Personally, I don't believe the company will lose $2.75 billion in the next year, but it is my practice to estimate conservative values to minimize downside risk and avoid eye-watering numbers that encourage irrational purchases. Even still, if the company does manage to destroy that much value, the shares should still appreciate a solid 280% to accommodate a discount to book value more in line with the actual risks of the company.
The Breakup
But there is another scenario that management has considered, and I believe it is actually the most likely if LTC reserves continue to pose a problem: a breakup of the mortgage insurance and life insurance businesses. Genworth is the only insurance company in the world that operates in all of its market segments and many believe that is because there are few synergies between mortgage loan review and assisted living actuaries. GNW's management has considered a breakup whereby the mortgage insurance business (including GMA, GMC, and GMI) would be spun-off into a new business and LTC would be left to weather its own independently. Both companies would be able to operate from their dividend of the holding company's $350 million liquidity buffer (which would leave the 1.5x interest coverage untapped).
Such a breakup could result in a tax-neutral spinoff of mortgage insurance operations though GMI, which would include the company's stakes in GMA and GMC. (After the Q3-15 sale of a block of life insurance policies, Genworth's life insurance companies have become net tax payers, no longer generating Net Operating Losses. While the company still has deferred tax assets (DTAs) for use, those DTAs are sequestered in the life insurance companies and I don't think it likely that they will be distributed or spun off into GMI. For a fuller conversation about the tax implications of subsidiary divestments, please see the question and answer portion of the Q3-15 conference call. Ideally, the holding company would lop a portion of its mortgage insurance-related debt onto GMI and would allocate a smaller portion of its vast cash pile as working capital. Since GMI is profitable and GMA and GMC both pay substantial dividends, the newly-independent GMI would need little from the holding company in terms of additional capital. After all, any cash could be generated through profitable underwriting or sales of its GMA/GMC stakes.
Such a breakoff would create tremendous shareholder value. My model above uses a frightening scenario and it still provides a 58% return; even under the worst case (illustrated under the Mortgage Insurance section earlier) it provides a 24% return. That worst case assumes that GMA and GMC remain at their currently depressed levels for another year, that the life insurance business is completely bankrupt and worthless in 2017, and that the GMI business is forced to go down with it. Under the base case, the holding company is kept at its current 90% discount to book but the book value is slashed by 75%. Clearly those are not scenarios investors want to see, yet even those Armageddon scenarios offer double-digit returns.
It is difficult to predict whether such a breakup would happen, as it depends on the performance of the updated LTC models, tax implications, and other factors not within the company's control. A breakup was significantly less likely before Q2-15, when the company announced that it no longer sought to sell significant operating portions of its life insurance segment. Now that the company will have a (currently barely) profitable operating company in which to shove the LTC risk, it seems like the stage is set for a split. But if LTC reserves are not in need of further strengthening and GMI can continue to create value for the holding company, I do not see management as committed to the idea of breaking up the company. A breakup frees the value of GMI from the tainting risk of LTC, but if that LTC risk is already mitigated then there is no longer a management impetus for breaking up the company.
Because I view future LTC reserve changes as likely to be relatively small and because GMA and GMC are both depressed due to global equity market pressures as well as concerns about their respective markets, I do not view an imminent breakup as likely. But it is nevertheless a possibility that a recovery in GMA and GMC values or an unforeseen negative development in LTC could drive the company to segregate the risk and divest the mortgage insurance business. The least likely scenario in my opinion is a large LTC reserve enhancement that does not also include a breakup. In my valuation table above, that is the "Worst 2017" scenario.
In this way, the huge value of the breakup is a hedge against any future worries about LTC. If I'm right about the LTC risks moving forward being moderate to small, you make 280% return. If I'm wrong and book value falls by 75% over the next year, you still get to collect a 53% return. If I'm really wrong and the LTC business/holding company goes completely bust, I suppose you'll have to suffer with a 24% return. Try not to be too disappointed.
Disclosure: I am/we are long GNW.
I wrote this article myself, and it expresses my own opinions. I am not receiving compensation for it (other than from Seeking Alpha). I have no business relationship with any company whose stock is mentioned in this article.