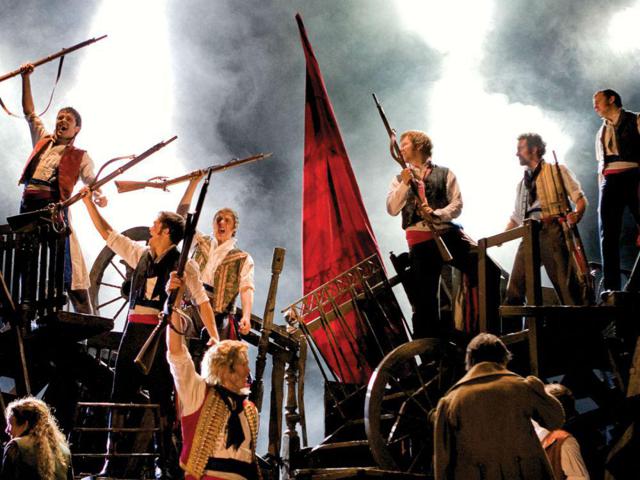 Author's note: This article was delivered first to subscribers of Retirement: One Dividend At A Time.
What a difference a day makes, 24 little hours. On Wednesday, January 20, I wrote, "The Next Panic: The Fear Of Missing The Rebound And Being Left Behind". Thursday, buyers began coming back. Friday, January 22, 2016, the stampede picked up steam and investors were beginning to storm the barricades to get back in. Total trading volume was 5% to 8% below the five-day trading average, however. I suspect this will gather steam next week and surpass the average volume.
Thursday, the Dow picked up 116 points, and Friday, cruising at the close, the Dow finished up another 211 points, or 1.33% more and the S&P 500 index, a much broader market measure closed up 2.03%.
For Whom The Bell Tolls: Oil Traders
It appears the bell rang for oil traders Thursday as oil hit lows not seen since 2003. By Friday, the shorts were covering their positions, forced to buy to close their open short positions to either take diminishing profits or cut their losses short. Oil closed 9 ½% higher at $32.25. Iran's oil minister was being stand-offish about agreeing to an OPEC emergency meeting without major agreements being met beforehand. At the same time, he was hinting that should such agreements be negotiated, an emergency meeting could go ahead with the understanding that production cuts would be apportioned equitably among the members.
This type of talk never fails to light a fire under the shorts to run for cover. Some traders remember that in the 1980s, the last time oil prices were this low, OPEC members agreed to production cutbacks in an effort to restore higher pricing for their commodity. One year later, the price of oil had doubled.
The Salve That Soothes
The stock markets took heart in this development and stocks were off to the races. Friday, Mario Draghi of the ECB announced he still had plenty of ammo left and could very possibly open the faucets to additional quantitative easing come March. The Japanese, seeing deflation developing, piled on and said they may join in and inject further stimulus into their economy. This is the type of salve that soothes investor wounds and they reacted. Easy money, and more of it, is what the markets continue to crave.
Since the Fed initiated its first rate hike in December, the S&P 500 index lost more than 9% of its value. Over $6 trillion in equity value worldwide had evaporated. Hitting a low last week of 15,370, the Dow Jones Industrial Index had retreated a cool 3,000 from its 52 week high of 18,351. This 16.25% fall qualified as a full-blown correction and put us within close hailing proximity to a bear market, defined as a 20% fall from a previous high.
January Developments For The Fill-The-Gap Portfolio
January has been a busy month as we've done some trimming of the portfolio's energy holdings and swapped those holdings for others to build our core positions.
On January 7, I discussed how we went shopping for income. In an effort to de-risk a possible threat to portfolio income by our energy names, we sold off our ConocoPhillips (NYSE:COP) for $1,961.60 and the Plains All American (NYSE:PAA) position for $22,931.92 for total proceeds of $24,893.52.
With these positions disposed of, we shopped in the midst of this market correction and picked up some good bargains, buying more shares in The GEO Group (NYSE:GEO) and W.P. Carey (NYSE:WPC) to bring these positions more into line, in regard to income production, to the other portfolio components.
These two purchases cost us a total of $24,837.54, leaving us with a surplus of $56.01 after the swap. This swap, as demonstrated in Party Time-Let's Go Shopping For Income, resulted in more annual income for the portfolio, $302.38 more income, in fact.
Since this portfolio is focused on income production and growing that income, this transaction was deemed a win-win; Reduction of risk and increased income.
RMR Spinoff Added Share Value And Income
We were the beneficiary of a tax-free spinoff this month as well, which added capital value to the portfolio as well as additional income at no cost to us.
The RMR Group (NASDAQ:RMR), the external manager for one of our REITs, Government Properties Income Trust (NYSE:GOV), became a public company this month. As part of going public, it distributed nine shares of RMR to us based on the number of GOV in our portfolio. It announced its intention to pay an annual dividend of $1.00 per share.
Based on Friday's closing price, this transaction has added $193.59 value to the portfolio and $9.00 of annual income. On the day of the spinoff, shares were valued at $11.89. Since the IPO of RMR, shares have soared almost 81%.
January Dividend Income
January saw seven of our 18 equities, or 39% of our positions, rewarded us with dividend income. Two of them gave us increases this month. Realty Income (NYSE:O) raised its monthly amount to $.191, for a .53% increase from last year's comparable month. W.P. Carey raised its dividend to $.9646 per quarter, representing a 1.27% increase from last year's comparable quarter.
We were paid a total of $1,549.64 in dividends for the month.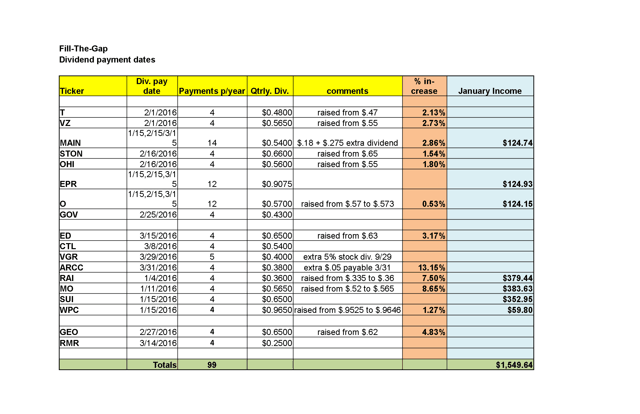 As you can see from the above table, the FTG Portfolio currently has 99 different pay dates. Our 18 portfolio components supply us with a good amount of dry powder each month. We accumulate this ammo over the month as we search for a good home for it.
And This Month's Winner Is...
The market was handing us plenty of opportunities. Since the first three weeks of this New Year, the market has been going through conniptions, re-pricing and adjustments.
Because one important goal of this portfolio is to construct it in such a way that each component pays us approximately equal amounts of income annually, we took advantage of the downdraft and bought 28 additional shares of W.P. Carey with our accumulated dividends.
At a price of just $53.99 on January 20, we spent $1,511.72 from these dividends and obtained a really nice yield of 7.15% on these shares, compared to the 6.47% yield obtained on WPC's shares bought just two weeks prior. We attempt to buy high-quality companies when they are on sale. This is the essence of hunting for accidental high yielders.
The five separate purchases of WPC have now brought this company closer to par as regards its provision of income to the portfolio. Its total income contribution will now come to $1,107.82 per year. Soon it will be at par with the other 17 components, and we'll achieve a higher degree of risk mitigation for the total portfolio.
Income Outlook
The swap performed on January 7 succeeded in growing portfolio income by $302.38. The purchase of 28 additional shares of WPC on January 20 added another $108.08 to annual income. The distribution of RMR's shares received added $9.00.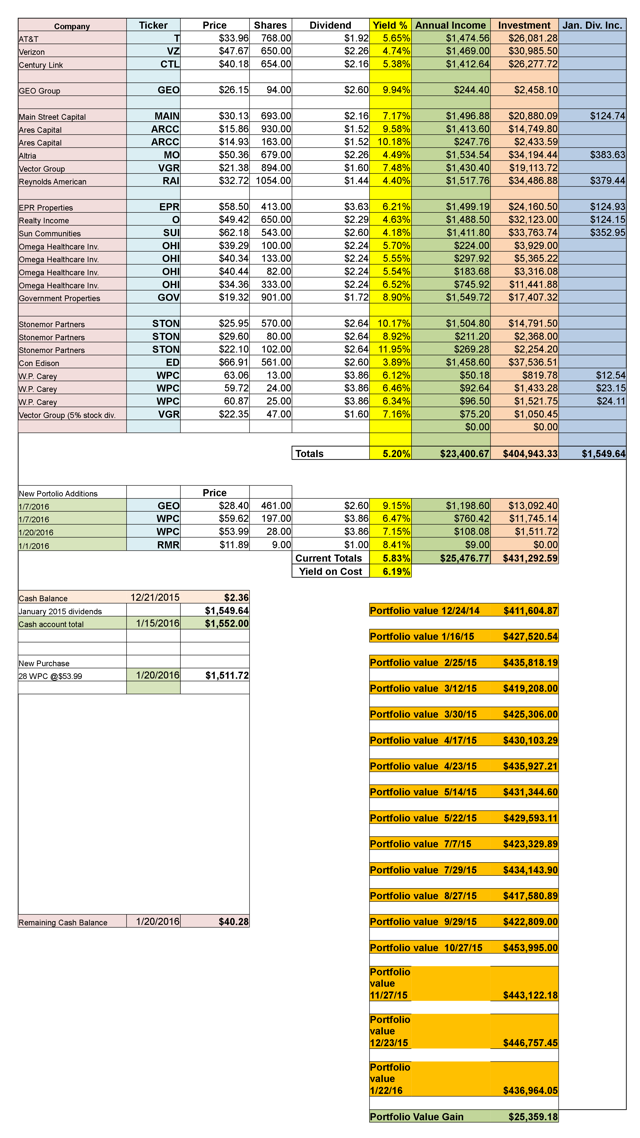 Since portfolio inception on 12/24/14, this portfolio, with the addition of a $6,500 IRA contribution in 2015 plus accumulation and reinvestment of dividends, has grown from the initial amount of $411,604.87 to Friday's closing value of $436,964.05. This represents combined capital growth of $25,359.18, or 6.16%.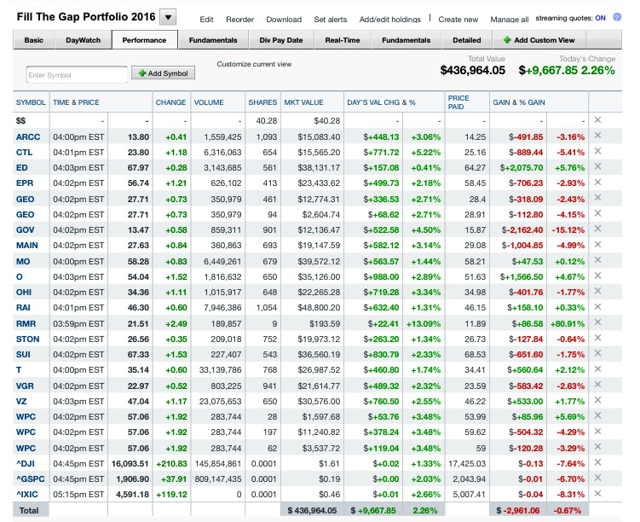 Since the beginning of this year, while the Dow Jones Industrial Average has declined 7.64% and the S&P 500 index has fallen 6.70%, the FTG Portfolio has managed to outperform by decreasing just .67% in value. That's less than a 1% decrease.
At the same time, this month alone, we have managed the portfolio to a $419.46 increase in annual income from one swap maneuver, a reinvestment of our monthly dividends, and the receipt of new shares from a spinoff.
The FTG Portfolio continues marching forward with income growth, going from an initial $21,246 to today's current yearly income of $25,476.77. This is an increase of $419.46 from last month and represents an increase of $4,230.77 in yearly income, or 19.9% more income since the introduction of this portfolio just thirteen months ago.
The Portfolio Income Tracker Spreadsheet
To help my subscribers stay focused on income production, at no cost, I provide them with a spreadsheet I've created that allows them to track the exclusive subscriber portfolio we manage. It also allows them to input their own portfolio holdings, share amounts and dividend amounts. The formulas I've built into it then figures their annual income from each component, shows the current yield and totals the portfolio income.
If you feel this spreadsheet would be a useful tool for your investment tracking and would like to have one, simply send me a direct message on Seeking Alpha, and ask for the Portfolio Income Tracker. For a very nominal amount, I'll be glad to email you one for your use.
The Correction That Keeps On Giving
In an earlier piece, "China Coughed And The World Shivered: Corrections Create Opportunity," I discussed how just a few hundred points more of compression would bring us to the commonly defined correction, a loss of 10% from previous highs.
Well, just one day later, we came darn close as the market plumbed the depths to 16,588, yet another 318 points lower. Coming off a recent high of 18,351, this represented a decline of 1,763, or a 9.6% drop. Close enough in my book to judge it a correction. A week later we came awful close to the textbook definition of a bear market until market participants reversed course for two days running, Thursday and Friday, leaving us with a Dow close on Friday of 16,093, still leaving us 2,258 points from the recent high point.
Will this reversal have legs and carry us higher? Or, was this simply a rebound from very oversold levels. Was it a buying panic from the lows, will it last, or just go back into retreat soon?
Because I believe that panic caused stock market prices to become disconnected and uncorrelated from the fundamentals of a slowly improving economy, I believe we have some room to run here.
As I am an income-focused investor, I will continue to take the gifts that are handed to me when I believe there is true value to be found in what I believe to be a fundamentally sound economy.
The FTG Portfolio
I began writing a series of articles on December 24, 2014, to demonstrate a real live construction and management of a portfolio dedicated to growing income to close a yawning gap that so many millions of seniors and near retirees face today.
The beginning article was entitled, "This Is Not Your Father's Retirement Plan." This project began with $411,600 in capital that was deployed in such a way that each of the portfolio constituents yielded approximately equal amounts of yearly income.
Having reduced our risk to portfolio income by spreading our income equally among many separate high-quality companies with long histories of paying and increasing their payouts, we built out the foundation further. Additional strength was derived from diversifying to several sectors to mitigate our risk.
The Fill-The-Gap, or FTG, Portfolio was born of the realization that the average American couple can expect to receive $28,800 in Social Security benefits that they worked their whole careers to earn. We also understand that a fairly comfortable retirement in most parts of the U.S. is going to cost us around $50,000.
If we simply subtract the smaller amount from the larger required amount, we come to see that this average couple is short a couple tens of thousands - $21,200 to be exact.
Where Has The FTG Portfolio Sought Income In Past Months?
I'm glad you asked. Readers of my series have been following the progress of my Fill-The-Gap Portfolio, which I have been demonstrating exclusively for readers of Seeking Alpha since the inception of the portfolio on December 24, 2014.
Its aim is to illustrate how an average retired couple receiving an average of $28,800 in combined Social Security can close the gap between that amount and a fairly comfortable $50,000 retirement income. If we add this $28,800 average from Social Security to the current $25,476.77 in FTG Portfolio dividend income, we see that the current annual total of $54,277 comfortably surpasses that initial goal and continues to increase through growth of dividends and opportunistic reinvestment of those dividends.
Portfolio Construction And Management 101
I have recently launched my premium subscription service right here on Seeking Alpha. For those readers who have not yet joined, it's a service of active portfolio management that will help you build an exclusive dividend growth portfolio for your retirement. Please click the banner at the bottom of this article to learn more about my premium subscription service.
Retirement: One Dividend At A Time
This new portfolio began with a starting overall portfolio dividend yield of 5.77%. It is already giving us a current yield of 5.99%, just two months after launch in November.
The FTG Portfolio
Constructed beginning on 12/24/14, this portfolio now consists of 18 companies, including AT&T, Inc. (NYSE:T), Altria Group, Inc., (NYSE:MO), Consolidated Edison, Inc. (NYSE:ED), Verizon Communications, Inc. (NYSE:VZ), CenturyLink, Inc. (NYSE:CTL), Main Street Capital Corporation (NYSE:MAIN), Ares Capital Corporation (NASDAQ:ARCC), Reynolds American, Inc. (NYSE:RAI), Vector Group Ltd. (NYSE:VGR), EPR Properties (NYSE:EPR), Realty Income Corporation, Sun Communities, Inc. (NYSE:SUI), Omega Healthcare Investors (NYSE:OHI), StoneMor Partners LP (NYSE:STON), W.P. Carey, Inc., Government Properties Income Trust, The GEO Group and The RMR Group.
Plan Of Action-Portfolio Management
Our aim is to get the most bang for our bucks. We will look toward any further weakening in the markets as our developing opportunities to buy more income for the portfolio at cheaper prices, gaining higher yield along the way.
We are in no hurry here. We will follow our playbook just as we did with the recent W.P. Carey and Geo Group purchases. We'll pick our spots, and when those entry points arrive, we'll pounce.
Capital Preservation, Capital Growth And Dividend Growth
We are happily meeting all of our objectives, preserving our capital, growing it strongly and collecting 99 separate dividend payments every year. All of this is being accomplished while the rest of the market and most investors are struggling and flailing around, unsure of whether they should stay or should they go.
We stick to our plan to grow our income. Some investors now find themselves gravitating to the kinds of stocks we've bought because they offer some safety, some downside cushion and growth of income by reason of their paying us dividends. That is what has contributed to some of our capital gains to date.
Final Thoughts
The Fill-The-Gap Portfolio for 2016 presents a new beginning, an opportunity for retirees, near-retirees and new, younger millennial investors to start the process of making their transition to dividend growth investing in some of the safest, most predictable, long-paying, high-payout companies in America.
For younger millennial investors willing to be open to ideas to further their financial education, this portfolio represents a solid foundation. For them, and all pre-retirees and retirees, this model of portfolio construction is offered as a foundational way to build retirement income for the future that addresses inflation head on. The dividends in this portfolio will continue to grow in such a way that future income will not be degraded and decimated by inflation. On the contrary, purchasing power will be preserved, unlike what would befall an investor buying 0% T-bills today or negative interest rate T-bills next week as discussed in those articles I penned.
Conclusion
If you accept the premise that the equity markets will eventually bounce back from this correction (we saw this in September, again on Wednesday, December 23, 2015, with the powerful rebound from the summer correction and again this past Thursday and Friday), you may wish to consider some of the equities discussed here for your income portfolio needs. Now that many of them have suffered a good degree of price compression, their yields for new investors, as demonstrated, are accidentally high and that much more attractive today. The research presented today should lend some degree of comfort as well since this is the bottom line for income investors - sustainable and growing income.
If we can maintain discipline to shut out external world event noise and stick to our plan of growing the income stream, no amount of external events will impact our income component. If we allow ourselves to let in just a portion of the noise and be on the lookout for opportunities that pop up, we can profit from these opportunities by buying on the dips and corrections as we've done and demonstrated here. We need to filter out extraneous cues and simply profit from all the confusion around us.
Author's note: Please consider following me in real time. This will enable you to receive an email the moment any of my articles are published on Seeking Alpha. Just click the down-arrow next to the "Follow" link above this article title, and check the boxes for "Follow this author" and "real-time alerts on this author."
Please don't keep me a secret. I'd appreciate it if you forwarded this article to your friends, colleagues and family who you think might find this work interesting and something they might benefit from.
If you found this article, the concept and investment results interesting and intriguing, I invite you to read the other articles in this series. Stay tuned for further articles that will introduce additional sectors and names to further diversify a portfolio for continued ballast and mitigation of risks to any one sector.
Should you be interested in reading any of my other articles detailing various strategies to enhance your returns on a dividend growth portfolio, you will find them here.
As always, I look forward to your comments, discussion and questions.
Disclaimer: This article is intended to provide information to interested parties. As I have no knowledge of individual investor circumstances, goals, and/or portfolio concentration or diversification, readers are expected to complete their own due diligence before purchasing any stocks mentioned or recommended.
Disclosure: I am/we are long ARCC, CTL, ED, EPR, GEO, GOV, MAIN, MO, O, OHI, RAI, RMR, STON, SUI, T, VZ, VGR, WPC, WEC.
I wrote this article myself, and it expresses my own opinions. I am not receiving compensation for it (other than from Seeking Alpha). I have no business relationship with any company whose stock is mentioned in this article.