In late 2009, Jim Cramer published Getting Back to Even, a book he wrote to help shell-shocked investors deal with a stock market crash the likes of which we hadn't seen since 1929.
There's some good information in the book, except in one chapter, "The Next Big Thing: Regional Banks Poised To Grow," where Cramer recommended 5 regional banks that he considered great investments at the time.
Whatever you think of Cramer, you have to admire him for publishing these recommendations in an actual book. He even noted himself that it was "halfway insane" to recommend individual stocks in a book that will be available on bookshelves for years to come.
I'm sticking my neck out to recommend these five stocks not because I have a very strong masochistic streak but because I believe in the expansion of the strongest regional banks with the weakest competition will very likely be the most important trend in the stock market over the next several years.
To be fair, he did point out that investors couldn't just buy and hold, and that "if any of these banks stop working for any reason, do not simply assume they will get back on track because Jim Cramer wrote that they were terrific long-term plays" and that "you had better be ready to change your mind."
Fair enough. But why regional banks?
The S&L Crisis of the 1990s
Cramer's thesis for devoting a good chunk of his book to regional banks is based on what happened after the 1990s S&L crisis. Smaller regional banks with decent balance sheets began to gobble up other institutions.
For example, a small bank called Fleet was in good enough shape to be allowed by the FDIC to buy the failed Bank of New England in 1991- then Shawmut in 1995, and BankBoston in 1999. Fleet was eventually purchased by Bank of America in 2004. If you didn't hold that BofA stock, Fleet delivered a 500% return from 1988 to 2004.
Unfortunately, Cramer's regional bank picks in Getting Back to Even haven't fared that great. Let's look at them one by one and see how they've performed since January 2010, shortly after the book was published
***
Glacier Bancorp (NASDAQ:GBCI)
This was the best performing stock of the group, perhaps because it never needed TARP money to prop up its balance sheet. It's headquartered in Montana with 100+ offices in the northwest region of the US.
But even this bank has performed fairly well, it has not kept up with the S&P 500 ETF (NYSEARCA:SPY), nor the S&P Regional Bank ETF (NYSEARCA:KRE).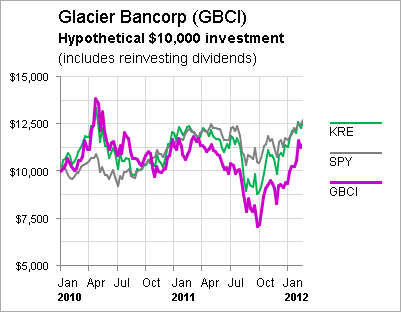 ***
FirstMerit (NASDAQ:FMER)
Cramer described First Merit as "the fourth largest bank in Ohio, arguably the state with the worst set of banks in the union," but the stock lost steam as its profits began missing Wall Street expectations in 2010 and into 2011.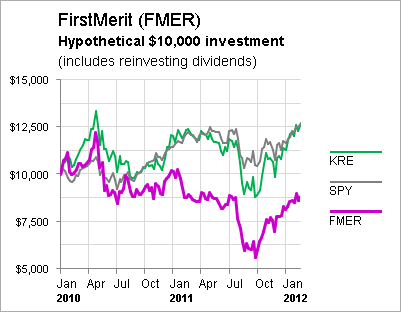 Shares have recovered somewhat, after reporting stronger profits late last year, but not yet enough to make up for lost ground compared to the SPY and KRE benchmarks.
***
First Niagara Financial Group (NASDAQ:FNFG)
Cramer liked New York-based First Niagara because they managed to acquire 61 branches of National City when PNC acquired National City in 2008 and needed to sell those branches to satisfy banking regulators. That gave First Niagara a larger presence in upstate New York, and the company later expanded into Pennsylvania.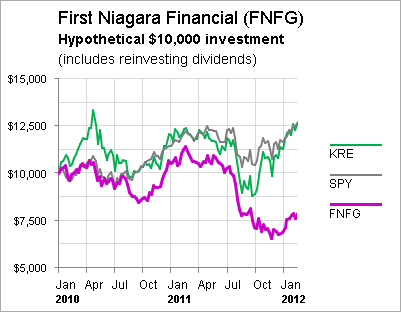 Unfortunately, this expansion may have been too rapid. Back in December, the company issued more common stock and cut its dividend in half to "build capital levels" after it purchased nearly 200 HSBC branches in New York and Connecticut back in October of 2011.
***
New Alliance Bancshares
This investment in a Connecticut bank actually turned into shares of First Niagara (see above) when FNFG acquired NAL in April 2011.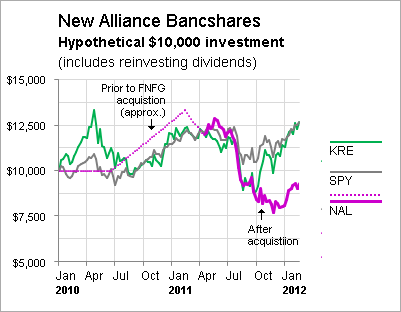 The dotted line above shows the approximate value of this stock as it traded before the acquisition, with the solid line representing performance based on the number of shares of FNFG received per share of NAL. If you got out before the acquisition, you did okay. If not, you would have ended up kind of doubling up on FNFG (unfortunately)
***
People's United Financial (NASDAQ:PBCT)
Cramer's original take on this stock was that it operated in some of the wealthiest areas of the country. Well, it does do business in Westchester County, NY and did have a relatively low level of nonperforming loans when Cramer wrote about it. But the bank operates throughout New England, in regions that certainly aren't all wealthy.
Regardless, the performance of this stock appears disappointing.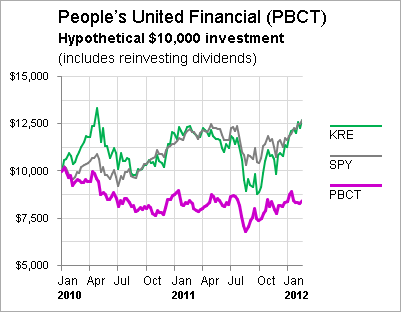 The company did make a few acquisitions along the way, such as buying Danvers Bancorp last year.
But I must admit I have a soft spot for this stock.
Why? Well, if you invested in this stock back in 2004, you'd still have a 39% gain. Compare that to Bank of America (NYSE:BAC) or even the SPDR Financial ETF (NYSEARCA:XLF). It even did slightly better than SPY.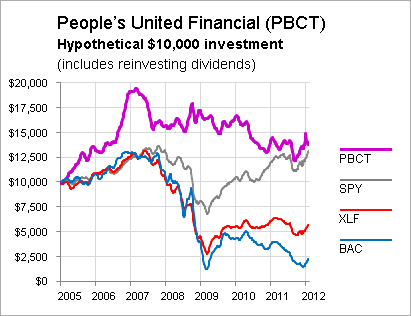 So if you'd owned this stock before the financial crisis, there was no need to "get back to even."
***
Cramer's picks in this one chapter of Getting Back to Even didn't pan out that well. Here's a look at how you would have done investing equal amounts in all 5 stocks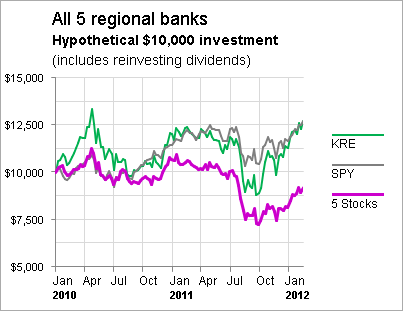 You would have done better in a regional bank ETF such are KRE. But even that ETF didn't deliver stellar performance since early 2010.
To be fair, there were other non-bank picks in his book that did do very well. And Cramer often advises investors to "do their homework."
Unfortunately, with regional banks, the homework is hard - really hard. It's tough to evaluate a bank to begin with - let alone one that you may not have ever even heard of because you don't live in the region it serves.
Disclosure: I am long BAC.