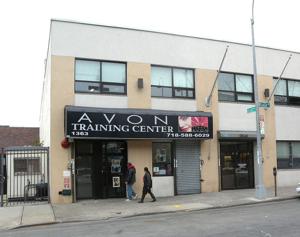 Investment thesis
Avon Products (NYSE:AVP) has declined 95% since peaking at $46 in 2004 due to declining revenues and margin compression as which has been exacerbated by a declining EV / EBITDA multiple
The recent deal with Cerberus Capital Management has several benefits including: ((i)) will allow management to focus on its international business, ((ii)) will increase cash on hand by $500m, ((iii)) will increase EBIT by $65m (the North American EBIT loss on an LTM basis) and ((iv)) will give AVP access to the extensive restructuring experience from one of the premier distressed private equity investors on Wall Street.
According to the AVP investor day presentation on January 21, 2016, the international operations are growing revenues at 3% on a constant currency basis
The company announced a new 3 year restructuring program with cost savings of $350m which should drop straight to EBITDA, net income and free cash flow. This should be a catalyst for higher EBITDA multiples
Personally, I think the USD will peak in 2016 for a variety of reasons. This should meaningfully impact AVP which post divestiture of its North American business has essentially 100% of its revenues internationally (primarily in Latin America and Europe, Middle East and Africa) but a lot of its corporate overhead in USD
According to the AVP investor day presentation on January 21, 2016, average FX rates in the 10 markets where AVP is primarily does business have declined 45% against the USD significantly eroding AVPs profitability
Overview of Cerberus Capital Management Transaction
The table below summarizes the terms of the recently announced transaction with Cerberus Capital Management (NYSE:CCM)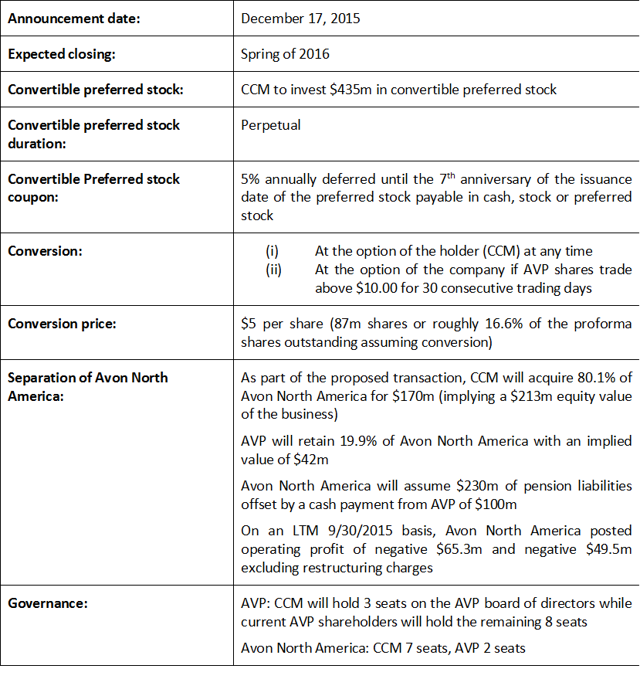 Capitalization post Cerberus Transaction

The proforma capitalization post the Cerberus preferred stock transaction shows net debt to EBITDA at 3.4x and EV / EBITDA at 5.5x LTM 9/30/2015 adjusted EBITDA. The stock is cheap both on an absolute basis and relative to peers. The net debt is slightly elevated but alleviated by the fact that the company will have nearly $1BN in cash post the CCM transaction.
Valuation
The table below shows proforma historical revenues and EBITDA excluding the North American business as well as restructuring costs. For the period ending 9/30/2015 LTM, AVP generated $6.5BN and $542m in revenues and EBITDA respectively.
Adjusted EBITDA (adjusted for restructuring expenses) have ranged from the current 9/30/2015 LTM of 8.3% to as high as 16.2% in 2008. Likewise the adjusted EV / EBITDA multiples have ranged from nearly 20x in 2008 to the current 6x
Assuming AVP will be able to grow EBITDA in the coming years due to the successful implementation of the recently announced $350m restructuring program and (ii) weakening of the USD I expect both higher EBITDA and EBITDA multiples.
I have modeled a 3 case scenario (low, base and high) with different assumptions. Each case starts with the $6.5BN LTM 9/30/2015 revenues ex North America and then applies an EBITDA margin and EBITDA multiple to arrive at enterprise value, equity value and per share equity value.
EBITDA margins have been modeled at between 8.3% and 16%. There are several reasons why I believe margins will expand in the coming years:
1. AVP announced a new restructuring program which aims to save $350m over the next 3 years. It is true that AVP has had several restructuring programs in the past but unfortunately their impact was counterbalanced by declining revenues and a surging USD.
2. AVP should benefit from a weaker USD once the dollar rally falters. My personal opinion is that the USD will peak sometime in 2016 when the market realizes that the story line that has driven the USD higher (Fed hiking cycle amid a strong US economy) is proven to be an illusion. The fact that commodities are already at multi decade lows and will probably rally at some point also underpins this belief.
3. Many of AVPs primary markets are in deep depressions. Brazil for instance is experiencing the worst recession in the past 70 years with double digit inflation, 9%+ unemployment, a plunging currency and deep economic contraction. Eventually these markets will resume their secular growth which should benefit AVPs top and bottom line.
4. Finally and most importantly, AVP seems to have finally fixed fundamental problems of the past with declining # of representatives and a declining top line. The top line of the business with revenues growing at 3% in constant currency terms and # of representatives also increasing for the first time in 2 years (see AVP investor day presentation January 21, 2016)
In the base case I assume a 12% EBITDA margin which is average for the historical period (from 2007 to current) and a 8x EBITDA multiple which yields a share price of $9.86 (263% upside from current levels) and $9.53 (251% upside) assuming conversion of the CCM preferred.
The high case obviously has higher margins, multiples and thus per share equity value. The low case has margins staying flat and a 6x EBITDA multiple which implies an approximately a $4 share price. The slightly higher than current share price results from the fact that EBITDA is higher as a result of the separation of Avon North America and a slightly higher multiple (6x vs. the current 5.6x)
As a result, I think the downside is very limited here with significant upside.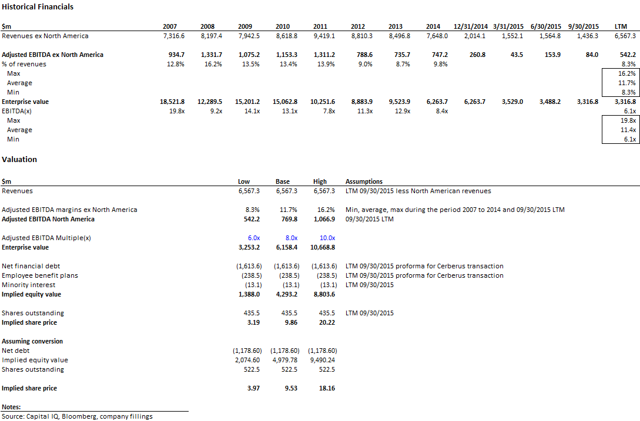 Technical Analysis

· As previously discussed AVP has experience a near 95% decline in share price. The fall has taken the form of a double zig zag or 2x ABC corrections. Typically in an ABC correction wave A=C which in this case comes in at $2.12. The latest low was $2.22
3 3 Day Chart

· From the 3 day chart we can see that wave C is possible complete with 5 completed waves
4 4 Hour Chart

· Finally the most recent decline is also in 5 waves denoting a possible completed pattern.
· Note that both on the 3 day chart and the 4 hour chart there is a divergence in RSI and price meaning that RSI bottomed while price continues to make new lows. This is very common towards the end of a completed pattern
As a result, for several reasons I believe AVP has bottomed at $2.22 or will bottom soon. The technical signs include a completed pattern on a larger, medium and smaller time frame as well as RSI divergence
Conclusion
AVP has been in a multi-year downtrend due to deteriorating financials. The company recently partnered with Cerberus Capital Management to take an 80% stake in its North American business as well make a $435m investment in AVP preferred stock.
I think the hands on restructuring experience that CCM brings to the table will meaningfully impact the financial performance of the company in the medium term. Additional restructuring measures and a weaker USD should substantially boost EBITDA margins. The separation of the North American business will allow management to focus on growing key international markets and will alleviate AVP from the burden of having to restructure the North American business.
The technical picture clearly points to a potential bottom in the near term. Once margins improve I expect EBITDA multiples to return to the historical range closer to 8x to 10x. As a result, I expect the AVP share price to reach $10 within the next 2-3 years generating a near 250% return.
Disclosure: I am/we are long AVP.
I wrote this article myself, and it expresses my own opinions. I am not receiving compensation for it (other than from Seeking Alpha). I have no business relationship with any company whose stock is mentioned in this article.
Additional disclosure: This article presents the opinions of the author and does not provide individually tailored investment advice. It has been prepared without regard to the individual financial circumstances and objectives of persons who receive it. Investors are recommended to independently complete their own due diligence and evaluate any investment independently as well as to seek the advice of a financial advisor. The appropriateness or legality of a particular investment will depend on an investor's individual circumstances and investment objectives. The securities, instruments, or strategies discussed in this article may not be suitable for all investors, and certain investors may not be eligible to purchase or participate in some or all of them. The article is not an offer to buy or sell or the solicitation of an offer to buy or sell any security or instrument or to participate in any particular trading strategy.