"Trying to predict the future is like trying to drive down a country road at night with no lights while looking out the back window." - Peter Drucker
I am always amazed on how fast the consensus can change in the markets. A little over a month ago most pundits were sanguine or even encouraged that the Federal Reserve finally lifted the federal funds rate off of zero in mid-December. It was the first interest rate hike by the central bank since 2006. Unfortunately, it preceded what was a huge spike of volatility in global markets and the worst open to begin a year for domestic investors in the stock market's long history. Now the consensus has shifted and many of the same prognosticators are saying the rate hike by the Fed was a "policy mistake".
Probably nowhere has the consensus shifted more times in recent memory than on the oil markets. 18 months ago oil was at $110 a barrel, drilling activity was robust and Goldman Sachs had been predicting oil at $150 a barrel for some time at that point.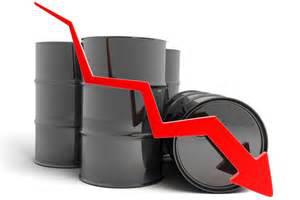 One year ago as crude was in the early innings of what has turned out to be an epic decline, forecasters were falling over themselves saying how lower oil prices are very beneficial for the domestic economy. At the beginning of 2015, forecasts were calling for three percent or better growth out of GDP for the year as consumers spent their huge "gasoline tax cut" windfall. Hedge funds and private equity managers dived into the high yield market on the initial dip in energy prices and bought high yield debt from small and mid-tier producers at 80 and 85 cents on the dollar and patted themselves on the back for how smart they were to action this "temporary" pull back.
Well, with the benefit of hind sight we know how this story ultimately turned out. That 3%+ GDP growth never materialized as consumers saved a good portion of their energy savings. The plunge of energy prices caused massive layoffs in the high paying energy industry and there were huge cuts in capital expenditures across the exploration & production landscape. The economy once again muddled along at the same two percent GDP growth rate it has been stuck at throughout this weakest post war recovery on record.
Many hedge funds doubled down on their energy debt bets in the summer when prices had dropped to 45 to 60 cents on the dollar. They are now sitting on debt that in some cases is worth only 20 to 30 cents on the dollar. Many will close or face significant redemptions. This is one reason yields have spiked throughout the high yield or "junk bond" space. This increase in volatility is why there has been such a divergence between stocks with pristine balance sheets and ones that carried a good of debt even outside of the troubled energy and commodity sectors so far in 2016.
Look at some of the real estate investment trusts, which usually rise when the ten year treasury yield falls as it has done so far in 2016. Many high quality names are off 30% to 40% in the recent rout. I recently outlined several in the hospitality & lodging space that were too cheap to not to pick up a few shares.
Obviously the collapse in oil prices has had impacts more far ranging than our domestic economy and markets. Big oil producers like Canada, Brazil and Russia are all in recession. Some $380 billion worth of oil & gas projects worldwide were cancelled or postponed in 2015. That is a lot of jobs and direct investment that will not be coming back anytime soon. More layoffs and capital budget cuts across the industry will happen this year which will cut into global growth.
Far from being a huge benefit to the global economy, worldwide markets seem to rise and fall in direct correlation with the price of oil. The carnage in some large cap and well-known stocks has been notable.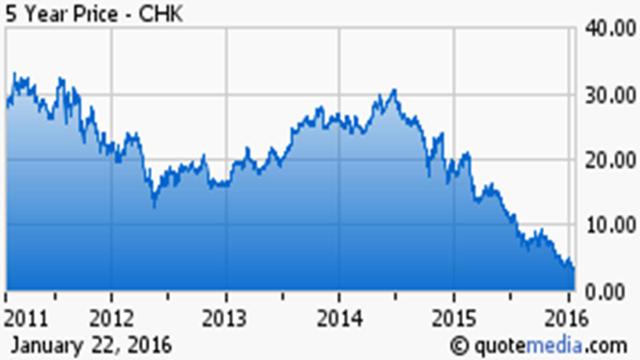 Take Chesapeake Energy (NYSE:CHK) whose stock has cratered as can be seen above. Everything has gone wrong for the second largest producer of natural gas in the country. Natural gas prices have plummeted, previous management had over expanded and too much debt had been taken on as a result. The company recently has to suspend dividends on some of its preferred shares. Bankruptcy at some point in the future cannot be ruled out if energy prices stay at these levels.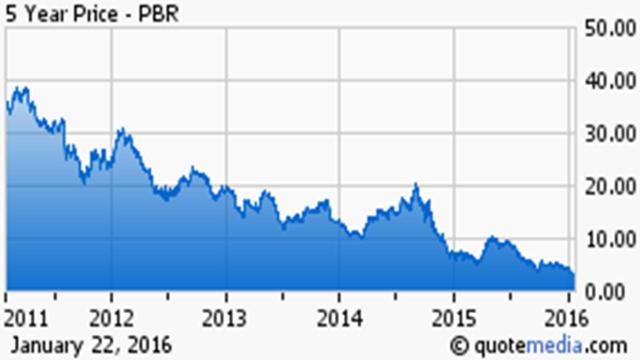 Or Petrobras (NYSE:PBR), one of the biggest producers in the emerging markets and previously the biggest company in Brazil. A corruption scandal involving the country's politicians and the company's awarded contracts which funded kickbacks has rocked Brazil. The company has radically slashed its capital budget and still may need a bailout from the government.
So where do we go from here? Ironically, the same analyst at Goldman that was predicting $150 a barrel oil not too far back now says oil could fall as low as $20 a barrel. Whether this is a sign of a bottom is not something I will say one way or another but I do find ironic. The energy space is too opaque to predict right now and that goes for the commodity sector as well. I have had no holdings in either sector since the first half of 2015 and I plan to keep it that way until we have a solid bottom.
I think the way to play any rebound in oil is to buy stuff that has sold off unfairly either because of the decline of oil and/or the spike in high yield markets the collapse in crude and commodities has caused. In addition to the REITs I mentioned above, I have also added to General Motors (NYSE:GM) here. Despite robust results the stock has not benefited as it does have a good deal of debt as do almost all automakers.
Ironically, the manufacturer benefits from low gasoline prices as it means more much percentage of higher margin trucks and SUVs will make up within its overall sales mix. Domestic auto sales for the company came in at record levels both in China and North America in 2015. Earnings should increase this year 10% to 15% as well according to the current consensus. Given this and a five percent dividend yield, the stock is much too cheap at under 5.5 times this year's upcoming profit projections.
I also think rail car maker Greenbrier Companies (NYSE:GBX) is too cheap by half. Yes, oil and frac sand tank car demand has dried up to nothing. However, some 80% of the company's over $3 billion order backlog is from outside the energy industry (Example, rail cars to carry autos). The company started 2015 with an order backlog of 41,300 cars and ended the year with a backlog of 36,000 cars. The company delivered 6,900 cars during its last completed quarter.
Management has guided to earnings per share of between $5.65 a share and $6.15 a share in FY2016, similar to last year's results. Greenbrier has little exposure to the leasing market compared to peers which is under extreme duress. In addition, new safety regulations are going to mean huge demand for retrofitting or replacement of oil cars over the coming years. Eventually that demand will result in new orders. The stock yields over three percent and goes for just over four times the lower end of earnings guidance. Cheap by any measure.
The fortunes of these companies stocks should be buoyed by any improvement in oil prices and/or stabilization in the high yield credit markets. More importantly, they are cheap and should remain solidly profitable regardless of where crude goes from here. This cannot be said for the majority of the energy sector and this is the way I am playing any potential rebound in oil prices.
Disclosure: I am/we are long GBX, GM.
I wrote this article myself, and it expresses my own opinions. I am not receiving compensation for it (other than from Seeking Alpha). I have no business relationship with any company whose stock is mentioned in this article.