Introduction
Ensco (NYSE:ESV) is a multinational oil and gas services company headquartered in the United Kingdom. The company is the world's second largest offshore drilling company and 49 offshore jackups, 7 drillships, and 20 semi-submersibles.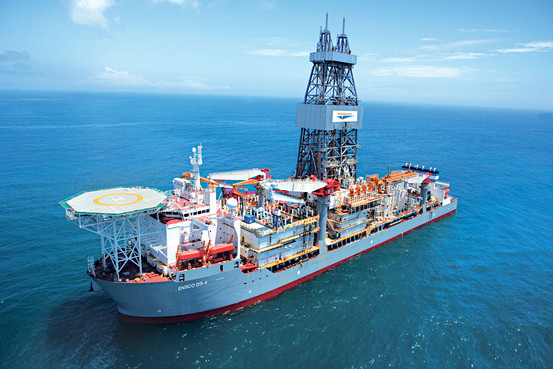 Ensco Rig - Ensco Investor Presentation
Despite its size and strength in terms of oil drilling, Ensco has had a devastating time over the past few years. Oil prices have declined recently to levels not seen in over a decade, dipping down to just over $25 per barrel. I expect the recent alleviation of Iran's sanctions along with slowing growth from China will continue to put increased stress on oil prices in the near term.
The effect of this rapid decline has been seen better in the stocks of offshore drillers than anywhere else. Ensco stock has fallen from over $50 per share before the crash down below the key psychological level of less than $10 a share in the last few days. On top of that, despite the recovery in oil prices these past few days, Ensco still remains below $10 per share.
Current Market Conditions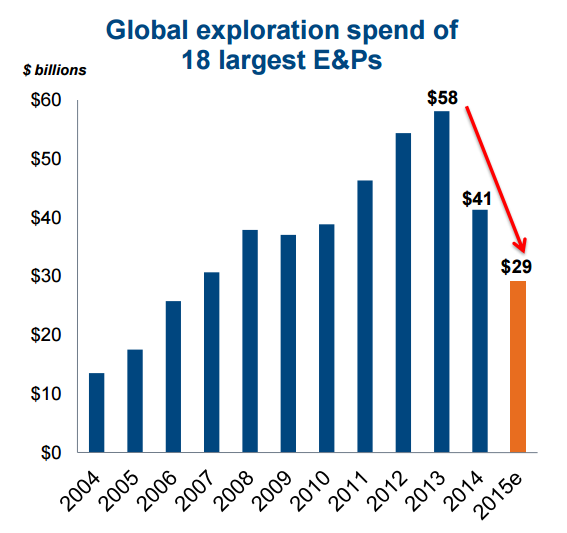 Global Exploration Spending - Ensco Investor Presentation
Any article about offshore drillers should include the recent market conditions. Despite oil prices looking low for much of 2015, starting Christmas time oil prices took a devastating drop to just over $25. Even with the recent recovery these past few day, prices are still just above $30 making the brief 2008 lows look nice.
This has translated to a huge drop in global E&P spending. The 18 largest E&Ps have cut spending from $58 billion in 2013 to $29 billion in 2015. If oil prices stay low, I expect spending to be cut even more in 2016. This huge cut in spending bodes poorly for the offshore drilling.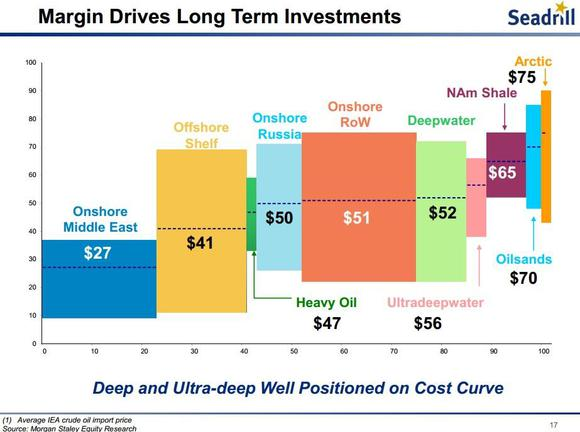 Oil Exploration Breakeven Costs - Motley Fool
The above image was one widely shared in early 2015 when the oil crash was just getting started. As can be clearly seen, offshore drilling, despite its importance to global oil production has breakeven costs almost 35% above current oil prices. No company will invest in production that costs them more than current prices.
And here is the thing. Exxon Mobil (NYSE: XOM) can survive pumping out oil at $30 barrel even if it is just above its production cost. But if prices stay below breakeven investment in offshore drilling will just halt. And it doesn't matter how good your balance sheet is, if you aren't making money you will fail eventually.
Ensco Position
Despite the nightmarish scenario offshore drillers face at current prices, it is unlikely oil prices will stay where they are for 6 months let alone the years it would take for all the offshore drillers to fail. The demand - supply balance is expected to correct itself within the next year or two and after that it is just a matter of time.
And while it is questionable whether some offshore drillers - Seadrill (NYSE:SDRL) - will survive the crash, Ensco is prepared to emerge stronger than ever.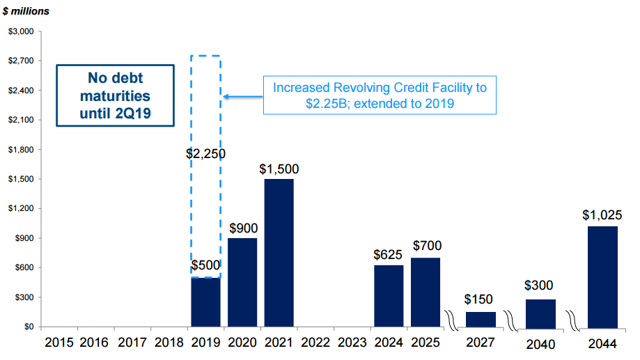 Ensco Debt Maturities - Ensco Investor Presentation
Ensco has done a beautiful job of rearranging its balance sheet. It doesn't have any debt maturities until 2019 and has increased its revolving credit facility to $2.25 billion. This facility should allow the company to maintain its expenses until 2019. At the same time, if the company's debt gets cheap enough it has the option to purchase its debt back reducing its interest burden.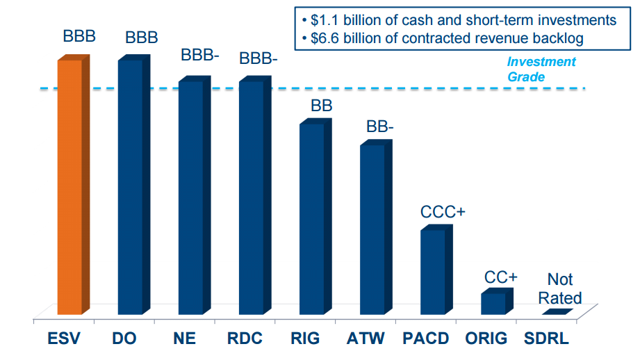 Ensco Credit Rating - Ensco Investor Presentation
The advantages of Ensco's balance sheet management can be clearly seen. Ensco is tied with Diamond Offshore to have the highest credit rating of the offshore drillers barely maintaining an investment grade credit rating. On top of that, Transocean and Atwood Offshore both have significant fleets. If these companies go bankrupt that should help clear the competition Ensco has for getting additional contracts.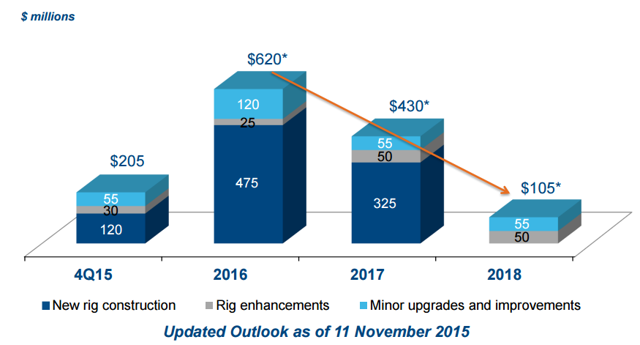 Ensco Future Spending - Ensco Investor Presentation
On top of improving its credit rating and pushing back its debt, Ensco is also focused on rapidly cutting its costs. The company has approximately $0.8 billion in new rig construction costs over the few years which should help to significantly modernize its fleet. However, in 2018, the company's costs will drop rapidly $0.1 billion allowing it to operate off of minimum backlog.
Fleet
Now that we have a broad overview of Ensco's position, let us now talk in more detail about the company's fleet.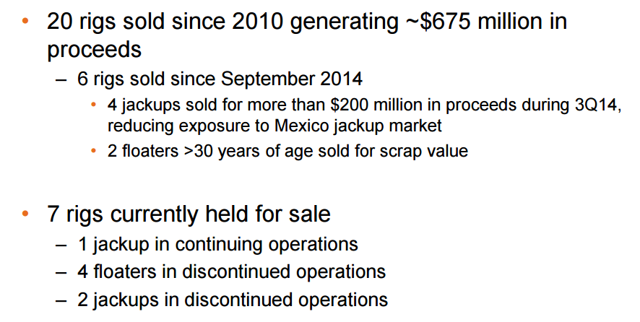 Ensco Rig Sales - Ensco Investor Presentation
To start, the company has done an impressive job of taking rigs that aren't getting contract and selling them to raise capital. While these rigs could potentially earn more revenue during a recovery, by being sold they bring immediate earnings that can be used to pay off debt. The company currently has 7 rigs held for sale that should help provide it with immediate income.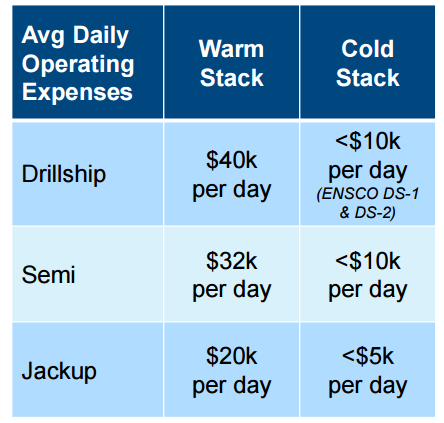 Ensco Daily Operating Expenses - Ensco Investor Presentation
At the same time, the company is focused on strategically cold stacking costs where possible. For a drillship, this takes the costs down from $14 million per year to less than $3.5 million a year, a drop of more than $10 million in yearly costs. While these rigs cost millions to take out of cold stacking, during such difficult times proactive cost minimizing is necessary.
Conclusion
Ensco has had a difficult time recently taking a major hit in its stock price. The offshore driller industry is one of the few sectors of the oil industry that can almost die out completely before a recovery. In fact, Ensco's drop in stock price gives it a market cap of just $2.35 billion with a yield of more than 6% as compared to a market cap of more than $10 billion 2 years ago.
Despite that, Ensco is one of the best positioned offshore drillers and the chance of it not recovering is minimal. As a result, I plan on increasing my position in Ensco to get my cost basis below $10 and recommend investors without a position open up a speculative position at this point.
Disclosure: I am/we are long XOM, ESV.
I wrote this article myself, and it expresses my own opinions. I am not receiving compensation for it (other than from Seeking Alpha). I have no business relationship with any company whose stock is mentioned in this article.