PDC Energy (NASDAQ:PDCE) is a Colorado-based mid-cap (~$2 billion) oil and gas producer whose primary asset is a core leasehold in the Wattenberg field. The company also has acreage in the Utica Shale. With the advantages of a very strong 2015 hedge book and the majority of acreage held by production, PDCE was one of the very few E&P stocks to not only be up last year, but also up over 25%. That is quite impressive considering the crash in oil and gas prices along with the vast majority of energy-related equities. Will 2016 be a repeat performance for PDC?
My first article on PDCE (see PDCE: Undervalued And Ripe For A Takeover) in May of 2014 suggested the company would be a very tempting acquisition - and a great fit - for Anadarko Petroleum (NYSE:APC). While I still believe that to be true, a merger obviously never happened. But I doubt PDCE's shareholders are complaining. Since that first article, PDC has delivered excellent operational and financial performances.
Q3 2105 Earnings
To understand the strength of PDCE's stock price last year, let's take a look at the latest Q3 2015 EPS report: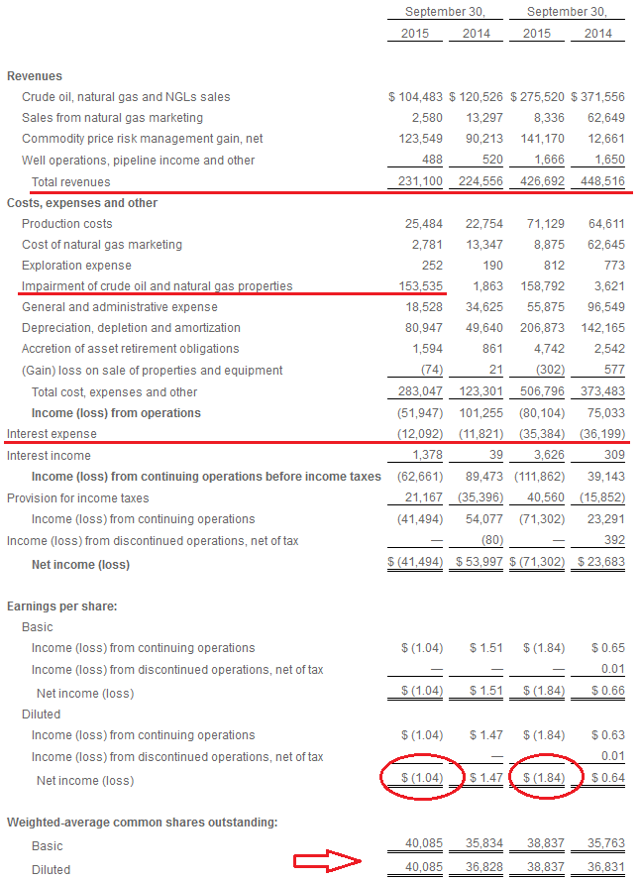 At first glance, the quarterly loss of -$1.04 might be a big red flag for many investors. However, note the Q3 loss was dominated by a $150.3 million (non-cash) impairment charge on the company's Utica assets. Without that charge, Q3 adjusted net income would have been (a positive) $0.38 and YTD earnings would have been ~$1.11/share. In addition, notice top-line revenue remained relatively flat for the first nine months while oil and gas prices dropped ~50% as compared to the year earlier period. Meantime, interest expenses have actually dropped.
YTD and total shares outstanding have increased by a modest 12%. That's because the company sold 4 million shares back in March at $50.73/share. There was strong demand and the 522,000 share over-allotment option was fully exercised. Total gross proceeds were over $200 million.
The company stayed resilient throughout the commodity price crash by very efficiently applying horizontal drilling techniques in a very prolific shale play to grow production by 84% yoy and by wisely hedging that production. On a Boe basis production was up 86.4% in the core of the Wattenberg:

Lease operating expenses dropped by an eye-popping 37% yoy to $2.87/Boe. This number was ~$5/Boe just a couple years ago. In addition, the majority of PDC's acreage was held by production, so there was no "forced drilling" simply to hold onto the leasehold.
Net commodity price risk management activities in Q3 resulted in a gain of $123.5 million: $68.0 million of positive net settlements on derivatives and $55.5 million of net change in the fair value of unsettled derivatives.
As a result, and to sum it up: both adjusted EBITDA and CFO more than doubled yoy.
Note, PDC posted net income of $0.46/share in Q1 and $0.27/share in Q2. These results prove that the company's Wattenberg acreage can yield repeatable and sustainable results even in the midst of a severe commodity price downturn. The flip-side of the coin is that the company is very well positioned for an upturn in prices.
The Wattenberg Field
It all starts with high-quality acreage, and PDC has ~96,000 net acres in the core of the Wattenberg Field - 100% of which is held by production. The Wattenberg Field is a stacked play with three Niobrara intervals (Niobrara A, B, & C) and one Codell zone. At year-end 2014, the company estimated it had 2,640 total 2P drilling locations based on 16 Niobrara and four Codell wells per section. In 2015, the company conducted several down-spacing projects from 20 wells/section to 26 wells/section.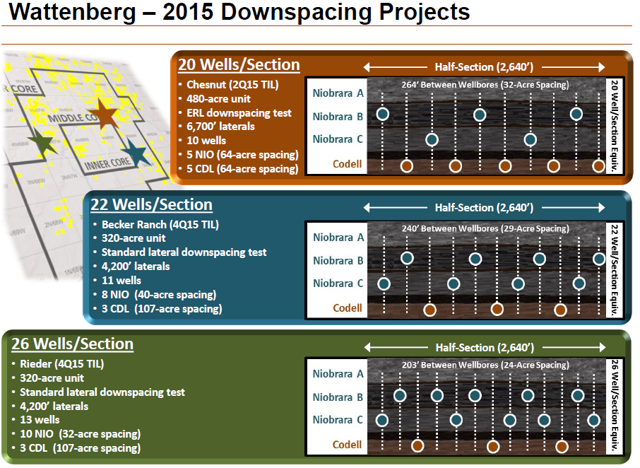 Source: January Presentation
Early Chesnut results (10 wells on a 20 well-equivalent spacing) are encouraging and showed a significant uplift over the typical Niobrara 600 MBOE type-curve. The company is extending its laterals and switched to plug-n-perf completions. PnP completions are showing an additional uplift over the previous slide-n-sleeve technique, and the company expects all wells drilled in 2016 will be PnP.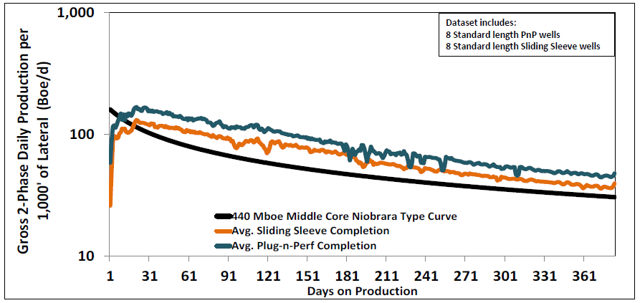 Source: January Presentation
In the Seeking Alpha transcript of a December presentation at Wells Fargo, President and CEO Barton Brookman said PnP completions - combined with "AccessFrac", a divergent agent - were responsible for a 15% improvement in base production. Brookman also said that drill times have been cut in half over the past 18 months and drilling costs are down to $2.9 million per well.
So what you have is excellent technology being applied to high-quality rock. The result is a big increase in cost efficiency and production. When you combine that with the significantly lower LOE I mentioned earlier, as Brookman put it:
...we're currently running the Company in a cash flow neutral position.
That's a very significant statement considering that just about every pure upstream E&P is striving mightily to get to cash flow neutrality (most failing miserably). But PDC is already there. Perhaps even more interesting was Brookman's response to what the breakeven price of oil might be for PDC:
Breakeven is probably - we use a threshold of 20% drilling returns and that's frontline all-in drilling returns. And that threshold right now is probably with all the efficiencies and it don't hold me to this, but Mike will probably (say) in the mid 30s on oil? Somewhere between 35 and 40...
Infrastructure
One reason operating costs per Boe are declining is the increased infrastructure build-out in the Wattenberg Field - specifically, DCP Midstream's (NYSE:DPM) Lucerne 2 plant, which became operational in June of last year.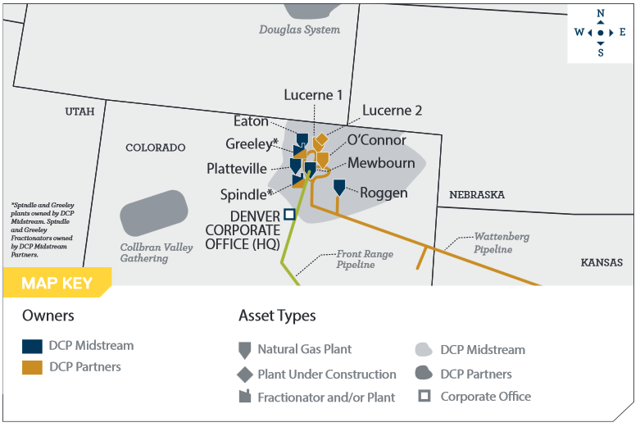 Source: DCP Midstream
The Lucerne 2 is a deep-cut cryogenic plant which increased DCP's Niobrara system-wide capacity by 25% to 800 MMcf/d with an NGL capacity of ~29,000 bpd. Residual gas can be shipped to the High Plains via the Wattenberg Pipeline and NGLs can be shipped to Mt. Belvieu, Texas, via the Front Range Pipeline. This gives producers like PDC access to better pricing and lower transportation costs. Just as important, the new plant - along with some new Aka compression stations - gives PDC ample headroom to grow. Currently, PDC reports there is excess capacity of ~100 MMcf/d and pipeline pressure in the play is down significantly as compared to 2014 and the 1H of 2015.
Reserves
PDC recently released its 2015 Year-End Reserves Report. It reported proved reserves of 272.8 million BOE - an approximate 9% increase over year-end 2014 proved reserves with estimated reserve replacement ratio of 247%. Due to the success of its down-spacing program, PDC increased its well density on proved undeveloped horizontal ("PUD") Niobrara locations in the Wattenberg Field from eight to 16 wells per section-equivalent.
Despite the impressive RRR, the PV10 value of reserves decreased substantially to $1.3 billion as of December 31, 2015, compared to $3.5 billion as of year-end 2014. The decrease, of course, is primarily a result of a 47% and 41% decrease in average NYMEX oil and gas prices, respectively. However, note how resilient the reserve base is on a $30/bbl oil stress test: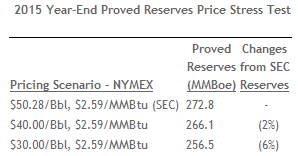 In other words, PDC loses only 6% of SEC reserves in a scenario when oil drops from $50 to $30. That's impressive and shows the underlying strength of its core Wattenberg acreage.
Going Forward
As we head into 2016, PDC remains well hedged. In the Wells Fargo transcript referenced earlier, Brookman said:
2016, with what we announced on Monday night, we will be 50% hedged on our oil at approximately $85 a barrel and we will be 63% hedged on natural gas at about $3.60 now. So substantial hedging position in '16.
The reserve report also contained an operational update. PDC's full-year 2015 production was ~15.4 million BOE or 42,100 BOE/d, a 65% increase yoy. PDC said it continues to see encouraging results related to increased drilling efficiency, completion technology and reduced line pressure in the Wattenberg Field. In Q4, with only four rigs running, the company turned-in-line 43 Hz wells, including the 13 well Rieder project testing 26 wells per section-equivalent spacing. As shown in the previous graphic, Rieder has shorter laterals but much higher wellbore densities when compared to the Chesnut project. Combined with the technology improvements referenced earlier, Rieder should be a positive catalyst for Q1.
And there are plenty of wells to drill in the future. The company says it has a 10-15 year inventory of wells.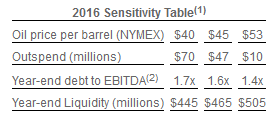 For 2016 the company announced production guidance of 54,650 to 60,100 BOE/d - up 35-40% over 2015. It also posted a sensitivity table that shows estimated liquidity and debt metrics for various oil price scenarios. Even at an average of $40/bbl the 2016 year-end estimated debt/EBITDA ratio would be only 1.7x, with ample liquidity. This table was made in considering of the company's planned 2016 capital budget of $450 to $500 million. PDC says it expects to operate with cash flow neutrality in 2016.
Risks
With a strong 2016 hedge book and resilient acreage in the Wattenberg, the risks for PDC are tilted forward to 2017. However, a continued decline in oil prices into the lower 20s would likely have a negative effect this year. That said, as a result of prudent financial management, the company is not overly levered by any stretch - one reason it outperformed nearly every other energy company in 2015.
Note that production guidance for 2016 is back-end loaded. This means the performance the Rieder project wells will be important to maintain production levels in early Q1/Q2. Keep an eye on these wells as they just came online at the tailend of last year.
While the wells PDC is targeting in the inner-core are expected to be the most prolific in the play, they are gassier. As a result, the commodity mix in 2016 is expected to be ~42% oil, 20% NGLs and 38% natural gas. That's ~3% less liquids than the company's long-term expected mix, and means there is slightly more exposure to natural gas and NGL pricing. But with those prices already bouncing along the bottom, this could also turn out to be an upside catalyst should NGL and gas prices turn higher. Regardless, 63% of expected natural gas production is hedged at about $3.60, so that is a strong backstop.
Summary & Conclusion
PDC Energy had one of the best (THE best?) performing stocks in the entire E&P sector during 2015. It achieved this by having a very high-quality and resilient resource in the Wattenberg Field, and by applying advanced technology to the stacked zones of the Niobrara/Codell play. The balance sheet is rock-solid, and when the company offered 4 million shares to the market back in March, it was met with strong demand. The robust hedge book for 2016 will protect cash flow. Infrastructure improvements in the Wattenberg have lowered pipeline pressure and have adequate spare capacity to handle PDC's growing production. There appears to be clear sailing ahead for PDC this year. If the company can maintain cash flow neutrality in this commodity price environment, the future looks very bright for PDC when prices turn higher. These shares are VERY ATTRACTIVE for those willing to take a chance on an oil price recovery in the back-half of 2016 and early 2017. That's because even if prices do not turn higher, PDC has proved it can operate in cash flow neutrality and its share price has - and will likely continue - to reflect that resilience.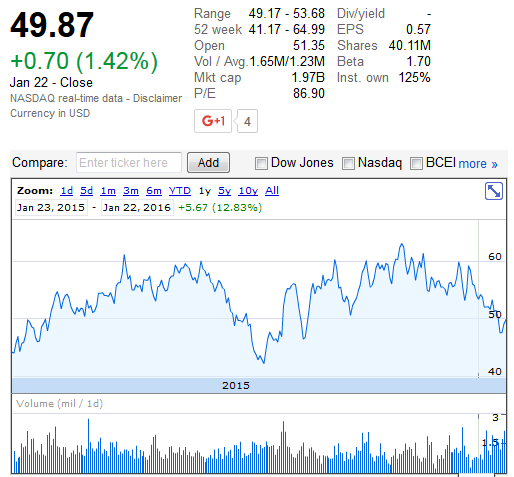 Disclosure: I/we have no positions in any stocks mentioned, and no plans to initiate any positions within the next 72 hours.
I wrote this article myself, and it expresses my own opinions. I am not receiving compensation for it (other than from Seeking Alpha). I have no business relationship with any company whose stock is mentioned in this article.
Additional disclosure: I am an engineer, not a CFA. The information and data presented in this article were obtained from company documents and/or sources believed to be reliable, but have not been independently verified. Therefore, the author cannot guarantee their accuracy. Please do your own research and contact a qualified investment advisor. I am not responsible for investment decisions you make. Thanks for reading and good luck!