Simply put, General Electric (NYSE:GE) put up only okay numbers to end 2015. Given that the stock had risen over 20% from its summer of 2015 lows (though it is down ~10% YTD), this was not enough to meet expectations. As a result, GE's stock fell a 1.2% on Friday, a day when the markets were up big.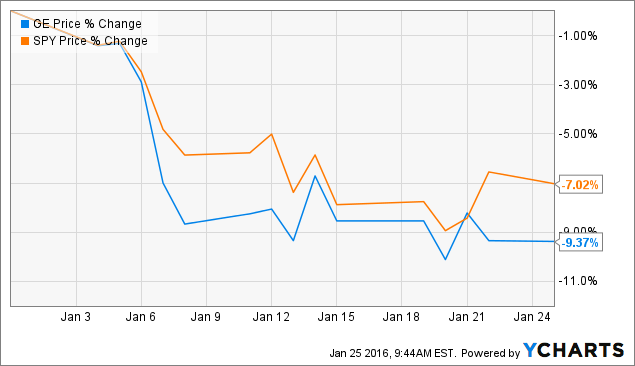 GE data by YCharts
The good
One of the best items out of GE's Q4 report was its cash flow statement. The company generated $16.4 billion in operating cash flow for 2015, up 8% from 2014. Free cash flow of $13.5 billion was up 14%. While industrial free cash flow was up 4% to $9.2 billion.
This level of cash flow allowed for GE to buy back a ton of stock. Shareholder returns were $33 billion in 2015, which includes the $20 billion Synchrony Financial (NYSE:SYF) spinoff, dividends of $9.9 billion and share repurchases of $3.3 billion. The shareholder yield, which is just share repurchases and dividends, was ~11.5% (~4.5% without SYF).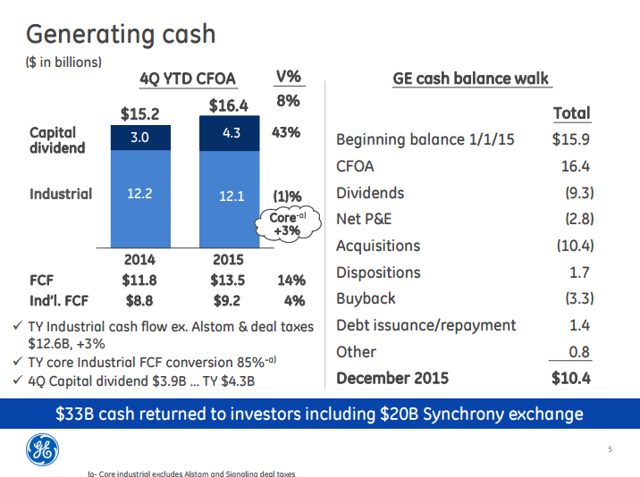 Also successful was GE's effort to boost industrial profits. Margins were up 80 basis points across the board for the year. While organic industrial profits grew 7%.
As for specific segments, GE's Aviation business posted impressive 5% revenue growth and 12% operating profit growth. This was led by a shift towards service revenue, up 18%, and away from equipment revenues, down 6%. This shift also help boost margins by 160 basis points.
While GE's Transportation business saw revenues grow 2% and profits grow 8%. This unit benefited from a large $2.2 billion order from Indian Railways, equipment revenues were up 17%, offset by much lower demand from mining, down 6% (40% orders drop) and 16% decline on service revenues. As for profits, these grew largely from higher locomotive volumes and cost cutting, margins up 120 basis points.
The (sorta) bad
Though, not everything was positive for GE in 2015. The single biggest issue for the company, which is not segment specific, is the strong dollar. FX headwinds lowered GE's earnings by $0.05 for Q4 2015 as was a major cause of weakness for most segments.
For example, GE Healthcare posted very poor results-- revenues down 3%, profits down 8%, and margins down 100 basis points. Orders also fell 4%, with emerging markets, Europe, and China being the big ones. Without the FX hit, revenues would have grown 3% instead of falling 3%, a 6 point swing, while orders would have grown 4%, an 8 point swing.
Though perhaps the biggest disappointment from GE came from its 2016 guidance. The company itself admitted that the current outlook appears to be "slow-growth". Operating EPS of $1.45-1.55, with 2-4% organic growth, was below analysts' expectations, though operating cash flow of $30-$32 billion is better than expected.
GE is also to return $26 billion to shareholders via buybacks and dividends. The buybacks are especially important as they are key to lowering the float enough for the industrial EPS to pick up the slack of the lost GE Capital earnings.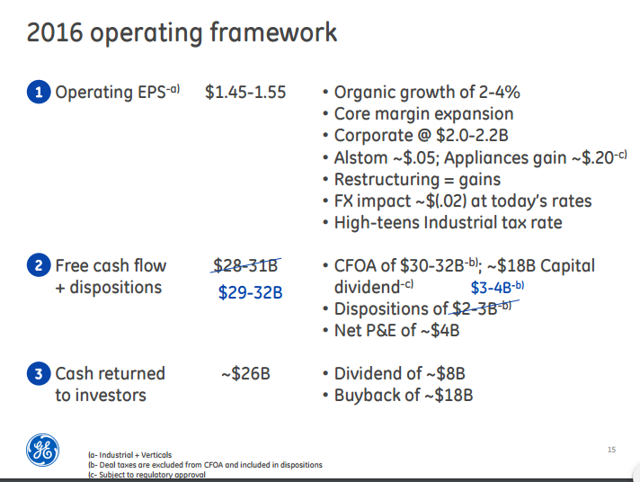 The downright ugly
As for the plain old ugly, this has to go for GE's Oil & Gas business. This unit saw revenues collapse 16%, profits fall 19%, and margins fall 70 basis points for Q4 2015. Orders were down a massive 52% for equipment and 17% for services. To put this into context, this unit accounted for revenues falling ~$830 million and profits falling ~$168 million just for one quarter. With oil prices down even more to start 2016, this unit is expected to be a major drag on GE's earnings power going forward.
Conclusion
You'll find few stocks as disliked as GE. Detractors love to call the company no-growth, overvalued, etc. But, despite these criticisms, GE has performed very well in recent years, outperforming the S&P 500 on a total return basis over the past five years.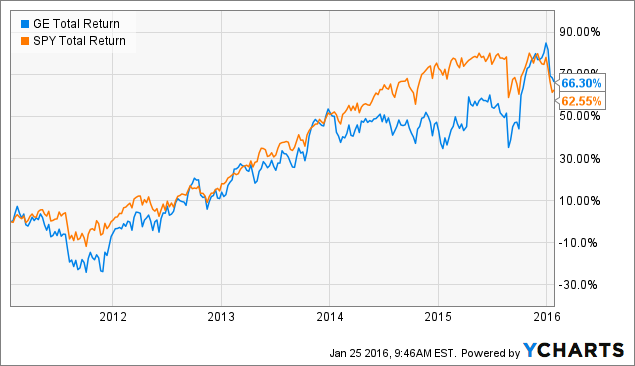 GE Total Return Price data by YCharts
I remain bullish GE and see more upside than downside for 2016. The buyback should help put a floor on the share price, while the 3.25% dividend yield is well above what you'll get in treasuries.
In addition, the impact of low oil was probably mostly felt in 2015. Oil prices cannot stay low forever. Indeed, the pain in oil could allow GE to acquire very good companies on the cheap, as with the rumors surrounding GE's interest in Halliburton's (NYSE:HAL) drill-bits and drilling-services divisions.
Disclaimer: The opinions in this article are for informational purposes only and should not be construed as a recommendation to buy or sell the stocks mentioned. Please do your own due diligence before making any investment decision.
Disclosure: I am/we are long GE.
I wrote this article myself, and it expresses my own opinions. I am not receiving compensation for it (other than from Seeking Alpha). I have no business relationship with any company whose stock is mentioned in this article.