While anticipating the corrective wave up to continue this week, we are not aggressively putting much money into any possible countertrend rally. At WMA, our position has been that the U.S. markets topped out last Spring (see "U.S. Equities: The Top May Now Be In" and "Bull Trap?") and we maintain a minimum price target range of 1600/1580 on the S&P 500. However markets move in waves and there are certainly long-only fund managers will see current equity levels as a buying opportunity.
Last week, we were asked by a moderately risk-tolerant investor, who heeded our advice and reduced her equity allocation in April 2015,
"Given the success of buying the dips over the past years, shouldn't I take advantage of the current market sell-off and increase my equity allocation now?"
This is the same question that both longer-term investors as well as shorter-term, active traders will be asking themselves this week. To help our clients and readers make the decision whether to re-invest now or to keep holding cash (or go short), we have, in David Letterman-style fashion, made up our own "Top Ten Reasons To Stay Out".
10. Momentum Has Turnover Over
From the December highs to the lows of last Wednesday, the S&P 500 (NYSEARCA:SPY) fell (peak-to-trough) -13.8% and the Russell 2000 (NYSEARCA:IWM) fell -20.4%. Both indexes suffered their deepest "corrections" since August 2011. We believe the relative depth of this correction has significance and portends a shift in the balance of power between the bulls and bears in the coming months. At the same time, safe-haven government bonds (NYSEARCA:TLT) continue to benefit as the U.S. benchmark 10-year yield maintains its steady, multi-year crusade to join the 10-year Japanese Government Bond (JGB) yield at 0.25%.
9. "The Greater Idiot Theory" Has Run Its Course
For those who don't read our weekly commentaries, the Greater Idiot Theory is tacitly what every investor bets on when he/she buys a financial asset. If you buy a share of Netflix at $100, you are counting on a "Greater Idiot" to come along after you and be willing to pay $101 for a share of Netflix to keep pushing the price higher. When there is no Greater Idiot to buy after you, you will be left holding the bag.
So how do we determine who is the Greatest Idiot (after whom we should sell)? A better way to answer this question is to ask, "who are not the idiots?" Most would agree that the Warren Buffets, Bill Millers, Peter Lynchs (the successful value investors), as well as company insiders, are certainly not the idiots.
Is Warren Buffet, for example, buying today? No.
What about company insiders? Let's look at the popular FANG stocks -- Facebook, Amazon, Netflix, and Google. The following screen shots show the net insider trading activity for these four stocks since 2014.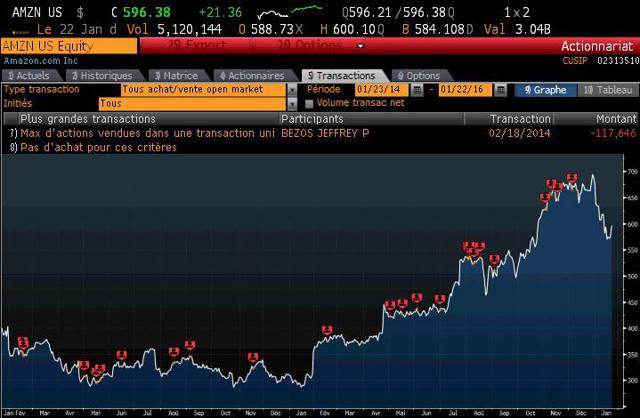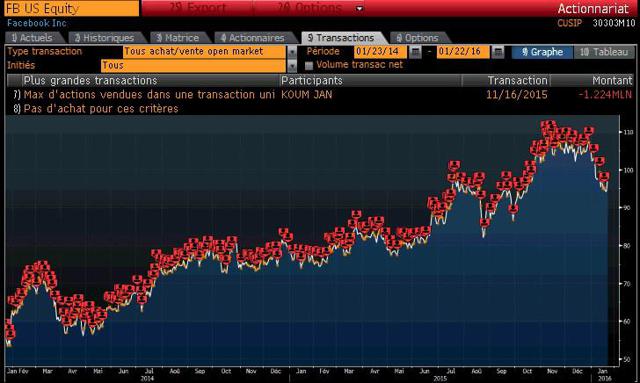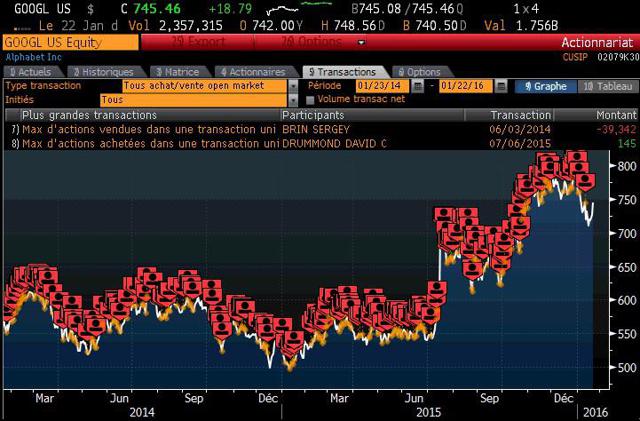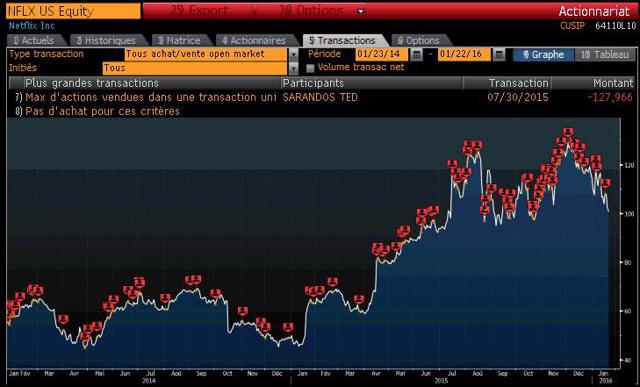 Insiders of Facebook (NASDAQ:FB), Amazon (NASDAQ:AMZN), Google (NASDAQ:GOOGL), and Netflix (NASDAQ:NFLX) have been NET SELLERS since 2014 of their own company stock! In sum, smart money has not been betting on many more Greater Idiots.
So who is buying the market at today's levels? Mainly benchmark-constrained investors and "little players" (dumb money) who will keep scouring for a few percentage points of performance…until they are faced with the fact that no smart money will follow to push markets higher.
8. Margin Debt Frothy
Margin debt is the amount of money borrowed (from a broker, etc) to over-invest in equities. As one would expect, investors are most inclined to make leverage bets (increase margin debt) when prospects for stocks are rosy. The next chart looks at extreme levels of margin debt, that is, when investors get greedy. After normalizing margin debt balances relative to nominal GDP, we see that the prior two bull markets topped out in the current range. Jamais deux sans trois.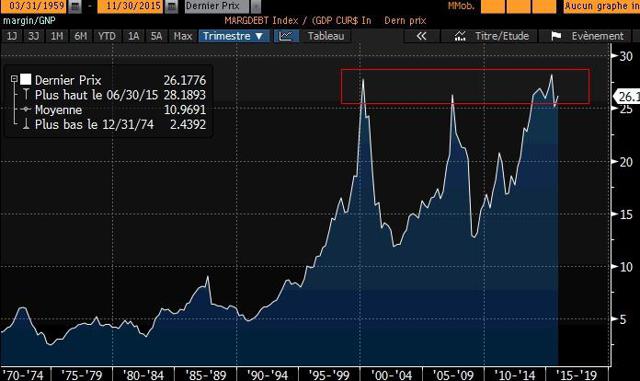 7. Sentiment
As we argued back in March 2015, investor sentiment towards equities seemed to have topped out in 2014 (U.S. Equities: The Top May Now Be In). One of our key indicators, the WMA Market Sentiment Indicator (below) was showing successively lower surges in optimism since the beginning of 2014 (lower highs in the chart). At WMA, we like to go with the crowd until it reaches extremes, and then reverse course. Our 2015 market top call was, in part, based on this sentiment extreme.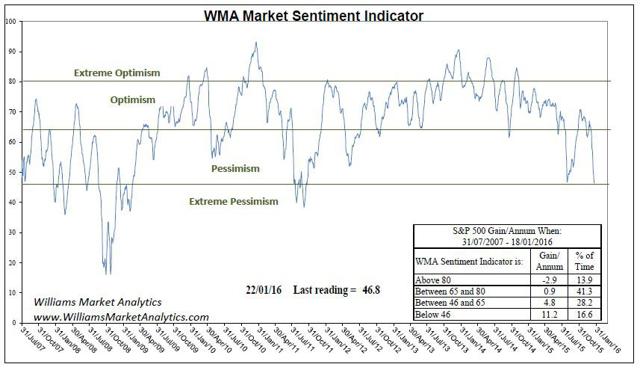 6. Oil Price / Stock Correlation
It would be exceptional, based on historical norms, to have a deep correction in oil prices without a commensurate correction in equity prices. For a very convincing image, scroll down to the first chart in last week's article, Too Late To Panic...For The Moment. Crashing oil prices are indicative of weakening global economy.
Moreover, the market is now only expecting some "little fish" in the energy sector to go belly up. We understand that the combination of excessive debt levels and evaporating oil revenue can be an explosive cocktail...the risk of a "whale" surfacing should not be dismissed.
5. Risk Appetite Shrinking
We base much of our allocation timing calls on our in-house WMA Composite Market Risk Indicators. In the chart below, the risk appetite peaked in 2014 and diminished progressively throughout 2015. An explanation of the construction of our risk indicators can be found here.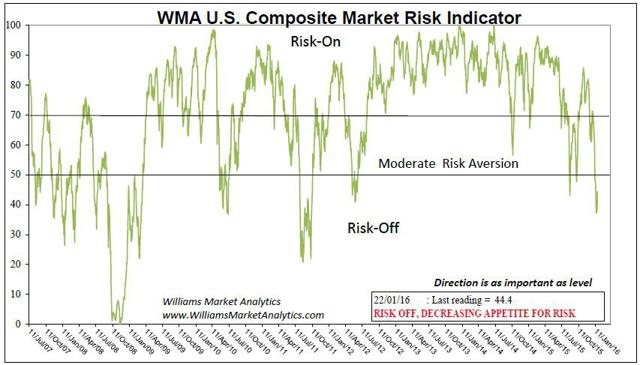 4. Credit Event
The fallout from collapsing oil prices will likely cause bankruptcies in the energy sector, as we alluded to previously. Some say that low oil prices only hurt energy companies, while consumers have more money to spur the retail sector. It will probably be used as a marketing ploy for Wall Street to reassure unsophisticated clients. Sophisticated investors understand the "Spillover Effect". In our intricately-linked global financial markets, no problem is "contained" to one sector or country.
The chart below compares high yield bond spreads over Treasurys with the S&P 500. Each time in the past 40+ years that this spread exceeded 700 basis points (red circles), the S&P 500 (in blue) has fallen by at least -20%, as noted by the red down arrows.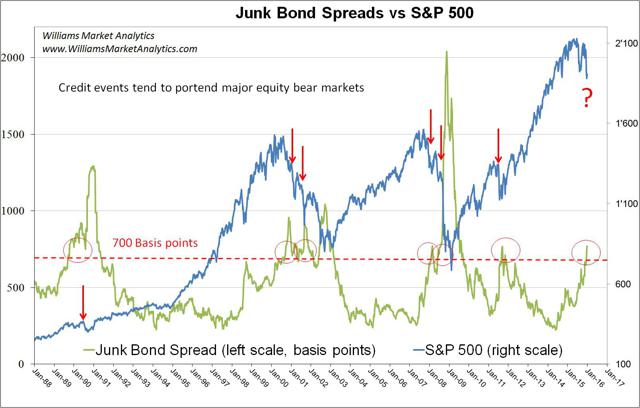 We do not believe the junk bond spread will stop widening at the currently level of 770 basis points, which augurs a much deeper S&P 500 bear market.
3. Valuations
We remain in the midst of a debate over equity valuations. Some say U.S. stocks are way too expensive while others claim, after the recent January selling, that U.S. equities are now "fairly valued". Without getting into a long exposition of our valuation techniques and conclusions, it will suffice to consider two points:
i.) The U.S. S&P 500 index currently stands 22.1% above 2007 highs in nominal terms and 13.7% above 2007 highs in real terms. Relative to the past economic cycle, can we say that companies in this current business cycle are one-fifth more profitable (as reflected in share prices)? Au contraire mes amis! Empirically, this business cycle can best be described as phlegmatic and aggregate U.S corporate profits are lower since 2009 versus the 2003-2007 period. So why are share prices so much higher if company earnings are what counts? Hint: see reason #1 in this list.
ii.) When was the last time equities were a strong buy at "fair value"? Equities prices always overshoot, on the upside as well as on the downside.
2. TIME and PRICE
We have time and price on the S&P 500. Beginning with the March 2000 daily high, we used temporal Fibonacci projections with respect to the October 2007 daily high. We referred to this 7½ year cycle in our previous article, Too Late To Panic...For The Moment.
Projecting another 7½ years from the October 2007 daily high (the 200% line) traces out to May 2015, exactly at this cycle high of 2130. If this seems to be too much a coincidence, consider that the mid-cycle correction also occurred exactly half-way through the past bull (at 150%) in July 2011 (see chart below).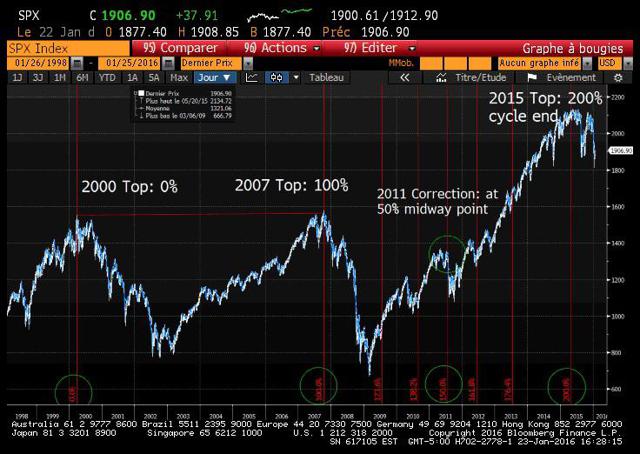 As for price, the past bull market extended to exactly to a Fibonacci 161.8% of the distance of the 2007-2009 bear market (see chart below). When stock prices don't trade off fundamentals, they trade off technicals…and this is a perfect example.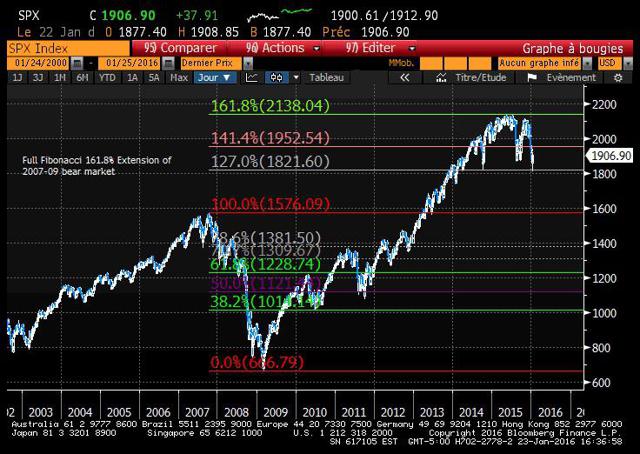 1. The Federal Reserve
The modern Federal Reserve can always be counted upon to do the wrong thing at the wrong time. What turned out to be the main reason for the monster bull market will also be the main reason for the ensuing bear market. The Fed began a rate tightening cycle in December and they won't back-track now for risk of losing any credibility they may have left.
In prior market pull-backs since 2009, the modus operandi for dip buyers was "the Fed's got our back". Now investors are slowly realizing, not only that the Fed "no longer has our collective backs", but that the Fed no longer can save the markets. Betting on a fifth quantitative easing programme (QE 5) would be like betting the Chicago Cubs will win the next five major league baseball World Series. The Fed knows that its precious independence would be smacked down by Congressional Oversight Committees if there is any whiff of QE 5.
If you are inclined to believe that the Federal Reserve has some prescient vision of the markets or the economy, consider:
* The Fed's forecasts have consistently been too optimistic. Combined with the fact that debt levels in the U.S. are still so excessive that monetary policy's traditional transmission mechanism is broken, Fed policy decisions are no better than a shot in the dark.
*In the early 2000's, Fed policy was responsible for blowing the housing bubble. Then, in 2007, Chairman Bernanke famously said "subprime is contained"….just before the s**t hit the fan.
* The Fed persisted for over seven years in their ill-advised quest to lower the unemployment rate and counterbalance failed U.S. fiscal policy…justified since their inflation mandate "remained well below their 2% target". One does not need a PhD to understand that ultra-expansionary monetary policy always causes inflation, even if the abbreviation of the inflation measure is "NYSE" and not "PCE".
In sum, the Fed blew yet another asset price bubble beginning in 2009, but has suddenly decided it no longer wants to be in the business of manipulating asset prices. This is a game-changer. The #1 reason not to hold on to longs today is that Ms. Yellen & Company are headed to the sidelines and we have only begun unwinding the Federal Reserve Asset Price Bubble.
Conclusion
We reaffirm emphatically our minimum price target range of 1600/1580 on the S&P 500. At these levels, investors will have to reassess the economic landscape to better gauge if we are just undergoing a normalization of asset prices or if markets are signaling recession ahead. Readers can follow our weekly market updates on our website.
Disclosure: I/we have no positions in any stocks mentioned, and no plans to initiate any positions within the next 72 hours.
I wrote this article myself, and it expresses my own opinions. I am not receiving compensation for it (other than from Seeking Alpha). I have no business relationship with any company whose stock is mentioned in this article.